The ultimate peanut butter oatmeal cookies are next level good. Stuffed with Reese's, oatmeal and peanut butter these cookies are so delicious. 
Peanut butter oatmeal cookies have surpassed my normal favorite oatmeal chocolate chip cookie. They are rice, full of peanut butter flavor and studded with chocolate chips and Reese's cups. This recipe takes my favorite food combination of peanut butter and chocolate and turns it into the perfect cookie. 
If you are a peanut butter chocolate lover you got to try these cookies out! I promise you won't be disappointed. They are chewy, soft and full of peanut butter flavor. 
Cookie Tips:
Use good quality brown sugar and good quality flour. 
Cream together the butter and sugar completely. 
Make sure you cut the Reese's in small pieces. This will help hold the cookies together. If they are too large they can fall apart. 
Don't over bake.
Quick Cooking or Rolled Oats:
Many oatmeal recipes call for rolled oats. Using rolled oats will give you some texture to your cookies. I have made these cookies with both rolled oats and quick cooking oats and both turn out great, they do produce a little bit different textures though.
If you want a firmer, more textured cookie use rolled oats. For a softer texture use quick cooking oats. 
Make Ahead:
I love these cookies because you can make them ahead! You can make the dough ahead and freeze to keep on hand or you can cook the cookies and freeze and then thaw them when you are ready to enjoy by just leaving them out at room temperature for about 10 minutes.
Either way you make these cookies ahead of time to have on hand for when your sweet tooth is calling! 
More Momma Cookie Recipes:
Try some of my other favorite cookie recipes. 
Easy Classic Chewy Chocolate Chip Cookies
Gluten Free Chocolate Chip Cookies
Best Christmas Cookies Ever: One Dough Makes 4 Cookies
How to Make Peanut Butter Oatmeal Cookies From Scratch: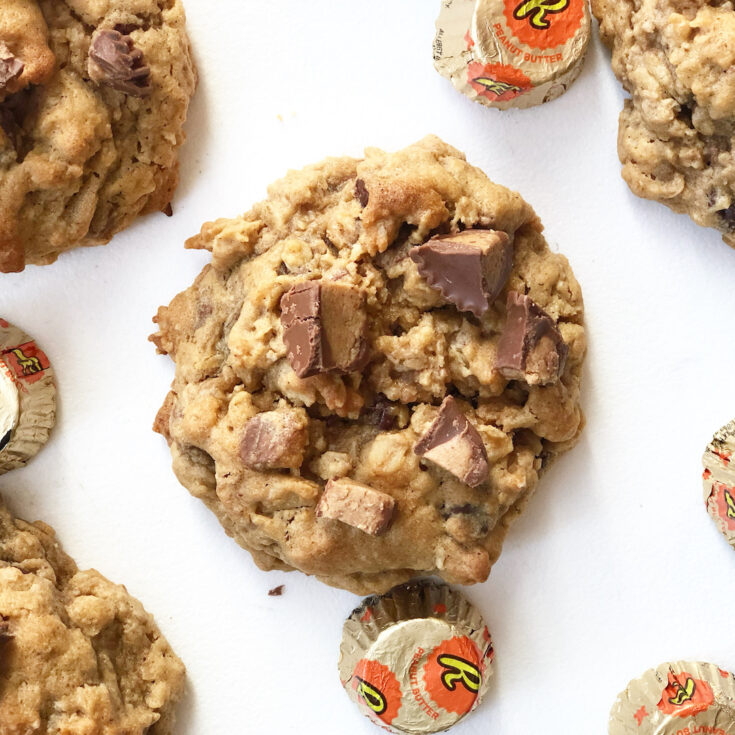 Yield:

Makes 18
Peanut Butter Oatmeal Cookies
Delicious oatmeal cookies studded with reese's, chocolate chips and smooth peanut butter are the perfect cookie!
Ingredients
1/2 Cup (1 stick) plus 6 tablespoons butter, softened
3/4 Cup firmly packed brown sugar
1/2 Cup granulated sugar
2 Eggs
1/2 cup peanut butter
1/2 Teaspoon salt
1 Teaspoon baking soda
1 Teaspoon ground cinnamon
1 Teaspoon vanilla
1-1/2 Cups all-purpose flour
3 Cups rolled oats
1/2 cup Reese's peanut butter cups, diced small
1/2 cup semi sweet chocolate chips
Instructions
Cream together the butter, brown sugar and granulated sugar in a stand mixer until creamy, about 1 minute.
Add the peanut butter.
Mix to combine and while on low speed add the eggs.
Add salt, baking soda, cinnamon and vanilla and mix to combine.
Add the flour and mix.
Add the oats and mix.
Remove the Reese's cups from the wrappers.
Chop the Reese's into small pieces.
Add the Reese's to the cookie dough.
Add the chocolate chips and mix.
Scoop cookie dough (about 1/4 cup) onto a parchment lined baking sheet 1 inch apart.
Bake at 350 for 10 minutes.