Meatless Monday sweet potato tacos with lime crema are a favorite in our house! They are light and delicious and are a perfect vegetarian dinner idea. 
Sweet potato tacos are full of delicious Mexican flavors like cumin and chili powder. They are served on oven fried crunchy corn tortillas. All topped with pico de gallo, cabbage slaw and a spicy lime crema. 
These tacos are gluten free and are one of my favorite vegetarian recipes. It has become a family favorite in our home! The best part is my kids even love this recipe!
Meatless Monday:
So let me tell you all about meatless Monday. We have been trying to make one meatless recipe a week.
This not only is a way to cut back on our meat intake but also cut back on our grocery bill. Eating a meatless meal once a week has cut down our weekly grocery bill by $25 a month. 
That may not sound like a lot, but that adds up over time! And we don't even miss the meat or feel deprived at all. 
Not to mention we just like the meatless meals!
Other Meatless Monday Recipes:
Meatless Monday doesn't have to be boring or mundane. It also doesn't have to be complex or use obscure vegetarian ingredients. You can take your favorite meat dishes and use vegetarian ingredients like mushrooms, sweet potatoes or even beans.
Here are some of my favorites that we make in our house.
The Best Cauliflower Taco Meat
Bean and Cheese Burritos
All of these recipes take under 15 minutes to make and are a great way to save some cash.
Ingredients for Sweet Potato Tacos:
Here is what you need to make these delicious sweet potato tacos.
2 large sweet potatoes
olive oil
1/2 head green cabbage
corn tortillas
cooking spray
salt
cheddar cheese
limes
cumin
oregano
garlic salt
salsa verde
You can also change up the recipe and top these delicious vegetarian tacos with other fun toppings. Try pickled red onions, lime juice, sour cream, goat cheese or hot sauce.
Add more protein by adding black beans or garbanzo beans.
How To Make Sweet Potato Tacos: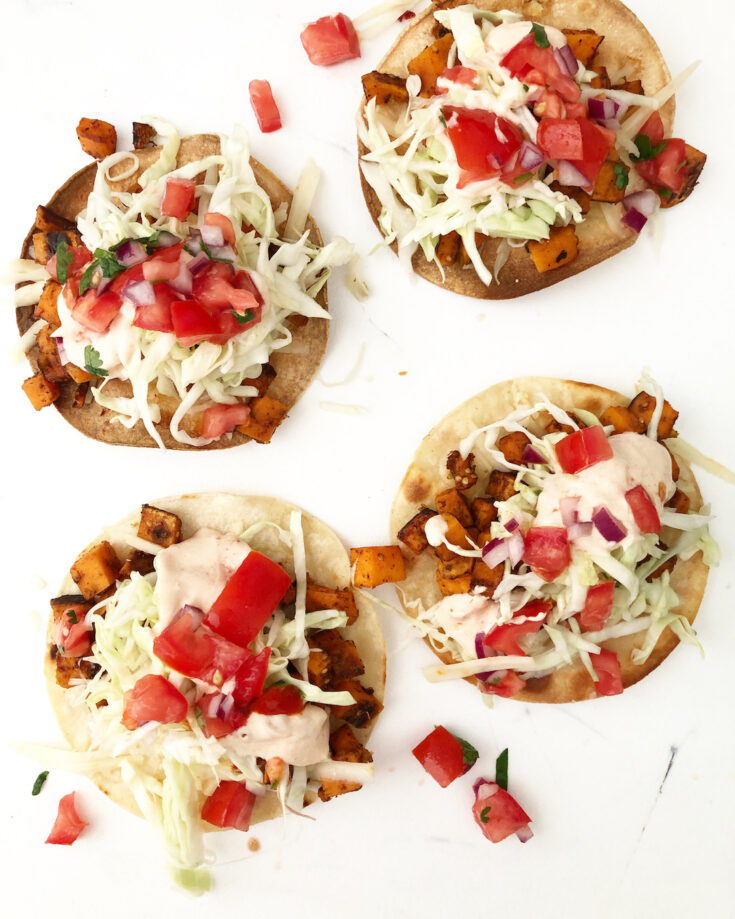 Yield:

12 tacos
Sweet Potato Tacos with Lime Creama
crispy vegetarian tacos are the best way to celebrate meatless Monday.
Ingredients
2 large sweet potatoes, peeled and diced small
2 teaspoons olive oil
1/4 teaspoon ground cumin
1 teaspoon dried oregano
1/2 teaspoon chili powder
1 teaspoon garlic salt
1/2 teaspoon Kosher salt
1/2 cup salsa verde
Toppings:
1 cup Monterey jack cheese or cheddar cheese, shredded
1 cup pre-made pico de gallo
Cabbage Slaw:
1/2 head green cabbage, shaved
Juice of 2 limes
1/2 teaspoon kosher salt
2 teaspoons extra virgin olive oil
Crispy Tortillas:
12 corn tortillas
Cooking spray
Kosher salt
Crema Sauce:
1 1/2 cup sour cream
1 teaspoon chipotle in adobo
1 lime, juiced
Instructions
Peel 2 large sweet potatoes.
Dice the sweet potatoes in a small dice.
Preheat a large saute pan over medium high heat. Add 2 teaspoons olive. Add the sweet potatoes. Cook for 5 minutes.
Add cumin, organo, garlic salt and salt.
Add 1/2 cup salsa verde and stir to combine.
Lower the heat to medium low and cover. Cook for an additional 5 minutes.
Shred the cheese and prepare the other toppings.
Thinly shred the cabbage.
Add the cabbage to a mixing bowl and add the juice of 1 lime.
Add the salt and olive oil and toss to combine.
Preheat the oven to 400 F. Place the corn tortillas on a parchment lined baking sheet.
Spray with cooking spray and sprinkle with salt. Cook for 4-5 minutes or until crispy.
Remove from the oven.
Make the crema by combining the sour cream, chipotle and lime juice.
Assemble the tacos with sweet potatoes, toppings of choice such as pico de gallo, slaw and crema.
Nutrition Information:
Yield:
12
Serving Size:
1
Amount Per Serving:
Calories:

238
Total Fat:

12g
Saturated Fat:

6g
Trans Fat:

0g
Unsaturated Fat:

5g
Cholesterol:

29mg
Sodium:

597mg
Carbohydrates:

28g
Fiber:

4g
Sugar:

8g
Protein:

7g