This delicious antipasto salad reminds me of my time in Italy at culinary school. It's fresh and full of flavor! 
Antipasto salad is one of my favorite salads to serve with any Italian dinner. Although many Americans think that this is a dish you see all over Italy, it's really not. Italian salads are much more simple. Think arugula, fresh tomatoes, Parmigiano Reggiano and a drizzle of extra virgin olive oil and balsamic vinegar.
Although they do serve platters of salami, artichokes, marinated mushrooms, cheeses and vegetables drizzled with olive oil and balsamic. This would be their version (without lettuce) of the antipasto salad (pictured below).
This salad recipe is more of an American inspired salad, but still it is so delicious! And this antipasto salad does use traditional Italian ingredients however. It reminds me of the best of an aperitivo. 
An aperitivo is a time before dinner where Italians love to get together to have a dink and a light small bite. It's very popular in Italian culture and a fun time to spend with family or friends.
Most small bites consist of olives, cheese, cold cuts, or potato chips. Although some restaurants go all out and have delicious pizzas, caprese skewers or even pasta! 
To me, this antipasto salad recipe combines this amazing traditional aperitivo experience into a delicious salad full of Italian flavors. 
What To Serve With This Salad:
This salad goes well with just about everything but these are my favorite recipes to serve with it. 
Antipasto Salad Ingredients:
Romaine Lettuce
Mixed Greens
Cucumber
Jarred Red Peppers
Salami
Mozzarella Cheese
Artichoke Hearts
Kalamata Olives
Croutons
Lemon Juice and Zest
Fresh Basil
Honey
Extra Virgin Olive Oil
White Balsamic Vinegar
Salt and Pepper
Optional Additions: pepperoni, pepperoncini, proscuitto, heirloom tomatoes, marinated mushrooms
How To Make Antipasto Salad:
This salad is pretty simple to make. Prep all your salad ingredients ahead of time and then toss everything together with the dressing right when you are about to serve. 
Recipe: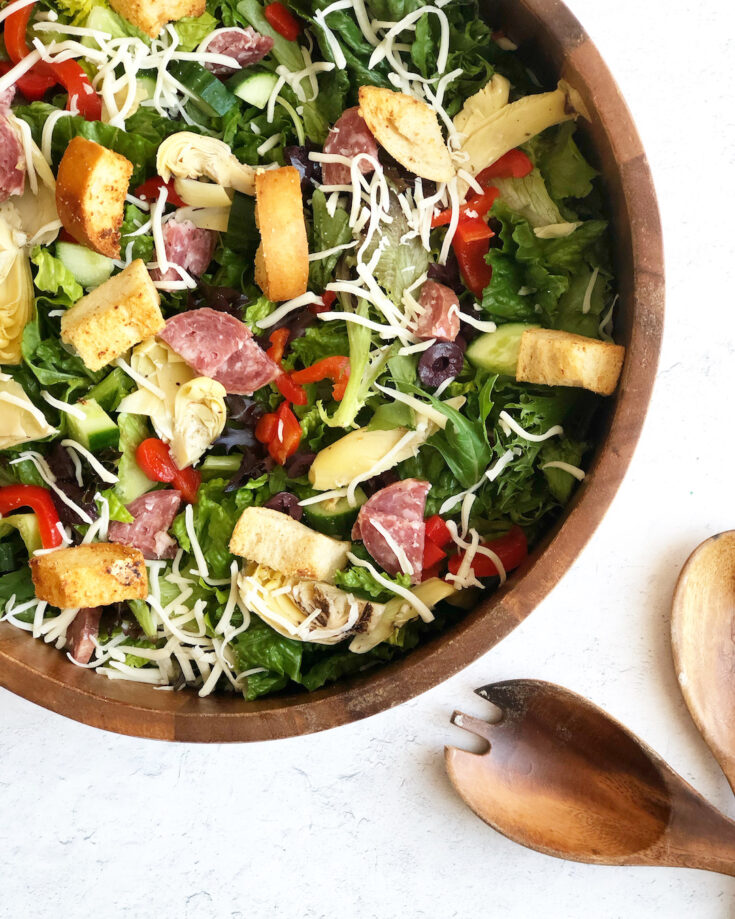 Yield:

Serves 10
Antipasto Salad
Full of Italian flavors this antipasto salad is great for an Italian themed dinner.
Ingredients
3 small heads romaine lettuce, washed and dried and cut
3 cups mixed greens
1/2 cup cucumber, diced
1/2 cup jarred red bell pepper, drained, sliced thin
1/2 cup jarred marinated artichoke hearts, drained, sliced in half
1/4 cup kalamata olives, sliced
1/2 cup salami, diced
1/2 cup shredded mozzarella cheese
1 cup croutons
For The Dressing:
1/4 cup lemon juice
2 tablespoons white balsamic vinegar
1 teaspoon lemon zest
1 teaspoon honey
1 tablespoon fresh basil, chiffonade
1/3 cup olive oil
1/2 teaspoon Kosher salt
1/8 teaspoon black pepper
Instructions
Add the lettuces to your salad bowl.
Add the rest of the salad ingredients.
Prepare the dressing by combining all of the ingredients in a mason jar. Seal the jar and shake well to combine.
Toss the salad with desired amount of dressing and serve.
Recommended Products
As an Amazon Associate and member of other affiliate programs, I earn from qualifying purchases.
Other Delicious Salad Recipes:
Wedge Salad With Light Blue Cheese Dressing
Roasted Butternut Squash Salad with Maple Orange Dressing