This easy gluten free pumpkin trifle is the best gluten free Thanksgiving dessert that is not a pie! 

Have you been searching for a gluten free Thanksgiving dessert? Well look no further this pumpkin trifle is absolutely to die for! The best part is it's so easy to make and has no weird aftertaste that you get with some gluten free recipes. 
Trifle is a great dish for large gatherings and it's a delicious layered dessert that you can change up for any holiday.
I love making trifle for the holidays. Here are some of my favorite holiday flavor combinations. 
Fourth of July- angel food cake, whipped topping, strawberries, blueberries, vanilla pudding mix.
St. Patrick's Day- angel food cake, pistachio pudding, green jello, topped with gold coins
Birthday- funfetti cake, vanilla pudding, multicolored sprinkles, strawberries, whipped topping
And my all time favorite Thanksgiving- Spice cake crumbles topped with a rich pumpkin pudding, drizzled with caramel and topped with layers of whipped topping and heath bars makes the perfect pumpkin trifle. 
This is the recipe we are making today! 
The layers are so beautiful in this glass trifle dish. It's a great way to display a dessert!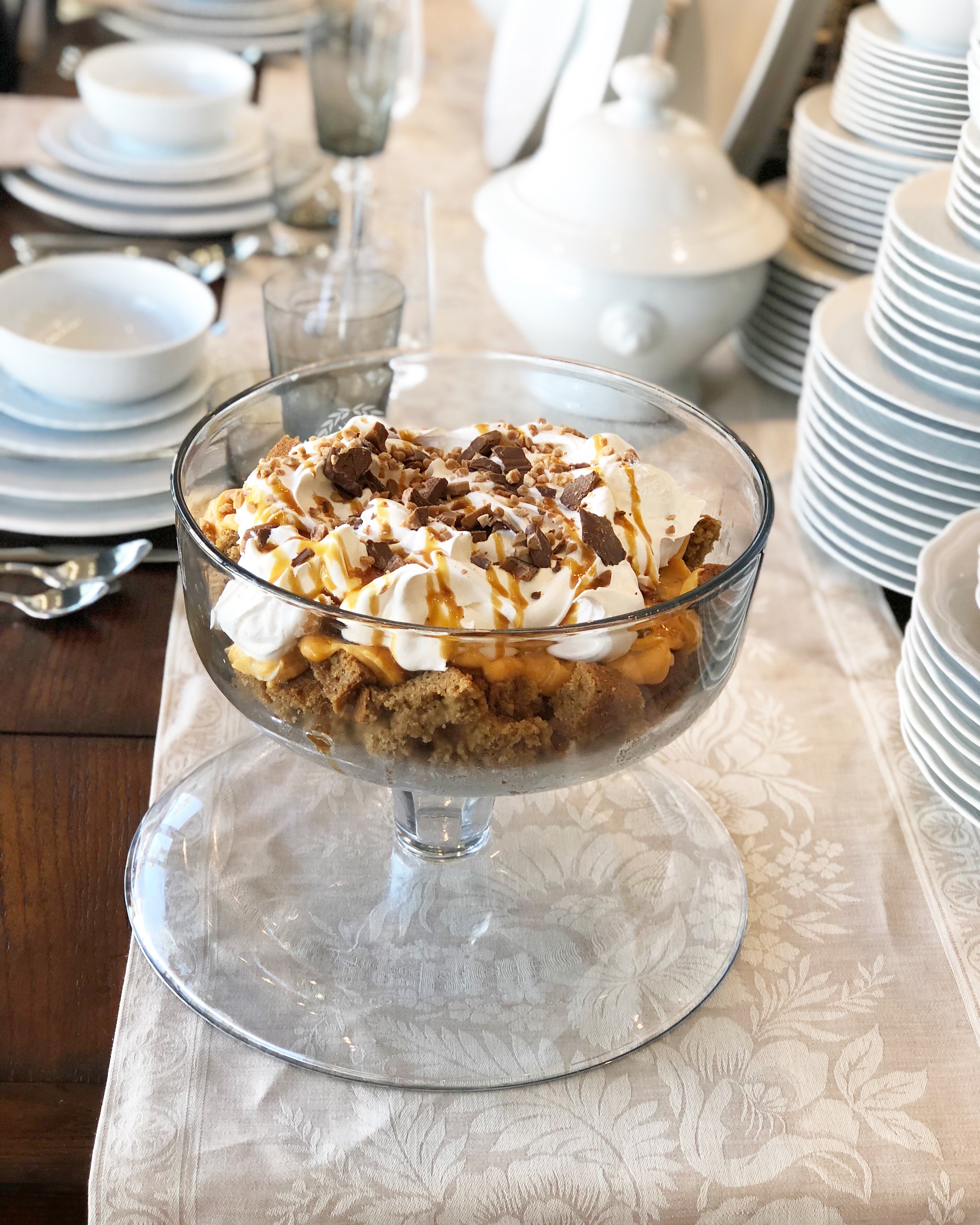 Finding a delicious gluten free Thanksgiving dessert is NOT easy – trust me I have tried for years and it's taken me up until now to create the perfect, easy dessert that is both delicious and gluten free.
This Pumpkin Trifle has all of your favorite fall flavors without any gluten – even better yet most people don't realize that it's a gluten free friendly recipe! 
This is a great dessert to make and take along to your Thanksgiving dinner! 
How to make pumpkin trifle: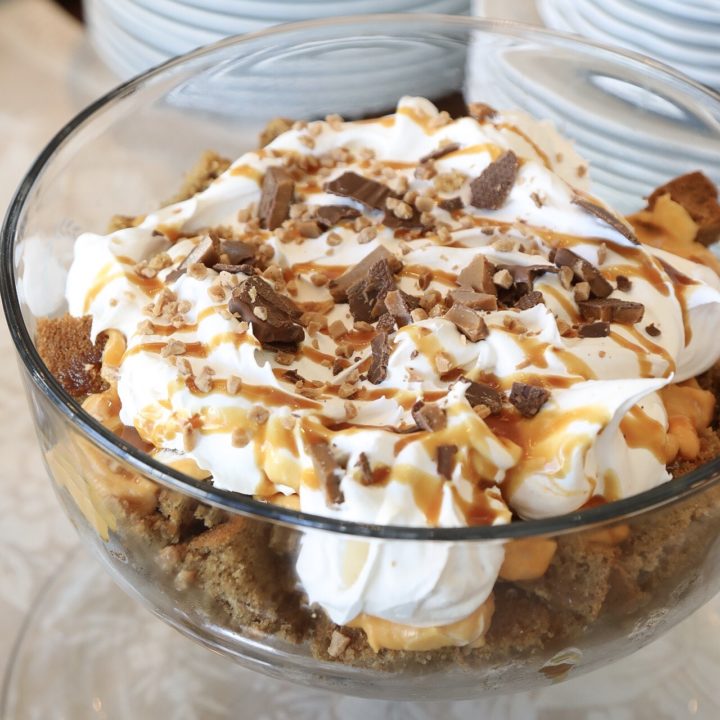 Gluten Free Pumpkin Spice Trifle
The perfect gluten-free Thanksgiving dessert.
Ingredients
1 Box Gluten Free Spice Cake (with ingredients from the box directions)
1/2 Cup Instant Vanilla Pudding Mix
2 Cups Milk
1 Container Coco Whip or Cool Whip
Caramel Sauce
1/2 Cup Canned Pumpkin Puree
1 Cup Heath Bars, Roughly Chopped
Instructions
Prepare the spice cake according to package directions. Cook in 2 (9 inch) cake pans. Let cool completely.
In a medium mixing bowl, combine the pudding mix with the milk and whisk together for 3 minutes until the pudding becomes thick. Stir in the pumpkin puree. Set in the fridge for 10 minutes.
Crumble one of the cakes into the bottom of a trifle dish.
Layer all of the pudding mixture on top of the crumbled cake.
Drizzle with caramel sauce and half of the toffee bits.
Crumble the second cake on top of the caramel and toffee bits.
Top with coco whip and spread evenly with a spoon. Finish with a drizzle of caramel and remaining toffee bits.
Notes
You can also make these in individual serving vessels.
Recommended Products
As an Amazon Associate and member of other affiliate programs, I earn from qualifying purchases.
I love experimenting with Thanksgiving desserts! If you're looking for a few more to try out these Homemade Pumpkin Pie Bars are delicious and I can never get enough of these Pumpkin Chocolate Chip Cookies.