In less than 10 minutes dinner can be on the table! These are one of my favorites! Enjoy!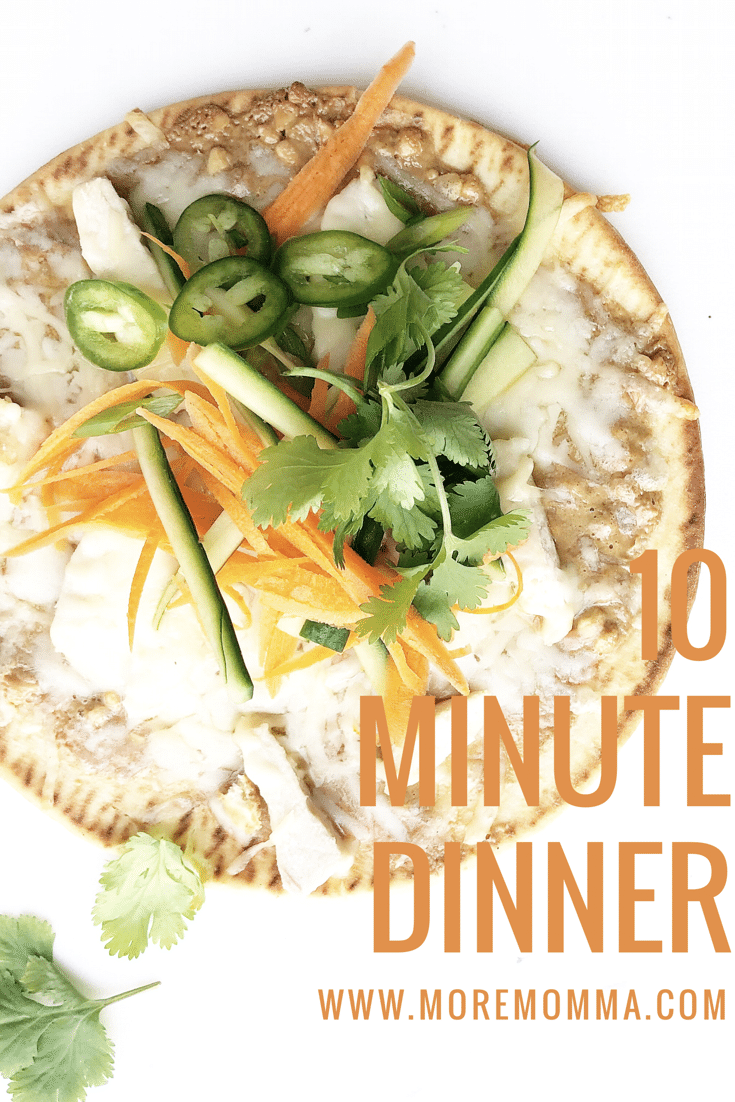 This easy 10 minute chicken satay flatbread is the perfect quick dinner. I love making these for nights when I really don't have time to cook.
These flatbreads use rotisserie chicken, pre-made flatbreads and jarred peanut satay sauce.
The best thing about this dinner is you can change up the flavors to fit your families individual needs. You can also utilize this dish to get rid of some leftovers!
In need of some more 10 minute dinners? Here are some of my favorites!
10 Minute Dinners:
10 Minute Trader Joe Dinner: Caprese Flatbread
10 Minute Easy Chicken Chow Mein
10 Minute Pineapple and Pork Tenderloin Stir Fry
Chicken Satay Flatbreads:
Yield:

4
"10 Minute Dinner" Chicken Satay Flatbreads
Have dinner on the table in 10 minutes with this delicious flatbread.
Ingredients
4 Flatbreads
3/4 Cup Jarred Peanut Satay Sauce
1 Cup Quattro Formaggio Cheese or Mixed Italian Cheese Blend
1 Cup Rotisserie Chicken, Shredded
1/2 Cup Cucumber, Julienned
1/2 Cup Carrots, Julienned
Optional Toppings:
Cilantro, Torn
Green Onions, sliced
Jalapeño, sliced
Instructions
Turn on broiler.
Place Flatbreads on a foil-lined baking sheet.
Evenly spread peanut sauce on each flatbread.
Top with cheese and chicken.
Place under the broiler for 2-4 minutes or until cheese is melted.
Remove from the oven and top with cucumber, carrots and toppings.