Trying to decrease your caffeine intake? Try this whipped coffee alternative. Whipped coffees are all the rage right now! You won't believe that it's not actually coffee!
Coffee? You might be wondering why I am talking about coffee on my blog today. I hesitated posting this for half a second, but knew I needed to profess my love for this whipped coffee alternative.
I'm being completely serious when I say I crave coffee! You probably don't know this about me, but I used to be a big coffee drinker several years ago. I lived for my morning cup of coffee.
A mid-day trip to Starbucks for an iced coffee? Only multiple times a week. How about a meet-up at a local coffee shop? It was the perfect way to start my weekends!
I began toying around with the idea of not drinking coffee when my GI doctor recommended doing a food elimination diet to determine what foods were triggers for my IBS. To be frank, I wasn't interested in ending my relationship with coffee. Sure, I decreased how much coffee I was drinking, but my trips for a drink were still a daily or every other day occurrence.
You guys, what I didn't know was that my coffee consumption was contributing to my terrible IBS symptoms and I just couldn't see that easing up on my consumption was making a difference. So, what was a girl to do? The only logical thing, of course: carry on with a cup of Joe in my hand!
And carry on I did, until I began meeting with missionaries from the Church of Jesus Christ of Latter-day Saint and learned about the Word of Wisdom. As a teenager I knew a lot about the Church of Jesus Christ of Latter-day Saints because I had many friends that were members. I knew they did not drink coffee or alcohol, but I didn't know exactly why.
You are probably asking yourself…..the word of what?
Yep — The Word of Wisdom. Basically it is a guide to healthy living that outlines ways people can keep their body's healthy and happy. Latter-day Saints are instructed to abstain from harmful substances, not drink any kind of alcohol or "hot drinks," meaning coffee or any tea other than herbal tea, and not to use tobacco or illegal drugs.
I would be lying if I said giving up coffee was easy for me, but honestly I stopped drinking coffee cold turkey and haven't had a sip of it since.
Coffee is delicious — I love the taste and smell so much. Remember how I mentioned that I couldn't even finish an elimination diet? It was totally challenging for me. I loved coffee and was definitely addicted to it! Giving it up was so hard, but so worth it.
I'm not even exaggerating when I say that when I became a member of the Church of Jesus Christ of Latter-day Saints and stopped drinking coffee, all my IBS and stomach issues went away. I truly did not have any more symptoms!
In no way do I judge people who drink coffee or tea (heck, it wasn't too long ago that I was drinking it myself!). But, I do have a strong testimony of how obeying the Word of Wisdom can positively affect a person's health.
I spent some time searching for a great coffee alternative and found an amazing product called, Pero.

Pero is my favorite coffee alternative. It looks like coffee…tastes like coffee…and even smells like coffee. But it's not! (Other great coffee alternatives include chicory coffee and matcha tea. Check out this post for more ideas.)
Is it possible for a coffee alternative to be caffeine-free? Yes, and Pero is just that! It's a naturally caffeine-free drink mixture that's blended from several natural ingredients such as malted barley, barley, chicory, and rye. It doesn't sound appetizing, but it is good and has rescued me from my cravings.
Make Pero into a whipped coffee and you've truly hit the jackpot. Using 4 ingredients, this just became the easiest recipe ever!
Pero — the naturally caffeine-free coffee tasting non-coffee alternative!
Flavored Syrup — flavor your whipped coffee with Torani or Starbucks syrup. I buy both off of Amazon.
Water — filtered from your fridge is great, but using tap water is okay, too.
Milk — use whatever kind you like! Whole or 2% milk will result in stiffer peaks, but you can use soy, almond, oat, or even coconut milk for a dairy-free option!
My favorite whipped coffee recipe is for every person who might need or want a coffee alternative for whatever reason! How do you flavor your whipped coffee? Let me know in the comments or in Instagram @moremomma!
xoxo,
Meg

For a perfect breakfast or afternoon pick-me-up, drink this coffee-free whipped coffee with a fresh slice of Unscotti or warm Lemon Rolls.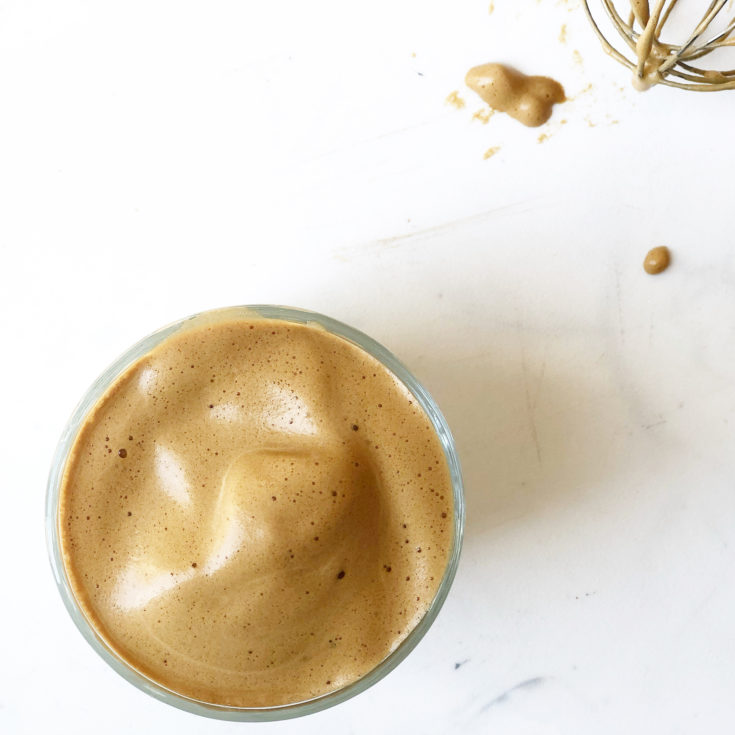 Yield:

Serves 2
Coffee-Free Whipped Coffee
A coffee-free version of the infamous whipped coffee. Tastes just like coffee!
Ingredients
2 Tablespoons Pero Instant Natural Beverage
2 Teaspoons Torani Almond Syrup
1 Tablespoon + 2 Teaspoons Hot Water
2 Cups Cold Milk
Instructions
Place the Pero, almond syrup, and water in a small metal mixing bowl.
Whisk or use hand beaters with a whisk attachment to whip the mixture until a soft peak forms.
Pour one cup milk into each serving glass. Top with whipped Pero mixture and serve.
Notes
You can use any Torani flavor you prefer.
Recommended Products
As an Amazon Associate and member of other affiliate programs, I earn from qualifying purchases.