I don't think there is a more elegant meal than lobster ravioli. These ravioli are rich and buttery and are full of tender lobster chunks. They are tossed in a garlic browned butter sauce that pairs perfectly with the ravioli.
Lobster ravioli are the perfect dinner to celebrate someone special. They are deliciously tender and succulent.
I made this recipe for my husband for our anniversary and it was the perfect elegant meal. The best part is you can make it in the comforts of your own home for a fraction of the price. They taste equally, if not better than a restaurant version.
If you are looking for a recipe that will make your loved ones feel extra special try this lobster ravioli recipe. You can serve this as a first course or as a main course. If you do serve it as a first course, I would recommend only serving 2 ravioli. They are quite filling.
Now let's dive into the different components of the recipe.
Fresh Pasta:
This lobster ravioli is made with a homemade fresh pasta that is flavored with chives. The chives pair perfectly with the lobster and add a beautiful color to this dish. You can see chives studded throughout the pasta which adds another elegance that I love.
Fresh pasta is actually more simple than you may think. It sounds fancy, but it only consists of a few ingredients and takes under an hour to make.
If you are interested in learning more about homemade pasta check out the More Momma Pasta Cooking Class. I share all my tips from when I was in Italy at culinary school.
In the pasta class we go though everything you need to know about homemade pasta.
We show you multiple methods of how to make pasta. Which includes ways to make homemade pasta with or without a pasta machine. And we even include a homemade gluten free pasta recipe! Lastly, we learn how to make stuffed pastas along with lots of delicious sauces.
It really is an amazing class where I take you back to Italian culinary school with me. So check it out if you need any help!
How To Make Fresh Pasta:
Here are the simple steps to make fresh pasta.
Add your flour to a clean work surface.
Create a well in the center and add the eggs, olive oil and salt. We will be adding chives as well for flavor.
Mix with a fork and then start to knead until you have added most of the flour. You will have left over flour for this recipe. The dough should be soft and not sticky.
Wrap the pasta dough in plastic wrap. Let the pasta dough rest for 30 minutes.
Then roll the pasta out into thin sheets with your pasta machine and stuff with the ravioli filling.
If you do not want to make homemade pasta you can also use wonton wrappers. However the homemade fresh pasta is preferable.
How To Remove Lobster From The Shell:
For our filling we will be using fresh lobster tails. You will need to remove the lobster from the shell to make the filling. We remove the meat before cooking.
To remove the lobster from the shell, cut through the bottom or top of the lobster tail with sharp kitchen scissors.
Carefully pull the shell open. Run your fingers in between the flesh and the shell and remove the lobster meat. Refer to the video tutorial if needed.
Lobster Ravioli Filling:
This lobster filling is buttery and delicious. I prefer my lobster filling to have chunks of lobster as opposed to blending it. If you are going to spend the money of lobster tails you should see and taste the chunks of meat!
To make the filling reduce white wine, sherry wine and shallot together in a skillet over medium heat.
Remove the lobster meat from the lobster tails and cut into 1/2 inch chunks.
Add butter to the wine mixture and then saute the lobster with some fresh chives for 1-2 minutes.
Chill the filling in the fridge.
When you are ready to make your ravioli add shredded mozzarella cheese, lemon zest and salt.
What Sauce Goes With Lobster Ravioli?
Lobster is such a luxurious protein that you don't want to overpower it with heavy sauces.
I prefer a simple browned butter sauce for this dish rather than a tomato sauce. The butter goes perfectly with the lobster and brings out all of the flavors. You can also use a light cream sauce with some lemon juice if desired.
What Goes Well With Lobster Ravioli?
Lobster ravioli is such an elegant meal. I love serving this for an fancy dinner party or a special anniversary dinner. It's also great for a Valentine's Day dinner. Here are some other elegant recipes that would work well with this dish.
This steakhouse wedge salad, rosemary focaccia bread and strawberry ice cream cake go perfectly with these rich and succulent lobster ravioli.
Can I Freeze Lobster Ravioli?
I love making homemade ravioli because they freeze wonderfully. To freeze the lobster ravioli place the uncooked ravioli on a baking sheet 1/2 inch apart and flash freezing for 1 hour. Then transfer to a ziplock bag and freeze up to 3 months.
When you are ready to serve, place the frozen ravioli straight into boiling, salted water. No thawing necessary! The ravioli will take 1-2 more minutes than normal.
How To Cook Homemade Ravioli:
While I was in culinary school in Italy my teachers would reiterate how to properly cook pasta on a daily basis.
Italians take such pride in their food and cooking homemade pasta is no exception.
To properly cook homemade ravioli you will need to start with simmering salted water. It is important that you have enough water so that the raviolis have room to swim. Be careful that the water is not boiling heavily or it can break the delicate ravioli.
When you are cooking pasta you are basically rehydrating it. So it will have much more flavor if you rehydrate the pasta with flavorful water. And that is where the salt comes into play.
The water needs to be heavily salted. It should taste like sea water, so don't be shy with the salt.
Fresh homemade ravioli only take a few minutes to cook. Carefully place the ravioli into the simmering, salted water and cook for 3-4 minutes. The ravioli should rise up to the top when they are done.
Step By Step Video:
Lobster Ravioli Recipe:
Now let's put everything together and make some homemade ravioli.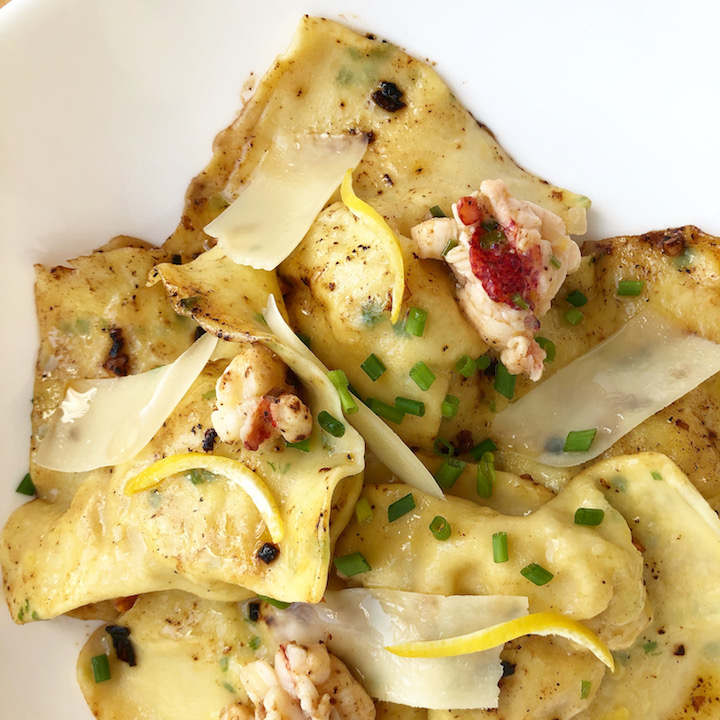 Yield:

Serve 4
Lobster Ravioli With Garlic Browned Butter Sauce
Total Time:
1 hour
3 minutes
Rich, buttery lobster ravioli with garlic browned butter sauce.
Ingredients
Fresh Pasta:
2 cups all purpose flour
3 eggs
1 tablespoon chives, chopped
1 teaspoon olive oil
1/4 teaspoon salt
Lobster Filling:
1 shallot, finely diced
1 cup white cooking wine
2 tablespoons sherry cooking wine
3 tablespoons butter
3 lobster tails, meat removed, diced
1 teaspoon chives, chopped
1 lemon, zested
1/2 cup shredded mozzarella cheese
1/4 teaspoon salt
Browned Butter Garlic Sauce:
4 tablespoons butter
2 cloves garlic, minced
Garnish:
1/4 cup Parmesan cheese, shaved
1 lemon, zested
1 tablespoon fresh chives, chopped
Instructions
Add the flour to a clean work surface. Make a well and add the eggs into the well with the chives. Mix the eggs together with a fork in the well.
Slowly start incorporating the flour from the outside of the well. Be careful not to add too much at once or the pasta will create chards.
When it gets too thick to work with the fork sprinkle some flour on top of the egg mixture (not too much) and start kneading the surrounding flour in by hand until most of the flour is used (about 5 minutes).
Once the dough is soft to the touch and not sticky, cover in plastic wrap and let it rest for 30 minutes.
Remove the lobster meat from the shell by cutting through the bottom or the top of the shell with kitchen sheers. Run your fingers in between the shell and the meat and remove. Cut into chunks.
Finely dice a shallot.
Add the shallot to a skillet preheated over medium heat. Add 1 cup white coking wine.
Then add the sherry cooking wine.
Simmer to reduce for 5 minutes. Then whisk in 3 tablespoons butter.
Add the lobster meat.
Saute for 1-2 minutes (the lobster will not be fully cooked, it will finish cooking when cooking ravioli).
Add the chives and remove from the heat.
Refrigerate the filling until you are ready to make the ravioli.
Next roll out the pasta dough in batches (I cut the pasta ball in quarters). Start on the widest setting and slowly roll out increasing the setting until you reach a level 6 on the Kitchen Aid machine.
If the dough gets sticky you can sprinkle with a little flour. If it breaks just fold over in half again and roll out again.
Place the pasta sheet on a floured surface and continue to roll out the rest of the dough.
Add the lemon zest, mozzarella cheese and salt to the refrigerated filling and mix to combine.
Add 1 tablespoon of the filling to the center of the pasta sheet leaving about an inch of space in between.
Fold the pasta sheet over and press to seal. Being careful to remove any air in between the filling and the pasta. Cut with a bench scraper, knife or ravioli cutter. Take each ravioli and press firmly around the edges to seal the ravioli completely. Check for any holes in the pasta dough. Finish making the remaining ravioli.
Bring a large pot of water to a boil and add 2 tablespoons salt.
Make the garlic browned butter sauce by adding the butter and garlic to a saute pan over medium heat. Cook until the butter starts to turn golden (about 3 minutes. Turn the sauce off to prevent it from burning.
Place the ravioli into the simmering water (don't crowd the pot) and cook for 3 minutes.
Drain the ravioli with a slotted spoon and place directly into the garlic browned butter sauce. Carefully toss to combine.
Place the ravioli in your serving dish and top withe parmesan, lemon zest and fresh chives.
Notes
PASTA WITHOUT A PASTA MACHINE:
If you do not have pasta attachment or a pasta machine you can roll out your pasta with a rolling pin.
Make sure you try to get the pasta sheet as thin as possible.
Recommended Products
As an Amazon Associate and member of other affiliate programs, I earn from qualifying purchases.
Nutrition Information:
Yield:
6
Serving Size:
1
Amount Per Serving:
Calories:

519
Total Fat:

23g
Saturated Fat:

12g
Trans Fat:

1g
Unsaturated Fat:

9g
Cholesterol:

192mg
Sodium:

584mg
Carbohydrates:

38g
Fiber:

2g
Sugar:

1g
Protein:

27g