This recipe is really the best carrot ginger soup with coconut and curry. Red curry paste adds a unique flavor and infuses Thai and Indian flavors.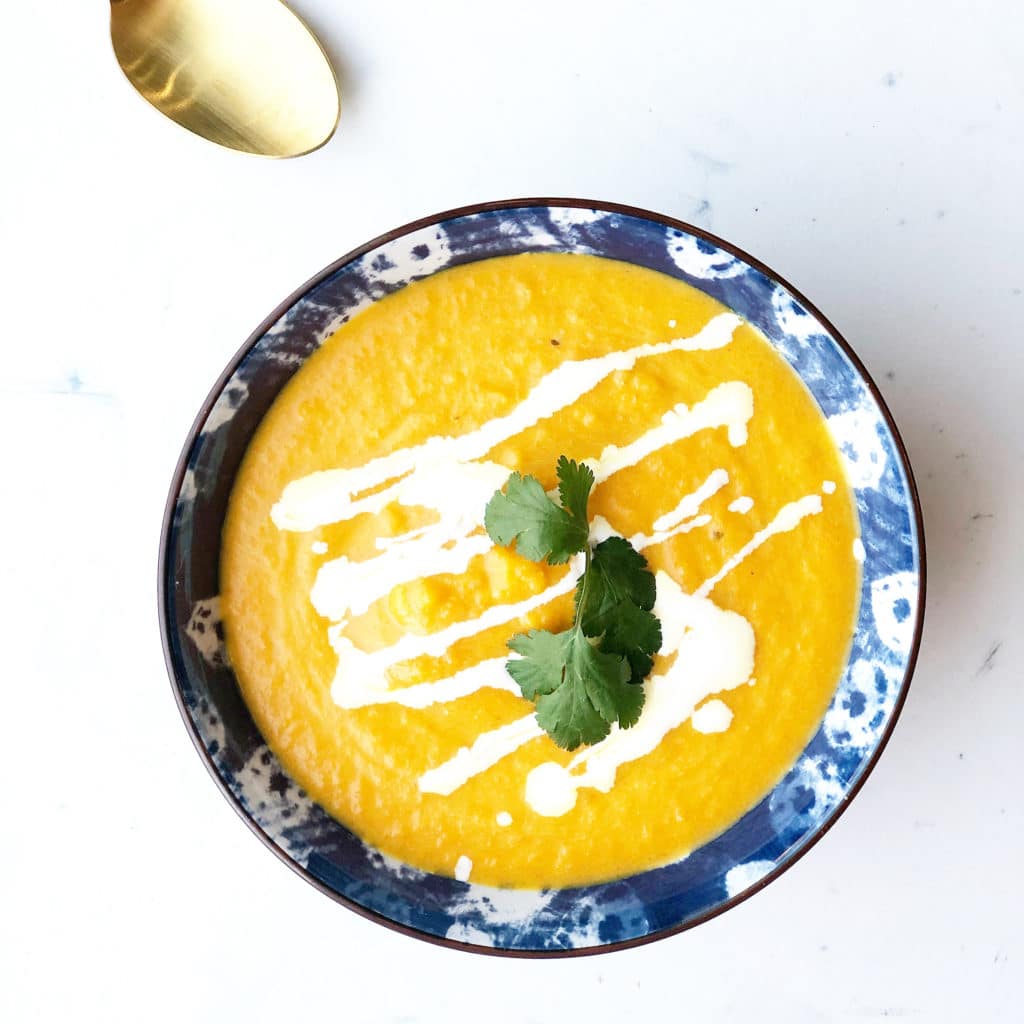 Carrot ginger soup is full of flavor and will warm your soul. It's also easy to make and be made ahead of time and frozen for a quick weeknight dinner.
When my husband and I went on our honeymoon on the Island of Maui, we ate at one of my all time favorite restaurants in the world, Mama's Fish House. We actually went there twice because we loved it so much.
One night we were given a starter of carrot ginger soup and it was one of the most delicious soups I have ever had. The flavors were bright, yet robust.
So when we got home, I of course tried to recreate it. This carrot coconut curry soup is perfect on its own or you can actually use it as a sauce as well. I top it on top of chicken, asian noodles, shrimp or even steak. It's so flavorful and adds a tanginess to whatever you put it on.
Some tips with this soup:
I suggest following the directions exactly. It is important to add ingredients in the order of which they are written.
Use fresh lime juice. The jarred stuff actually adds a bitter taste rather than the acidic flavor you need at the very end of the soup. It is also important to add this in at the very end so that the juice does not become bitter.
You can find the red curry paste at any major grocery store. I really love red curry as opposed to yellow or green curry pastes for this soup. It is slightly sweet and adds a rich flavor.
If you want to add spice to this soup you can add some Thai chilies. This soup is not spicy as is, so if you prefer a little heat just add a little chili.
I always recommend to blend hot soups with an immersion blender as opposed to putting the hot soup into a blender. Immersion blenders are much safer to use blending hot items. Just make sure the head of the blender is all the way submerged into the soup to prevent splattering.
You can freeze the left over soup in soup containers for a meal later on in the month. When you are ready to re-heat, thaw the frozen soup in the fridge the night before and then place it in a saucepan over medium heat with 1/2 cup water until the soup is warm.
How to make Carrot Coconut Curry Soup:
Saute the vegetables, aromatics, and carrots in a large stockpot for 5 minutes. Add the coconut milk, chicken stock and curry and bring to a simmer. Simmer until the carrots are very soft and fork tender. Add the rest of the ingredients and blend with an immersion blender until smooth. Reduce slightly and serve.
Carrot Ginger Soup Recipe: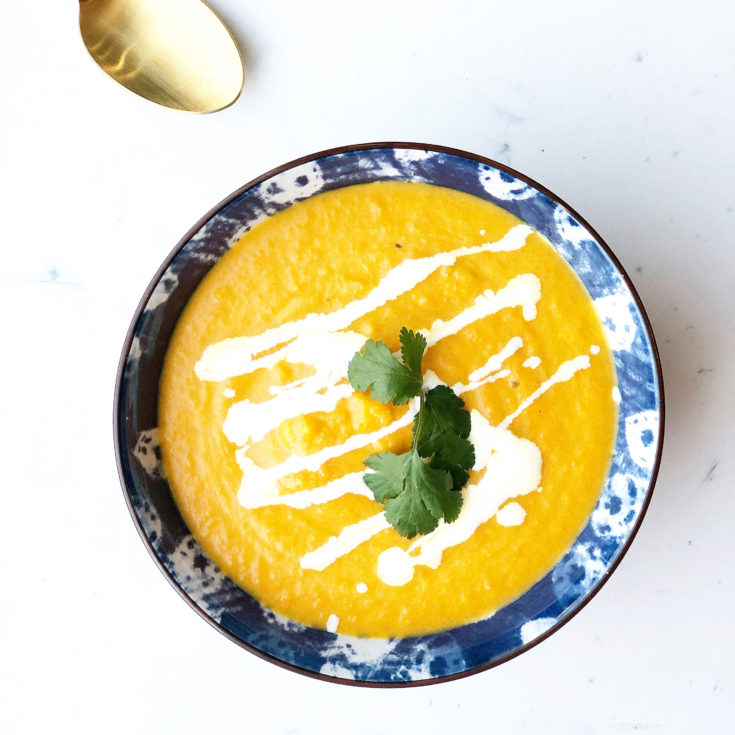 Yield:

6
Coconut Curry Soup
This Thai inspired soup can even be used as a sauce or base for Asian noodles.
Ingredients
2 Tablespoons Unsalted Butter
2 Pounds Carrots, Peeled, Large Dice
1 Cup Onion, Diced
3 Cloves Garlic, Minced
2 Tablespoons Chopped Ginger
2 Stalks Lemongrass, (hit with the back of your knife to release flavors)
1 Can Coconut Milk
1 (32 ounce) Box Chicken Stock
1 Teaspoon Curry Powder
2 Teaspoons Red Curry Paste
2 Teaspoons Brown Sugar
2-3 Teaspoons Kosher Salt
1 Teaspoon Lime Zest
1 Teaspoon Seasoned Rice Vinegar
1 Teaspoon Cilantro Leaves, Finely Chopped
2 Tablespoons Fresh Lime Juice (about 3 limes)
To Top:
Cilantro Leaves
Heavy Cream
Instructions
Preheat a large dutch oven or stockpot over medium heat.
Add the butter, carrots, onion, garlic, ginger and lemongrass. Saute for 5-7 minutes or until the onions become translucent.
Add the coconut milk, chicken stock, red curry paste, curry powder, brown sugar and salt and bring to a simmer. Cover and cook for 20-30 minutes or until the carrots are very soft.
Remove the lemongrass and blend the soup using an immersion blender (make sure the head of the blender is completely submerged into the soup to prevent splattering).
Stir in lime zest, rice wine vinegar, cilantro and lime juice. Taste the soup to see if it needs any more salt.
Pour into your serving bowls and drizzle with optional cream and cilantro leaves.
Notes
If you want to add some heat to this soup you can add Thai chili or Jalapenos.
Recommended Products
As an Amazon Associate and member of other affiliate programs, I earn from qualifying purchases.
Nutrition Information:
Yield:
6
Serving Size:
1
Amount Per Serving:
Calories:

300
Total Fat:

21g
Saturated Fat:

16g
Trans Fat:

0g
Unsaturated Fat:

3g
Cholesterol:

17mg
Sodium:

1256mg
Carbohydrates:

29g
Fiber:

5g
Sugar:

9g
Protein:

5g