DIY ice cream cake is easy and delicious! Take an ice cream sundae bar to a whole new level with this easy no cake ice cream sundae cake. It is easier to make and way less messy. Plus you can change up the recipe with any flavor ice cream you prefer.
DIY ice cream cake has been a family favorite since I was a little kid.  My grandmother would make ice cream cake for my mom and she passed the tradition on to all of us kids.  The original recipe consisted of chocolate and coffee ice cream, but we have morphed it into lots of different varieties over the years.
This DIY Ice Cream Cake is probably my most impressive version. It has all the flavors of a loaded ice cream sundae, but is so easy to make and is perfect for a birthday celebration, a game day dessert or a Summer family BBQ. I make this year round.
When making an ice cream cake you just need to follow a couple easy steps.
Which pan should I use for an DIY ice cream cake?
Making ice cream cake is really quite easy, but one thing you will need is a springform pan.  A springform pan allow you to remove the pan around the ice cream cake easily and allows you to get beautiful slices of ice cream cake when you go to cut the cake.
Can I change up the flavors?
You can definitely change up the flavors to your favorite ice cream flavors. We do a form of this cake for almost every holiday.  Here are some of our flavor combinations that are tested and loved by all!
Thanksgiving Version: gingersnap crumbs, pumpkin ice cream, vanilla ice cream, heath bars to top
Valentine's Version: Oreo crumbs, strawberry ice cream, chocolate ice cream, chocolate covered strawberries to top
Easter Version: coconut cookie crumbs, rainbow sherbet, vanilla ice cream, toasted coconut and peeps to top
Christmas Version: Oreo crumbs, peppermint ice cream, mint n chip ice cream, Andes mints to top
What can I do if my ice cream is hard and not spreading evenly?
You want to let the ice cream sit out at room temperature for 10 minutes to soften so that it can spread into one even layer. 
If your ice cream is still hard you can throw the container into the microwave for 15 seconds.
You don't want to microwave for too long or the ice cream will become soupy and when you go to freeze the cake it can become icy.
To help spread the ice cream evenly dip a spoon into a glass of hot water and then run the spoon across the ice cream to create an even layer.
Can I make an ice cream cake dairy free?
You can certainly make this ice cream cake with your favorite dairy free ice creams.  Some of my favorites are some varieties of Halo Top Ice Cream or SoDelicious. Oreos make a great crust since they are dairy free. Just pick your favorite dairy free topping.
How do I make a DIY ice cream cake?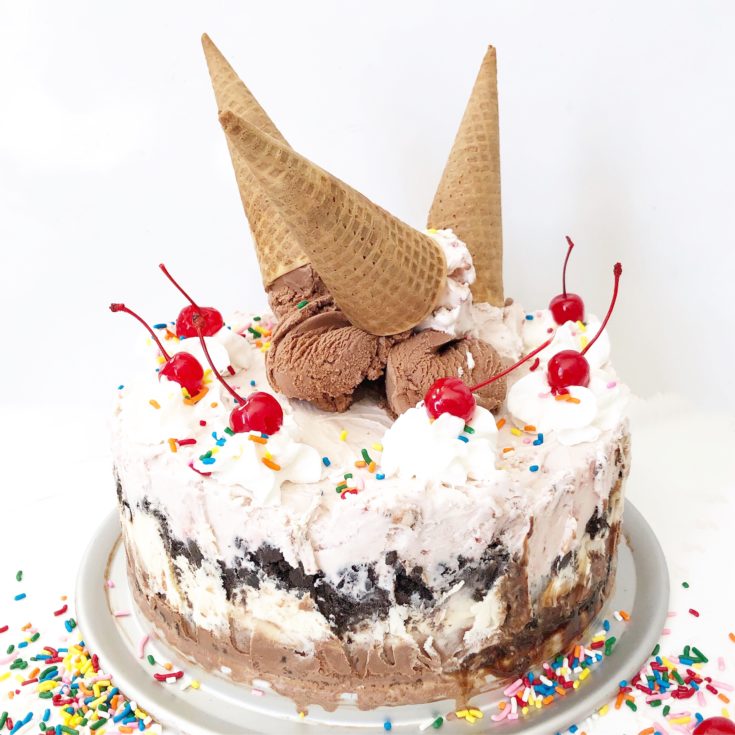 Yield:

14
Sundae DIY Ice Cream Cake
Total Time:
1 hour
10 minutes
An easy ice cream sundae that is made into a cake.
Ingredients
1 (14.3 ounce) Bag Oreo Cookies, Crushed
1.75 Quarts Chocolate Ice Cream, Slightly Softened
1.75 Quarts Vanilla Ice Cream Slightly, Softened
1.75 Quarts Strawberry Ice Cream, Slightly Softened
6 Ripe Bananas, Sliced
Chocolate Syrup
Caramel Syrup
Multicolored Sprinkles
1 Can Whipped Cream
8-10 Maraschino Cherries
3-4 Sugar Ice Cream Cones
Instructions
Place the cookies in a large Ziploc bag. Remove the air and seal the bag. Crush with a rolling pin or large skillet until the cookies are crushed into small pieces.
Pour half of the cookies into the bottom of a springform pan, reserving half for the center of the cake.
Prep the bananas.
Evenly scoop the chocolate ice cream on top of the cookies, reserving 1-2 scoops for the top.
Fill a cup with hot water. Dip the spoon into the hot water for a couple seconds and then use the back of the spoon to spread the ice cream in one even layer.
Evenly distribute the sliced bananas on top of the ice cream and drizzle with chocolate syrup and caramel syrup.
Evenly scoop the vanilla ice cream on top of the bananas, again reserving 1-2 scoops for the top. Dip the spoon into the hot water for a couple seconds and then use the back of the spoon to spread the ice cream in one even layer.
Layer with the remaining half of the cookies and drizzle with chocolate and caramel syrups.
Evenly scoop the strawberry ice cream on top of the cookies and spread out evenly (using the same warm spoon technique).
Place the remaining scoops of chocolate, vanilla and strawberry ice creams in the center of the cake forming a mound and place the cake in the freezer at least 2 hours until ready to serve.
When ready to serve, top with scoops of ice cream with the cones.
Spray whipped cream mounds around the diameter of the cake (about 1 inch apart). Top with multi-colored sprinkles and cherries.
Slice the cake into 14 equal slices.
Notes
This can be made days in advance without the toppings.
Recommended Products
As an Amazon Associate and member of other affiliate programs, I earn from qualifying purchases.
Nutrition Information:
Yield:
14
Serving Size:
1
Amount Per Serving:
Calories:

590
Total Fat:

29g
Saturated Fat:

18g
Trans Fat:

0g
Unsaturated Fat:

7g
Cholesterol:

98mg
Sodium:

176mg
Carbohydrates:

79g
Fiber:

3g
Sugar:

48g
Protein:

9g
If you love this recipe then check out my Nutella and S'more Gelato!