This quick and easy chicken pot pie has been feeding my family for years. It's creamy and packed with vegetables and is so delicious.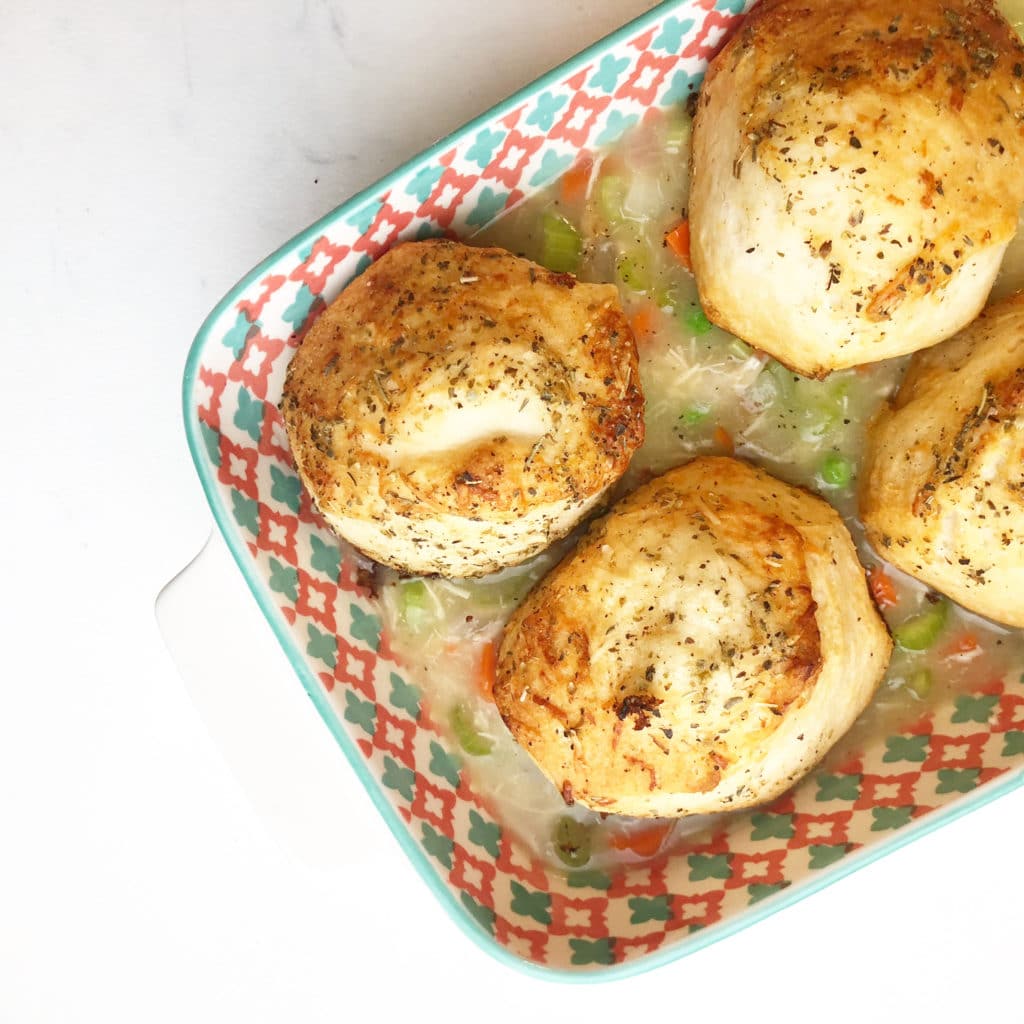 The great thing with this quick chicken pot pie recipe is how versatile it is. You can add whatever vegetables you like. I love cauliflower in this recipe because it mimics potatoes and the kids can't even tell the difference. Add as many vegetables as you want.
How do I make chicken pot pie gluten free?
This chicken pot pie recipe can easily be made gluten free. If you are gluten free skip the flour step and wait until the end when the pot pie is simmering on the stove to add a mixture of cornstarch and water to use as a thickener. The gluten free version is in the recipe note section.
The best chicken pot pie topping:
I love using canned biscuits for a quick and easy topping. Just coat the biscuits in some melted butter, Italian seasoning, parmesan cheese and salt and you can transform boring biscuits into a flavorful easy topping for your chicken pot pie.
Bake them separately for an even quicker meal.
How can I make my chicken pot pie thicker?
Usually chicken pot pie is thickened with a roux. If you already added a roux to your chicken pot pie and it is not as thick as you would like you can simply add a mixture of cornstarch and water which is called a slurry to thicken your chicken pot pie further.
Can I freeze chicken pot pie?
Chicken pot pie freezes really well. Just make sure you follow some simple freezer meal tips to ensure it doesn't get freezer burn. Some of my tips include letting it cool completely, covering the pot pie directly with press and seal wrap and then sealing your vessel to remove as much air as possible. You can even freeze the biscuits too. Just cook them to the recipe directions, let cool completely and then freeze in a Ziploc bag.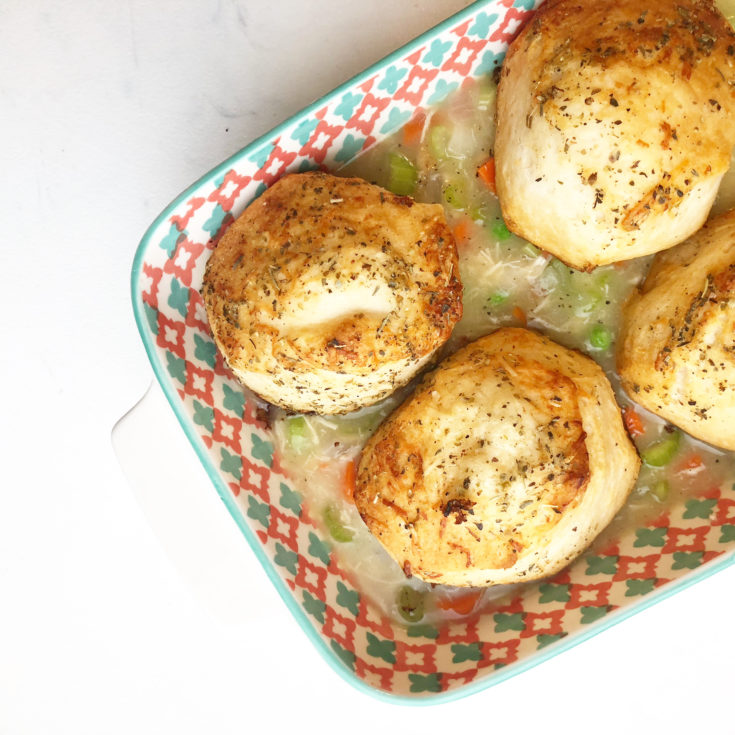 Yield: Serves 8
Quick and Easy Chicken Pot Pie
Prep Time: 10 minutes

Cook Time: 25 minutes

Total Time: 35 minutes

Veggie loaded chicken pot pie is quick and easy and is the perfect freezer meal for when you really don't feel like cooking.
Ingredients
4 Tablespoons Butter
1 White Onion, Diced
1 Pound Bag Carrots, Peeled, Diced
2 Stalks Celery, Diced
2 Cups Cauliflower, Roughly Chopped
3 Cups Rotisserie Chicken, Diced
1/3 Cup All Purpose Flour
8 Cups Chicken Stock
1-2 Teaspoons Kosher Salt (to taste)
1/2 Teaspoon Black Pepper
(Optional) 1 Tablespoon Cornstarch Mixed with 2 Tablespoons Water
For The Topping:
1 Can Premade Biscuits
4 Tablespoons Butter, Melted
1 Teaspoon Italian Seasoning
1/4 Cup Parmesan Cheese, Shredded
Kosher Salt (to taste)
Instructions
Melt the butter over medium heat in a large stock pot or Dutch oven. Add onion, carrot, celery and cauliflower and saute for 5 minutes.
Add the flour and stir to combine.
Add rotisserie chicken, chicken stock and salt and pepper and bring to a simmer.
Cover and cook for 15-20 minutes.
Meanwhile prepare the topping by preheating the oven to 350 degrees F.
Place the butter, Italian seasoning, cheese in an 8 inch cake pan and mix to combine. Coat the biscuits on each side with the mixture and place in a circular pattern. Bake according to package directions (about 12-14 minutes).
When the pot pie is done you can thicken further if needed by adding a mixture of 1 tablespoon cornstarch with 2 tablespoons water and bring to a simmer.
Ladle the pot pie into bowls and top with biscuits.
Notes
For Freezer Meal:

Freeze the pot pie mixture in an oven proof baking dish. Place a layer of press and seal wrap or wax paper directly on top of the chicken pot pie filling. Seal shut. For individual servings freeze in soup cube trays. Freeze the cooked biscuits in a reusable ziplock or ziplock bag.

Reheating Instructions:

Let the pot pie mixture thaw in the fridge the night before. Bake at 350 degrees F for 20 minutes. Stir and then cook for another 10 minutes. If the pot pie mixture separates stir to combine.

Let the biscuits thaw in the fridge the night before. Bake at 350 degrees F for 10 minutes or until warmed through.

For gluten free chicken pot pie:

Skip the flour in step 2 and add the 2 tablespoons corn starch with 1/4 cup water in step 7.
Recommended Products
As an Amazon Associate and member of other affiliate programs, I earn from qualifying purchases.
Souper Cubes Extra-Large Silicone Freezing Tray with Lid - 2 pack - makes 8 perfect 1cup portions - freeze soup broth or sauce

Reusable Gallon Storage Bags 5-Pack, LEAKPROOF Freezer Bags, EXTRA THICK Gallon Ziplock Bags for Marinate Meats, Vegetables, Fruit, Cereal, Sandwich, Snack, Travel Items, Meal Prep, Home Organization
If you love this recipe then try another one of my chicken recipes like Chicken Tortilla Soup!