This easy Baked Potato Soup is comforting, delicious, and easy to make with or without your Instant Pot! And it's a healthier version too!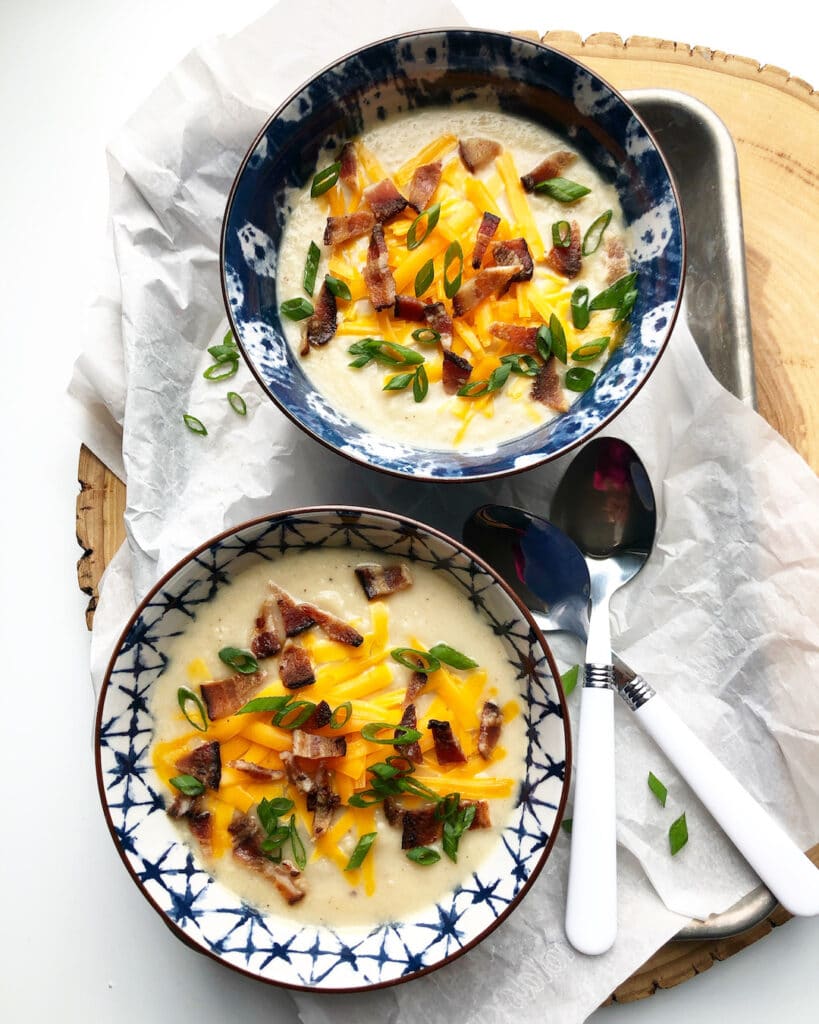 This easy baked potato soup recipe is creamy, thick and full of flavor. If you are looking for a simple potato soup recipe without the heavy cream this soup will be your new favorite.
There is nothing better than a warm bowl of soup on a cold day. This soup has been on repeat lately and I don't feel guilty about it because it's much healthier than the traditional version.
This soup is also gluten free! So make it for your next potluck gathering or make a batch for a gluten free friend in need.
Ready to make this delicious soup? Let's dive into some of the common questions and then get cooking.
Which potatoes are best for baked potato soup?
I like to use Russet or Idaho potatoes because they are high in starch which adds a delicious creaminess to the soup. You really need a high starch potato to achieve the creamy consistency without a roux (mixture of flour and fat used to thicken soups or sauces).
For this recipe I would not recommend Yukon gold potatoes or red potatoes because they don't have enough starch in them.
Can you freeze loaded potato soup?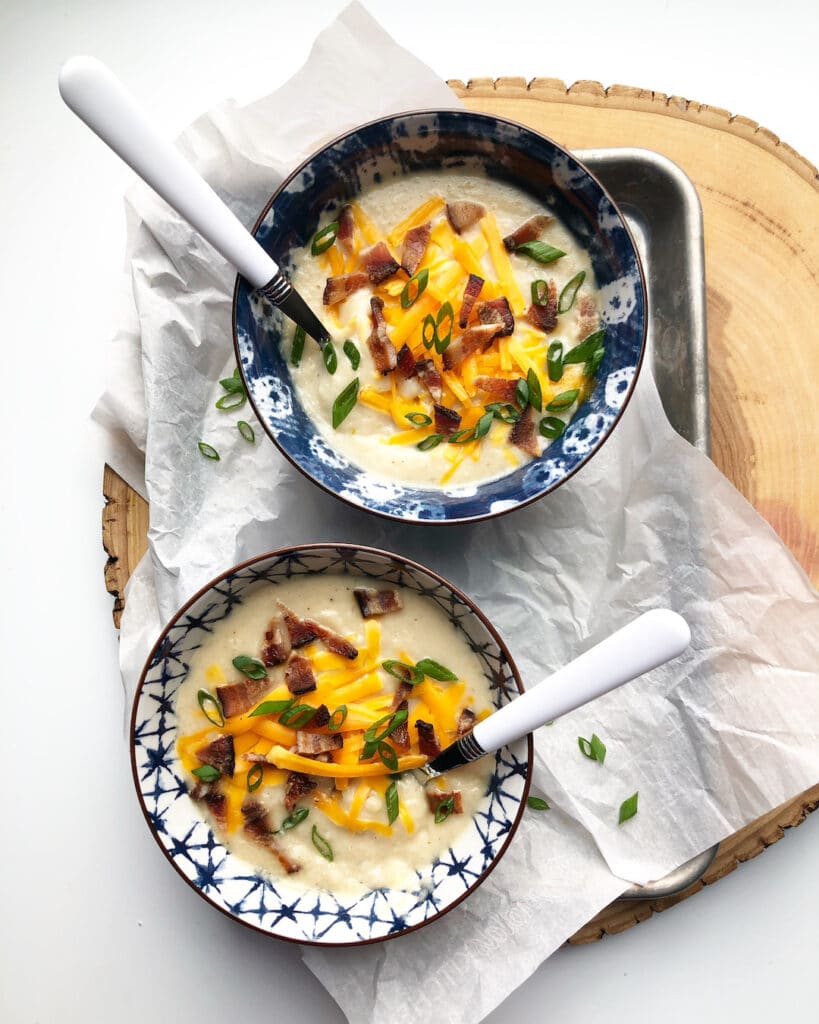 You can definitely freeze this loaded potato soup!
To freeze this soup:
Let the soup cool, place in soup containers and freeze for up to three months.
To thaw:
Leave the soup in the fridge for 24 hours and then place into a saucepan. Bring to a simmer and then serve.
If soup is too thick, you can add a little water. If the soup separates you can use an immersion blender and blend for 10 seconds.
How to thicken potato soup without flour?
Like we talked about a little bit ago the potato you use has great power! Use a potato that has a high starch content like Russet or Idaho potatoes. This baked potato soup becomes thick just from the starches that are released by the potatoes.
If your soup isn't as thick as you would like it, you can add a slurry at the very end and bring to a simmer. A slurry is just a mixture of cornstarch and cold water.
For this recipe I would recommend 1 tablespoon of cornstarch to 1 tablespoon water.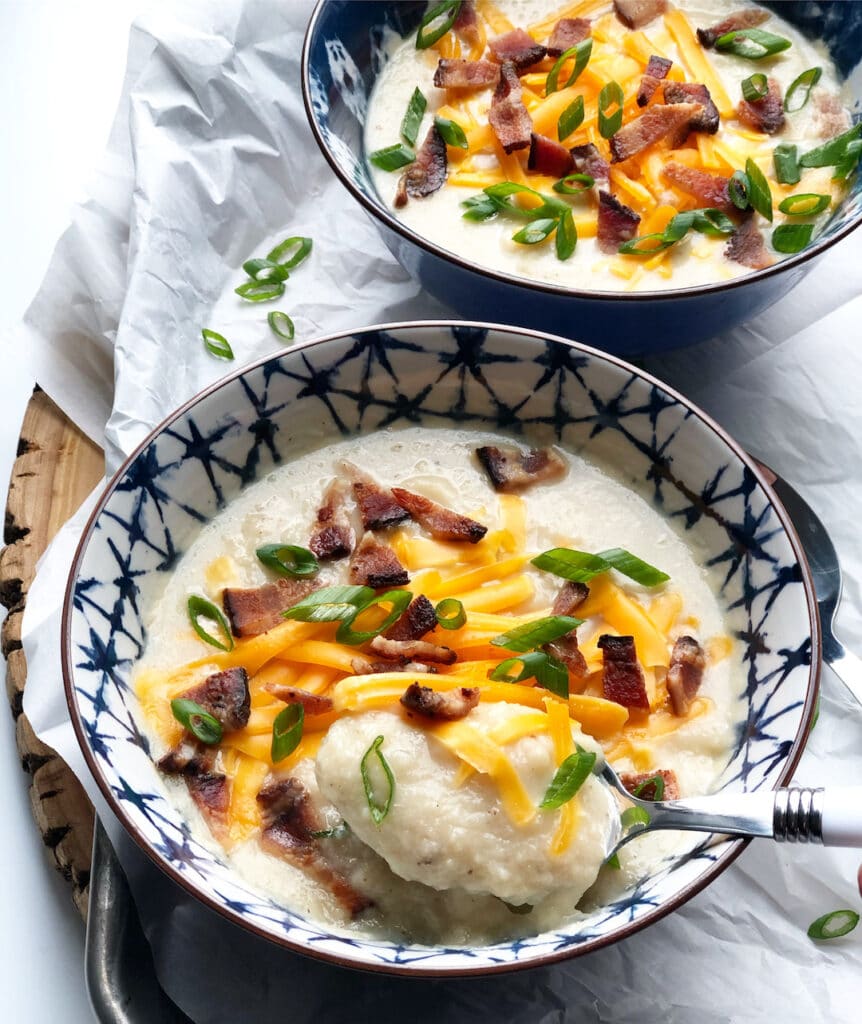 What do I top Loaded Potato Soup with?
I love traditional toppings like crispy bacon, shredded cheddar cheese, chives and sour cream.
You can also get creative and top it with croutons, sautéed mushrooms or even BBQ beef.
How do I make baked potato soup in Instant Pot?
Turn on the Instant Pot to saute mode.
Cook the bacon until crispy and remove from the pot.
Remove excess grease from the pot.
Add garlic and onion and saute for 3 minutes.
Add cauliflower, potatoes and chicken stock.
Seal with the lid and turn the vent to the sealing position.
Cook on manual high pressure for 5 minutes.
Then add milk, salt and pepper.
Blend with an immersion blender and top with bacon, cheddar and chives.
Ingredients:
bacon
garlic
onion
cauliflower
potatoes
milk
chicken stock
salt pepper
cheddar cheese
chives
How to make baked potato soup:
Baked Potato Soup Recipe: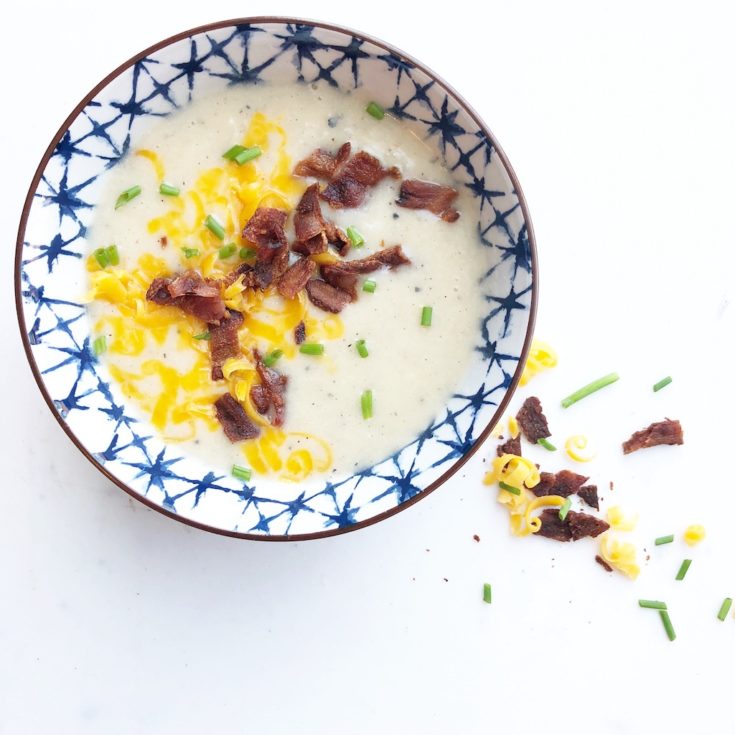 Yield:

8
Easy Baked Potato Soup
Healthier Loaded Potato Soup is perfect for a quick weeknight dinner.
Ingredients
6 Slices of Bacon
1/2 Cup White Onion, Diced
2 Cloves Garlic, Minced
5 Cups Cauliflower, Roughly Chopped
5 Cups Russet Potatoes, Peeled and Diced Small (about 1/2 inch cubes)
3 Cups Chicken Broth
3 Cups Milk
2 Teaspoons Kosher Salt
1/2 Teaspoon Black Pepper
Optional Toppings:
1 Cup Cheddar Cheese, Shredded
2 Tablespoons Green Onions, Chopped
Sour Cream
Instructions
In a large dutch oven or stockpot preheated over medium low heat, cook the bacon until crispy. Remove the bacon and crumble or chop roughly. Set aside to use for a topping.
Remove most of the bacon grease (leaving about 2 teaspoons in the pot). Add the onion and garlic and sauté for 2-3 minutes.
Add the cauliflower and potatoes and cook for an additional 5 minutes.
Add the chicken broth and milk and cover with a lid. Cook for 15-20 minutes or until the potatoes are fork tender and cooked through.
Blend with an immersion blender or carefully use a blender to blend until the soup is semi-smooth with still some chunks. *If you are using a blender make sure you do not cover with a lid or it can explode out of the blender. Cover with a towel instead.
Add the salt and pepper and cook for an additional 5-7 minutes.
Ladle the soup into your bowls and finish with your favorite toppings.

Instructions for Instant Pot
Cook the bacon on sauté mode until crispy.
Add the onion, garlic, potatoes, cauliflower, and chicken broth.
Cook on manual for 10 minutes. Release the pressure manually.
Blend with an immersion blender and then return to sauté mode.
Add the milk, salt and pepper. Cook for an additional 5 minutes to thicken.
Ladle into bowls and top with toppings.
Notes
You can freeze extra soup for a great freezer meal!
Recommended Products
As an Amazon Associate and member of other affiliate programs, I earn from qualifying purchases.
Other Soup Recipes:
If you like this soup recipe try some others!