These tender and juicy pork carnitas are made in the Instant Pot in a little over an hour. They are citrusy and salty and go perfectly in street tacos, nachos, burritos, or rice bowls.
Try this easy Instant Pot recipe to feed your family. The Instant Pot has saved me lately! I can throw a couple ingredients into the Instant Pot and have a meal ready for my family without having to slave over the stove.
What kind of meat to use for carnitas:
The trick to making perfect carnitas in the Instant Pot is buying pork shoulder country style ribs. This cut of meat is one of my favorites because the butcher cuts the pork shoulder into smaller more manageable pieces that cook better in the Instant Pot. If you cook a large pork shoulder in the Instant Pot, chances are you are going to have to cook it for a very long time to get fork tender.
Buying the country style ribs makes for a very tender carnitas. Pork shoulder country style ribs are not actual ribs. The meat is actually cut from the pork shoulder and is boneless. The meat is juicy, and more fatty and it's my favorite choice to make carnitas.
You can find country style ribs at Costco or most grocery stores. If you can't find it you can also buy a pork shoulder or pork butt and cut the meat into 2 inch slices.
How to make carnitas in the Instant Pot:
Carnitas is an easy instant pot recipe! You first want to season your pork with salt.
Turn your Instant Pot on to saute mode and sear the pork pieces on both sides in some oil until browned.
Add your flavorings and then seal the Instant Pot, turning the valve to sealing.
Turn the Instant Pot on high pressure for 60 minutes and then let it naturally release for 10 minutes before moving the valve to venting.
Transfer the meat to a sheet tray and shred with two forks.
Place the carnitas under the broiler to crisp up and then squeeze fresh citrus juice and salt over the carnitas.
How do I serve carnitas:
Carnitas is such a versatile dish and can be made in bulk and kept in the freezer for quick meals on the go. My favorite way to use carnitas is in street tacos.
Because this is an easy Instant Pot recipe you can make a big batch as meal prep and serve in multiple ways. You can serve the meat in burrito bowls, taquitos, enchiladas or even on top of a taco salad.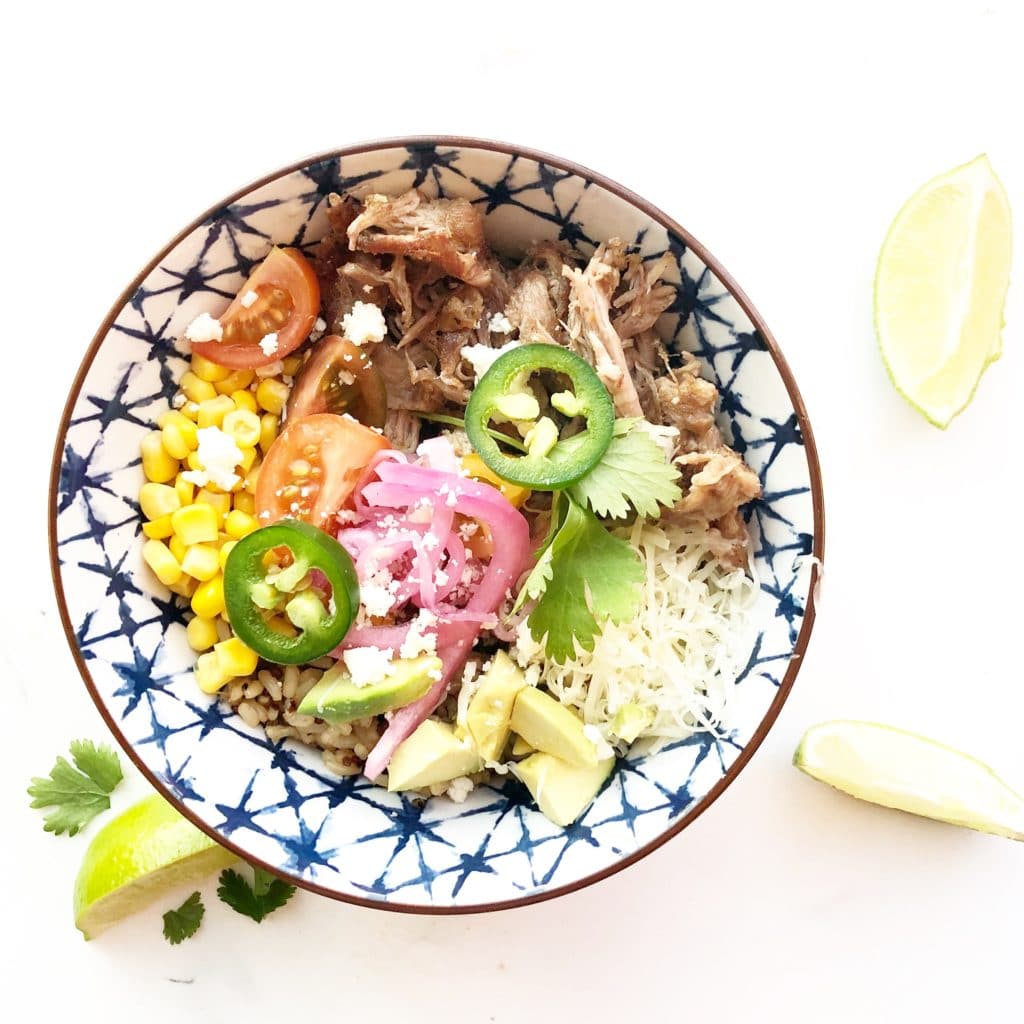 Carnitas is the perfect recipe to make for large crowds too. Whether you make tacos, burrito bowls, enchiladas or nachos I think you will love these juicy and tender carnitas. Serve these carnitas with my favorite Street Corn or Watermelon Agua Fresca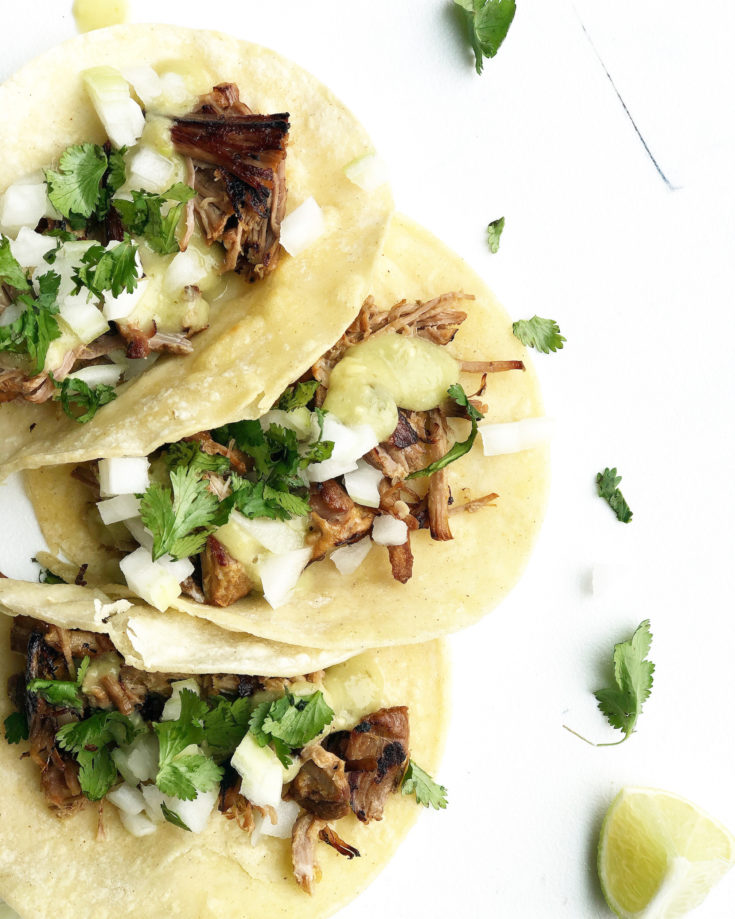 Yield:

6 Servings
Instant Pot Carnitas
Additional Time:
5 minutes
Total Time:
1 hour
15 minutes
This carnitas is perfect for tacos, nachos, enchiladas or on top of taco salad. It's full of bright citrus flavors.
Ingredients
3 Pound Pork Country Style Ribs or Pork Shoulder, Cut into 2 Inch Chunks
1 Tablespoon Avocado Oil
2 Tablespoons Garlic, Minced
1 White Onion, Sliced Thin
2 Teaspoons Chipotle Chili in Adobo
2 Teaspoons Lime Zest
1 Teaspoon Orange Zest
3 Teaspoons Kosher Salt
1 Teaspoon Garlic Salt
1/2 Teaspoon Cumin
2 Teaspoon Oregano
1 Teaspoon Onion Powder
1/2 Cup Chicken Stock
Maldon Salt or Finishing Salt
1 Lime Juiced
Toppings:
Corn Tortillas, (warmed in some oil)
Cilantro, Chopped
White Onion, Chopped
Green Salsa
Instructions
Turn the Instant Pot on to saute mode.
Add a tablespoon of avocado oil to the pot.
Season the pork with some salt (not the amount that is stated in the recipe) and sear the pork on both sides (you may need to do this in batches to not crowd the pot).
Remove the pork and then add the garlic and onion. Saute for 1-2 minutes.
Add 1 tablespoon chipotle in adobo sauce, lime and orange zest, 3 teaspoons kosher salt, garlic salt, cumin, oregano, and onion powder.
Add the pork back in along with the chicken stock.
Turn on manual (or press pressure cooker in new models), high pressure and move the valve to sealing for 60 minutes.
Let the pressure release naturally for 10 minutes.
Remove the pork from the Instant Pot and shred with two forks. Place the pork on a cookie sheet (spread out evenly) and place under the broiler for 5-7 minutes to caramelize.
When carnitas is done season with a coarse finishing salt like Maldon salt and a squeeze of lime juice.
Serve in tortillas with toppings of choice.
Notes
You can also use pork butt for this recipe.
Recommended Products
As an Amazon Associate and member of other affiliate programs, I earn from qualifying purchases.