There is nothing better than thick frosted sugar cookies with velvety frosting and multicolored sprinkles to brighten up your day. 
Do you remember as a kid eating the famous cake-like frosted LoftHouse sugar cookies with the fun sprinkles you would find at the supermarket? Well these frosted sugar cookies are just like those LoftHouse cookies, but dare I say 10 times better!
These sugar cookies consists of a thick buttery cookie coated in sugar and slathered with a creamy almond frosting and then topped with crunchy multicolored sprinkles. What could be better?
The best thing is you can make them for any special occasion and change up the color of the frosting and sprinkles to fit holidays or occasions. 
Best sugar cookie frosting:
Let's just talk about frosting really quick, shall we? This creamy, velvety frosting is actually made with a mixture of butter and sour cream.
Because it has sour cream in the frosting you will need to refrigerate the cookies after you make them unless serving right away. 
You can also substitute cream cheese for sour cream if you would prefer that. Both are delicious! 
How do you frost sugar cookies:
You will want to make sure your sugar cookies are completely cooled before frosting them. If they are still warm, the frosting will melt and spread too much. 
Once the cookies are cooled simply use a knife to spread a thin layer (or thick layer, depending on your preference) of frosting. You can also use an offset spatula. 
Can I make these cookies in advance:
The best part about this easy sugar cookie dough recipe is you can make a big batch, roll it in a log and place it in the freezer in a ziploc gallon bag.
Or you can make the cookies and freeze them in between some parchment paper. When you are ready to serve just pull the frozen cookies out of the bag, let them sit for an hour or so and frost them with frosting. 
Different uses for this sugar cookie dough:
This thick sugar cookie is perfect for this LoftHouse copycat recipe or a no spread sugar cookie recipe.
I use this recipe for my Christmas sugar cookies and they are always a hit.  Look at all the different ways you can utilize this cookie dough recipe! You can make all of these cookies below! 
Frosted Sugar Cookie Recipe: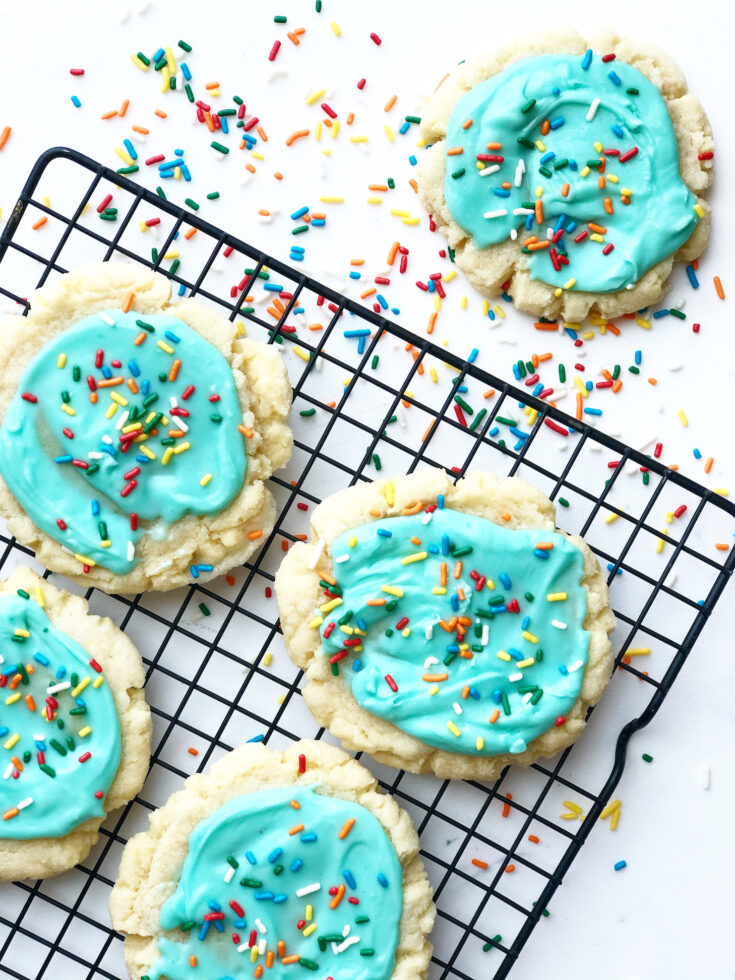 Yield:

24
Frosted Sugar Cookies
Thick, frosted sugar cookies are delicious with a hint of almond flavor.
Ingredients
5 ½ Cups All-Purpose Flour
1 Teaspoon Salt
½ Teaspoon Baking Soda
½ Teaspoon Cream of Tartar
1 Cup (2 sticks) Butter, Room Temperature
¾ Cup Canola Oil
1 ¼ Cup Granulated Sugar + more for coating
¾ Cup Powdered Sugar
2 Tablespoons Water
2 Eggs
1 Teaspoon Almond Emulsion Extract
Frosting:
5 Tablespoons Unsalted Butter, Softened
1/3 Cup Sour Cream
1/4 Teaspoon Salt
2 Tablespoons Milk
3.5 to 4 Cups Powdered Sugar
1/2 Teaspoon Almond Emulsion
Food Coloring of Choice
Sprinkles of Choice
Instructions
Preheat the oven to 350 F.
In a stand mixer fitted with a paddle attachment cream the butter to soften.
Add the granulated sugar and powdered sugar and cream for 1 minute on low.
Stream in oil and add the water.
Add the eggs and almond emulsion and mix to combine.
Measure the flour in a small bowl and add the cream of tartar, baking soda, and salt.
Add the flour mixture slowly to the mixer while on low speed. Mix until the dough comes together.
Scoop a large ball of dough (about 1/4 cup) and roll in granulated sugar. Place on a parchment lined baking sheet.
Smash the balls with the bottom of a drinking glass and bake for 8 minutes.
To make the frosting cream the butter to soften. Add the sour cream and almond emulsion.
Add the powdered sugar and salt and then stream in milk.
Add food coloring of choice to desired color preference.
Let the cookies cool completely and then ice with frosting.
Top with sprinkles of choice. Refrigerate until you are ready to eat.
Notes
Make sure to refrigerate these cookies as they contain sour cream in the frosting.
Recommended Products
As an Amazon Associate and member of other affiliate programs, I earn from qualifying purchases.