Baked turkey meatballs are gluten free and full of hidden vegetables that make for a quick and easy family friendly dinner! Serve them with some wheel pasta and jarred tomato sauce and you got a winner. 
These baked turkey meatballs are packed with hidden vegetables which makes them super moist and healthy. I love serving this on a busy weeknight and my family always enjoys them! 
You will want to double or even triple this recipe to make extra to have on hand for quick and easy morphing meals. 
I use this meatball recipe as a base for so many other meals. I use them for meatball subs, make Italian wedding soup and even use the meat mixture to make these delicious Hawaiian turkey burgers! 
Yes you can morph these meatballs into this! 
Many people are afraid of ground turkey because they think it is dry. I absolutely love it and with the addition of shredded vegetables it not only stays super moist but is packed with nutrients and is a healthier alternative to ground beef. 
Can I use ground beef instead?
If you absolutely hate ground turkey you can certainly use ground beef instead. 
The ground turkey is just a healthier alternative.  But use whatever meat you feel comfortable with. 
Gluten free turkey meatballs:
These gluten free turkey meatballs also do not have any bread crumbs or eggs in them!
So for my dairy free, gluten free and egg free friends this one is a winner. Just be sure to omit the parmesan cheese on top and use a gluten free pasta when making the recipe. 
How long to bake turkey meatballs: 
A common question with baked turkey meatballs is how long to bake them. I make mine the size of a golf ball and bake them for 15-20 minutes at 400 F. 
If you would like to make larger meatballs just adjust the time by 5 minutes or until they are cooked through. 
Baked Turkey Meatballs and Wheels Recipe: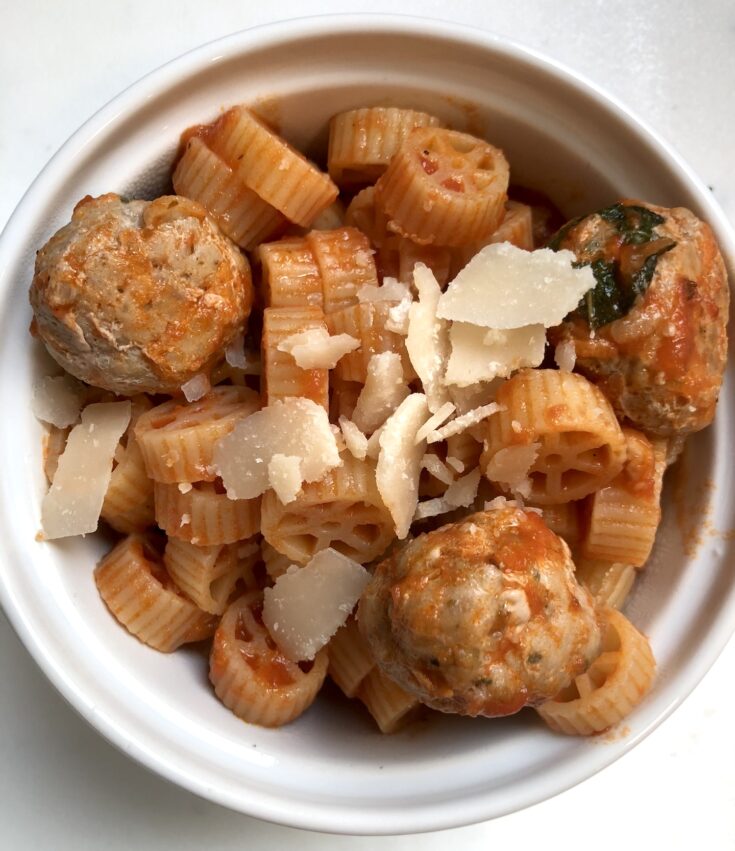 Yield:

24 Meatballs
Baked Turkey Meatballs
These meatballs are quick, delicious, packed with vegetables and make for a perfect morphing meal!
Ingredients
2 Pounds Ground Turkey
1/2 Cup Zucchini, Finely Shredded
1/2 Cup Carrots, Finely Shredded
1 Tablespoon Montreal Steak Seasoning
1 Pound Pasta of Choice
1 Jar Tomato Pasta Sauce
Parmesan Cheese to Top
Instructions
In a large mixing bowl, combine ground turkey, zucchini, carrots and steak seasoning.
With clean hands, scoop out a heaping tablespoon of meat mixture to form mini meatballs. Place on a foil-lined baking sheet.
Cook the meatballs in the oven for 12-15 minutes.
Bring a large pot of water to a boil and add about 1 teaspoon salt. Add the pasta and cook to package directions.
Add the meatballs and sauce to a large pan and simmer while pasta is cooking.
When pasta is done, drain and place directly into the meatballs and sauce.
Top with parmesan and basil.
Notes
Ways to serve:
-In a sandwich with meatballs, cream cheese and pepper jelly
-Toss with tomato sauce
-Toss with BBQ sauce
-Toss with pepper jelly
-Toss with teriyaki sauce
To Reheat:
Microwave for 1-2 minutes.
Place the meatballs in an oven proof baking dish that fits in the Instant Pot (I use a cake pan). Place 1 cup water in the bottom of the Instant Pot and add the trivet. Place the meatballs on top of the trivet and seal. Cook on steam for 15 minutes.