What could be a better way to celebrate the holidays than with these cute little individual beef wellingtons that are all wrapped up like little presents? I say nothing! 
Many people are celebrating the holidays a little differently this year and these individual beef wellingtons are on our menu for our Christmas dinner. They are the perfect little individual serving and are great for kids too! 
Not to mention they are the cutest things ever! They can even be formed into presents (like you see above) or you can create any designs you want. 
Serve these as an easy appetizer with a horseradish dipping sauce or as a cute individual main dish that will make your guests feel extra special this year. 
What is Beef Wellington:
Beef wellington is a traditional English pie that typically consists of beef steak wrapped around a layer of pate and meat and then all wrapped in a puff pastry. It's normally served in slices and is very popular in England. 
These mini little beef wellington bites give you all the flavors of a beef wellington, without a lot of the hassle.
They cook more evenly and quickly and are perfect for the Holidays. Plus you can make them into fun and festive little presents. 
What type of meat do you use for beef wellingtons?
I prefer to use a good quality steak for this recipe. Typically wellingtons are made with beef tenderloin or filet mignon.
I like to use a New York Steak for this recipe because it cuts perfectly into squares to make the present look. If you use a whole filet mignon the presents would be pretty large.
If you are serving this as your main dish go with the filet, but if you are serving this as an appetizer go with the New York Steak and cut into 1 inch by 1 inch by 1/2 inch cubes. 
Sauce For Beef Wellington:
I actually don't serve these with a sauce, but I know a lot of people love a good sauce to dip their beef wellingtons in. Therefore, I have linked two sauces that would go fabulous with these bites. One is a horseradish cream sauce and the second is a red wine sauce. 
Both are delicious and pair perfectly with these mini beef wellingtons. 
What to Serve With Individual Beef Wellingtons:
This is the perfect holiday main dish! Try these sides and sweets to go with these delicious mini beef wellingtons.
For the Sides:
Roasted Carrots With Shallot Cream Sauce
Sweets:
Ingredients For Mini Wellingtons:
puff pastry
New York steak
mushrooms
onion
butter
salt and pepper
thyme leaves
dijon mustard
egg
How to Make Individual Beef Wellingtons:
Cut the steak into 1 inch by 1 inch by 1/2 inch cubes. Season with salt and pepper on the tops and sides. Sear in a skillet over medium high heat for 3 minutes per side. Remove the meat and let rest. Add the mushrooms to the skillet and cook with onion, thyme, butter, salt and pepper. Remove and let cool.
Cut the puff pastry dough into squares and roll out slightly with a rolling pin. Add the mushroom mixture and top with a piece of steak. Spread a thin layer of dijon mustard on top of the steak and fold the puff pastry to seal completely. Place seam side down on a cookie sheet lined with parchment paper. Top with puff pastry ribbons to create a present look and brush with an egg wash. Cook in the oven until the pastry is golden brown and the meat is still medium rare.
How to Make Individual Beef Wellingtons :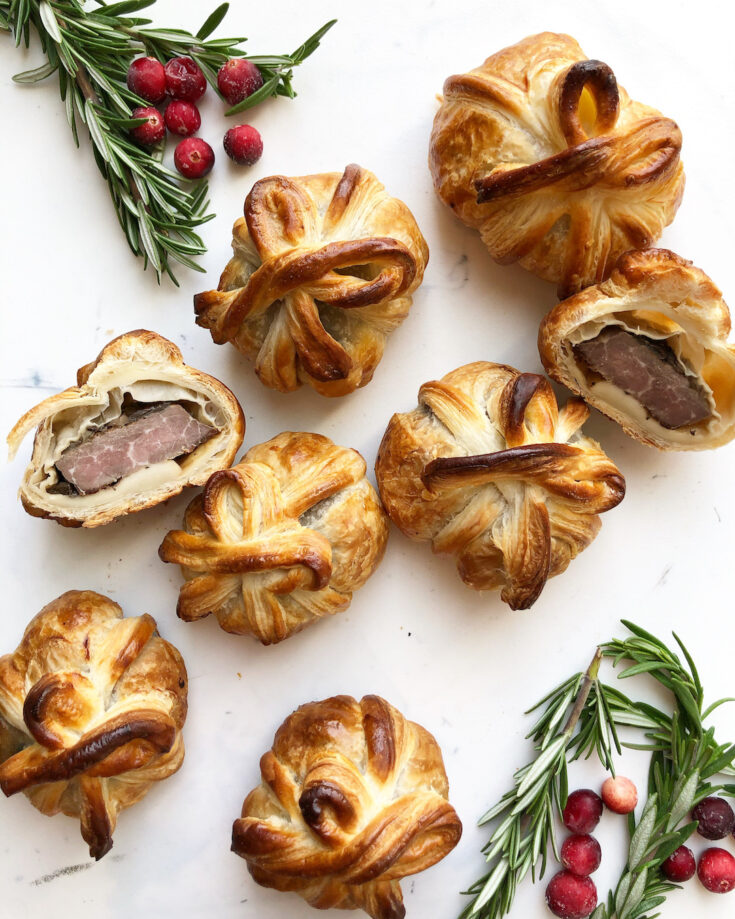 Yield:

8
Individual Beef Wellingtons
Mini individual beef wellingtons are the perfect way to kick off your holiday season.
Ingredients
1 New York Strip Steak
1 pound mushrooms, diced very fine
¼ cup yellow onion, diced fine
1 teaspoon Thyme
1 tablespoon Butter
Salt and pepper to taste
1 package Puff pastry
Dijon mustard
1 egg
Instructions
Place your steak on a clean cutting board and remove the fat cap.
Cut the steak in 1 inch by 1 inch cubes about ½ inch thick.
Grab a new cutting board and wipe off the mushrooms with a damp paper towel.
Finely dice the mushrooms. Place the mushrooms in a mixing bowl.
Finely dice one small onion and place in a mixing bowl.
Season the steak with pepper and salt. Flip the steak over and season the other side.
Preheat a pan over medium high heat. Add 1 tablespoon oil and sear the steak pieces.
Sear for 3 minutes per side. Then flip the steak and sear for another 3 minutes. Remove when cooked.
Add the mushrooms and onions to the pan.
To remove the leaves from the thyme pinch from the top and pull the leaves down.
Add 1 teaspoon fresh thyme leaves to the mushrooms. Add 1 tablespoon butter and stir. Add salt and stir. Remove and set aside.
Cut a piece of puff pastry in thirds. Then cut in thirds again.
Roll the squares slightly with a rolling pin.
Add cooled mushroom mixture. Top with steak and top with mustard.
Fold over to form a package and seal. Place the seal side down.
Repeat with the remaining puff pastry.
Take another piece of puff pastry and cup ¼ inch strips. Wrap like a present and top with a bowl.
Scramble one egg and brush the egg on top of the wellingtons.
Bake at 400 F for 20 minutes. Remove from the oven and enjoy.
This is one of our recipes we make in the More Momma Kids Cooking School this month. If you want to join in on the fun click here.