This wedge salad is perfect for individual salad servings for a crowd. Crisp iceberg lettuce is topped with sweet cherry tomatoes, crumbled blue cheese and crispy bacon and then drizzled with a light blue cheese dressing.
The classic wedge salad in mini form is the perfect salad for entertaining or for individual servings. Each guest can grab a mini wedge family style.
I love a good wedge salad and it's my favorite salad to eat at a steakhouse. It's crisp, full of flavor and is the perfect appetizer or starter before a good steak dinner.
Because this salad goes well with just about anything it's one of my go-to recipes to serve while entertaining.
That's why I made this delicious mini wedge salad recipe when I was in charge of the appetizer at a date night in get-together we had with some friends.
We each made part of the dinner and this salad was a huge hit. Not to mention it is so beautiful.
What is a classic wedge salad:
A classic wedge salad was invented in 1916, but became popular in the 50's and 60's.
It's made with cold iceberg lettuce that is cut in a wedge shape and typically topped with crispy bacon, tomatoes and a creamy blue cheese dressing.
How do you wash lettuce for iceberg lettuce:
I like to peel the outer leaves off of the head of iceberg and then cut it in half. Run cold water throughout the cut side of the lettuce (the lettuce will become heavy and fill slightly with water). Shake the lettuce of excess water.
Then place the iceberg cut side down on a kitchen towel. This will drain the excess water.
How to cut lettuce into wedges:
Cut the iceberg in half. Wash and dry (as mentioned above).
Then take each half and cut into small wedges. I like to make mini wedges for this recipe. But you can also make them larger.
Try to keep the lettuce intact and the leaves together.
Ingredients:
For this recipe you will need the following ingredients.
iceberg lettuce
cherry tomatoes
bacon
red onion
blue cheese
greek yogurt
buttermilk
white balsamic
salt and pepper
dill
What to serve with a wedge salad:
Check out these delicious recipes that go perfectly with this salad.
Roasted Carrots With Shallot Cream Sauce
Biscuits With Homemade Strawberry Butter
Warm Copycat Mastro's Buttercake
Mini Wedge Salad Recipe: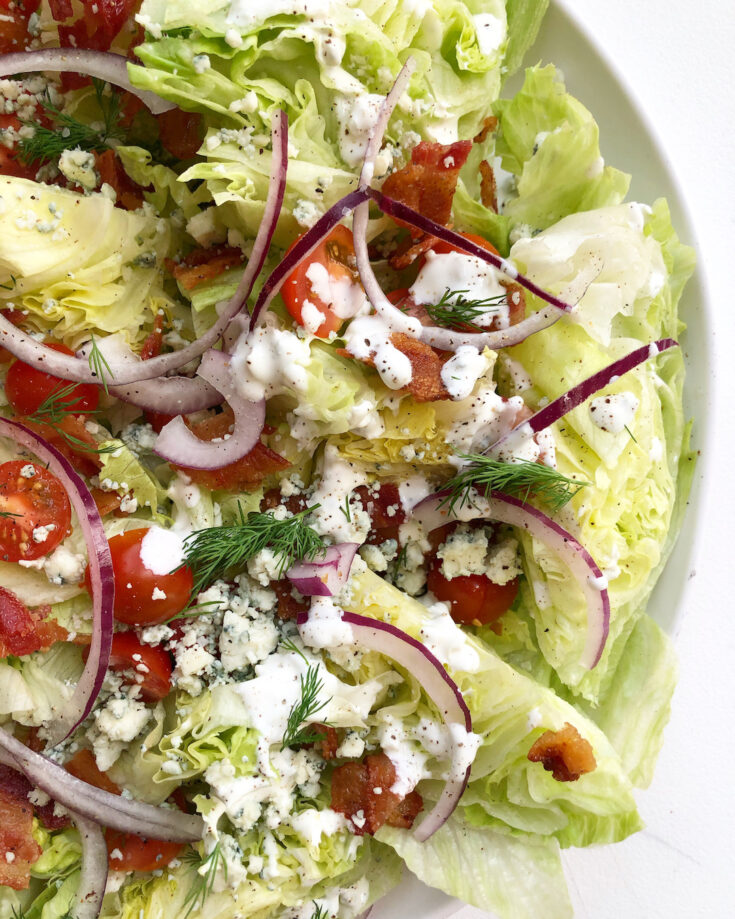 Yield:

Serves 6
Mini Wedge Salad With Light Blue Cheese Dressing
This delicious wedge salad is perfect for a crowd. It's a healthier version that the classic wedge.
Ingredients
1 pound bacon, cooked and slices
1/4 red onion, sliced in 1/4 inch slices
1 cup cherry tomatoes, cut in half
1/2 cup nonfat plain Greek yogurt
1 cup buttermilk
2 tablespoons white balsamic
salt and pepper to taste
6 ounces blue cheese, crumbled
2 heads iceberg lettuce, cut into small wedges
1 tablespoon fresh dill, torn
Instructions
Preheat the oven to 400 degrees F.
Place the bacon on a foil lined baking sheet. Bake at 400 F for 10 minutes or until crispy. Remove and let cool.
Slice the red onion in 1/4 inch slices (You can place in ice water until you are ready to use to remove some of the pungency if desired).
Cut the tomatoes in half.
Slice the cooked bacon in 1/2 inch slices.
Make the dressing by combining the yogurt, buttermilk, white balsamic and salt and pepper in a mason jar or small bowl. Add 4 ounces of the crumbled blue cheese and stir to combine.
Remove the bulb from the iceberg. Slice in half. Wash and dry. Then slice into mini wedges.
Place the wedges on your serving platter.
Top with cherry tomatoes and bacon.
Top with remaining blue cheese crumbles and red onion.
Drizzle with blue cheese dressing and top with fresh dill and salt and pepper.
Serve chilled.