Salted caramel apple pie is easy to make and the perfect pie to make for company. It's full of tart apples, earthy cinnamon, sweet caramel and a touch of Maldon salt to balance out all the flavors.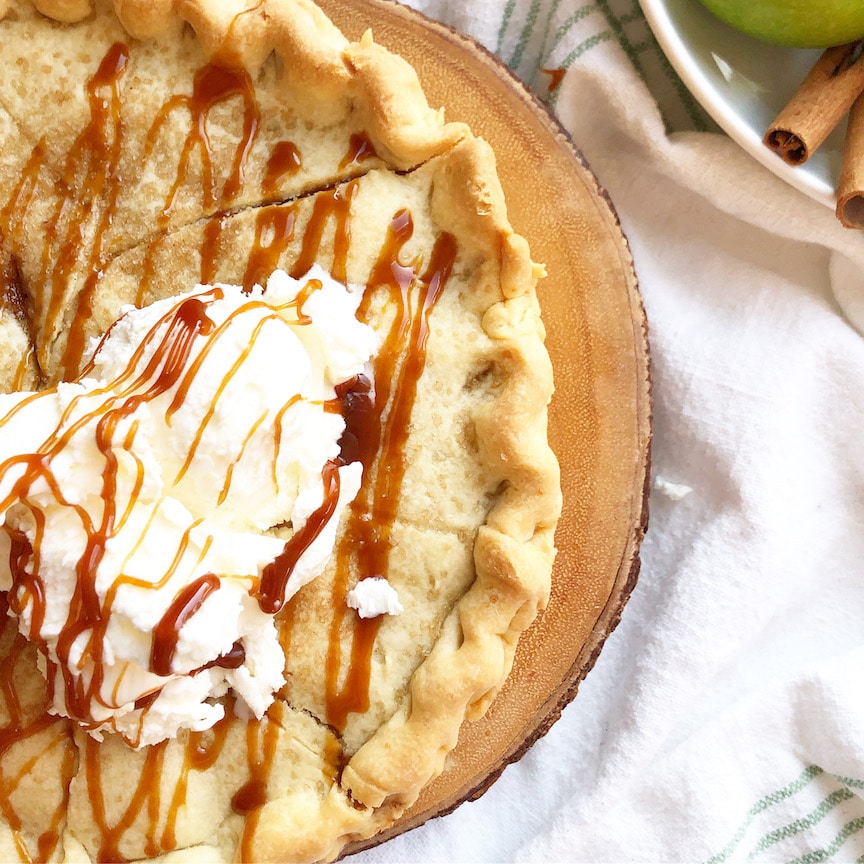 Let's jump into how to make this delicious festive pie.
Homemade Pie Crust:
There is nothing better than homemade pie crust. This pie crust is from the More Momma Cooking School Pie Class that chef Alex teaches. It's foolproof and I use it for just about every pie I make.
This pie crust can be made weeks or months in advance and can be frozen in disks.
If you can't make the pie crust homemade you can certainly use store bought pie crust.
Some tips with this pie crust recipe:
Make sure your butter and ware are cold (I even put ice cubes in the water until I am ready to stream it into my food processor).
Use a food processor or a pastry cutter to create pea size pieces of butter.
Don't over mix the dough.
Chill before using.

Next up let's talk about the delicious salted caramel apple filling for this pie.
Ingredients For Salted Caramel Apple Pie Filling:
The filling for this salted caramel apple pie is so easy and so delicious. Here is what you will need to make the filling.
Granny Smith Apples: You want a firm, tart apple for apple pie. Granny Smith apples are readily available and easy to find. Just make sure to peel, core and slice the apples evenly. I love using this apple corer and peeler spirilizer. It peels, cores, and evenly cuts your apples for you. If you do use this, just cut the apple in half after it has worked it's magic.
Butter: I love the Kerry Gold butter. Good quality butter makes a big difference!
Brown Sugar: Brown sugar adds a richness to this filling as opposed to granulated sugar.
Vanilla Bean Paste: Vanilla bean paste works beautifully in this dish. If you can't find vanilla bean paste you can also use vanilla extract and substitute 1 for 1.
Ground Cinnamon: Any ground cinnamon will work.
Jarred Caramel Sauce: You want to use a thick caramel sauce for this recipe. I love the salted caramel sauce from Trader Joe's.
Cornstarch: Cornstarch is used to make this filling thick and to prevent it from becoming watery. You always want to combine cornstarch with cold water to make a slurry before adding it to anything hot. This will prevent the cornstarch from clumping.
Make It Ahead:
This pie is great because you can make both the filling and the crust ahead of time.
Make the filling up to 2 days in advance in the fridge and make the pie dough up to a month in advance in the freezer.
Although you can make the elements ahead of time I wouldn't bake this pie way in advanced. It really is the best served warm out of the oven.
What To Serve With Salted Caramel Apple Pie:
You can certainly serve this pie on it's own, but I prefer topping it with some vanilla ice cream, a drizzle of caramel sauce and then a little sprinkle of Maldon salt.
I know that might sound odd to top it with salt, but Maldon salt is a finishing salt that will bring out all of the flavors in the pie.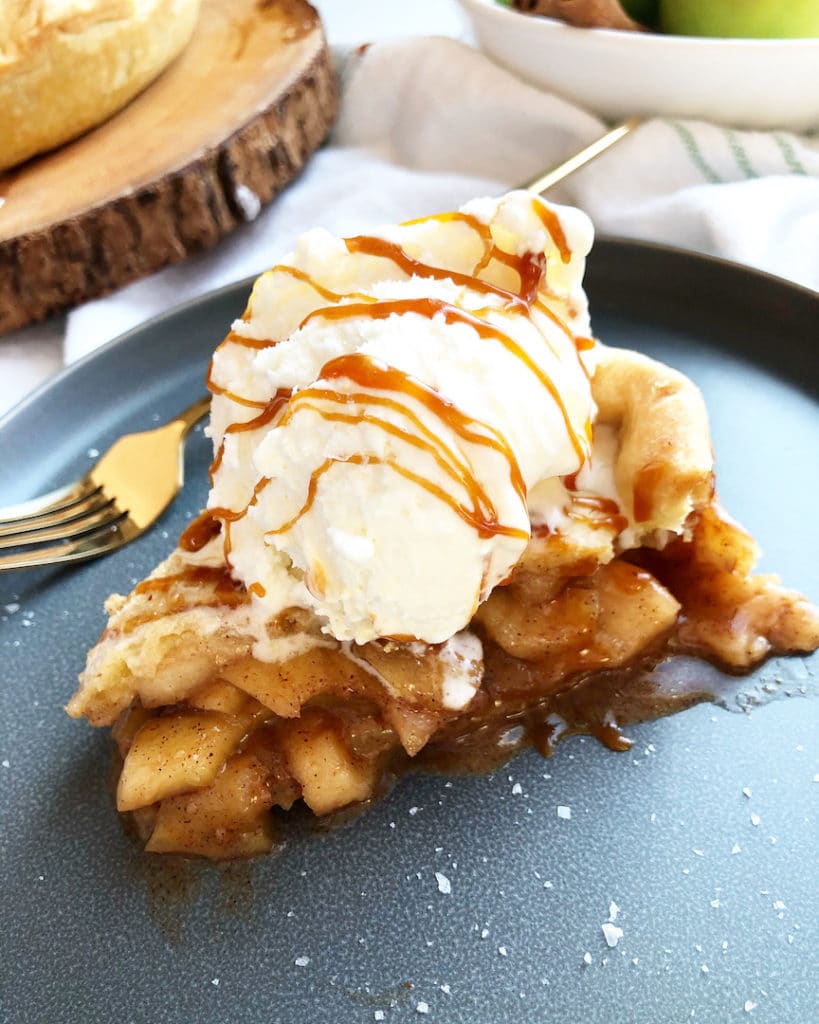 Other Delicious Pie Recipes:
If you love pie try some of these other delicious pie recipes.
Mini Blueberry Pies With Lattice Top
Banana Cream Pie With Peanut Butter and Caramel
Chocolate Chess Pie With Homemade Whipped Cream
Salted Caramel Apple Pie Recipe: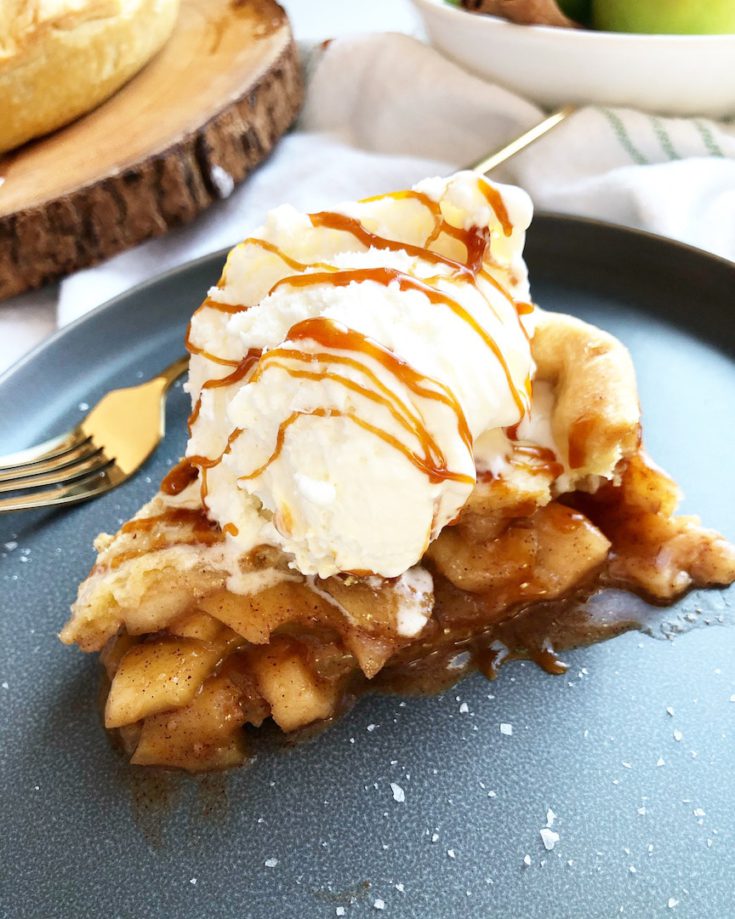 Yield:

10
Salted Caramel Apple Pie
Cook Time:
45 minutes
40 seconds
Additional Time:
30 minutes
Total Time:
1 hour
35 minutes
40 seconds
The best apple pie with salted caramel and a homemade crust.
Ingredients
Pie Crust:
2 1/2 cups all purpose flour
1/2 teaspoon salt
1 cup cold butter, cut into small cubes
1/2 cup ice cold water
Filling:
4 pounds Granny Smith apples, peeled, cored and sliced in 1/4 inch slices
4 tablespoons butter
1/3 cup brown sugar
1 teaspoon vanilla bean paste or vanilla extract
2 teaspoons ground cinnamon
1/4 cup jarred caramel sauce (salted caramel sauce at Trader Joe's is my preference)
1 tablespoon corn starch mixed with 1 tablespoon cold water
pinch of salt
Garnish (optional):
1 tablespoon turbinado sugar
vanilla ice cream
caramel sauce
Maldon salt
Instructions
Add 2 1/2 cups all purpose flour to a food processor.
Add 1/2 teaspoon salt and 1 cup cold butter. Pulse 10 times.
Stream in 1/2 cup cold water and pulse 5-10 times or until a cohesive mass forms.
Cut the dough in half and form into two discs. Wrap in saran wrap.
Chill the dough in the refrigerator for 30 minutes.
Preheat the oven to 350 F.
To make the filling preheat a large non-stick saute pan over medium heat.
Add the apples, butter, brown sugar, vanilla, and cinnamon and stir to combine. Cook for 3-5 minutes.
Then add the caramel sauce and stir to combine.
Add the corn starch slurry mixture and cook for 3 additional minutes to thicken. Remove from the heat and set aside.
Roll out one of the pie disks in between 2 pieces of parchment paper to about 1/4 inch thickness or 2 inches larger than the diameter of your pie plate. Place the dough inside of the pie plate, making sure it goes all the way up the sides. If it tears just press the dough together. Poke holes with a fork on the whole surface area of the pie crust, even the sides.
Place a piece of parchment paper directly on top of the crust and fill the crust with dried beans or baking weights (making sure it comes up the sides to prevent the sides from dropping down).
Bake the crust for 10 minutes.
Roll out the other pie disk in between 2 pieces of parchment paper to about 1/4 inch thickness.
When the crust is done par-baking, remove it from the oven and add the filling. Then top with remaining crust and carefully crimp the edges down (folding the excess dough inside the pie plate). Be careful because the pie plate will be hot. You can crimp with your fingers or with a fork to seal the two crusts together.
Sprinkle the top crust with turbinado sugar and cut three slits in the top center of the pie to release steam.
Bake for 40-45 minutes or until slightly golden. Remove and let cool for at least 20 minutes.
Serve with vanilla ice cream, caramel drizzle and a pinch of Maldon salt.
Nutrition Information:
Yield:
10
Serving Size:
1
Amount Per Serving:
Calories:

510
Total Fat:

25g
Saturated Fat:

16g
Trans Fat:

1g
Unsaturated Fat:

7g
Cholesterol:

67mg
Sodium:

418mg
Carbohydrates:

67g
Fiber:

6g
Sugar:

35g
Protein:

5g