With only a couple ingredients you can have this Instant Pot salsa chicken on the table in under 30 minutes.
The best part abut this quick and easy pressure cooker chicken recipe is you can use this recipe for so many different things! It's one of our family favorites and I am going to show you 7 different dishes you can make with this meal prep chicken.
Instant Pot Salsa Chicken is a great recipe for a fast and easy weeknight meal. I can use what I have on hand to turn this salsa chicken into so many different dinners.
Today I'll show you can morph it into 7 different dinners.
Another great thing about this recipe is it can be made in the Instant Pot in under 20 minutes or made in the slow cooker in under 4 hours.
For an easy meal prep idea make a big batch of this salsa chicken and freeze in individual portions to have on hand for when you really don't feel like cooking.
Instant Pot chicken breasts can become rubbery if not cooked properly, but Instant Pot chicken thighs come out succulent and perfect every time. This recipe was tested with both chicken breasts and chicken thighs and although you could do either, chicken thighs were the winner in my opinion.
When I was testing 240 Instant Pot recipes for my new cookbook The No-Shop Instant Pot Cookbook I tested a recipe my mom used to make in the slow cooker. I turned it into an instant pot meal and it became a huge hit.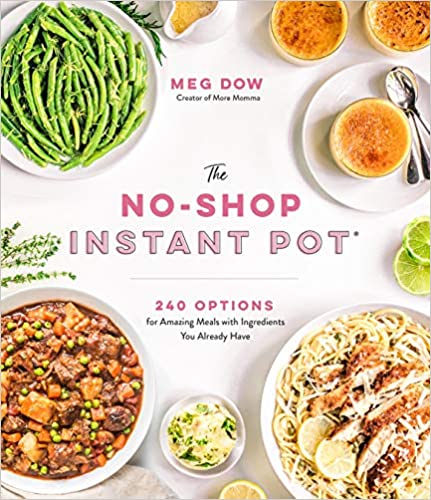 This salsa chicken was a childhood favorite and my mom used to make it once a month at least. The best part was she used it in different ways almost every time so it wasn't like we were having the same thing over and over again.
Let me show you step by step how to turn boneless skinless chicken thighs, a jar of salsa and a few other ingredients into a meal that can be adapted to fit your needs!
I am going to show you options if you forgot to thaw the chicken the night before and need to use frozen chicken straight in the Instant Pot along with a creamy version, a healthy version and so many more.
Here is what you need to make this salsa chicken.
Ingredients:
You only need a few ingredients for the base of this recipe. Depending on how you want to serve it you will adjust the ingredients accordingly.
Chicken Thighs: I like to use chicken thighs especially in the Instant Pot. They stay really moist and don't get stringy or dry out like chicken breasts sometimes do.
Salsa: I like to use a good quality red salsa. Depending on how spicy you want it grab a mild or hot version. My favorite salsa to use for this recipe is the red salsa from Trader Joe's.
Ranch Seasoning Packet: This adds so much flavor and goes perfectly with the salsa. You could also use taco seasoning if you want.
Frozen Chicken Option:
You can use frozen chicken breasts or thighs. I recommend using thighs as they stay more moist and don't dry out. They also are thinner than breasts so they cook more evenly in the Instant Pot.
If you are using frozen chicken I recommend cooking the chicken with 1 cup chicken broth on manual, high pressure for 30 minutes. Quick release the pressure and then drain the excess liquid before adding the other ingredients.
This will help the meat to stay more flavorful and not dilute all the yummy flavor.
Creamy Salsa Chicken Option:
One of my favorite options is this creamy salsa chicken. After the chicken is cooked add 1/2 cup cream cheese and mix to combine. Place the creamy chicken on top of cooked rice with black beans, pico de gallo and shredded cheddar cheese.
Slow Cooker Option:
To make this dish in the slow cooker add the chicken, salsa and ranch packet to a crockpot or slow cooker and turn on high for 4 hours.
Then shred the chicken and serve with one of the options below.
7 Ways To Use Salsa Chicken:
Taquitos:
A great way to use this salsa chicken is to make taquitos. Mix the shredded salsa chicken with a little Monterey jack cheese and wrap in corn or flour tortillas. Spray with cooking spray and sprinkle with salt. Bake at 400 for 10 minutes.
Make this into a freezer meal! I make the taquitos and place them in a freezer safe ziplock bag. When you are ready to eat take them out of the freezer and place them on a baking sheet, spray a little cooking spray on them and sprinkle with salt and cook at 400 F for 10-15 minutes.

Tacos:
An easy way to serve this chicken is in tacos. Fill a hard or soft taco shell with the shredded chicken and top with taco toppings of your choice. It's perfect for taco Tuesday!
Enchiladas:
Enchiladas are a classic and we love using this salsa chicken mixture as a delicious filling. You can use red or green enchilada sauce. Use the creamy version for a delicious creamy enchilada version.
Taco Salad:
Serve the chicken in a crunchy tortilla shell and top with shredded lettuce, tomatoes, olives, cheddar cheese, sour cream and avocado.
Empanadas:
Cut store bought pie crust in 5 inch diameter circles with a cookie cutter or biscuit cutter. Stuff the discs with about a tablespoon of the salsa chicken and some Monterey jack cheese. Fold the pie crust over to form a half moon and crimp the sides to seal. Fry until golden brown or bake in a 400 F oven for 15 minutes.

Creamy Salsa Chicken Bowls:
Use the creamy chicken mixture for this option. Place some cooked brown or white rice in your serving bowl and top with the creamy salsa chicken mixture, black beans, corn, cheddar cheese and pico de gallo.
Nachos:
This salsa chicken mixture works great on top of nachos. Place corn tortilla chips on a sheet pan. Top with shredded cheddar cheese and the salsa chicken and place under the broiler for 3-5 minutes or until the cheese is melted. Top with sour cream, pico, and jalapeños.
Whether you serve this salsa chicken in tacos, burritos or any other option make sure to double, triple or quadruple the recipe to morph it into other meals!
If you love the Instant Pot as much as I do try these other Instant Pot recipes.
Instant Pot Buffalo Chicken (10 ways)
Kalua Pork Instant Pot With Pineapple BBQ Sauce
Instant Pot Chicken Fajitas (Pot In Pot Recipe)
How to Make Instant Pot Salsa Chicken:
Place a rack in the instant pot insert. Place the salsa and ranch seasoning on top of the chicken. Pressure cook the chicken on manual, high pressure for 17 minutes. Adjust the cooking time to 30 minutes for frozen chicken thighs.
Manually release the pressure and use a hand mixer to shred the chicken.
Instant Pot Salsa Chicken Recipe: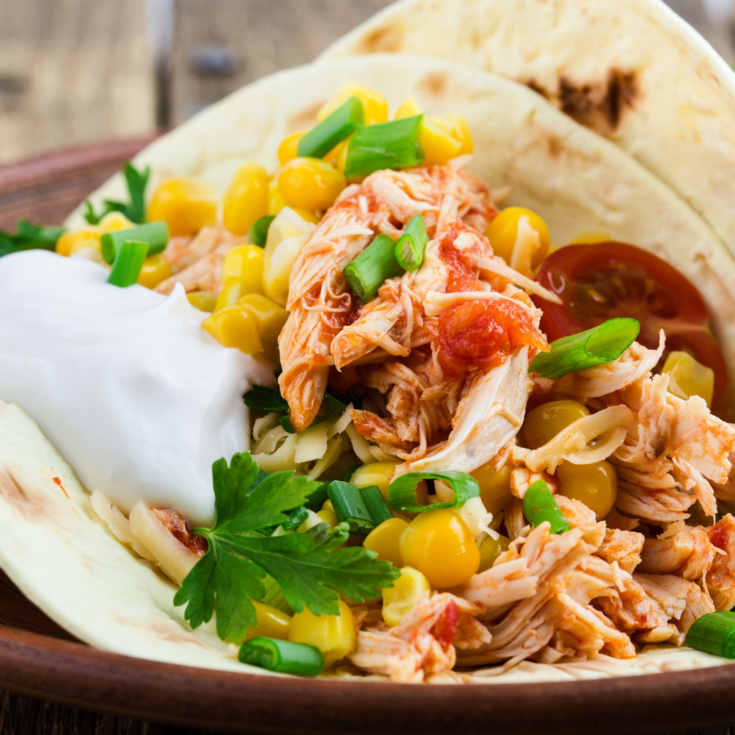 Yield:

Serves 4
Instant Pot Salsa Chicken
Additional Time:
5 minutes
Make this easy meal prep chicken into 7 different ways!
Ingredients
2 pounds boneless skinless chicken thighs
1 jar red salsa
1 packet ranch dressing packet
Instructions
Place a rack in the instant pot insert.
Place the salsa and ranch seasoning on top of the chicken.
Pressure cook the chicken on manual, high pressure for 17 minutes. Adjust the cooking time to 30 minutes for frozen chicken thighs.
Manually release the pressure and use a hand mixer to shred the chicken.
Recommended Products
As an Amazon Associate and member of other affiliate programs, I earn from qualifying purchases.
Nutrition Information:
Yield:
4
Serving Size:
1
Amount Per Serving:
Calories:

391
Total Fat:

19g
Saturated Fat:

6g
Trans Fat:

0g
Unsaturated Fat:

13g
Cholesterol:

278mg
Sodium:

499mg
Carbohydrates:

1g
Fiber:

0g
Sugar:

1g
Protein:

55g