This is the best Italian beef sandwich you will ever taste! It's a take on a very popular Florentine street food called lamprodotto. Succulent, shredded, slow cook beef is stuffed in a toasted bun and served with a herby salsa verde and a spicy red sauce. Bring a little bit of Italy into your home with this delicious recipe.
If you were to search Italian beef sandwich on the computer you would find a recipe floating around that uses chuck roast, Italian salad dressing mix and pepperoncini peppers.
Although I love this recipe and actually make it quite often, this is not a traditional Italian beef sandwich!
I am going to teach you what a traditional Italian beef sandwich looks like and how to make it yourself!
The Real Italian Beef Sandwich:
This Italian beef sandwich recipe is my take on a traditional street food I used to eat in Florence, Italy while I was in culinary school.
It's cooked to perfection in the Instant Pot and topped with not one, but two delicious sauces. It's perfect for a cozy Sunday dinner or makes for a great game day meal.
As an Italian trained chef, I want to reiterate that this is my own take on the traditional lamprodotto panino.
And I am pretty confident you will love it and will actually make it because you will be able to find all the ingredients at your local grocery store.
The traditional sandwich is a little different, but I wanted all of you to be able to experience a form of an authentic beef sandwich.
What most people think of an Italian beef sandwich are actually Americanized versions that are not served in Italy.
So let's go through the original inspiration for this dish the lamprodotto panino.
Then I will teach you how you can make it with some easy substitutions at home.
Just to let you know this is a great recipe for the weekends! It does take a little time to cook, but much quicker than the traditional dish.
The Original Lamprodotto Sandwich:
Lamprodotto is a traditional dish served as a street food in Florence, Italy. It is made from the fourth stomach of the cow.
The lamprodotto is slow cooked with onion, celery, carrot and broth. It is then thinly sliced and served on a tuscan sandwich roll dipped in broth with salsa verde and sometimes a spicy red sauce.
Although I absolutely loved this dish in Italy, I can't find good organ meat where I live. Plus a lot of people are not familiar with organ meat and can be turned off by it.
So I came up with a solution to get similar authentic tastes, but with familiar ingredients that you can find at your local grocery store.
I can't wait for you to taste this sandwich and make it for your Italian food loving friends.
What Meat To Use:
Like I said before we are sticking with what most people can find at their local grocery stores.
I like to use beef stew meat for this dish. Beef stew meat typically comes from the front shoulder of the cow. Also known as the chuck roast.
You can either buy labeled beef stew meat or you can buy a chuck roast and cut it into 1 inch cubes.
I actually like to buy my stew meat at Costco, as I find it is reasonably priced and I can use half of the meat for this recipe and half for my beef stew.
Ingredients You Will Need:
Here are the simple ingredients you will need to make this dish.
Olive oil: Any oil will do.
Beef Stew Meat: You could also use a chuck roast and cut it into small 1 inch cubes.
Onion: You can use white onion or yellow onion.
Celery: Just roughly chop the celery. This is just to add flavor.
Carrot: Just roughly chop the carrot. This is just to add flavor.
Garlic: This adds a ton of flavor! You can use fresh garlic cloves or the frozen minced garlic that I love. Find it in the freezer section at most major grocery stores.
Salt: I love Redmonds Real Salt for cooking. This salt is packed with minerals and is a healthier option than table salt.
Red Cooking Wine: You can also use red wine. Either one works great! If you don't want to use wine you can use beef broth instead.
Hoagie Rolls: I like hoagie rolls, but you could use a ciabatta roll or focaccia bread works too!
Garlic Butter: I love using Chef shammy's garlic butter or you can make your own by blending softened butter with some garlic.
(Optional) Italian Bomba Hot Pepper Sauce: I found this sauce at Trader Joe's it is similar to the sauce they serve in Italy. This sauce is spicy so if you are not a fan of spice leave it off.
Salsa Verde Ingredients:
Garlic Cloves: This is where you want to use fresh garlic cloves. You can definitely taste the difference with the fresh garlic apposed to the frozen garlic.
Anchovy Paste: I promise this won't make your salsa verde taste fishy. It adds a delicious umami flavor that you really can't substitute with any other ingredient. The best part is you can find anchovy paste in tubes at the grocery store so you don't have to deal with whole anchovies if that grosses you out.
Italian Parsley: Italian parsley works the best for this dish. Remember to use flat leaf parsley apposed to curly parsley.
White Balsamic Vinegar: White balsamic vinegar adds a little sweetness to the salsa verde. You can leave this out and just add a little more red wine vinegar if you want a more pungent flavor. I only use this white balsamic that is from Italy. This is the vinegar I use for most of my salad dressings as well. I love it!
Red Wine Vinegar: This adds a little more acidic flavor and cuts through the garlic and sweetness of the white balsamic.
Pitted Italian Castelvetrano Olives: Castelvetrano olives are from the western coast of Sicily. These olives are world renowned and add a delicious flavor to the salsa verde. You can find these olives at most major grocery stores. If you can't find them you can substitute for pitted green olives.
Salt: Again I love using the Redmond's salt.
Capers: Make sure you rinse your capers to wash off any excess brine.
Extra Virgin Olive Oil: You want to use extra virgin for this recipe for optimal flavor.
Optional Topping Ideas:
Use this delicious Italian beef recipe and switch it up with optional topping ideas.
Here are some delicious non-traditional topping ideas:
melted provolone cheese
pickled vegetables
pepperoncini peppers
Italian seasoning
red peppers
green peppers
au jus
How To Make Italian Beef Sandwich:
To start making the sandwiches you want to pat the beef stew meat dry. This will help to get a nice sear on the meat. If the stew meat has excess moisture they will steam instead of brown.
Turn your Instant Pot onto saute mode.
Brown the seasoned beef. You may need to do this in batches.
Add the miraprox and red wine.
Seal the lid of the Instant Pot and move the valve to the sealing position. Cook on manual, high pressure for 90 minutes.
Then add the seasoning and turn back onto saute mode to reduce the stock for 10 minutes.
Shred the beef.
Toast your bread.
Make the salsa verde in a blender or a mini food processor.
Assemble the sandwiches with shredded meat, salsa verde, hot pepper sauce and some au jus from the cooked meat.
Crockpot Italian Beef Sandwich Version:
Make this Italian beef sandwich in the crockpot! To make this beef in the crockpot add the beef, vegetables, wine and salt to the slow cooker. Turn on low for 8 hours. Shred the beef and assemble the sandwiches.
If you don't have a crockpot or Instant Pot use your dutch oven. Cook the meat mixture over low heat for 3 hours or until the beef is tender and shreddable.
Any way you make this Italian beef it will be delicious.
Italian Beef Sandwich Recipe: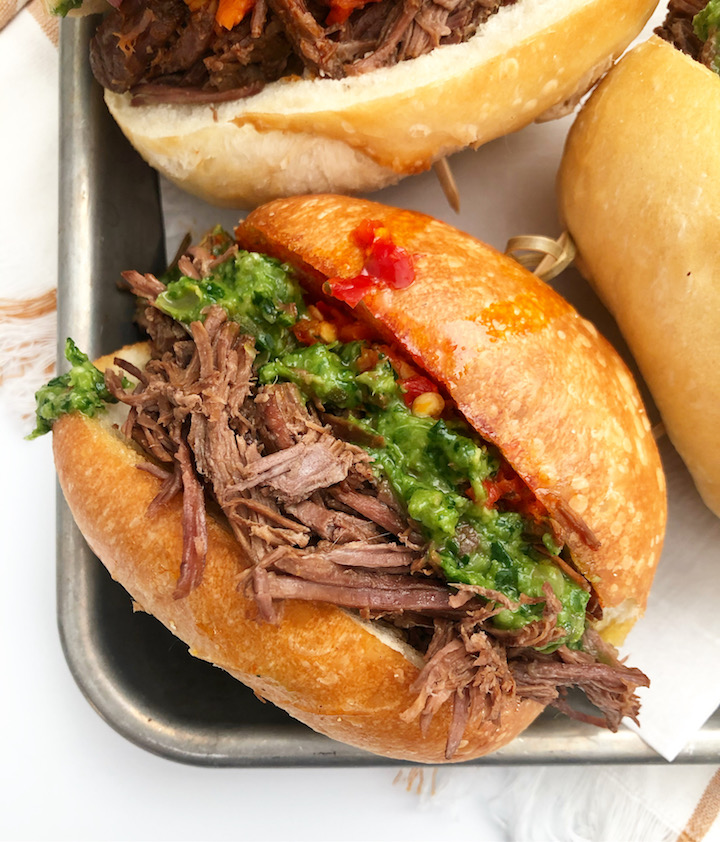 Yield:

Serves 6
Italian Beef Sandwich Florentine Style
Cook Time:
1 hour
30 minutes
Additional Time:
10 minutes
Total Time:
1 hour
50 minutes
Slow cooked beef is cooked in the Instant Pot, shredded and served in a toasted bun with a herby salsa verde and a spicy red sauce. Bring a little bit of Italy into your home with this delicious recipe. 
Ingredients
3 pounds beef stew
2 teaspoons Kosher salt
3 carrots, roughly cut
3 ribs celery, roughly cut
1 white onion, quartered
3 cloves garlic
6 hoagie rolls or ciabatta rolls
4 tablespoons garlic butter or regular butter
(Optional) Italian Bomba Hot Pepper Sauce (from Trader Joe's)
Salsa Verde
4 garlic cloves
1/2 teaspoon anchovy paste
1 heaping cup flat leaf Italian parsley
2 teaspoons white balsamic vinegar
2 teaspoons red wine vinegar
1/3 cup pitted Italian Castelvetrano Olives
1/2 teaspoon Kosher salt
2 tablespoons capers, rinsed and drained
2 tablespoons Extra Virgin Olive Oil
Instructions
Pat the beef stew meat dry with paper towels.
Turn the Instant Pot on to saute mode. When it reads HOT add the olive oil.
Sprinkle the beef with 2 teaspoons salt.
Add the beef in batches to brown the meat. Cook for 3-5 minutes to brown. Remove to a plate and finish browning the remaining batches.
Then add the carrot, celery and onion.
Add the red cooking wine.
Seal the lid and move the valve to the sealing position. Cook on manual high pressure for 90 minutes.
When the meat is done add 1 teaspoon salt and turn on saute mode. Cook for an additional 10 minutes. Then toast your bread with garlic butter on a cast iron griddle or under the broiler until golden brown.
Make the salsa verde by blending garlic, anchovy paste, parsley, white balsamic vinegar, red wine vinegar, olives, salt, capers and olive oil.
Shred the beef with two forks.
Assemble the sandwiches by spooning 1 tablespoon broth onto the toasted buns. Then top with salsa verde and optional red chili sauce.
Recommended Products
As an Amazon Associate and member of other affiliate programs, I earn from qualifying purchases.