This English sticky toffee pudding is made with a delicious date cake and smothered in a rich, gooey sticky toffee sauce. I promise you this recipe will be one of the best desserts you have tasted in a long time! 
Sticky toffee pudding just surpassed the warm buttercake as my new favorite dessert. Yes, you heard that right, it has now become my favorite dessert!
That holds big weight around here. I hope you take my word for it and try this sticky toffee pudding recipe for yourself. 
A couple years ago my husband and I flew to Whistler, Canada for an anniversary trip. We ate at this amazing restaurant called Rim Rock Cafe and were both blown away with the waitress's suggestion on dessert, sticky toffee pudding. I honestly had never had it before that trip. But I have certainly dreamed about it ever since. 
Although neither one of us had never had it before, we decided to order one to share. We ate one bite and quickly ordered another one because neither of us wanted to share. It was perfection! 
It has since become one of my favorite desserts and after I made it recently it moved up to number one. It's such an underrated dessert and many people haven't been able to experience it yet.
I promise you it won't disappoint! Try this recipe out the next time you need a delicious dessert. 
Whenever I tell my friends they have to try it for themselves, they almost always have the same response. What is sticky toffee pudding? Well let's answer some common questions about this fantastic dessert and get you on your way to making it for yourself. 
What is sticky toffee pudding?
Sticky toffee pudding is a traditional English dessert. Traditionally it consists of a light and fluffy date cake that is smothered in a homemade toffee sauce and often topped with a drizzle of cream or served with vanilla ice cream. 
Some people claim that it's traditional to serve sticky toffee pudding with nuts, but I have to disagree! Nuts in this recipe take away from the cake consistency and overall flavor. 
If you happen to love nuts and want to add them, go for it. But my recommendation is to keep it as is. 
The date cake is rich and buttery and is cooked and topped with a homemade toffee sauce. It is the perfect English dessert and great for entertaining or serving at a dinner party. 
Vessel Choice:
The best part about this dessert is you can make it in an eight inch springform pan or you can make them individually in ramekins. 
I love serving the individual servings for an elegant holiday dinner party. We served sticky toffee pudding in individual ramekins at our recent Christmas party and everyone was in awe of the beautiful presentation.
The eight inch springform pan option is great for family style dining or an easy dessert to serve at a family gathering. It is easy to cut into slices and serve with individual scoops of vanilla ice cream. 
Either way you serve it, the dessert is always a hit!
Ingredients Needed:
Ingredients for this dessert are pretty basic and minimal. As always try to use good quality ingredients. 
For the toffee sauce you will need:
unsalted butter (I like to use Kerrygold butter)
heavy cream
brown sugar
For the cake you will need:
dates, pitted and roughly chopped
baking soda
boiling water
unsalted butter
brown sugar
vanilla extract or vanilla bean paste
egg
all purpose flour
baking powder
salt
How to make sticky toffee pudding:
First make the toffee sauce by combining the butter, cream and sugar into a medium saucepan. Cook until bubbly and thickened (about 5 minutes). Remove and place half in cooking vessel of choice.
Next make the cake by combining the dates, baking soda and water and let sit for 5 minutes.
Combine the butter, brown sugar and vanilla in a stand mixer and cream until the mixture is a light golden brown color, about 1 minute.
Add the egg and mix to combine.
Next add the flour, baking powder and salt and mix to combine. Once the batter is mixed add to the cooking vessel and cook.
Serve the dessert with extra sauce and vanilla ice cream. 
The Perfect Holiday Party Menu:
Try these delicious recipes that are perfect for a holiday party. And don't forget to serve the amazing sticky toffee pudding for dessert.
Holiday Shaved Brussel Sprout Salad
Sticky Toffee Pudding Recipe: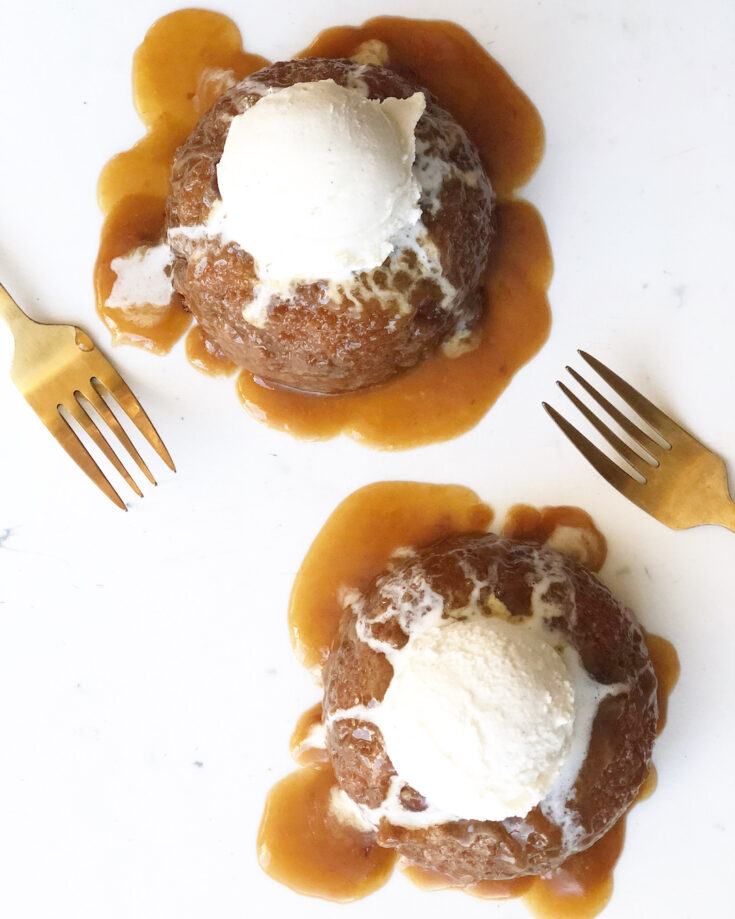 Yield:

6 Individual 1 (8 inch)
Sticky Toffee Pudding
Delicious rich date cake smothered in homemade sticky toffee sauce. It's the best dessert!
Ingredients
For The Sauce:
2 1/4 cups packed brown sugar
8 ounces unsalted butter
1 cup heavy cream
For The Cake:
Unsalted Softened Butter (to grease ramekins or springform pan)
6 ounces dates, pitted, roughly chopped
1 teaspoon baking soda
10 fl ounces boiling water
2 ounces unsalted butter, softened
1/2 cup packed brown sugar
1 teaspoon vanilla extract or paste
1 egg
1 1/4 cup all purpose flour
1 1/2 teaspoons baking powder
1/2 teaspoon salt
To Serve:
Instructions
Boil the sauce ingredients together for 5 minutes in a saucepan until the mixture becomes thickened and bubbly.
Heavily butter ramekins or a springform pan (for the springform pan line with a layer of parchment paper first then butter).
Pour half of the sauce into an (8 inch) springform pan or in individual ramekins.
Reserve the rest of the sauce to top.
Preheat the oven to 350 degrees F.
Place the dates in a bowl with baking soda and boiling water. Let cool.
Combine the butter, brown sugar and vanilla in a stand mixer and mix until the mixture is creamed, about 1 minute.
Add the egg and mix to combine.
Add the cooled date mixture and mix for 30 seconds.
Add the flour, baking powder and salt and mix for 30 seconds to combine. The batter should be smooth.
Pour the batter into the ramekins or the springform pan (on top of the toffee sauce).
For ramekins:
Bake for 20 minutes.
Remove from the oven and let cool for only 1 minute.
Invert the ramekins on the serving plate and serve with extra sauce on top and vanilla ice cream.
For springform pan:
Bake for 30 minutes.
Remove from the oven and let cool for only 1 minute.
Remove the springform and carefully invert it onto a plate by placing a plate on the top of the cake and quickly flipping the pan over.
Serve with extra sauce on top and vanilla ice cream.
I can't wait to hear how you enjoy this recipe. Let me know if you love it as much as I do and follow me over at moremomma on Instagram for more delicious and easy holiday recipes.