Homemade Instant Pot ramen the easy way! No more crazy 10 hour recipes. With these simple tips and tricks, you can create a delicious flavored ramen in the comfort of your own home. All with the help of the Instant Pot. 
Oh how I crave a good bowl of ramen! This easy homemade Instant Pot ramen recipe allows me to make it at home in under 30 minutes! 
This past Fall my husband and I went to San Francisco. One of our favorite spots was a famous ramen house called Marafuku. It was a little bowl of heaven and seriously had such a unique and delicious flavor! 
The ramen we got at Marafuku was the best I have ever eaten. It had a rich buttery flavor, which probably was the result of their stock being cooked for over two days! 
If you ever get the chance to go to San Francisco, take an Uber to this place. It's upstairs in an Asian mall and it's legit. They have been featured on numerous shows, including The Food Network.
You all know that when I eat something that good, I start to crave it! And when I crave it, I have to re-create it!
But let's face it, I don't have 2 days to make a bowl of ramen. So I started recipe testing and came up with a delicious, easy, Instant Pot version that is so dang good! 
If you need something to serve this delicious ramen with make these air fryer egg rolls to go with it. 
The Stock:
So remember how I said Marafuku made their chicken stock over a two day period? Well we don't have time for that! So I have found an amazing alternative.
I love using the Simply Asia Japanese Inspired Soy And Ginger Chicken Broth. This broth does all the hard work for you. All you have to do is throw it in the pressure cooker with some vegetables and noodles!
I do recommend using this flavorful broth instead of just a regular chicken stock. It definitely makes a HUGE difference in flavor. Trust me, I have tested it with both.
You can find this brand at most major grocery stores in the Asian food isle or by the chicken stocks.
Now let's answer some common questions I always get with this recipe.
Can I Use Top Ramen Noodles?
Top ramen noodles work great in this recipe if you can't find the Chinese dry ramen noodles. Just throw out the seasoning packet and substitute the Top Ramen noodles for the Chinese ramen noodles.
If you are a fan of Top Ramen, this homemade ramen recipe will definitely elevate your love for ramen.
And if you are really adventurous try out this homemade ramen noodle recipe my friend makes.
I stick to the pre-made noodles out of convenience. But if you have the time, try making it with the homemade noodles.
Change It Up:
I love ramen because you can literally change it up and make it your own. It's in a sense a blank canvas for yummy toppings or additions.
This ramen uses sliced rotisserie chicken, but you can also shred chicken instead. The great part is you can change up the recipe with different meats and use pork, beef or shrimp as added protein. Or make it without meat and just use all the delicious vegetables as your base.
You can also change up the toppings too. Add my favorite topping-green onion to add a fresh bright flavor. Or top with herbs like cilantro and jalapeno for more of a Vietnamese flare.
Ingredients For Ramen At Home:
Here are the ingredients you will need to make this recipe. 
Unsalted Butter
Fresh Ginger
Fresh Garlic
Carrots
Shitake Mushrooms
Simply Asia Japanese Inspired Soy And Ginger Chicken Broth
Sesame Oil
Soy Sauce
Baby Bok Choy
Ramen Noodles (Chinese Ramen Noodles)
Chives
Rotisserie Chicken
Eggs
Gochujang Sauce
Black Sesame Seeds
How To Make Homemade Instant Pot Ramen At Home:
When using the Instant Pot to make homemade ramen you will want to turn the Instant Pot on to saute mode.
Add the butter, garlic and ginger and saute for 2 minutes.
Then add the mushrooms and ramen stock.
Top with a rack and steamer basket and the eggs.
Cover with the lid and set the instant pot and cooking time to 4 minutes on high pressure.
When ready remove the lid and turn back onto saute mode.
Add the bok choy and noodles and cook for 5 minutes.
Serve with sliced or shredded rotisserie chicken, green onions, eggs, and gochujang.
Homemade Ramen Recipe: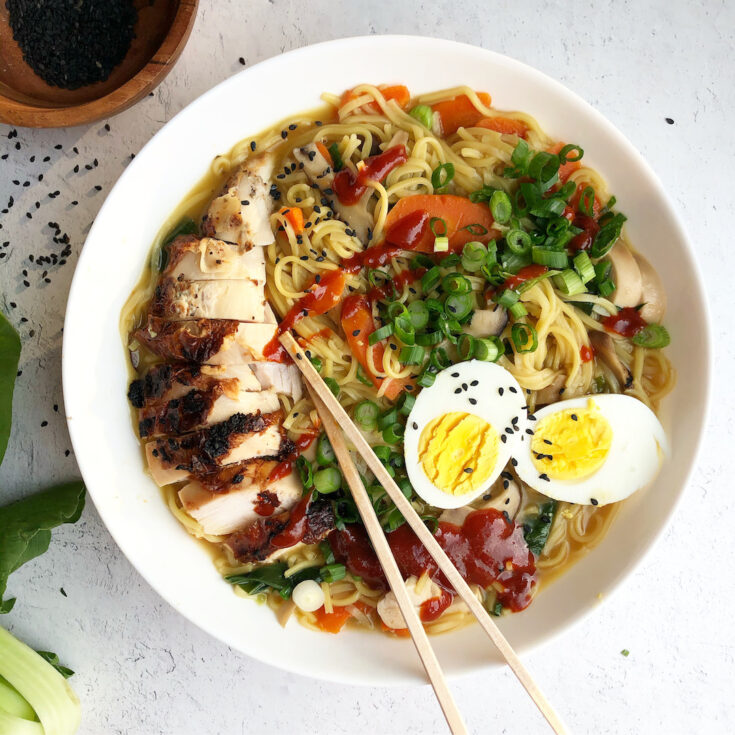 Yield:

Serves 6
Homemade Ramen
Warm, comforting bowl of homemade ramen makes any day into a great one!
Ingredients
4 Tablespoons Unsalted Butter
3 Cubes Frozen Ginger or 1 Tablespoon Fresh Ginger, Grated on Microplane
3 Cubes Frozen Garlic or 1 Tablespoon Garlic, (finely minced or pressed through garlic press)
5 ounces Shitake Mushrooms, Thinly Sliced
1/2 Cup Carrots, Peeled and Thinly Sliced
2 (26 ounce) Cartons Simply Asian Ramen Chicken Broth
1 Tablespoon Sesame Oil
1 Tablespoon Soy Sauce
4 Eggs
4 Baby Bok Choy, (cut into 1 inch pieces)
2 Sheets Ramen Noodles (Chinese Ramen Noodles or Top Ramen Noodles)
1/2 Cup Chives, Chopped Finely
1 Rotisserie Chicken, Sliced
Optional:
Black Sesame Seeds
Gochujang Sauce
Instructions
Instant Pot Directions:

Turn the Instant Pot on to saute mode. Add the butter.
When the butter is melted add the garlic and ginger.
Add the mushrooms and saute for 2 minutes.
Then add the carrots.
Add the broth.
Add sesame oil and soy sauce and stir to combine.
Place a rack in the Insert and the steamer basket. Place the eggs in the steamer basket.
Secure the lid and move the valve to the sealing position.
Turn the Instant Pot on to manual high pressure and set for 4 minutes.
Manually release pressure when ready by carefully moving the valve to venting. Carefully remove the eggs, steamer basket and rack.
Run the eggs under cold water, peel and cut in half. Then turn the instant pot on to saute mode.
Add the bok choy to the pot.
Add the ramen noodles. Simmer for 5 minutes.
Serve the ramen in bowls and top with chicken slices, egg and green onion. You can also top with black sesame seeds and gochujang.


Stovetop Directions:

In a large saucepan, melt the butter on medium low heat. Add garlic and ginger and sauté for 1-2 minutes.
Add the mushrooms and carrots and cook for 1-2 minutes.
Add broth and stir.
Add sesame oil and soy sauce. Cook for 5-10 minutes and bring to a simmer.
Add bok choy and ramen noodles. Cook for 5 minutes or until the noodles are cooked.
Place in serving bowl and top with chicken, chives and soft boil egg.
*Soft Boiled Eggs
Place 4 eggs into a small saucepan. Fill with enough water to cover the eggs. Place on stove on medium high heat and bring to a boil. Once the water is boiling set a timer for 6 minutes. Remove the eggs from the water after 6 minutes and run over cold water. Peel the eggs and serve on top of ramen.
Recommended Products
As an Amazon Associate and member of other affiliate programs, I earn from qualifying purchases.
Nutrition Information:
Yield:
6
Serving Size:
1
Amount Per Serving:
Calories:

594
Total Fat:

31g
Saturated Fat:

12g
Trans Fat:

0g
Unsaturated Fat:

16g
Cholesterol:

231mg
Sodium:

1807mg
Carbohydrates:

47g
Fiber:

5g
Sugar:

6g
Protein:

34g