Mouthwatering, juicy slow cooker french dip sandwiches are perfect for a make ahead dinner. These are the best slow cooker French dips you will ever taste!
We had French dips every Christmas Eve at my grandmother's house growing up and they were mouthwateringly juicy every single time. My grandmother perfected French dips down to a science. She slow cooked the meat for hours with a whole lot of garlic salt and fresh cracked pepper, sliced the meat paper thin and then made a homemade gravy au jus that was out of this world!
Although those French dips were amazing, I just don't have the time to make them with my busy schedule so I whip out the crockpot or Instant Pot and make Slow Cooker French Dip Sandwiches that are easy to make and taste equally delicious!
My slow cooker tips:
I find when I cook roasts or meat in the crockpot or slow cooker that the flavor gets diluted. So much liquid and fat is released from the meat and it can significantly dilute all of your flavorings you put in your dish.
Here are some tips to help make flavorful meat in the crockpot. Cook your meat with simply just some salt and pepper for 1/2 the time the recipe calls for. During this time a lot of the liquid will be released. Remove the cooking liquid and add the rest of your flavorings. Then cook for the remaining time the recipe states.
This tip will ensure you get flavorful perfectly cooked meat in the crockpot every time!
How to make French dips in the crockpot:
Crockpot French dips are easy to make. Dump everything in the crockpot in the morning and walk through the door after a long day of work to juicy, mouthwatering French dips. I promise these will become a family favorite!
You can also make this recipe in the Instant Pot. Just follow the notes in the recipe for easy Instant Pot French dips.
What meat to use for slow cooker French dips:
Because we are cooking in the crockpot or Instant Pot I like to use a meat the breaks down well when it is slow cooked. I prefer chuck roast. It becomes shreddable and tender and is perfect for this recipe.
For French dips in the oven a top loin is a great choice.
What roll to use for French dips:
Hoagie rolls are the perfect roll for French dip sandwiches because they are soft, fluffy and toast up nicely. They also soak up the juices from the au jus perfectly. You can also use a good French bread.
What is Au Jus:
Au jus is a French culinary term that is translated to mean "with juice". It is used for dishes that are served with a light broth, cooking liquid or gravy that the meat was cooked in. For this recipe we use the liquid that the meat is cooked in for the au jus.
The best slow cooker French dips are great to make for crowds, a Sunday dinner or an easy make ahead weeknight dinner.
If you love this slow cooker recipe then check out my Crockpot Italian Chicken and Kale!
Slow Cooker French Dip Recipe: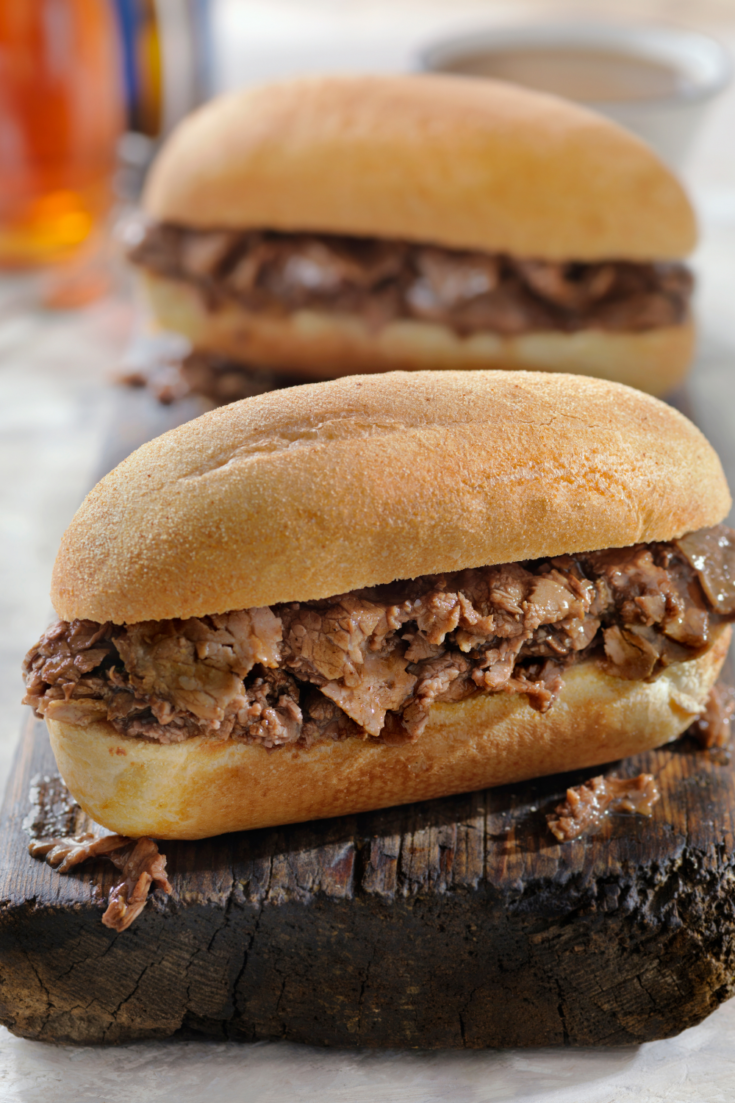 Yield:

serves 6
How to cook eye of round roast french dips
Cook Time:
1 hour
30 minutes
Total Time:
1 hour
40 minutes
These are the best french dips you will ever taste!
Ingredients
4 lbs. Eye Of Round Roast
1 Tablespoon Olive Oil
2 tsp Kosher Salt
2 tsp Garlic Salt
1/2 tsp Black Pepper
1 oz Packet French Onion Dip Mix
2 Tablespoons Worcestershire Sauce
3 Cups Beef Stock, divided
6 Hoagie Rolls, Sliced In Half
Butter, Softened
Optional:
Good Quality Pickles
Provolone Cheese
Horseradish Sauce or Spicy Mustard
Instructions
1. Pat the meat dry with a paper towel.

2. Rub with olive oil on all sides.

3. Season the roast with salt, garlic salt and pepper on all sides.

4. Place the meat on a rack in a baking dish.

5. Cook at 325 F for about 1 1/2 hours.

6. Add 1 cup beef broth after 15 minutes of cooking.

7. Check the internal temperature about 1 hour in. When it's 135 F pull the meat out and let it rest.

8. Tent with foil and let rest for at least 10 minutes.

9. Make the au jus by placing the roasting pan on the stove over medium heat. Remove any excess great.

10. Add the remaining beef stock, french onion soup mix, and Worcestershire sauce to the pan and scrape up all the fond or brown bits with a wooden spoon or whisk. Cook for 5 minutes to combine all the flavors.

11. Sharpen your knife before carving the meat.

12. Slice the rested meat into paper thin slices.

13. Spread butter on hoagie rolls and toast in a hot pan until golden brown.

14. Place the sliced meat on the hoagie rolls. Spoon a tablespoon of the au jus on top of the meat and add optional toppings. Serve with extra au jus for dipping.
Recommended Products
As an Amazon Associate and member of other affiliate programs, I earn from qualifying purchases.
Nutrition Information:
Yield:
6
Serving Size:
1
Amount Per Serving:
Calories:

578
Total Fat:

40g
Saturated Fat:

17g
Trans Fat:

2g
Unsaturated Fat:

19g
Cholesterol:

165mg
Sodium:

1689mg
Carbohydrates:

12g
Fiber:

1g
Sugar:

4g
Protein:

44g