This delicious Valentine's Day strawberry ice cream cake is the perfect make ahead frozen dessert to celebrate the holiday of love. And it involves no baking!
This rich luscious and festive strawberry cake is layered with oreo crumbs, chocolate ice cream, and strawberry ice cream. It's topped with chocolate dipped strawberries, whipped topping and drizzled with a velvety chocolate syrup.
It's a show stopper strawberry dessert without a lot of hassle. You can make it under 30 minutes and a day in advance.
This ice cream cake recipe is actually a variation of my family's famous ice cream cake. The famous ice cream cake was my grandmother's recipe. She would make it for each of her kids. The recipe has been passed down for three generations.
We have loved transforming the traditional ice cream cake into holiday versions. It is a fun and festive way to celebrate the holiday with a delicious dessert.
We celebrate almost every holiday with an ice cream cake. Here are some of our other flavor variations.
Ice Cream Cake Variations:
Thanksgiving Version: gingersnap crumbs, pumpkin ice cream, vanilla ice cream, heath bars to top
Valentine's Version: Oreo crumbs, strawberry ice cream, chocolate ice cream, chocolate covered strawberries to top
St Patrick's Day: coconut cookie crumbs, lime sherbet, Rainbow sherbet, gold coins
Easter Version: coconut cookie crumbs, rainbow sherbet, vanilla ice cream, toasted coconut and peeps to top
Christmas Version: Oreo crumbs, peppermint ice cream, mint n chip ice cream, Andes mints to top
We love making this ice cream cake recipe for major holidays. We can make it ahead of time and it does't require any cooking.
If you are making a big Valentine's Day dinner this dessert is the perfect way to end the night.
We celebrate with the kids on Valentine's Day. It's been a fun family tradition and they look forward to it every year. Then my husband and I will go out another day of the week. It's the best of both worlds in my book.
At Home Valentine's Day Menu:
Is you need some inspiration for Valentine's Day here is our Valentines Day menu.
Valentine's Day Ice Cream Cake: Recipe Follows
Ingredients and Tools You Will Need:
Here is what you need to make this strawberry ice cream cake.
Tools:
Springform Pan: You will need a springform pan for this recipe. Springform pans are used for things like cheesecakes and ice cream cakes. They are great because the sides of the pan can easily be removed. This will help to slice your cake easily and makes for a beautiful presentation.
Spoon With Hot Water: My mom's trick! It can be difficult to spread the ice cream into an even layer. Dip a spoon in hot water and then use the back of the spoon to spread the ice cream evenly. The heat of the spoon will make the ice cream more spreadable.
Rolling Pin: This will be for crushing up the Oreo cookies. You can also use a food processor if you want a finer crumb crust. I prefer a coarser crust.
Ingredients:
Ice Cream: For this strawberry version we will be using strawberry ice cream and chocolate ice cream.
Oreos: We use Oreo cookies for the crust and middle layer. If you are gluten free you can use gluten free Oreos or a gluten free chocolate cookie.
Chocolate Syrup: Chocolate syrup works great to create a beautiful drip edge. I just buy the Hershey's syrup.
Whipped Cream or Whipped Topping: You can just use canned whipped cream for this recipe or a cool whip whipped topping.
Chocolate Dipped Strawberries: Make your own chocolate dipped strawberries by dipping fresh strawberries into melted chocolate and coconut oil. This helps to create a shiny, shell like exterior. I have included the recipe in the recipe card.
Gluten Free Version:
I love ice cream cake because you can easily make it gluten free. Just use a gluten free cookie instead of the Oreo's. There are even gluten free Oreo cookies now so try those out!
Make it dairy free by using a dairy free ice cream.
How To Make Strawberry Ice Cream Cake:
Let's make some strawberry ice cream cake!
First you want to start with your springform pan. Make sure the springform is tight and secure.
Next place the Oreo's into a ziplock baggie and crush with a rolling pin. This is a great job if you have little kids.
Then layer half of the cookie crumbs into the bottom of the springform pan.
Layer with the chocolate ice cream, remaining cookie crumbs and strawberry ice cream.
Freeze for at least 4 hours or overnight.
When you are ready to serve take the ice cream cake out of the freezer and finish with the topping decorations.
Minutes before serving, drizzle Hershey's syrup on the outside perimeter of the top of the cake. Top with whipped cream and chocolate dipped strawberries.
Serve immediately.
Strawberry Ice Cream Cake Recipe: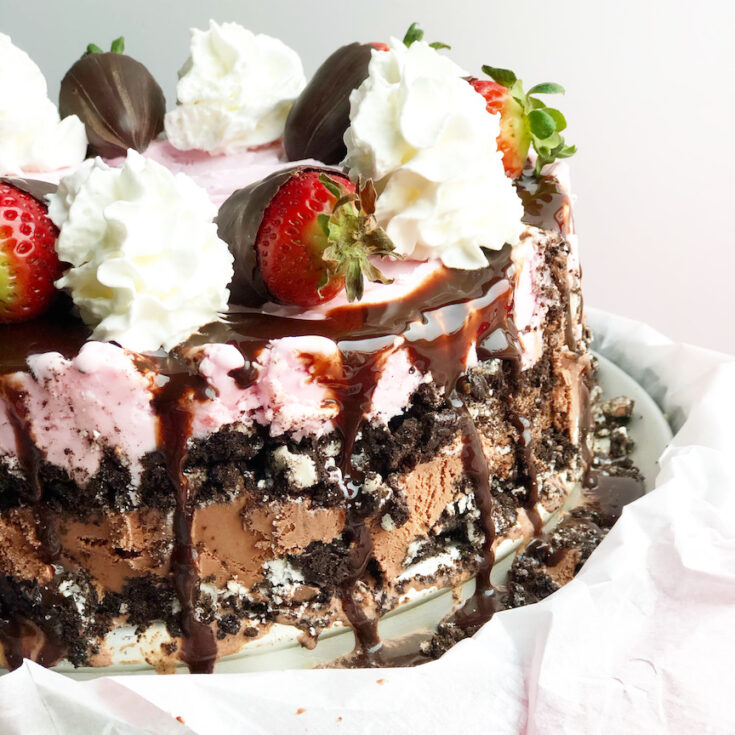 Yield:

Serves 10
Strawberry Ice Cream Cake
Total Time:
4 hours
20 minutes
The perfect Valentine's Day dessert!
Ingredients
1 package Oreo Cookies
1.5 Quarts Chocolate Ice Cream
1.5 Quarts Strawberry Ice Cream
Hershey's Syrup
Whipped Cream
For The Chocolate Dipped Strawberries:
8 ounces good quality dark chocolate, chopped into small pieces
1 teaspoon coconut oil
1 pound strawberries
Instructions
*Make the chocolate covered strawberries first.
Place the Oreos into a ziplock gallon size bag. Remove the air and seal. Smash with a rolling pin to create small crumbs.
Place half of the crumbs into the bottom of your springform pan. Spread into an even layer.
Top with chocolate ice cream.
Dip a spoon in hot water and then spread the ice cream into an even layer.
Then add the remaining crumbs. Spread into an even layer.
Top with strawberry ice cream.
Dip the spoon into hot water and spread the ice cream to create an even layer.
Place in the freezer for a minimum of 4 hours or until you are ready to serve.
When you are ready to serve, run a knife along the inside of the springform pan and remove the outer pan.
Top with chocolate covered strawberries (Recipe Follows)
Drizzle with chocolate syrup on the outside rim.
Decorate with whipped cream in between the strawberries.
Enjoy immediately.

Chocolate Covered Strawberries:
1. Chop the chocolate into small pieces.
2. Place the chocolate into a microwave safe bowl.
3. Add the coconut oil and microwave for 30 second intervals until melted. (About 2 minutes) stirring after each interval.
4. Wash and dry the strawberries completely. It is very important that the strawberries are completely dry before dipping.
5. Dip the strawberries into the melted chocolate and place them on a parchment lined baking sheet or plate. Let cool completely.
Recommended Products
As an Amazon Associate and member of other affiliate programs, I earn from qualifying purchases.
Nutrition Information:
Yield:
10
Serving Size:
1
Amount Per Serving:
Calories:

477
Total Fat:

23g
Saturated Fat:

14g
Trans Fat:

0g
Unsaturated Fat:

6g
Cholesterol:

52mg
Sodium:

119mg
Carbohydrates:

64g
Fiber:

4g
Sugar:

35g
Protein:

7g