Nothing is better than a warm crispy homemade waffle cone filled to the brim with ice cream. This waffle cone recipe is easy to make and can be made in a variety of different flavors.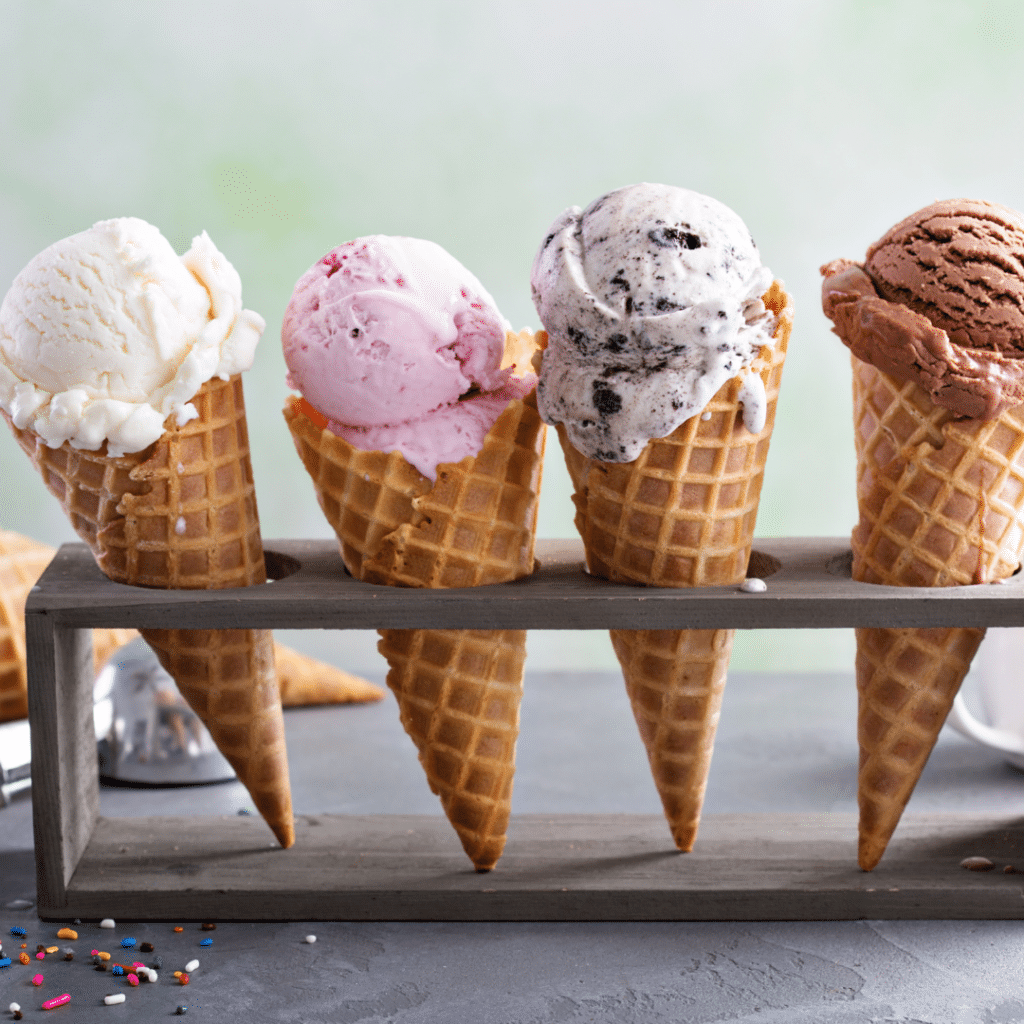 I am going to teach you how to make your very own homemade waffle cone in a matter of minutes with this waffle cone recipe.
You can also make these a couple of days in advanced for your next ice cream social!
The best part is you can make it your own with tons of waffle cone variations that I will list below.
But before we get into all the different variations let's talk waffle cones!
What is the difference between a waffle cone and a sugar cone?
Waffle cones are thicker and usually have a wider filling area. Sugar cones have a flat brim top and are normally a little smaller.
I love the waffle cone because it is a little less crispy and has a delicious almond flavor to it. You can also make them easily homemade and shape them into cones or bowls.
Waffle Cone
To make homemade cones you first need to start with the basic batter.
To make the waffle cone batter you will mix together the ingredients, let sit a little bit and then put a small amount into the waffle cone machine.
After it is golden brown, remove it from the machine carefully (it is very hot) and mold it with the cone mold. Let cool completely and then fill it up with your favorite ice cream.

Tools You Will Need:
Waffle cones do require a waffle machine, but not the typical waffle machine that you use for your Sunday waffles. You will need a specific waffle cone machine.
You will also need a cone shaper. This normally is a cone shaped piece of plastic with a handle on the end. It typically comes with your waffle machine. When the waffle is still hot you will form the cone shape with this tool.
What is the best waffle cone maker?
There are so many waffle cone makers out there. I like this inexpensive basic one. Because I don't make homemade waffle cones all that often. I find that this is a kitchen tool that you don't need to invest a ton of money into and the one I listed is really affordable.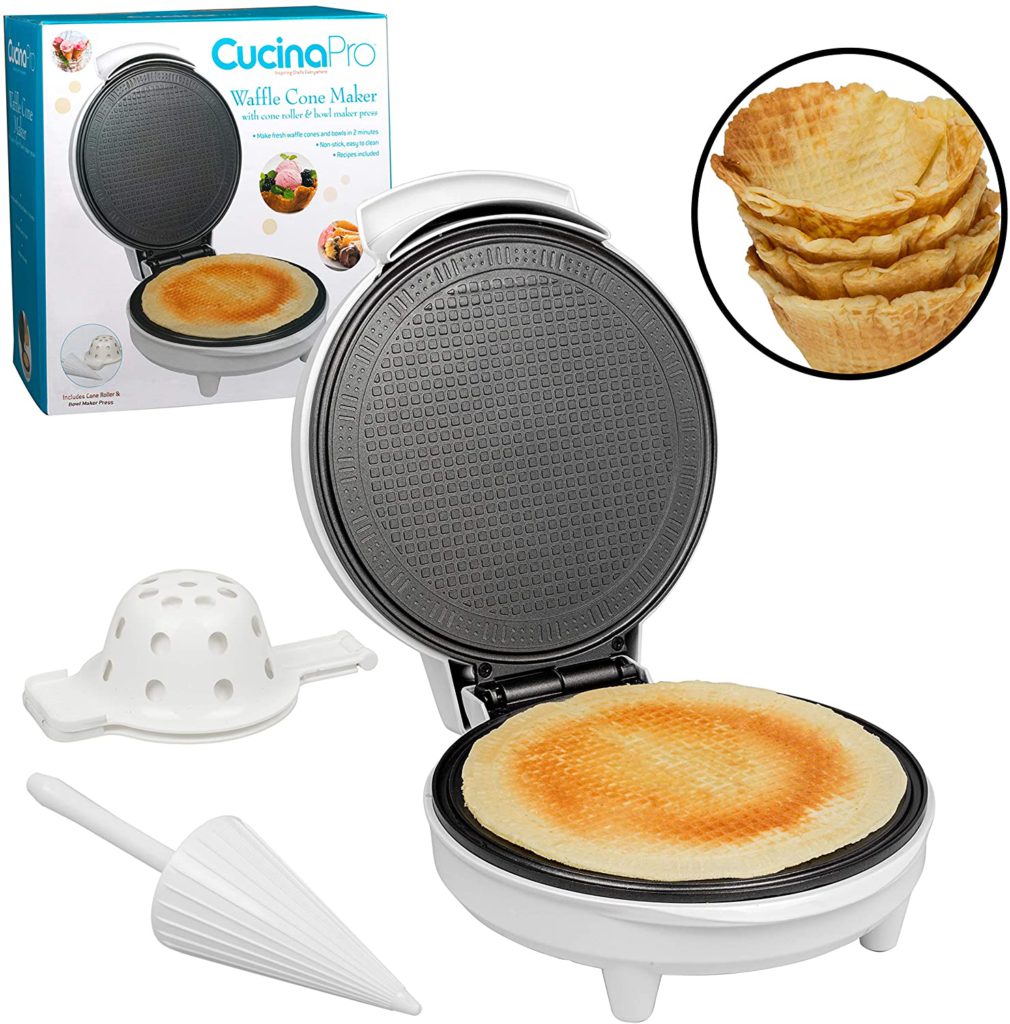 This particular model comes with the cone shaper and you can adjust the cooking time to get the desired texture you like your waffle cones.
Shaping Waffle Cones:
The fun part about making your own waffle cones is you can shape the cones into bowls or in the traditional shape.
To shape the waffle cones on top of the bottom of a glass cup. Then pinch the sides down and let cool completely. You can also make a bowl by placing the hot waffle directly into a bowl. Place another smaller bowl on top of the waffle pressing the waffle down lightly. Remove the interior cup and let cool completely.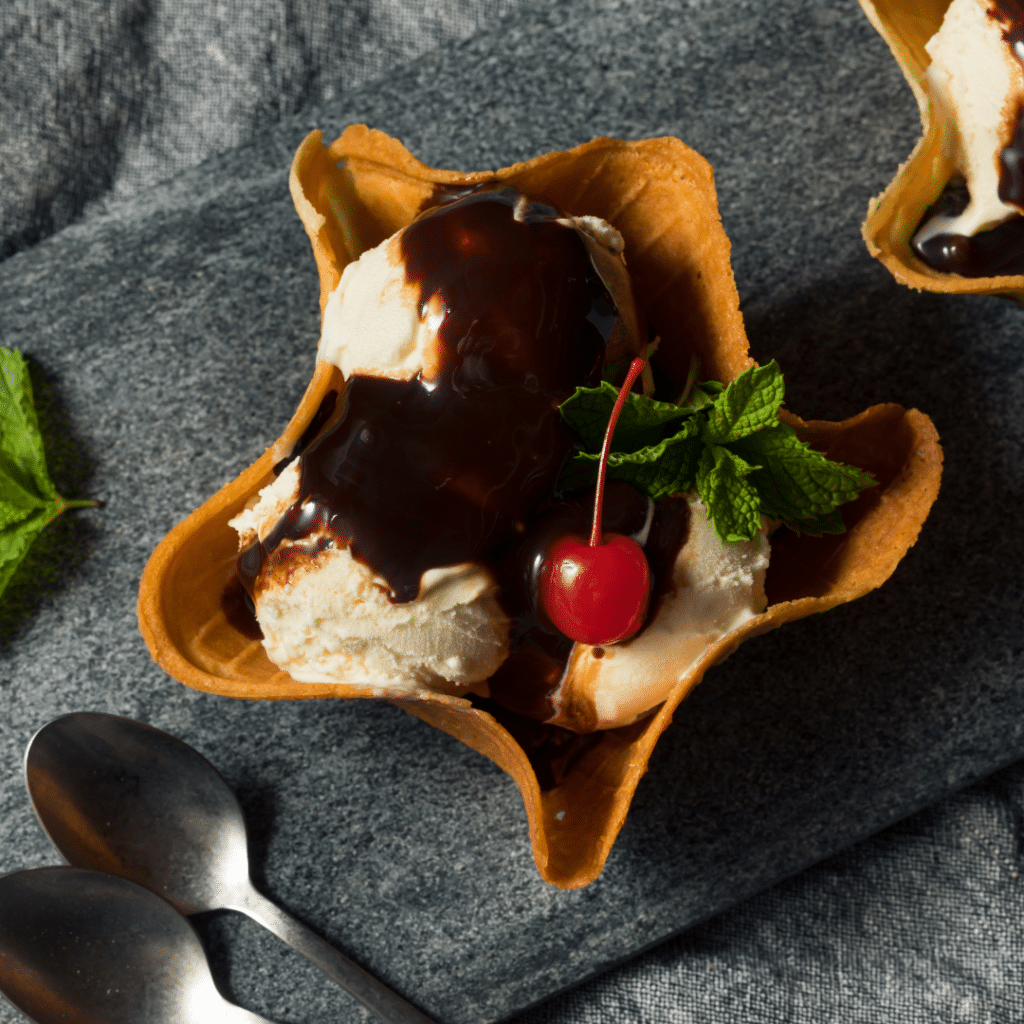 Variations:
If you love this recipe try changing it up by making different flavored cones. One of my favorite variations is my chocolate waffle cone recipe. It's rich and decadent and goes perfectly with my homemade peppermint ice cream.
Other variations include the following.
Orange: Add 1/2 teaspoon orange extract and the zest of 1 orange to the batter.
Lemon: Add the zest of 2 lemons to the batter.
Almond: Add 1/2 teaspoon almond emulsion to the batter.
Cinnamon: Add 1/2 teaspoon ground cinnamon to the batter.
Red Velvet: Add gel red food coloring and 1/2 teaspoon cocoa powder.
Chocolate: Use this recipe.
Toppings: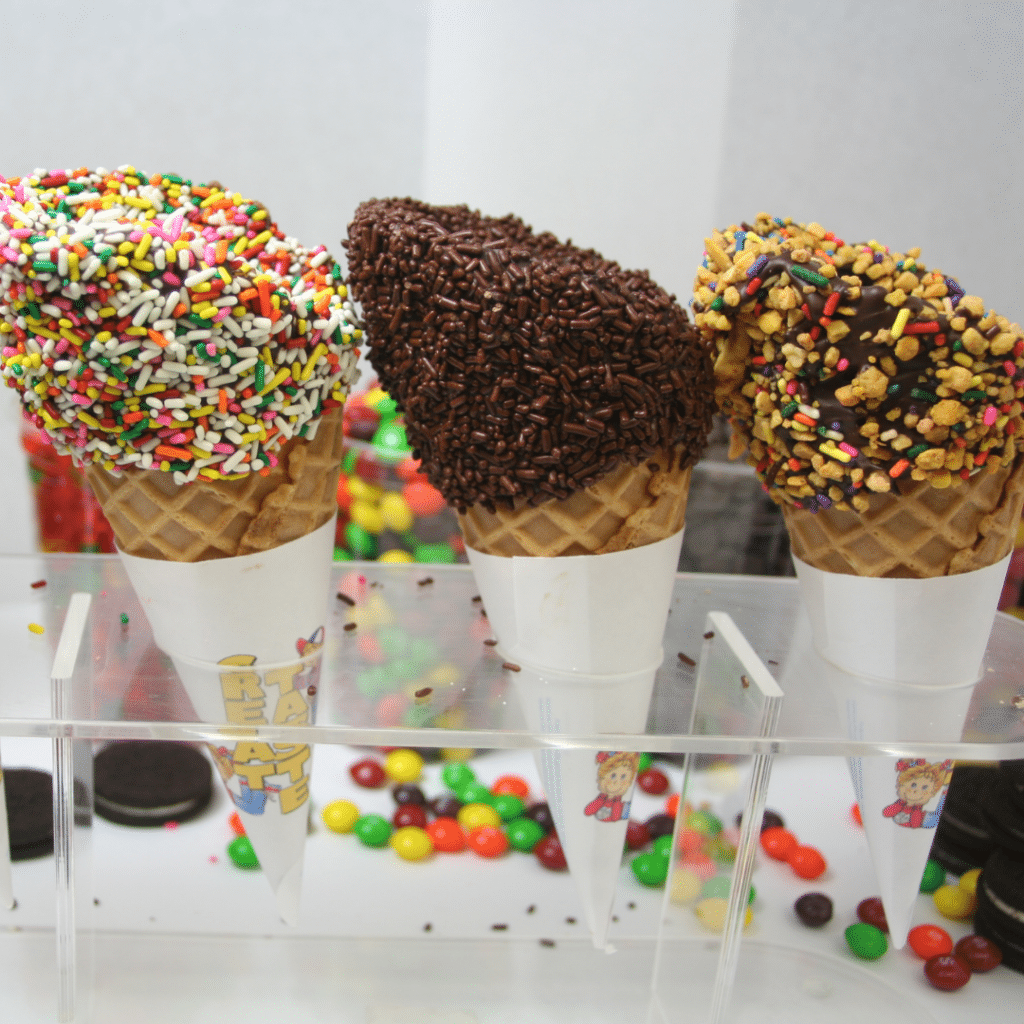 To make your waffle cones over the top you can also dip the cones in chocolate and then into fun toppings. Here are some of my favorite toppings for dipped waffle cones.
Crushed up Oreos
Graham Crackers
Cereal
Mini Chocolate Chips
Brownie Pieces
Cookie Pieces
Multicolored Sprinkles
Reese's Pieces Candy
How do you make waffle cones crisp?
Waffle cones become crispy by cooking the batter long enough in the machine. Make sure you adjust the setting to get your desired crispiness.
For crispier waffle cones cook the batter longer.
Storage:
You can store waffle cones at room temperature for up to 3 days. The longer they sit out the softer they will become. You can throw them in the oven at 350 for 2 minutes to crisp up.
How long do waffle cones last?
When stored at room temperature they that up to three days. Although they can last up to three days, I would recommend you make them fresh when you want to serve them. They always taste better fresh!
Waffle Cone Recipe: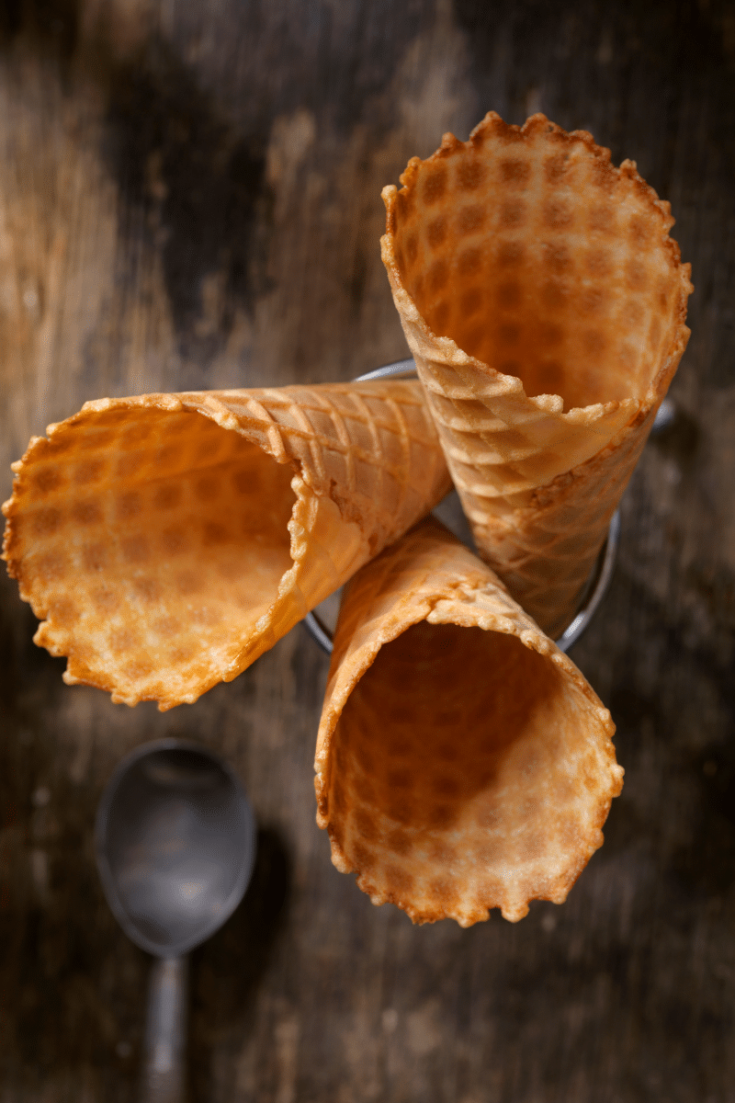 Yield:

Makes 8
Waffle Cone Recipe Homemade
Additional Time:
5 minutes
Crisp waffle cones are easy to make and elevate your ice cream game big time.
Ingredients
2 egg whites
1/4 cup heavy cream
1/2 cup granulated sugar
pinch of salt
1 teaspoon vanilla bean paste or extract
1 teaspoon almond emulsion or extract
6 tablespoons unsalted butter, melted
2/3 cup all purpose flour
Instructions
Add the egg whites and heavy cream to a mixing bowl.
Add the sugar, vanilla and almond extract.
Whisk to combine and stir in the butter and flour. Whisk to combine.
Preheat your waffle cone machine.
Scoop 1/2 cup of the batter into the machine and press down. Cook for 1 minute.
Remove the cone and immediately roll on the mold to form.
When you are molding your cones add another batch of batter to the waffle maker.
You can also make waffle cups by placing the waffle on top of a cup and pinching down the sides or place in a small bowl or cup and place another cup inside.
Let cool and serve with ice cream of choice.
Recommended Products
As an Amazon Associate and member of other affiliate programs, I earn from qualifying purchases.