The best chocolate Oreo ice cream you can make at home. It's rich, creamy and chocolatey and studded with crushed Oreo cookies. It may just be the best ice cream you will ever taste!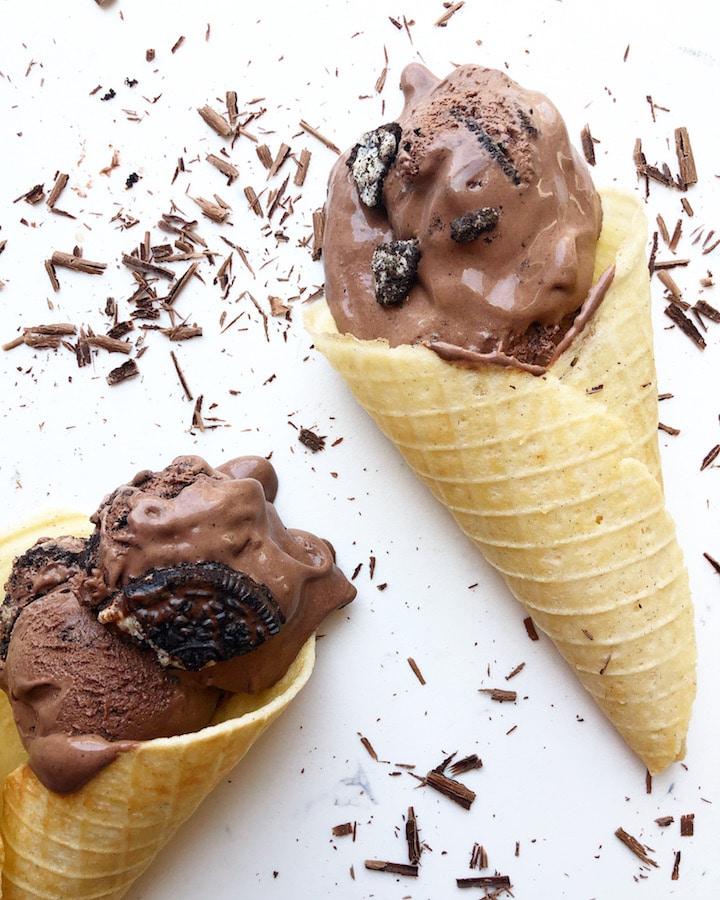 This chocolate Oreo ice cream is one of my favorite ice cream flavors.
It's so creamy and full of chocolate goodness and is the perfect dessert for any occasion.
Made with a rich chocolate ice cream base and studded with chunks of Oreo cookies, it's so good!
We made this for a Summer get-together with some friends and served this delicious ice cream in homemade waffle cones. It was the perfect, easy Summer dessert and everyone loved it!
This ice cream is made in an ice cream maker so there is no hand churning required.
The active cooking part with prep only takes about 15 minutes.
The hardest part of the recipe is waiting for the custard base to chill completely before you put it in your ice cream machine.
I promise this ice cream will become a huge hit!
Change it up by adding extra chocolate with some chocolate chips or use peanut butter stuffed Oreos instead of the regular ones. Any variation you choose to make it will be amazing.
If you want to learn more about how to make the perfect frozen treats at home check out the More Momma Cooking School classes. We cover homemade ice creams, gelato, granita, sorbet, and so many more.
The classes are all taught by professional chef's and done in an on-demand online format so you can take them at your convenience.
Now let's get into how to make this delicious ice cream! You can always jump to the recipe at the bottom if you want to skip the process.
The Process:
There are so many different recipes out there for ice cream. You can now make ice cream at home so many ways.
There are recipes for delicious no-churn ice cream or even dairy free ice creams. However for this recipe we are sticking with the traditional custard base method in an ice cream machine.
First start by heating your cream and milk in a saucepan over medium heat. We are using an equal proportion of cream and milk for this recipe.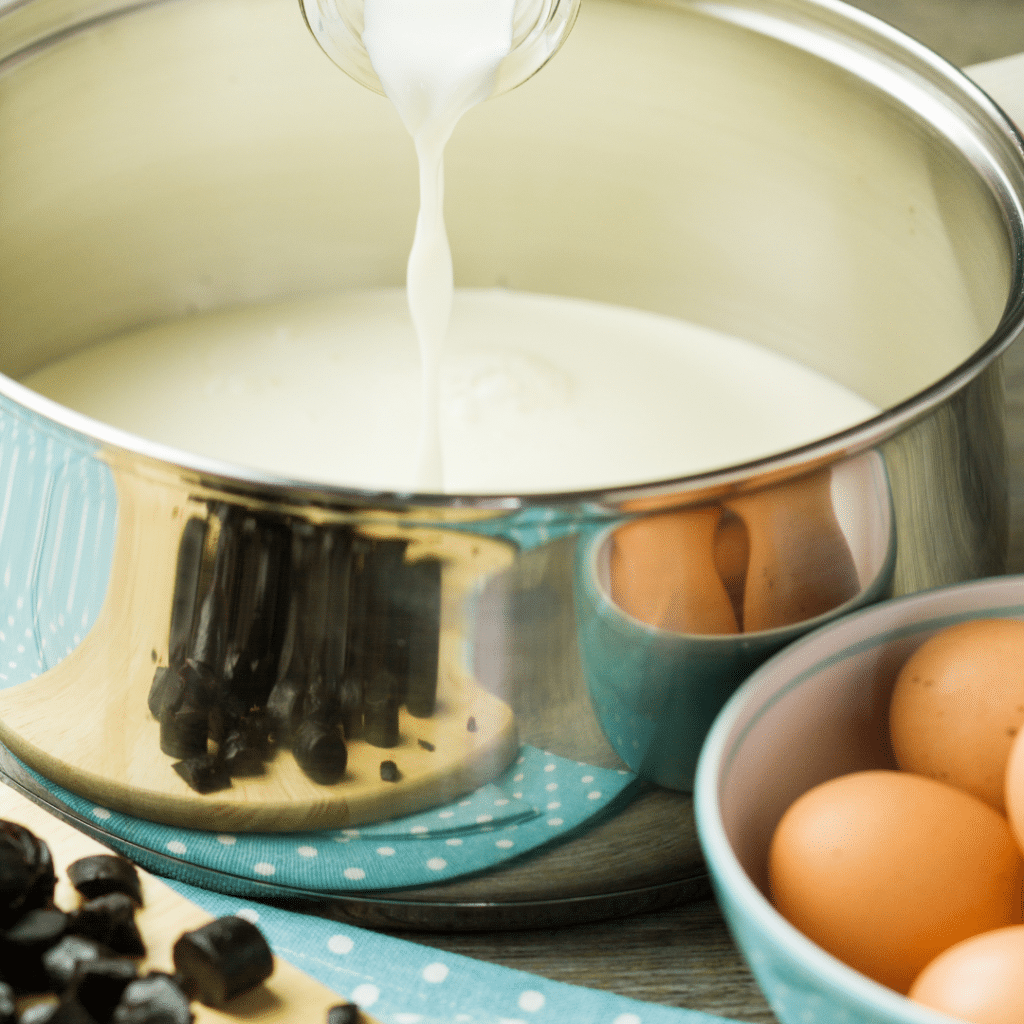 Add flavorings. For this recipe we will be adding our chocolate, cocoa powder and vanilla.
Whisk the egg yolks with sugar until it turns a pale yellow.
Temper the egg yolks by adding 1 cup hot cream mixture to the egg yolks and whisk continuously. Tempering is an important step because it helps to prevent the egg yolks from scrambling.
Add the tempered eggs back into the saucepan to thicken slightly. Cook until the nappe stage (thick enough to coat the back of a wooden spoon).
Strain through a fine mesh strainer to catch any lumps.
Place in a bowl and top with saran wrap and chill in the refrigerator overnight.
Then churn the custard in a frozen ice cream machine until creamy.
Tips for Making Homemade Ice Cream:
Make sure you use good quality ingredients. It will impact the flavor and texture of your ice cream.
Freeze your ice cream insert for at least 24 hours.
Make sure your cream and milk do not reach a boil. You don't want it to burn.
Temper the eggs. Tempering slowly brings the temperature of the egg yolks up to temperature, preventing curdling. Don't skip this step.
Cook the custard to the nape stage (where it will coat the back of a wooden spoon).
Strain the custard through a fine mesh strainer to catch any lumps.
Cover the custard directly with saran wrap to prevent the custard from developing a film when you put it in the refrigerator.
Make sure the custard is completely chilled before placing it in the ice cream insert.
Ingredients For Chocolate Oreo Ice Cream:
Ice cream calls for simple good quality ingredients. The better quality of ingredients the better the ice cream will taste. Here is what you need to make this chocolate Oreo ice cream:
dark chocolate: You want to use a good quality dark chocolate bar for this recipe.
heavy cream: Use organic if you can. It tastes totally different!
whole milk: Use organic if you can.
dark cocoa powder: I really like the Hershey's Specialty Dark Brand
pinch of salt: You always want to add a pinch of salt to sweet dishes. This brings out all the flavors.
vanilla bean paste or extract: I love vanilla bean paste, especially for ice cream. You can also use vanilla extract.
egg yolks: Make sure you only use the egg yolks.
white sugar: Granulated sugar is great.
Oreo cookies: You can change it up by using different Oreo cookies like peanut butter filled or double stuffed.
Freezing and Storage:
You can freeze the leftover ice cream in these reusable containers.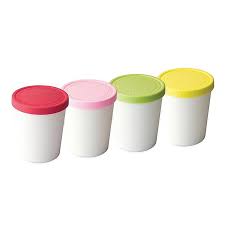 Store up to 3 months in the freezer. When you are ready to serve let the ice cream sit out for 5 or so minutes to soften slightly before scooping.
Other Frozen Favorites:
If you love frozen treats try these other delicious recipes.
Strawberry Cheesecake Ice Cream Recipe
Homemade Drumstick Ice Cream With Pop Rocks
Smores Gelato with Creamy Nutella
How To Make Chocolate Oreo Ice Cream:
Make the custard.
Cool completely.
Place the custard in ice cream machine.
Add the Oreos.
Enjoy!
Chocolate Oreo Ice Cream Recipe: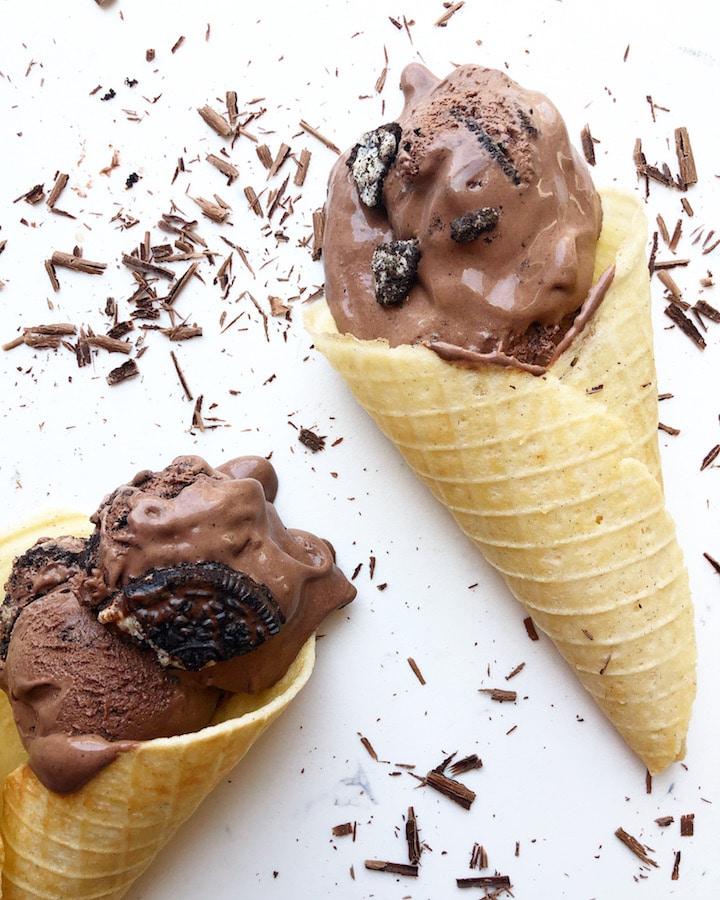 Yield:

Serves 8
Chocolate Oreo Ice Cream
Cook Time:
7 minutes
5 seconds
Additional Time:
10 hours
Total Time:
10 hours
12 minutes
5 seconds
Rich, creamy chocolate Oreo ice cream is the perfect Summer treat.
Ingredients
6 ounce dark chocolate
1 1/2 cup heavy cream
1 1/2 cup whole milk
1/3 cup dark cocoa powder
pinch of salt
2 teaspoons vanilla bean paste or extract
6 egg yolks
3/4 cup white sugar
1/2 cup Oreo cookies, roughly chopped
Instructions
Chop dark chocolate into small pieces.
In a medium-sized saucepan over medium heat, add the cream and milk and bring to a simmer.
Add chopped chocolate pieces to the saucepan and continuously stir until melted.
Add cocoa powder to the heated chocolate milk and whisk to combine. Add a pinch of salt and the vanilla bean paste.
Separate the eggs.
In separate bowl, whisk the egg yolks and sugar until pale yellow in color and shiny.
Add 1 cup of the hot cream to the eggs and continuously whisk to temper.
Pour tempered eggs into warmed cream on the stove. Cook until slightly thickened.
Strain the liquid through a fine mesh strainer into a clean bowl, removing any lumps.
Place a layer of Saran Wrap directly on top of the custard and refrigerate overnight.
Pour the cold custard base into an ice cream machine that has been frozen for a minimum of 24 hours.
Turn the machine on and churn for 15 minutes or until ice cream is set.
While the ice cream is churning, break the Oreos into small pieces.
Add Oreo pieces directly to the ice cream maker and serve, or store in an airtight, freezer-safe container.
Recommended Products
As an Amazon Associate and member of other affiliate programs, I earn from qualifying purchases.
Nutrition Information:
Yield:
8
Serving Size:
1
Amount Per Serving:
Calories:

491
Total Fat:

31g
Saturated Fat:

17g
Trans Fat:

1g
Unsaturated Fat:

11g
Cholesterol:

195mg
Sodium:

115mg
Carbohydrates:

48g
Fiber:

3g
Sugar:

38g
Protein:

7g