This boysenberry pie recipe is easy to make and is a delicious Summer desert to serve at your next gathering. The recipe has been passed down from generations!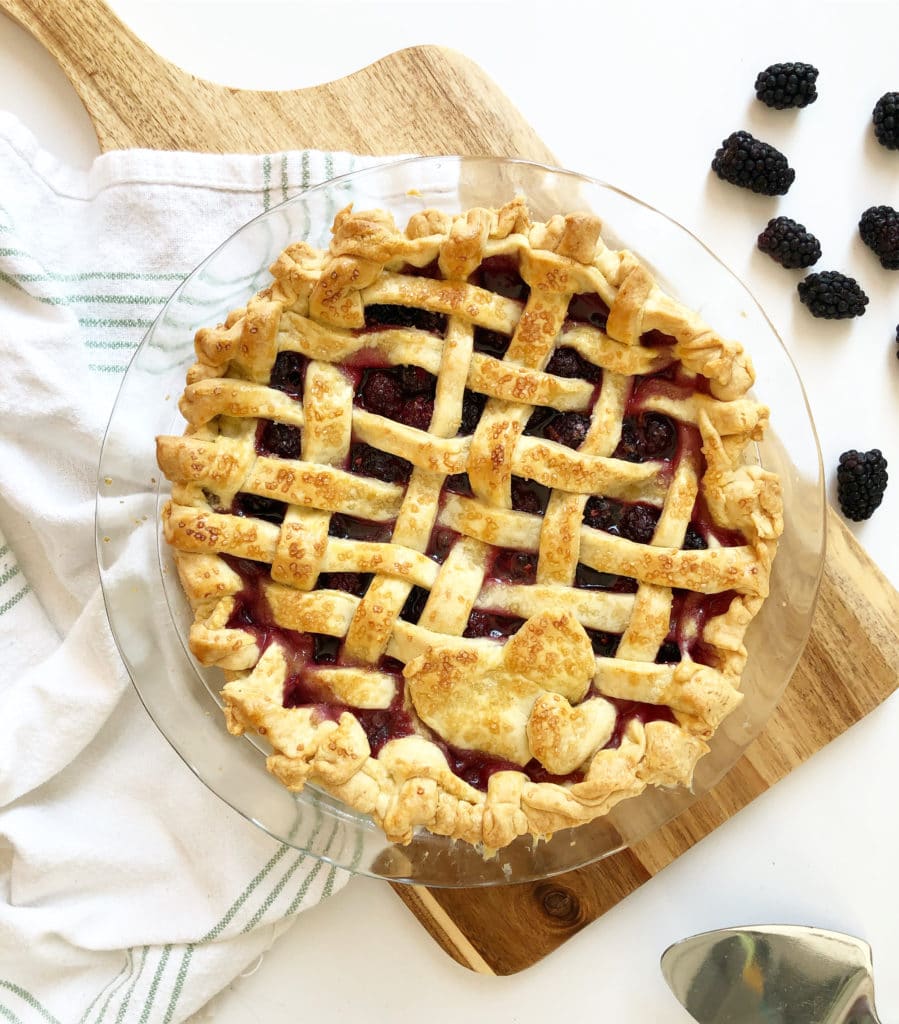 This boysenberry pie recipe is stuffed with rich, succulent boysenberries and made with a homemade flaky pie crust. It's the ultimate comfort food for Summer.
This easy boysenberry pie recipe is my mom's famous recipe. It has been passed down from generations and is by far my families favorite pie.
Growing up my family had multiple boysenberry bushes in our backyard. My mom would give us a colander and all of us kids would go out in the back yard and pick all the ripe boysenberries we could find. She would then make this amazing and easy boysenberry pie that we all loved.
This recipe holds so many memories for me and I am so excited to finally share it on the blog. I promise it's a keeper! It's the perfect Summer pie recipe.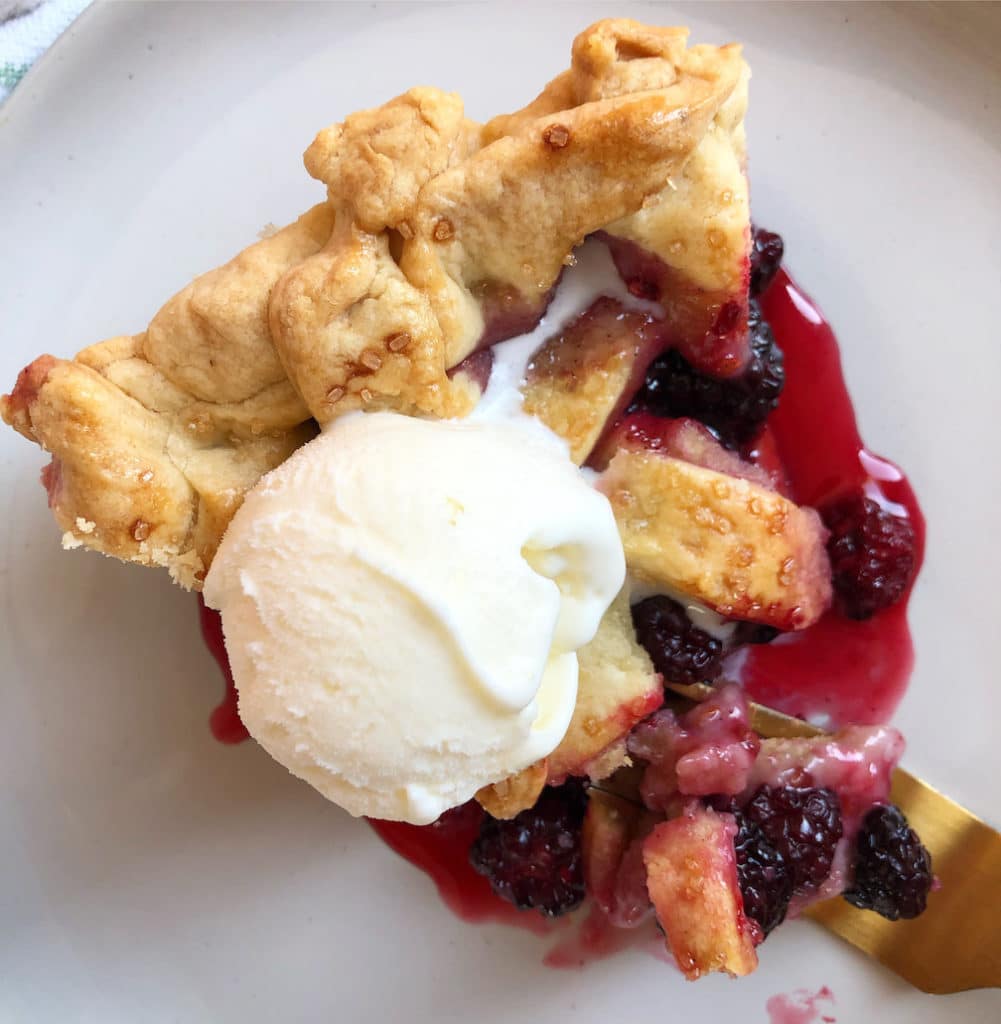 Boysenberries VS Blackberries:
Blackberries are a North American berry. They are genuine berries as they have not been cross pollinated. They are smaller and sweeter than boysenberries.
Boysenberries are a cross between blackberries, raspberries and loganberries. They are typically larger and juicier. Great for pie making!
Head to the farmers market or a berry farm and grab some boysenberries the next time you can!
Look for dark berries and make sure they are firm to the touch.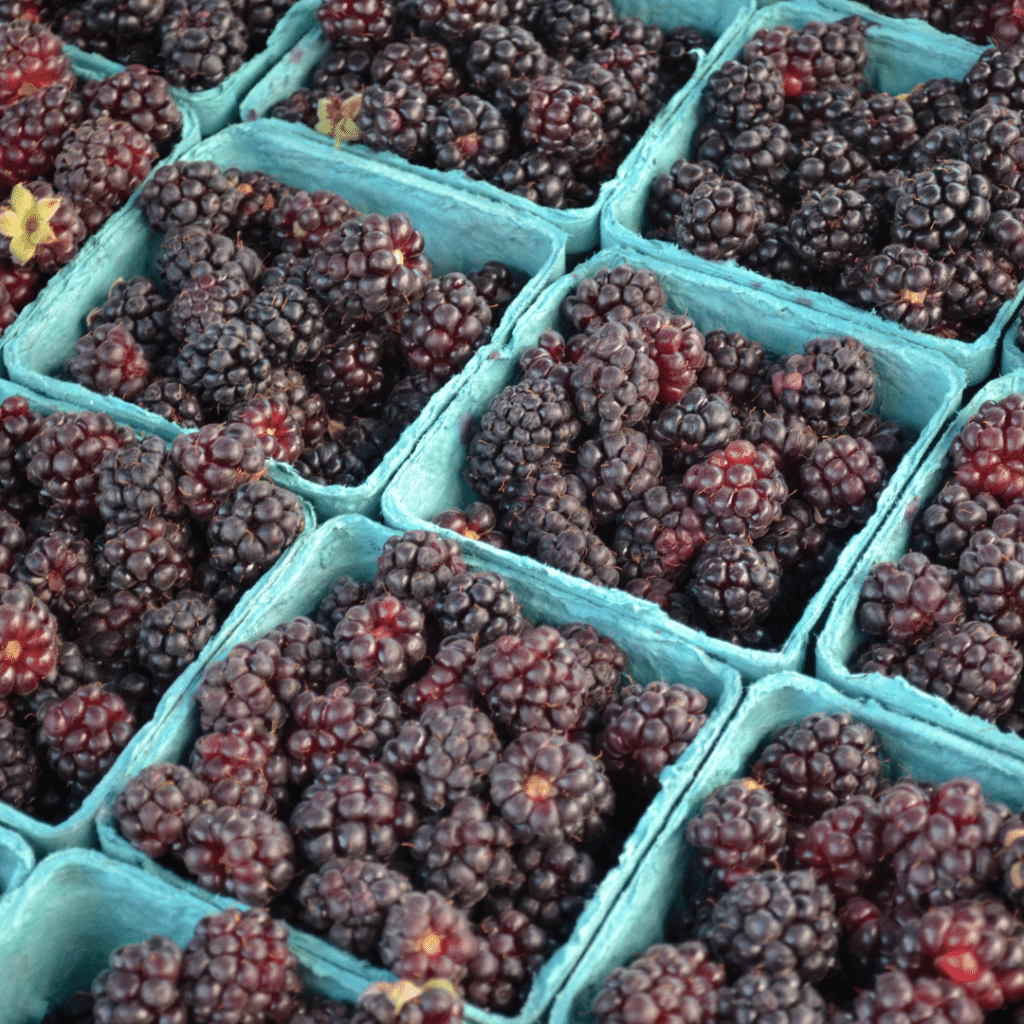 Frozen Vs Fresh Berries:
We grow fresh berries in our garden so we almost always use fresh berries for this recipe. You can use fresh or frozen berries if needed.
Frozen berries work well in the winter time as they are picked at the peak ripeness.
Homemade Pie Crust:
If you don't have time to make this homemade pie crust you can also use a pre-made pie crust.
This pie crust recipe is really easy to make and can be make a month in advance. Just wrap the pie dough disk in saran wrap and place in the freezer.
Today we will be making a lattice crust, but you can also just make a simple top crust by crimping the two crusts together with your knuckles or a fork and then cut 3 slits on the top to help release steam.
The lattice topping is so beautiful and I will teach you exactly how to do it in the video below.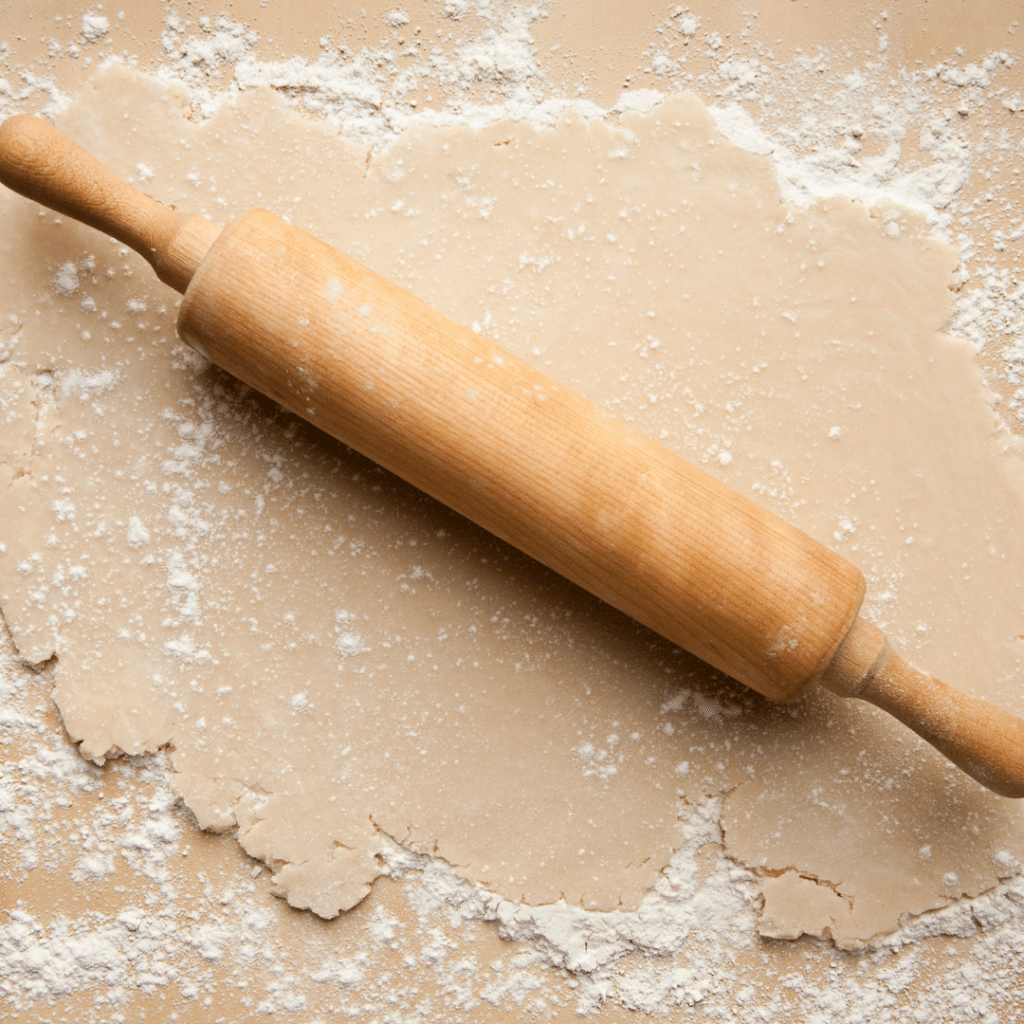 The Process:
Start by making your pie crust. Separate into two disks and wrap in saran wrap. Chill in the fridge for 30 minutes.
Then in a large bowl toss the boysenberries with the filling ingredients until combined.
Roll out one of the disks with a rolling pin until 1/4-1/8 inch thickness. Roll to the diameter of your pie plate (or a little larger). We are using a 9-inch pie pan for this recipe.
Preheat oven.
Add the berry filling to the pie crust.
Roll out the remaining pie crust and cut in 1/2 inch thick strips with a pizza cutter or sharp knife.
Top the pie with the strips in a lattice design.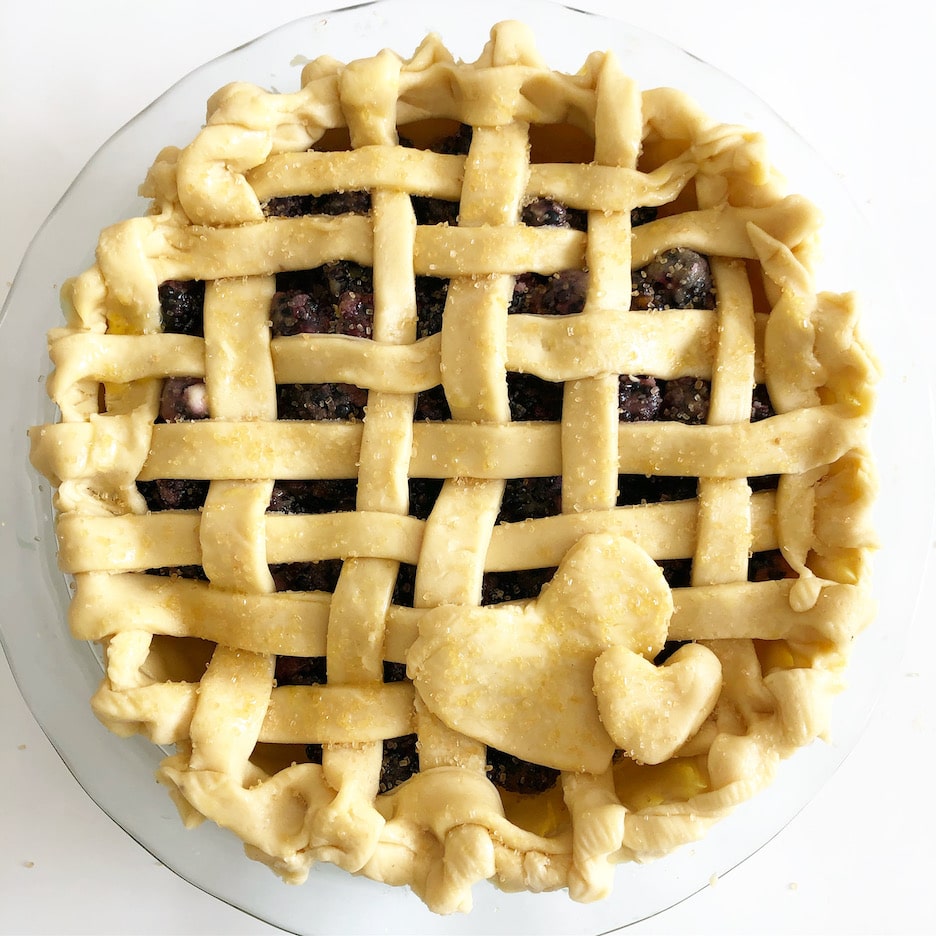 Crimp the edges with your knuckles or with a fork to seal.
Brush with egg wash, sprinkle with raw sugar and bake until golden brown (about 50 minutes).
Let cool for at least 10 minutes.
Slice and serve with vanilla ice cream or homemade whipped cream.
Make Them Mini:

Make this pie into mini pies by utilizing a mini muffin tin. Cut out your pie crust into small disks (about 3 inches in diameter).
Form the bottom crust in the muffin tin.
Fill with about 1-2 tablespoons of the boysenberry filling.
Top with top crust or create a lattice crust to top.
Sprinkle with raw sugar and bake at 350 F for 15-20 minutes or until golden brown.
What To Serve With Boysenberry Pie:
Serve it with homemade vanilla ice cream or a homemade whipped cream and you got the perfect Summer dessert.
Other Delicious Pie Recipes:
If you are a fan of this pie try some of my other delicious pie recipes.
Peanut Butter Caramel Banana Cream Pie
3 Ingredient Mini Lemon Meringue Pie
Mint Chocolate Mousse Pie With No Raw Egg
Boysenberry Pie Recipe:
Yield:

Serves 12
Easy Boysenberry Pie Recipe
Additional Time:
30 minutes
Total Time:
1 hour
35 minutes
This easy and delicious boysenberry pie recipe is perfect for Summer.
Ingredients
2 1/2 cups all purpose flour
1/2 teaspoon salt
1 cup cold butter, cut into cubes
1/2 cup ice cold water
4 cups boysenberries
1 cup granulated sugar
1 teaspoon vanilla bean paste or extract
3 tablespoons cornstarch
1 orange, zested and juiced
1/4 teaspoon ground cinnamon
1 egg
1 tablespoon sugar in the raw
Instructions
Add 2 1/2 cups all purpose flour to a food processor.
Add 1/2 teaspoon salt and 1 cup cold butter. Pulse 10 times.
Stream in 1/2 cup cold water and pulse 5-10 times or until a cohesive mass forms.
Cut the dough in half and form into two discs. Wrap in saran wrap.
Chill the dough in the refrigerator for 30 minutes.
Preheat the oven to 350 F.
Place the boysenberries into a mixing bowl. Add the sugar, vanilla bean paste, corn starch and orange zest and juice.
Add 1/4 teaspoon ground cinnamon and stir to combine.
When the pie crust has chilled place in between a piece of parchment paper and a layer of saran wrap and roll out to the diameter of the pie plate.
Peel off the saran wrap and then place the crust into your 9 inch pie plate.
Fill the bottom crust with the berry mixture.
Roll out the top layer. Lightly dust with flour if needed. With a pizza cutter or a sharp knife cut the dough into 1/2 inch strips.
Crimp the bottom crust with your knuckles and fingers.
Lay out the lattice crust with horizontal and vertical slices. Then take off the top layer and pull up every other slice. Top with vertical slices. (Refer to video if needed).
Cut the edges off and crimp with your fingers or a fork to seal the crust together. You can use the scraps to make a decorative cut out if desired.
Crack 1 egg into a small bowl and whisk. Lightly brush the egg onto the crust and then top with a sprinkling of raw sugar.
Bake in the oven for 45-50 minutes or until golden brown.
Let cool for at least 20 minutes. Slice and top with ice cream.
Recommended Products
As an Amazon Associate and member of other affiliate programs, I earn from qualifying purchases.
Nutrition Information:
Yield:
12
Serving Size:
1
Amount Per Serving:
Calories:

335
Total Fat:

16g
Saturated Fat:

10g
Trans Fat:

1g
Unsaturated Fat:

5g
Cholesterol:

56mg
Sodium:

218mg
Carbohydrates:

45g
Fiber:

3g
Sugar:

21g
Protein:

4g