This 10 minute easy chicken chow mein is the best Chinese take-out recipe you can make at home. Chow mein is easy and delicious and is perfect for a quick weeknight dinner.
I am on a major Asian cooking spree lately… maybe because most everything is so quick to make! This 10 minute easy chicken chow mein dinner is going to be on your monthly meal rotation for sure! It's quick, delicious and family friendly.
The great thing about this recipe is you can change it up by adding beef or shrimp or any protein your family likes. You can also use rotisserie chicken or thinly sliced chicken thighs instead of the chicken breasts.
Chow mein is a great recipe to make with kids as well since everything doesn't need to be chopped perfectly. I encourage you to enlist your kids for help with this one.
What is Chow Mein:
Chow mein is a noodle dish that is parboiled and then stir fried. It is typically made with vegetables and sometimes a protein is added like chicken, shrimp or beef.
Chow mein often gets confused with lo mein because they are similar.
What Is The Difference Between Chow Mein and Low Mein:
Lo mein is also a noodle dish, but the noodles are just boiled and not stir fried.
So the main difference between chow mein and lo mein is one is more crispy from stir frying the noodles and one is softer.
What Noodles To Use For Chow Mein:
Typically chow mein calls for Chinese egg noodles which are made out of wheat flour. These are also what I use in my Instant Pot Ramen recipe.
The best noodles I have found for this easy chow mein recipe are these Chinese Egg Noodles. I found them at my local market. They get slightly crisp and tender and soak up the sauce to perfection.
If you can't find Chinese egg noodles you can substitute for spaghetti as well. It just won't be as authentic.
What Goes In Chow Mein:
Chow mein is great because you can really make it your own. Add different vegetables or proteins.
Ingredients For This Easy Recipe:
Here are the ingredients for this recipe, but feel free to add different vegetables like bean sprouts or bamboo shoots. Make it your own!
Avocado Oil
Chicken (boneless, skinless and cut into thin strips)
Chinese Noodles
Carrot
Red Bell Pepper
Snow Peas
Mushrooms
Chow Mein Sauce:
Here are the ingredients for the sauce. You can find all of these items at most grocery stores so don't shy away. They really do make a different in flavor.
Fresh Ginger
Sesame Oil
Hoisin Sauce
Oyster Sauce
Braggs Aminos or Soy Sauce
Do I need A Wok:
No need to buy a wok just to make this recipe. You can use a wok or a large skillet for this recipe. It is not essential to use a wok.
Woks are great for many Asian inspired dishes as it cooks the food quickly. If you are in the market for a wok check out this one.
How To Make Chicken Chow Mein:
This chicken chow mein recipe is so easy it only takes about 10 minutes to make! Here is how to make it step by step.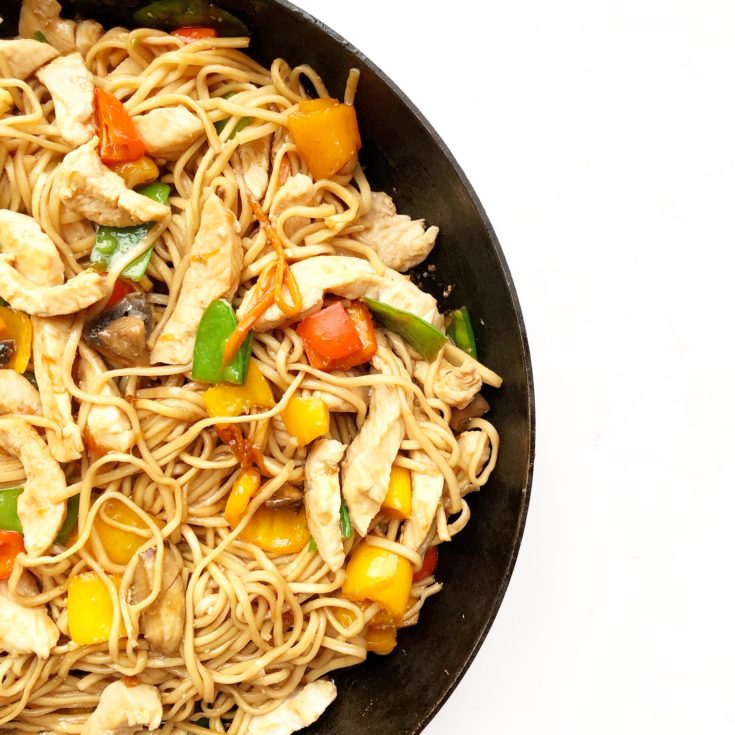 Yield:

Serves 4
10 Minute Easy Chicken Chow Mein
Quick and easy chicken chow mein in under 10 minutes!
Ingredients
1 Teaspoon Avocado Oil
1 Pound Chicken (boneless, skinless and cut into thin strips)
3 Sheets Chinese Noodles (I used about 4 cups cooked noodles)
1/2 Cup Carrot, Julienned
1/4 Cup Red Bell Pepper, Sliced Thin
1/4 Cup Snow Peas, Cut in Half
1/4 Cup Mushrooms, Sliced
1 Teaspoon Fresh Ginger, Grated
1-2 Teaspoons Sesame Oil
1/2 Cup Hoisin Sauce
1/2 Cup Oyster Sauce
1 Teaspoon Braggs Aminos or Soy Sauce
Instructions
In a large sauté pan or wok heated over medium high heat add the avocado oil and chicken and sauté for 2-5 minutes or until chicken is cooked through.
Meanwhile bring a pot of water to a boil and cook Chinese noodles for 4 minutes.
Add the carrot, bell pepper, snow peas, mushrooms and ginger to the chicken and stir to combine. Then add the sesame oil, hoisin sauce and oyster sauce.
Drain the noodles and then add them directly into the chicken mixture and toss to combine. If the sauce is too thick you can add a couple tablespoons of the noodle water to thin it out.
Optional: add a couple of dashes of Braggs Aminos at the end and serve.
Notes
You can use steak, chicken or shrimp. Have your kids help you chop vegetables to make cooking quicker. They don't have to be perfect!
Recommended Products
As an Amazon Associate and member of other affiliate programs, I earn from qualifying purchases.
Nutrition Information:
Serving Size:
1
Amount Per Serving:
Calories:

535
Trans Fat:

0g