Banana bread French toast is the perfect Sunday breakfast or brunch recipe. It's made with day old slices of delicious banana bread and dipped in a light custard. Top it with a homemade caramel syrup, fresh bananas and toffee pieces for an amazing breakfast.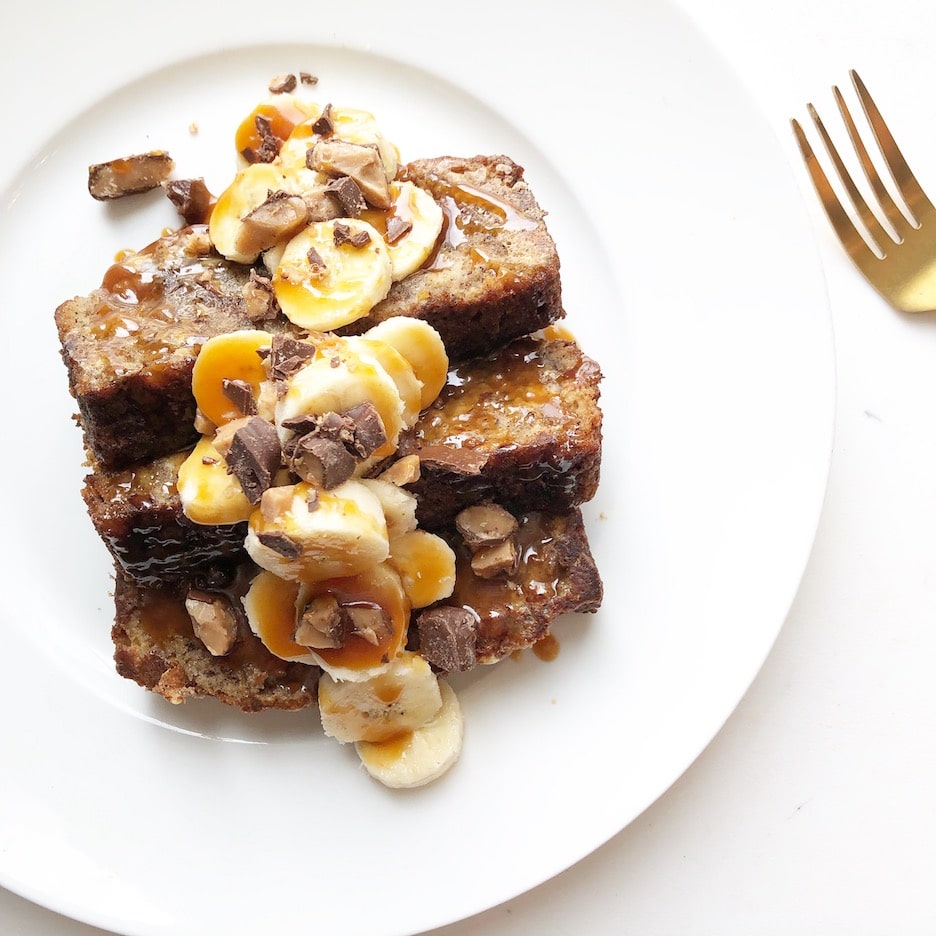 This banana bread French toast is the ultimate way to use up day old banana bread. It's easy to make and is rich and decadent.
I came up with this recipe one day because I had an abundance of banana bread laying around. We couldn't eat all of it and it was starting to dry out and become a little stale. So I dipped the sliced banana bread in a French toast batter and lightly sautéed it in a couple of tablespoons of butter to make the most delicious French toast. It was so delicious I had to share it with you.
You can make this French toast with any quick bread you have laying around. You can make zucchini bread French toast, lemon bread French toast or chocolate bread French toast. Just substitute whatever quick bread you have on hand in the recipe portion.
I have to confess I really didn't like French toast for most of my life because I thought it just tasted like burnt eggs. It wasn't until I made my own and used a little trick with the custard that I fell in love with French toast. If you are a fan of French toast try the same technique we use for this recipe with my sourdough French toast recipe.
If you are a fan of french toast you are going to love this banana bread french toast recipe.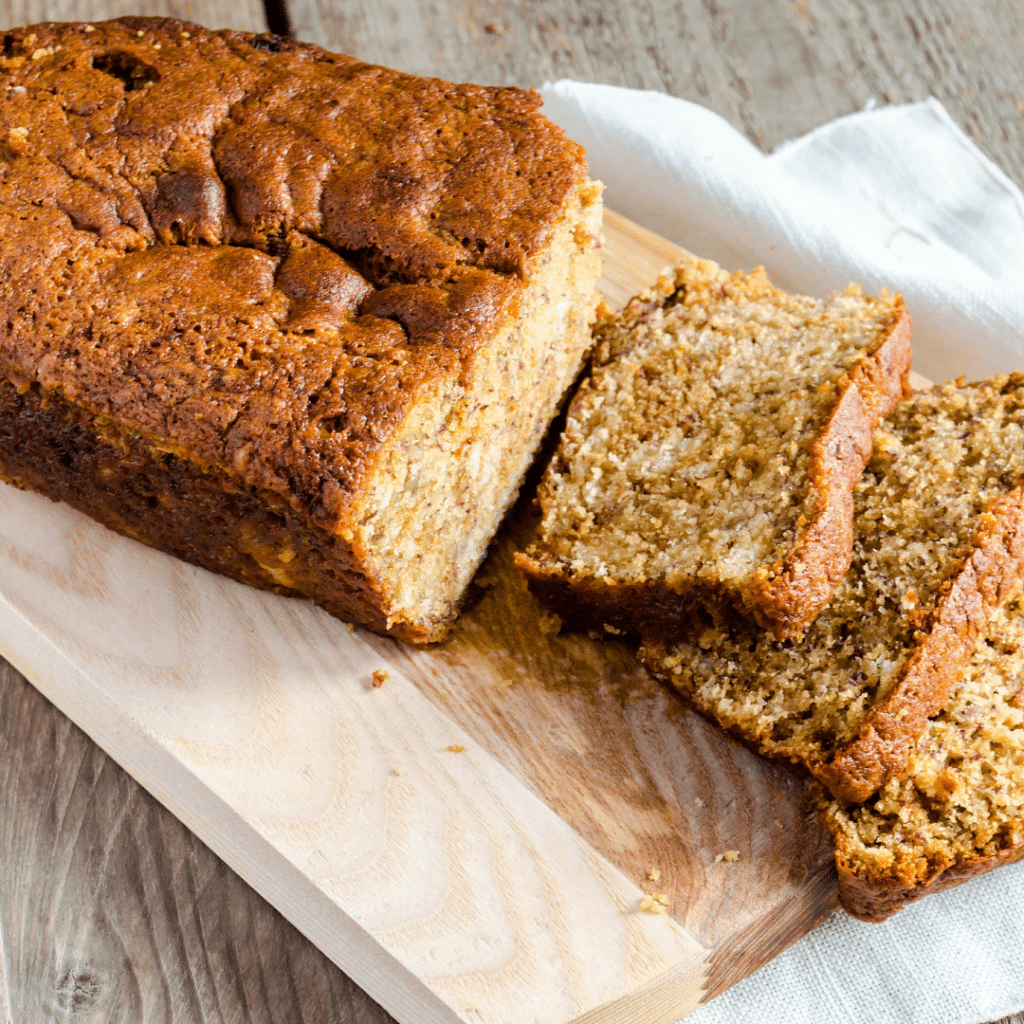 French Toast Custard:
French toast custard is typically made with eggs, milk and a splash of vanilla.
I like to make my custard a little thicker and use a vanilla coffee creamer instead of milk. This gives the French toast a wonderful coating, a little extra flavor and it tastes a lot less like burnt eggs!
Another tip that I have is to not add as many eggs as traditional recipes call for in the custard. It still coats the bread perfectly and gives the french toast a delicious exterior.
Tips:
Here are some of my go-to tips to follow when making this delicious recipe.
Use stale banana bread. If you make the bread and use it right out of the oven it won't hold up as well. Using stale bread also allows the bread to soak up the custard making for a delicious texture and flavor. So plan ahead and make your banana bread a couple of days in advanced.
Slice the bread in 1 inch pieces. You will want the bread to be thick enough to hold together while cooking. If the bread is sliced too thin it will fall apart and be very difficult to cook in the pan.
Use a good quality coffee creamer. I like the Calafia farms brand as it is super thick and flavorful. The thicker the creamer the better. Calafia farms uses coconut milk base which works great.
Make sure your pan is preheated before adding the slices of dipped bread. If the pan is not preheated the bread won't get a nice coating on the outside.
You want to make sure to butter your pan before cooking. The banana bread french toast will stick to the pan if you don't make sure you have some sort of fat. I prefer butter for this recipe, but you can also use coconut oil.
Make sure to not overcrowd the pan when cooking. Cook one to 2 slices at a time.
Syrups To Serve With French Toast:
For this recipe I love to make a homemade caramel syrup. You can also buy a good quality caramel syrup if you don't want to make it homemade.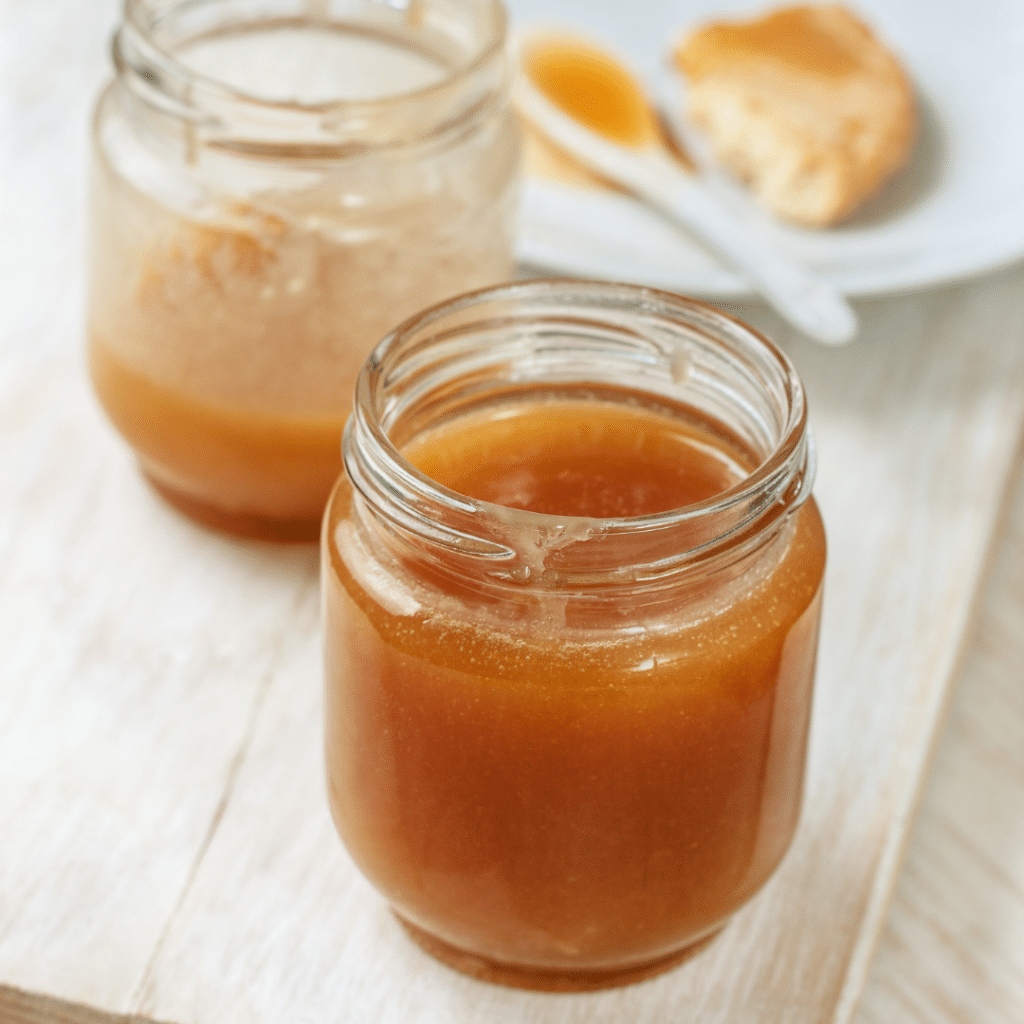 The syrup can be made up to 4 days in advanced and can be stored in an airtight container in the fridge.
Another favorite syrup recipe is my coconut syrup. It's so easy to make and would be a great tropical version.
You can also just serve a maple syrup with this banana bread French toast.
How To Make Banana Bread French Toast:
First things first make a loaf of banana bread. You can do this up to 3 days in advanced. The key with French toast is stale bread so let it sit out a couple of days to dry out a little so it will absorb that wonderful custard.
When you are ready to make the French toast make the custard by simply whisking all the ingredients together in a shallow baking dish.
Next dip the sliced bread into the egg mixture on both sides.
Preheat a non-stick skillet over medium heat.
Melt butter in the pan and cook the dipped banana bread for 2-3 minutes per side or cook until golden brown.
Serve immediately with fresh bananas, caramel syrup and toffee bits.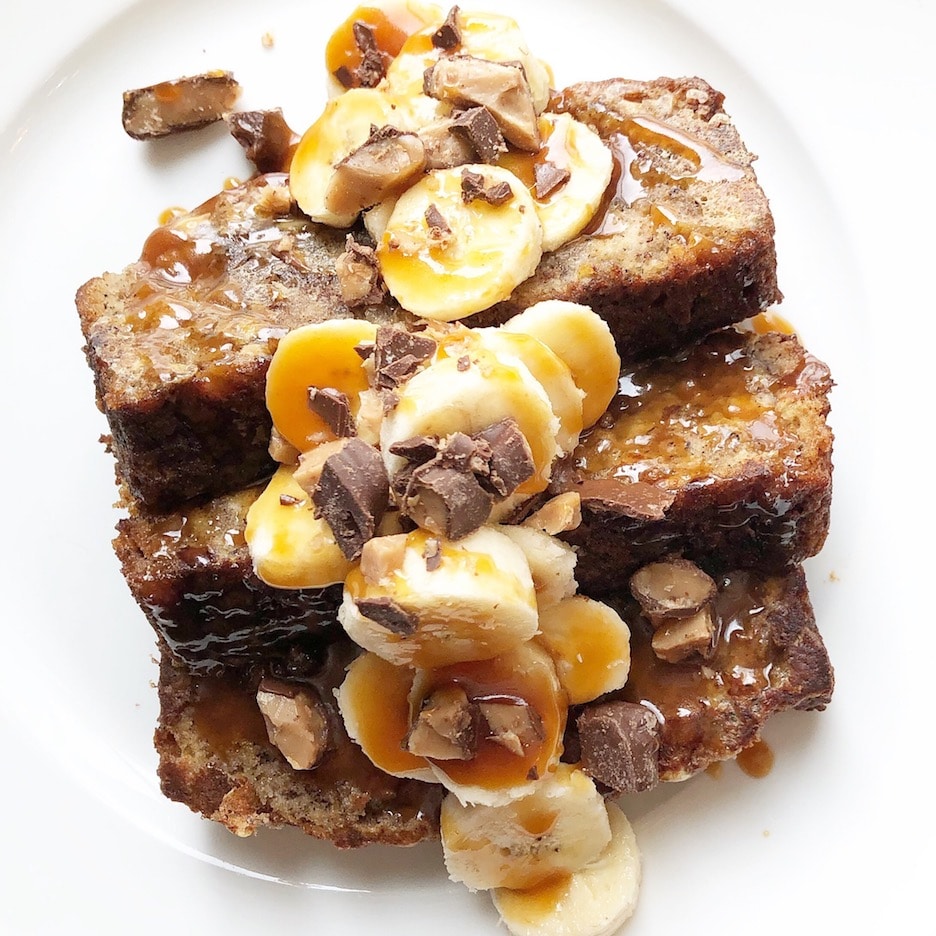 Make It Ahead:
You can make this ahead of time by following the cooking instructions above.
Once the banana bread slices have been cooked, remove them from the large skillet and place them on a baking sheet.
Keep warm in a 250 F oven until you are ready to serve.
Casserole Version:
Make this in a casserole version by cutting the banana bread into 1 inch cubes.
Place in a greased baking dish and top with the custard.
Let sit for 10 minutes and then cook for 20-30 minutes at 350 F or until the custard is set.
Let cool and then top with caramel syrup, sliced bananas and toffee bits.
Banana Bread French Toast Recipe: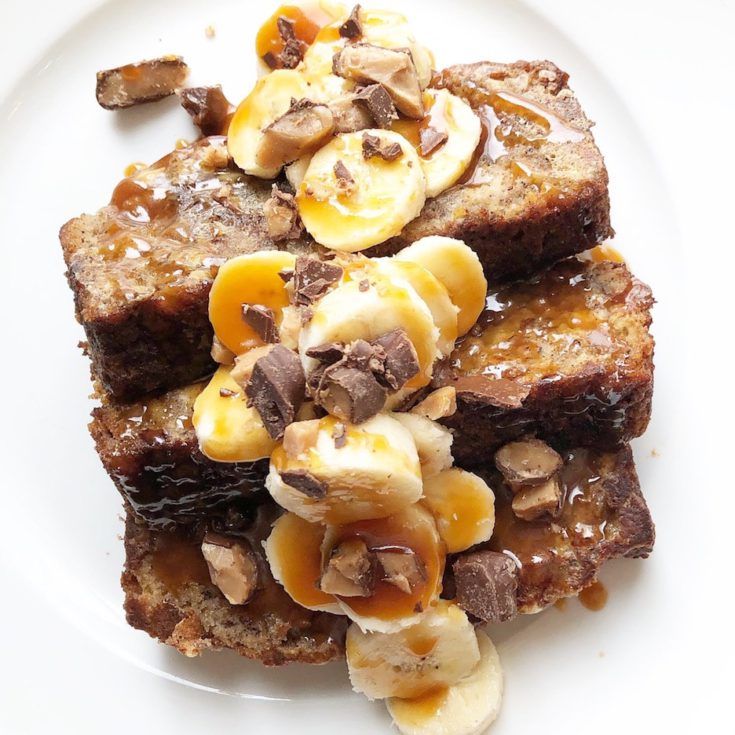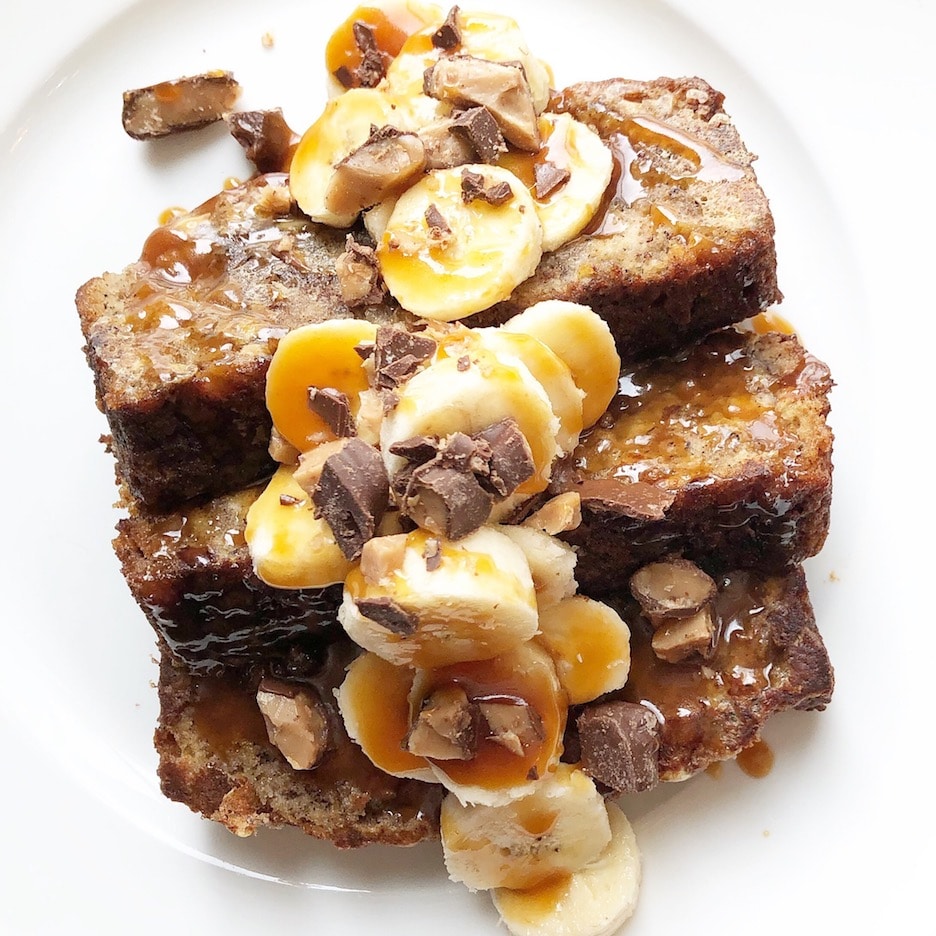 Yield:

Serves 6
Banana Bread French Toast
Have extra banana bread laying around? Try this delicious banana bread french toast.
Ingredients
Banana Bread:
3 bananas, overly ripe, mashed
1 cup granulated sugar
1/2 cup unsalted butter, melted
2 eggs
2 teaspoons ground cinnamon
1 teaspoon vanilla extract
1 teaspoon baking soda
1 teaspoon baking powder
1 teaspoon salt
1 1/2 cups all purpose flour
French Toast:
1 cup vanilla coffee creamer
2 eggs
1/4 teaspoon ground cinnamon
Caramel Syrup:
1 cup granulated sugar
6 tablespoons butter, softened
1/2 cup heavy cream
Toppings:
2 bananas, sliced
1 toffee bar (1 like Skor bars), roughly chopped
Instructions
Banana Bread:
Mix together all ingredients and place in a greased loaf pan.
Bake at 350 F for 40 minutes or until cooked through. Let cool completely.
Slice the banana bread in 1 inch slices and place on a foil lined baking sheet. Let is sit out for a day or you can place in a 350 F oven for 5-7 minutes to dry out. The bread should be dry.
French Toast:
Preheat a medium nonstick skillet over medium heat.
Combine milk, eggs, and cinnamon in a shallow baking dish. Dip both sides of the bread into the custard mixture.
Add 1 tablespoon butter into the pan and then carefully place the bread in the pan.
Cook for 2-3 minutes per side. Transfer to your serving plate. Top with sliced banana, toffee pieces and caramel syrup (below),
Caramel Syrup:
Pour sugar into a medium saucepan. Turn the burner on medium heat and swirl the sugar occasionally to prevent it from burning. Mixture will have an amber color when sugar has melted.
When the sugar has melted, whisk in the butter. Be cautious as the syrup will bubble up a little.
After the butter has been incorporated, add the cream (be cautious as the mixture will bubble).
Let cool slightly and then drizzle on the french toast.