Pina colada pancakes are the perfect way to enjoy the island life from home. These tropical pancakes are so delicious and only take a few quick steps.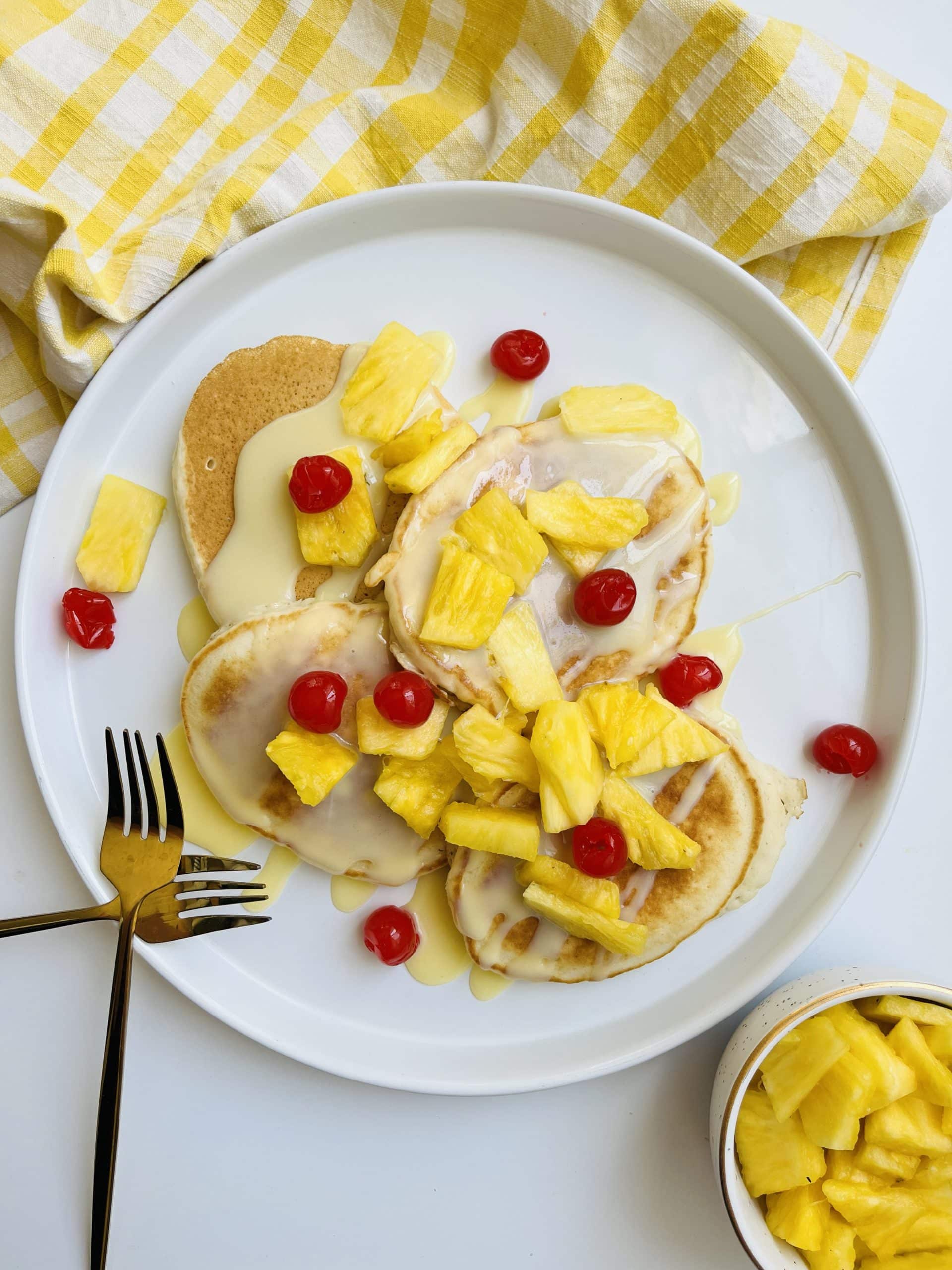 Pina colada pancakes are the perfect indulgent breakfast. They are light and fluffy and full of coconut and pineapple flavor.
Indulging in a delicious breakfast can transport you to a tropical paradise, even if you're far away from a sandy beach.
If you're longing for a taste of the Caribbean, look no further than Pina Colada Pancakes!
This delicious version of a well-liked breakfast dish combines the flavors of pineapple and coconut. It adds a refreshing and tropical twist to your morning routine.
Pina Colada Pancakes:
In this blog post, we'll guide you through the steps to create this heavenly concoction that will make you feel like you're sipping a cocktail on a palm-fringed island.
My family loves pancakes for breakfast, and sometimes even for dinner!
We add chocolate chips or blueberries to the batter, or top them with strawberries and cream or powdered sugar.
But these Piña Colada pancakes are something special. It lies somewhere in between breakfast and dessert, with a tropical drink twist.
Pineapple and coconut are the epitome of tropical, in my opinion. It's such a fresh combination that just calms my soul. I'd love to sip on a tall piña colada mocktail right about now.
But let's dive into the recipe and how to make these pina colada pancakes.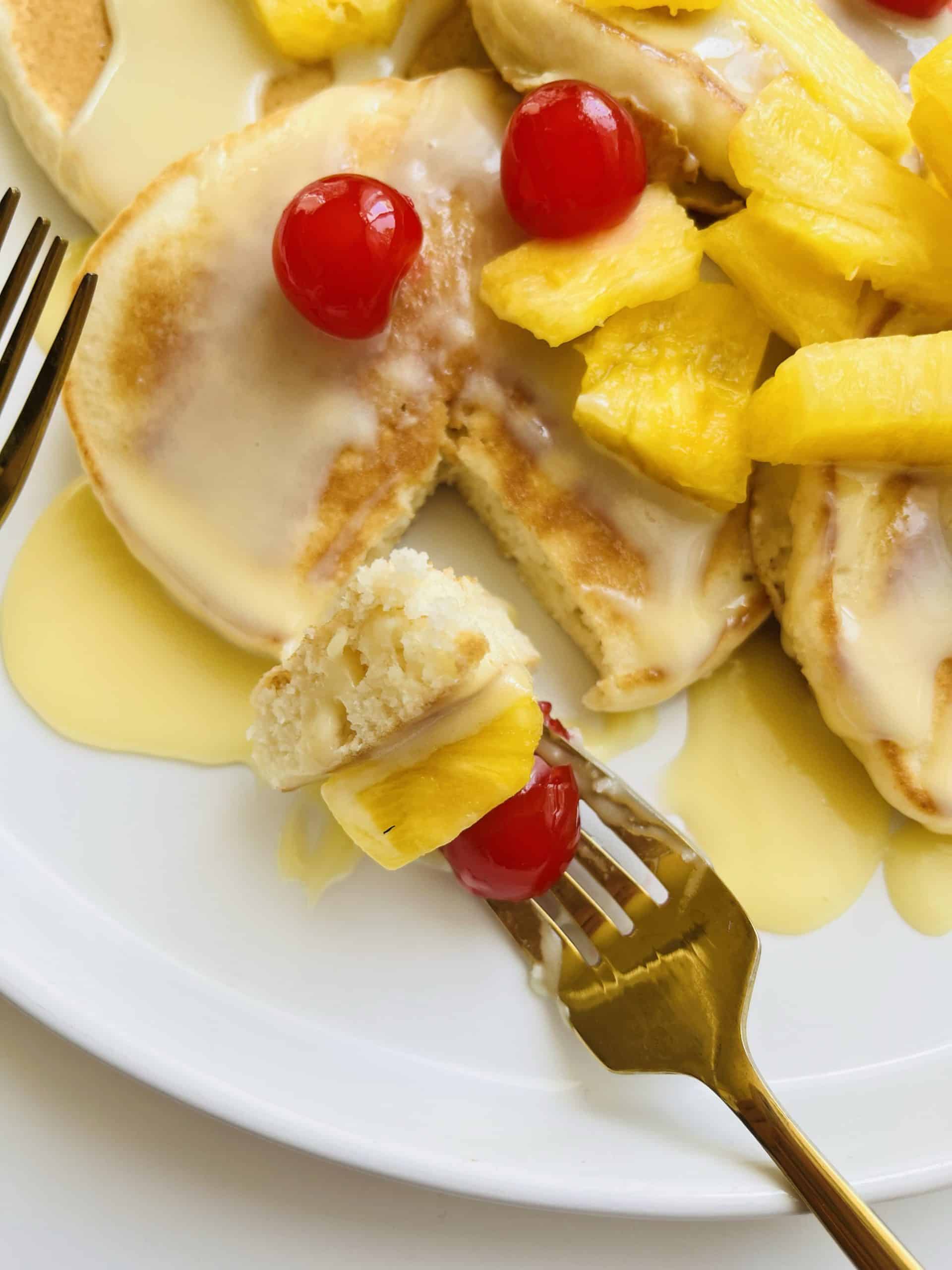 Ingredients You Will Need:
Pancake Mix or Gluten Free Pancake Mix (I like to use Bisquick for this recipe)
Instant Vanilla Pudding Mix
Eggs
Vegetable Oil or Coconut Oil
Canned Coconut Milk
Cooking Spray
Fresh Pineapple
Maraschino Cherries
Coconut Syrup Ingredients
Easy Homemade Coconut Syrup:
Let's take a quick second to talk about how amazing the syrup is. It's finger-lickin', guilty pleasuring, buttery-sweetness-with-flavors-of-the-tropics good.
I love it so much that I put it on top waffles, French toast, shaved ice, and even ice cream.
It's full of toasted coconut flavor and I rich and creamy. This homemade coconut syrup is made with just a few ingredients: melted butter, sweetened condensed milk, and pure coconut extract.
Side note: I always store my homemade syrups in a mason jar with an Ergo Spout lid. While the syrups never last more than a few days (that good, promise), I store them in the fridge.
When I'm ready to use, I'll pop off the lid and warm the jar for 15-20 seconds in the microwave, just to take off the chill.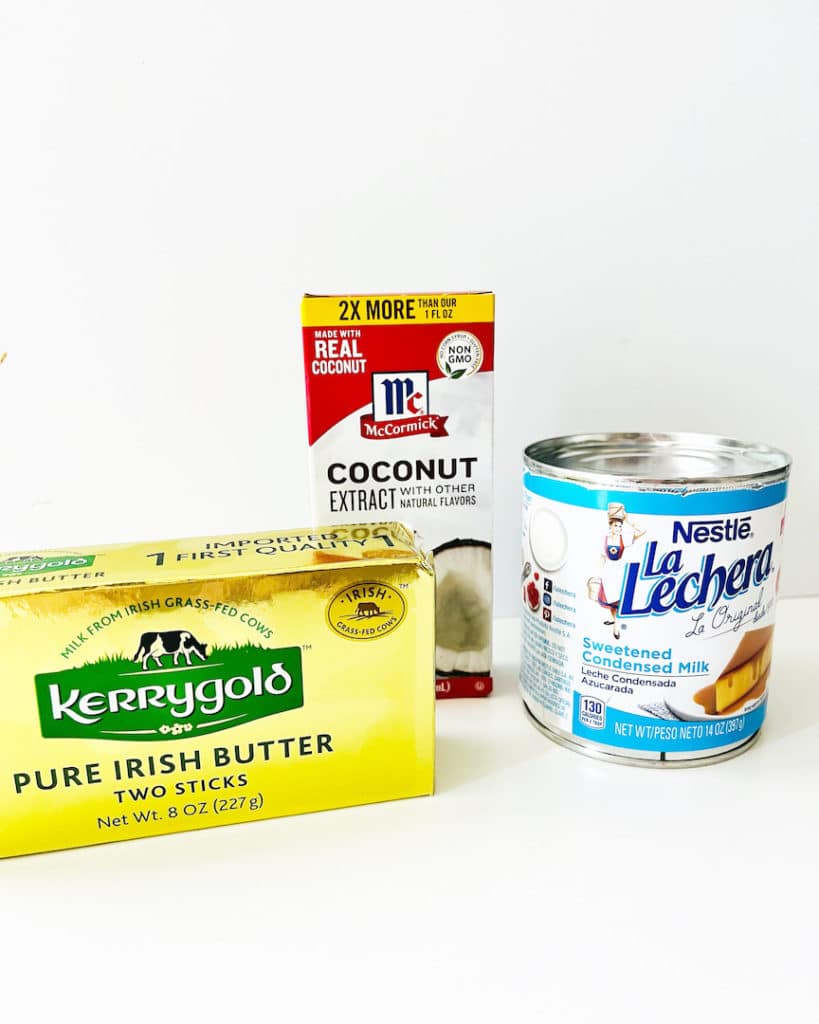 Lots of people message me about gluten-free foods. This is such an easy food that can be made gluten-free. Check out my tips for gluten-free pancakes and overall perfect pancakes.
How do I make gluten free pina colada pancakes?
Use gluten free pancake mix! I like using Bisquick gluten free pancake mix because it's a tried and true dry mix that will produce great results.
I do, however, always add a small packet of dry instant pudding mix to take away any aftertaste.
For this recipe, I add instant vanilla pudding mix.
Tips for cooking perfect pancakes:
Do you find that the first batch of pancakes never seem to cook like the rest? This used to happen to me all the time, and I cook for a living!
To combat this problem, I always cook the first batch slowly on low heat and then increase the heat to medium with the remaining batches. Works every time!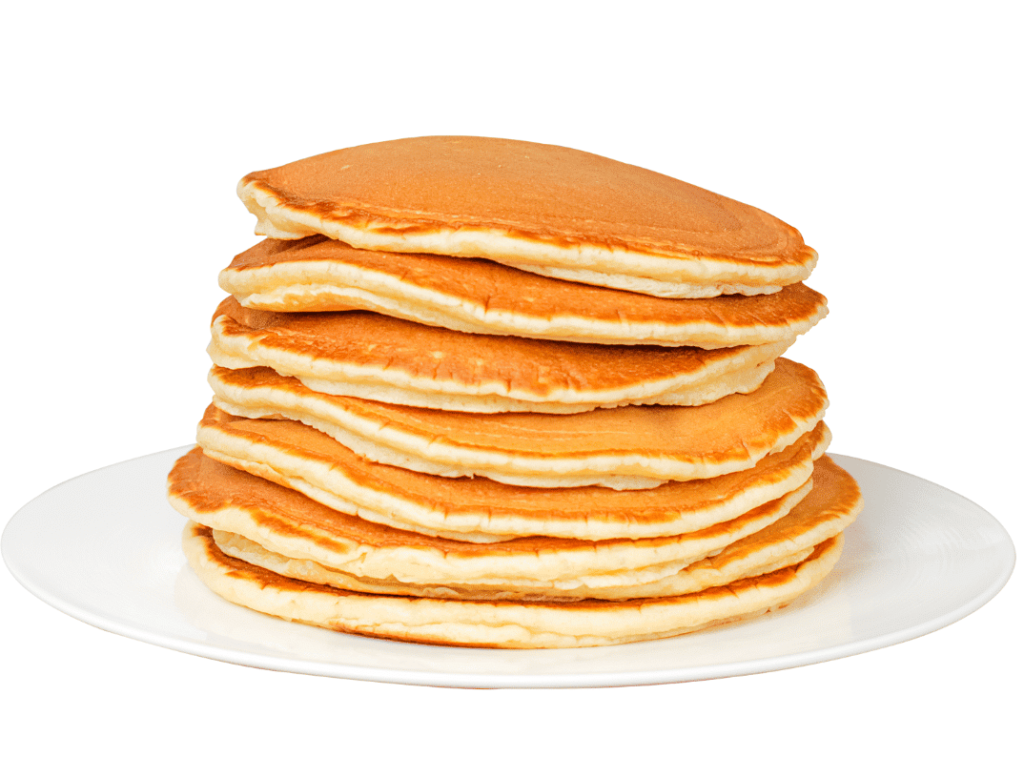 The slow-and-low method is ideal for this recipe because these pancakes are so much more delicate than traditional pancakes.
Resist any temptation to cook multiple pancakes at once. You'll need the extra space on the pan and don't want any overcrowding.
Okay, I don't know about you, but I'm ready for some tropical flavored food! Let's sway to some tropical music as we get these scrumptious pancakes cooking!
Other Delicious Breakfast Recipes:
Here are some of my other favorite breakfast recipes to give a try.
Banana Bread French Toast With Caramel Syrup
Pitaya Bowl (Five Different Varieties)
Sourdough Bagels With Different Toppings
Pina Colada Pancake Recipe: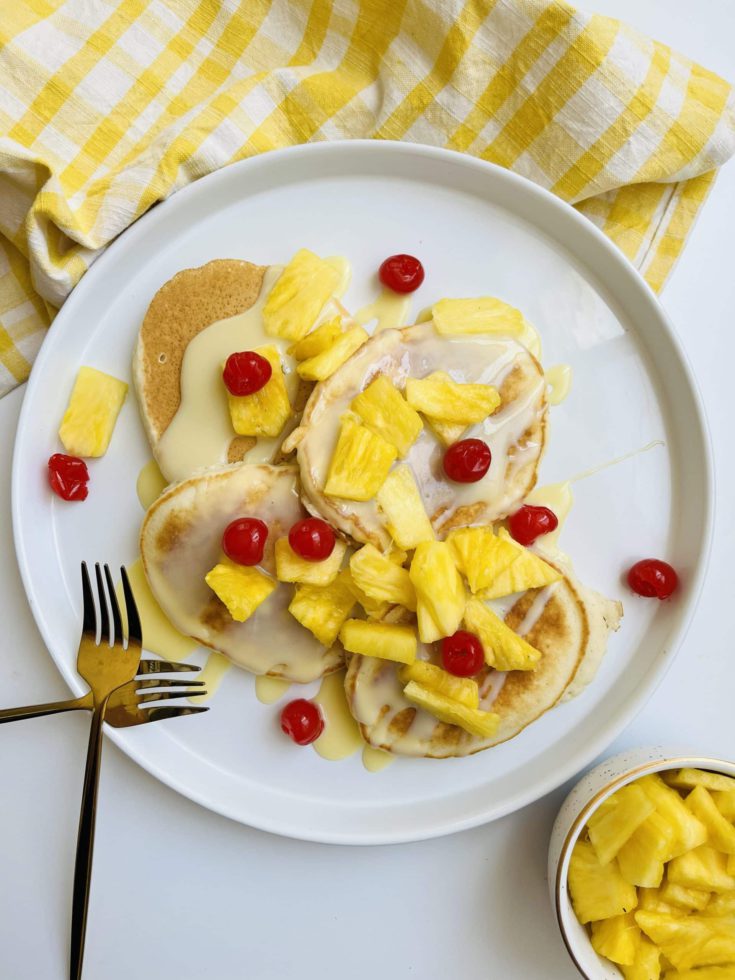 Yield:

Makes 6
Piña Colada Pancakes
Piña Colada meets pancakes!
Ingredients
1 ½ Cups Pancake Mix or Gluten Free Pancake Mix (I like to use Bisquick for this recipe)
½ Cup Dry Instant Vanilla Pudding Mix
2 Eggs
¼ Cup Vegetable Oil or Coconut Oil
2 Cups Canned Coconut Milk
Cooking Spray
1 Cup Fresh Pineapple, Sliced ⅛ Inch
Optional Toppings:
½ Cup Fresh Pineapple, Cubed ¼ Inch
Maraschino Cherries
2 Tablespoons Shredded Coconut, Sweetened and Toasted
Coconut Syrup (Recipe Follows)
Instructions
Preheat a nonstick sauté pan over medium heat.
Combine the pancake mix and dry pudding in a mixing bowl. Add eggs, vegetable oil, and coconut milk and stir to combine.
Spray the pan and add ¼ cup of the pancake batter.
Cook for about 2-4 minutes or until the pancakes start to form bubbles on top..
Flip the pancakes with a spatula and cook on the other side for 1-2 minutes.
Make the coconut syrup (recipe follows).
Remove from the heat and top with syrup and optional toppings.
Recommended Products
As an Amazon Associate and member of other affiliate programs, I earn from qualifying purchases.
Nutrition Information:
Yield:
6
Serving Size:
1
Amount Per Serving:
Calories:

577
Total Fat:

35g
Saturated Fat:

22g
Trans Fat:

0g
Unsaturated Fat:

11g
Cholesterol:

63mg
Sodium:

601mg
Carbohydrates:

61g
Fiber:

3g
Sugar:

25g
Protein:

9g
Ingredients
1 (14 oz) Can Sweetened Condensed Milk
1/4 Cup Butter, Melted
1 Teaspoon (plus more if desired) Pure Coconut Extract
Pinch of Salt
Instructions
1. Place the ingredients in a small saucepan and heat on low until warmed through.

2. Place the syrup into a small mason jar. When ready to use place the Ergo Spout® on top of your mason jar and pour over pancakes or item of choice.
Notes
You can also use coconut condensed milk for a dairy-free option.
Recommended Products
As an Amazon Associate and member of other affiliate programs, I earn from qualifying purchases.