Want to make the easiest pickled red onions in the refrigerator? This recipe only requires a few ingredients and does not require any cooking. You can have pickled red onions in a few days in the refrigerator.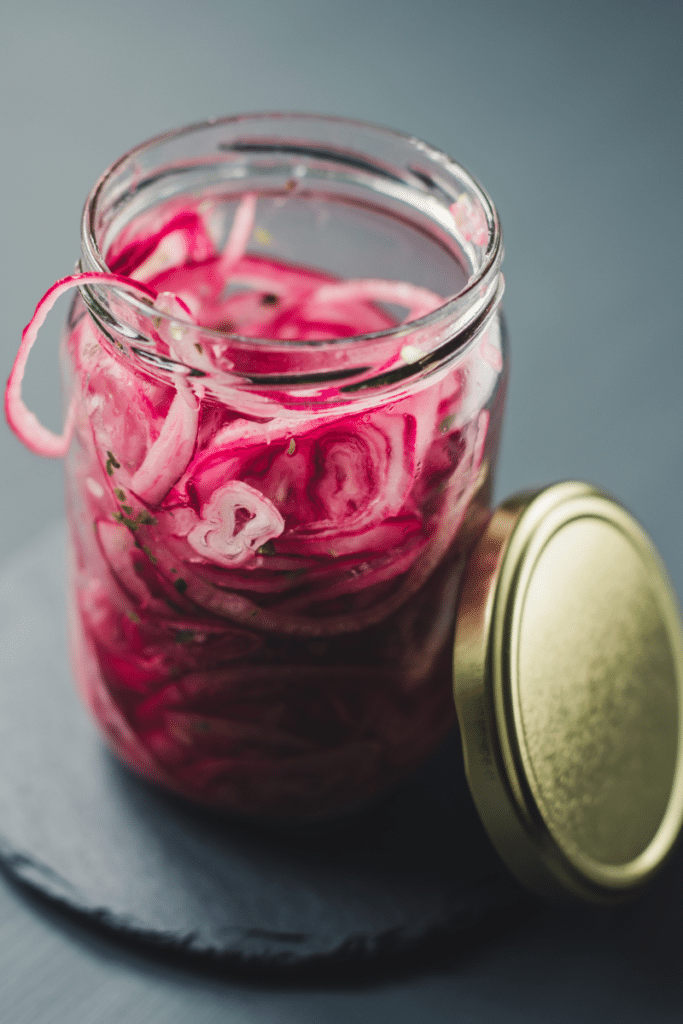 Pickled red onions are all the rage and rightfully so. They add such a great zing to so many dishes. I love serving them in my Asian chicken tacos or in my Greek Chicken Gyros.
And the best part is you can make them easily without cooking a thing!
Are you ready for your mind to be blow?
How Long Do Pickled Red Onions Last:
Pickling red onions this way last about 2 weeks. The longer they sit in the fridge the more flavor they absorb and less pungent they are.
I literally just keep the red onions in the container in my fridge so you don't need to store them in any special way. As long as they are in a sealed container they will stay fresh.
Flavor Variations:
The fun part about this recipe is you can change up the flavor of these pickled red onions by adding some different flavors. Because we are using minimal ingredients making different flavor variations is fun to switch things up a little.
Here are some ideas. Simply just add the additional ingredients to the recipe to make these variations.
Spicy: Add some sliced jalapeños for a spicy kick.
Dill: Add 3 sprigs fresh dill for an herby flavor.
Citrus: Add some delicious citrus zest for a citrusy kick. Lime and orange zests work great.
Lemon Pepper: Add lemon zest and whole peppercorns.
How To Use Pickled Red Onions:
As I said earlier these pickled red onions go well on just about anything.
You can serve them on top of breakfast tacos, in sandwiches, wraps or burgers or serve them on a food board with cheeses and nuts. I even eat them straight out of the jar sometimes.
Refrigerator Pickled Red Onion Recipe: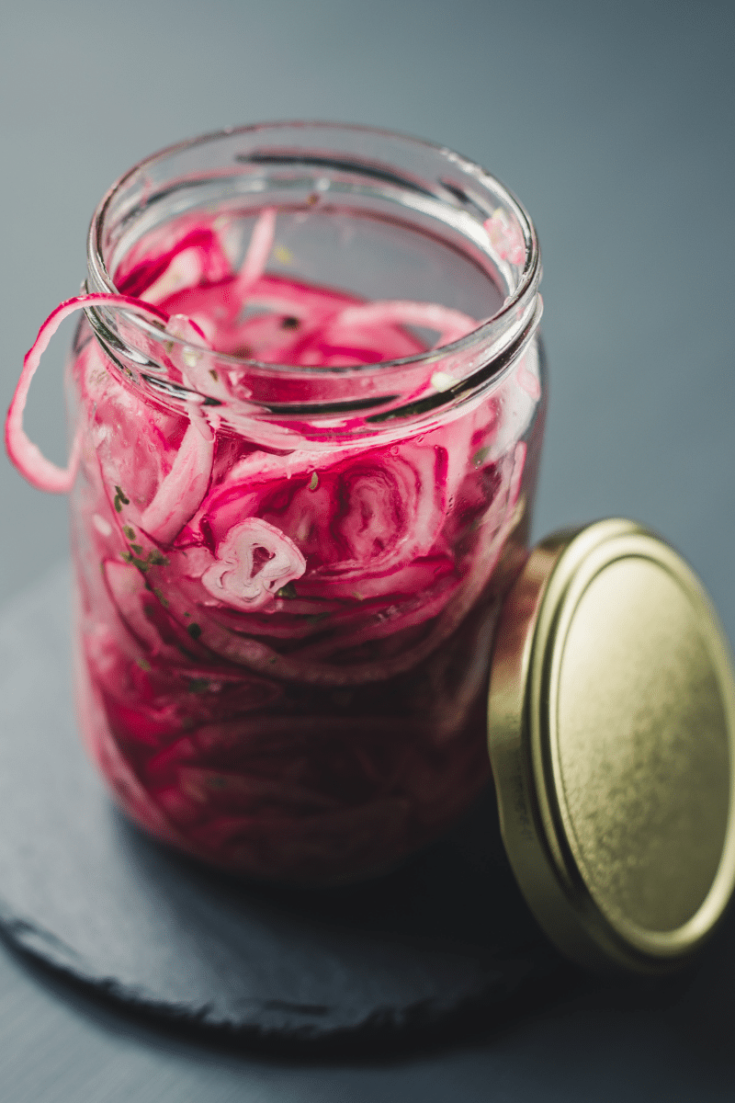 Yield:

1 cup
Refrigerator Pickled Red Onions
Total Time:
3 days
5 minutes
No cooking required with these refrigerator pickled red onions
Ingredients
1 red onion, sliced thin
2 cups water
2 tablespoons kosher salt
3 tablespoons white wine vinegar
5 garlic cloves, sliced
1/2 teaspoon oregano
Instructions
Cut off the top of the onion. Slice in half through the bulb and peel. Slice in thin slices.
Add the onion and water (enough to fill) to the container leaving about 1 inch from the top.
Add the salt, vinegar, garlic and oregano. Seal and shake. Refrigerate for at least 3 days.
Recommended Products
As an Amazon Associate and member of other affiliate programs, I earn from qualifying purchases.