This chicken pita with homemade tzatziki will take you straight to Greece. Delicious marinated grilled chicken is stuffed in a homemade pita and topped with fresh vegetables and homemade tzatziki sauce.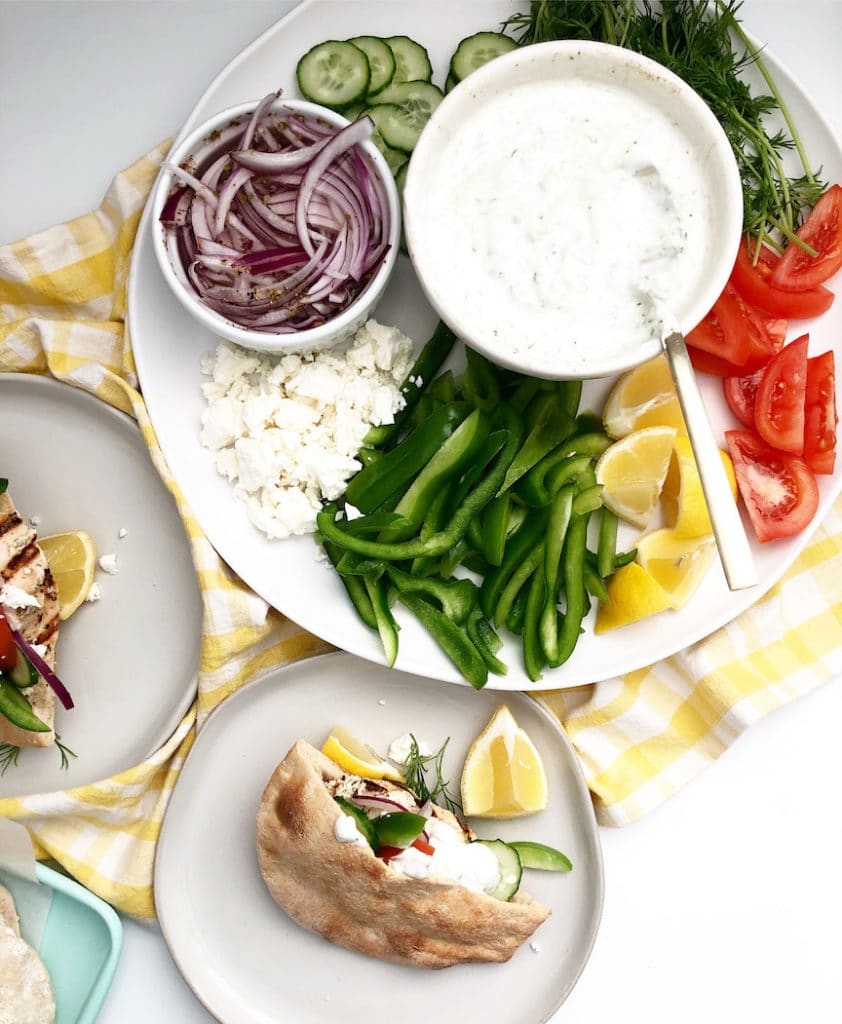 These chicken pitas are always on repeat at our house. We are in love with Greek food and this Greek chicken pita recipe is one of our favorites. It's an easy recipe and a healthy meal that the whole family loves. It comes together quickly when you make some of the elements ahead of time.
This recipe also is great to make for company or a crowd. I promise people will be in awe after they taste these grilled chicken pitas.
Chicken Pita:
Chicken Pitas consist of delicious marinated chicken breast, homemade pitas and fresh toppings. Let's go through some of the elements in a little more detail.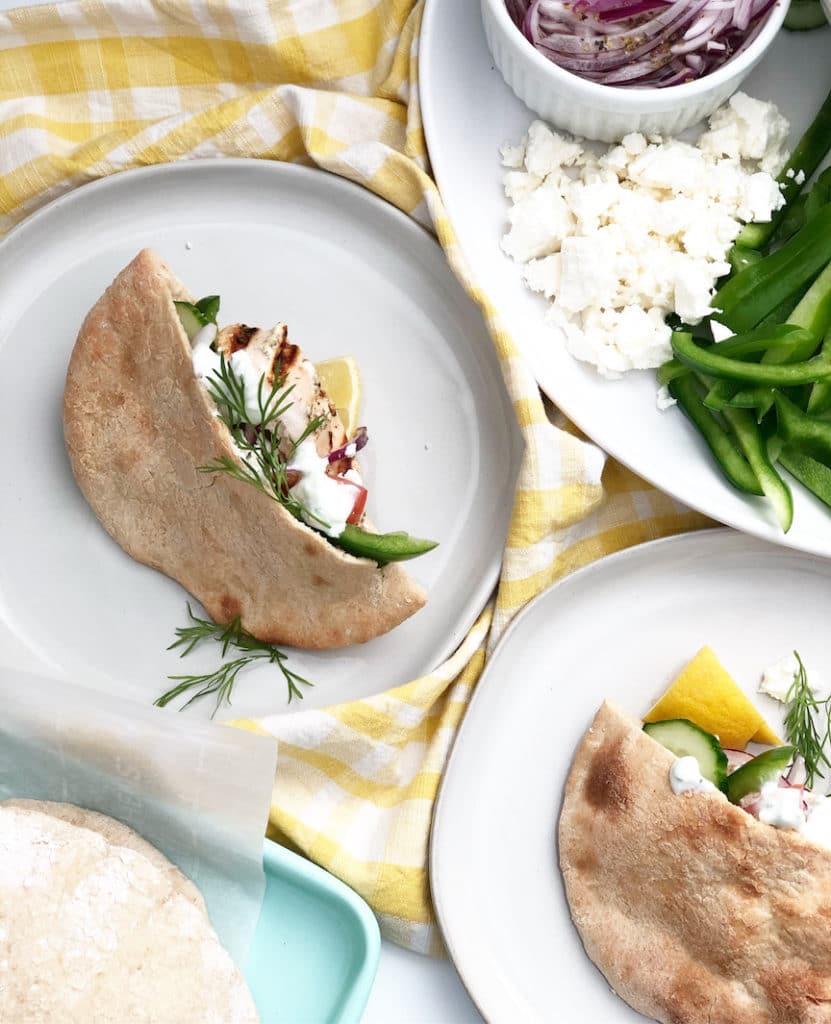 Marinated Chicken:
For this recipe you want to use a boneless skinless chicken breast. You can also use boneless skinless thighs as well.
Then marinate the chicken in a delicious yogurt base marinade. The yogurt helps to tenderize the meat and is full of delicious herbs and spices. You can marinate the chicken for a minimum of 30 minutes or up to 10 hours for this recipe. Cover and refrigerate until you are ready to grill.
I love this chicken recipe for kebabs as well. Or make a double batch of this portion and serve over Greek Nachos.
Homemade Pita Bread: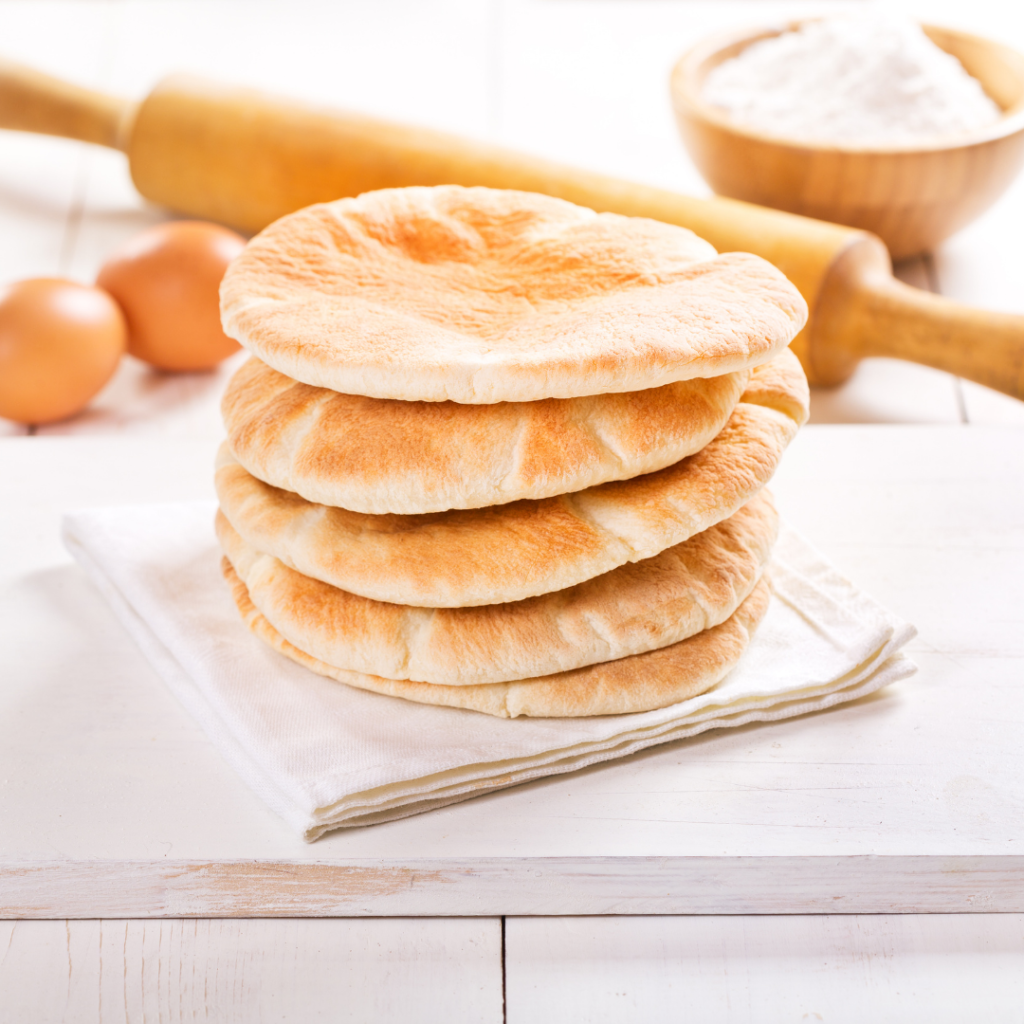 Once you make homemade pita bread you won't want to buy the store bought stuff ever again. It's actually really easy to make. Of course if you don't want to make homemade pita bread you can always use the store bought bread. But I will show you just how easy it is to make down below.
Toppings: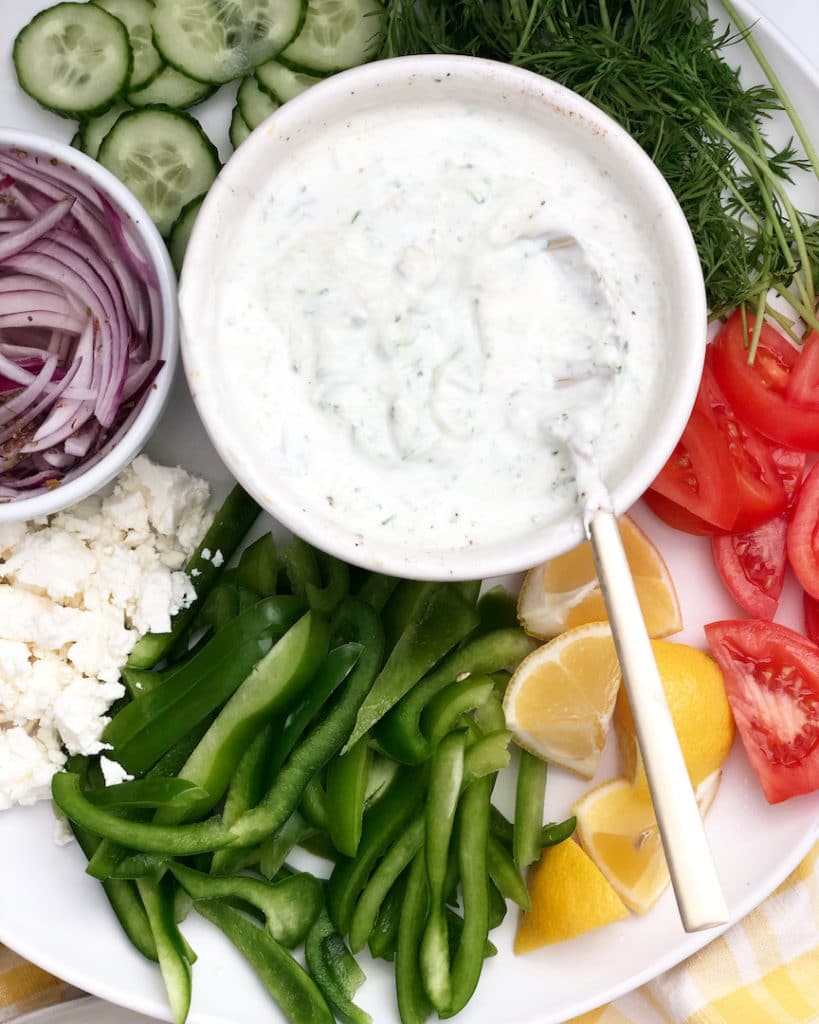 My favorite thing about these chicken pitas is everyone can top it with their desired toppings. It makes eating these fun and everyone can be apart of the process.
Typical toppings include fresh vegetables like tomatoes and cucumbers, feta cheese, and tzatziki sauce.
What Is Tzatziki:
Tzatziki sauce is a Greek sauce often used as a condiment. It is made from Greek yogurt and cucumbers. Simply mix all the ingredients in a small bowl and you are ready to go.
It's light and refreshing and pairs perfectly with so many things. You can serve it as a dipping sauce or as a condiment like we will be for this recipe.
If you don't want to make it homemade you can also use a store bought version. But I do have to say, making it homemade is so much better and is so easy to do!
Chicken Pita Topping Options: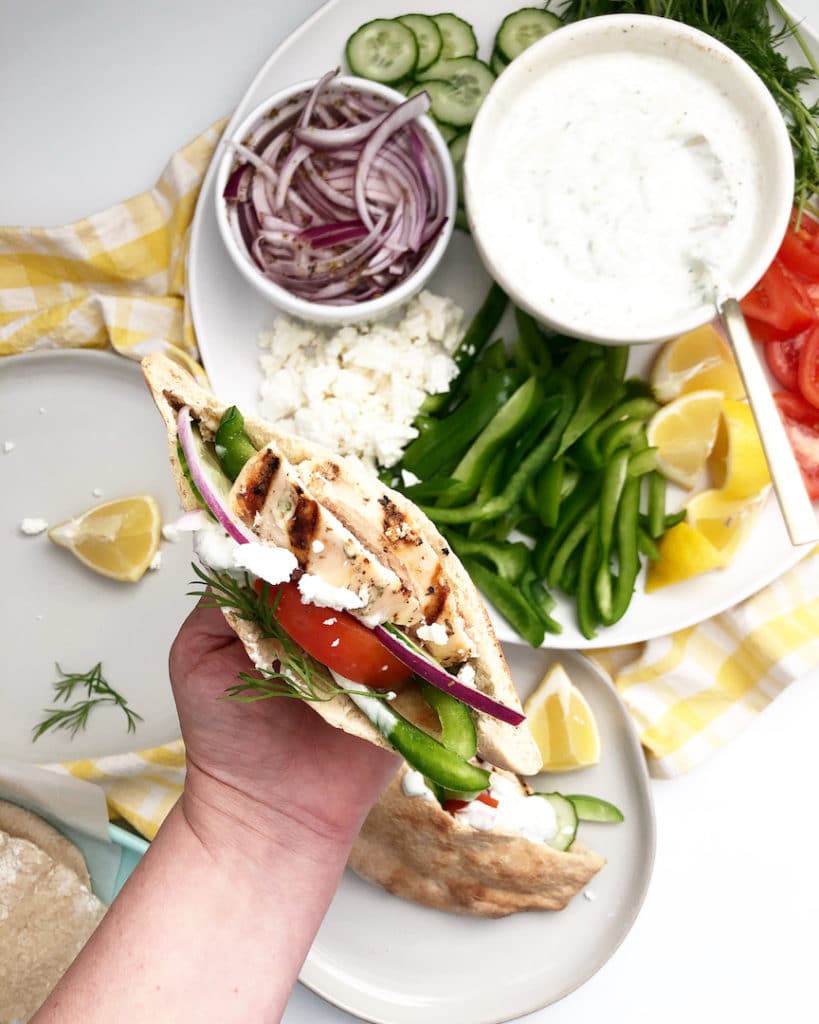 You can't have chicken pita without some delicious toppings. Here are some of my favorites. But use your imagination and top these pitas with whatever you like!
Fresh tomatoes: You can use sliced beefsteak tomatoes or cut cherry tomatoes in half.
Cucumber: I like to slice the cucumbers in thin slices for this recipe.
Feta: Use a good quality feta cheese. I love the feta cheese packed in brine. You can find it at Trader Joe's or other major grocery stores in the specialty cheese section.
Green Bell Pepper: Green bell pepper is more traditional, but you can also use red or orange bell pepper.
Pickled Red Onion: One of my favorite toppings. The pickled red onions add a delicious acidity.
Fresh Herbs: Fresh herbs like dill or mint add a unique flavor to this dish. It adds a delicious brightness and I highly recommend using fresh herbs as a topping.
Tzatziki Sauce: We are making this homemade in the recipe portion today but you can also use store bought if necessary.
Lemon Wedges: A squeeze of lemon is the perfect acidic touch to finish these chicken pitas off.
How To Make Chicken Pita Pockets:
To make these chicken pita pockets start by marinating the chicken in the yogurt marinate. Add chicken to a ziplock bag. Marinate for at least 30 minutes or up to 10 hours.
Remove the chicken from the bag and place on a preheated grill.
Grill for 5-7 minutes per side or until cooked through.
Make the homemade pita (you can also use store bought pita bread if necessary) and slice the chicken.
Add the chicken into the pita pockets and top with toppings of choice.
Chicken Pita Pocket Video:
[jumprope code="dlUMfP24″ products="top" displayformat="blog-post" structureddata="false"]
Other Greek Recipes:
If you love these pita pockets you will love these other greek recipes.
The Greek pita nachos are a perfect morphing meal for this recipe. Make extra marinated grilled chicken and tzatziki sauce and then morph the leftovers into the Greek Pita Nachos.
Roasted Greek Asparagus With Dill and Feta
Orzo Pasta Salad With Roasted Vegetables
Air Fryer Falafel Gyros With Tzatziki
Chicken Pita Recipe: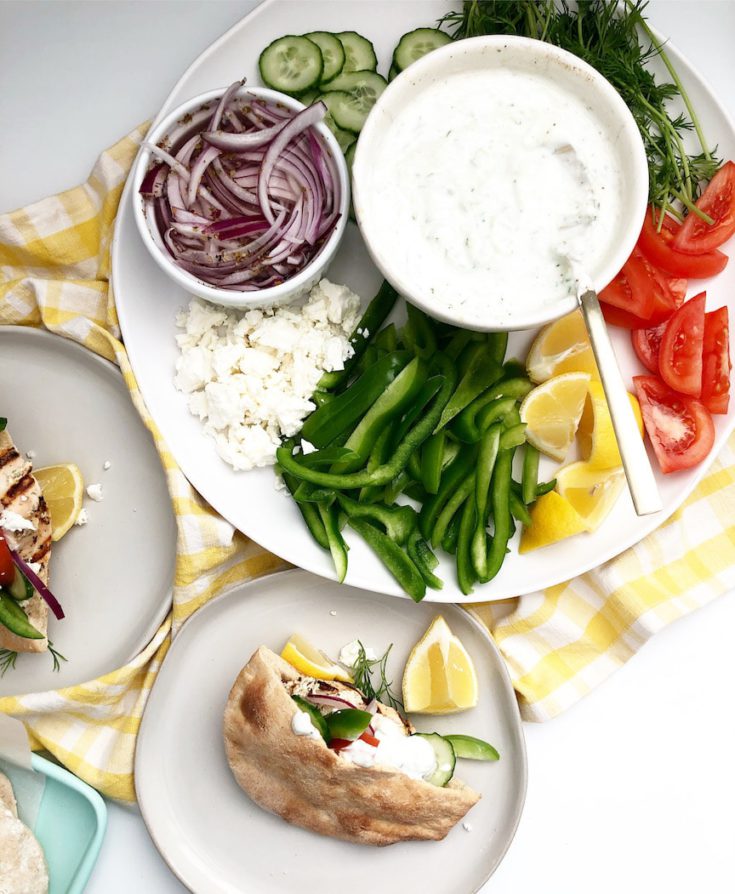 Yield: Serves 6
Chicken Pita With Homemade Tzatziki
Prep Time: 20 minutes

Cook Time: 15 minutes

Additional Time: 10 hours 30 minutes

Total Time: 11 hours 5 minutes

This chicken pita with homemade tzatziki will take you straight to Greece. They are made with delicious marinated grilled chicken stuffed in a homemade pita and topped with fresh vegetables and homemade tzatziki sauce.
Ingredients
1 batch homemade pita bread (recipe follows) or store bought pita bread
Chicken Marinade:
2 cups plain Greek Yogurt
2 cloves minced garlic
1 teaspoon salt
1 teaspoon garlic salt
2 teaspoons cumin
2 teaspoons oregano
1/4 teaspoon black pepper
1 lemon, juiced
2 pounds boneless skinless chicken breast
Toppings:
1 green bell pepper, sliced
2 tomatoes, sliced
1/2 cup pickled red onion (raw onion soaked in good quality pickle jar liquid for 5 minutes) or raw onion, sliced
1/2 cup feta cheese, crumbled
2 lemons, cut into wedges
1 cup cucumber, sliced thin
Tzatziki Sauce:
1 cup English cucumber, shredded and squeezed of excess liquid
2 cups plain Greek yogurt
1 tablespoon fresh dill, chopped
1 teaspoon Kosher salt
¼ teaspoon black pepper
1 teaspoon garlic, minced
2 lemons, zested
Instructions
Make the homemade pita (recipe below).
Grab the marinade ingredients and a large gallon size ziplock bag.
Add the yogurt, garlic, salt, garlic salt, cumin, oregano, pepper and lemon juice to the bag.
Add the chicken to the marinade.
Remove the excess air and seal.
Place the baggie in a baking dish to prevent any spillage and marinate for up to 4 hours.
Remove the chicken from the marinade and place on a hot grill.
Cover and cook for 5 minutes.
Flip and cook for another 5 minutes or until chicken is cooked through.
Prep all your veggies and the tzatziki sauce.
Slice the chicken and serve with toppings in the homemade pita.
Nutrition Information:
Yield:
6
Serving Size:
1 Amount Per Serving: Calories: 450Total Fat: 9gSaturated Fat: 4gTrans Fat: 0gUnsaturated Fat: 4gCholesterol: 147mgSodium: 1168mgCarbohydrates: 25gFiber: 3gSugar: 10gProtein: 67g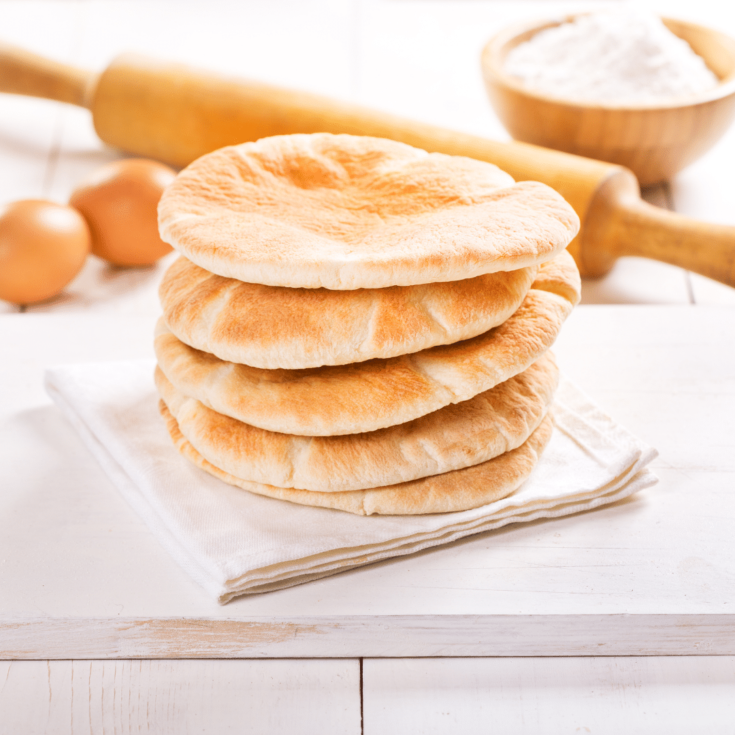 Yield: 12
Homemade Pita Bread
Warm pillowy pita bread is easier than you think!
Ingredients
3 cups bread flour
1 ½ tablespoons dry active yeast
1 ½ tablespoons sugar
1 ½ teaspoons salt
2 tablespoons butter, melted
1 ¼ cups water
Instructions
Add 3 cups bread flour to the bowl of a stand mixer.
Add 1 ½ tablespoons dry active yeast to the mixer.
Then add 1 ½ tablespoons sugar and 1 ½ teaspoons salt.
Add 2 tablespoons melted butter and 1 ¼ cups water.
Mix on low speed for about 1 minute.
Knead on low speed until the dough is smooth and soft (about 5 minutes).
Cover the dough with plastic wrap and let rise at room temperature for 1 hour.
Punch down the dough and place on a clean floured work surface.
Divide the dough into 8 equal portions. Roll each portion into a tight ball and place on a parchment lined baking sheet.
Cover and let rest for 20 minutes.
Preheat the oven with a pizza stone or inverted baking sheet to 450 F for 20 minutes.
Lightly flour a clean work surface and then roll each ball with a rolling pin into a thin round about 8 inches in diameter and ⅛ inch thick.
Spray the baking sheet with some water.
Place the dough rounds straight onto the pan and bake them for about 3 minutes.
They should puff up into balloons when ready. Remove them to a plate or platter.
Repeat with the remaining rounds.
Serve warm.
Nutrition Information:
Yield:
12
Serving Size:
1 Amount Per Serving: Calories: 152Total Fat: 3gSaturated Fat: 1gTrans Fat: 0gUnsaturated Fat: 1gCholesterol: 5mgSodium: 282mgCarbohydrates: 27gFiber: 1gSugar: 2gProtein: 5g