Elevate your banana cream pie with this peanut butter and caramel version. It's decadent and easy to make.
Traditional banana cream pie is great, but this peanut butter and caramel banana cream pie version is going to blow your mind!
I came up with this recipe by total accident. My husband loves banana cream pie and I wanted to make one for his birthday, but didn't have a pie crust and didn't want to make a homemade one.
So I went to my arsenal of pie crust recipes and immediately thought of this easy chocolate crumb crust recipe. It's the crust that I use for my no bake summer cheesecake recipe and knew it would be the perfect fit for this banana, peanut butter, caramel pie.
It turned out so good and now is one of our family favorites.
Let me take you through some basics to make this delicious pie yourself.
Ingredients:
First things first here are the ingredients you will need. Make sure to read through for specifics. Some ingredients you won't want to substitute.
This recipe is so easy to make with minimal ingredients. Here is what you need to make this amazing pie.
Oreo Cookies: You can also use chocolate wafer cookies.
Pecans: Pecan pieces or whole pecans work great.
Butter: Use a good quality butter like Kerrygold.
Peanut Butter: Use a good quality peanut butter. I like to use a natural peanut butter.
Caramel Sauce: Make sure to use a thick caramel sauce. You can find these near the sundae toppings. Try to steer clear from the squeezable caramel sauces. I love the salted caramel sauce from Trader Joe's for this recipe.
Bananas: Fresh bananas add some texture and a delicious bite to the pie.
Banana Pudding Mix: You can certainly make homemade banana pudding but for this recipe I like to keep it simple and quick with instant banana pudding.
Whipping Cream: We will be making a homemade whipped cream with caramel to top the pie. Heavy whipping cream is best choice.
Powdered Sugar: We will sweeten the whipped cream topping with powdered sugar.
Maldon Salt: This is optional but adds such an amazing flavor and balances out all the flavors. You can find Maldon salt here.

Chocolate Pecan Crust:
One of my favorite things about this pie is the delicious crust. It's not your typical pie crust that is most often used in a banana cream pie. For this extra special banana cream pie we use a chocolate pecan crumb crust. It goes perfectly with the peanut butter, caramel and banana filling.
Just throw the Oreos and pecans into a food processor and process to fine crumbs. Then toss with melted butter and place in the pie plate.
Banana Filling:
This banana, peanut butter and caramel filling will blow your socks off! To make this recipe quick and easy I chose to go with a store bought box banana pudding mix. You can also make homemade banana pudding, but there is so much going on that I don't feel like it makes that much of a difference in this recipe.
You also will want to use a good quality all natural peanut butter. This is especially important because it will spread much easier onto the bottom of the pie crust.
Another quick note is to use a thick jarred caramel rather than a syrup (although you can use caramel syrup for the whipped cream). If you choose to use caramel syrup it tends to bleed from the top of the pie and you won't get that wonderful caramel layer that makes this pie so good! I like to buy the salted caramel at Trader Joe's. But if you don't have a Trader Joe's you can also use your favorite jarred caramel.
How To Make Peanut Butter, Caramel Banana Cream Pie:
First things first you will want to make the pie crust.
Pulse the pie filling ingredients together and toss with butter. Place in the pie plate and top with a layer of saran wrap. Then press the filling down and up the sides with a glass cup to form a crust. Freeze for 10 minutes.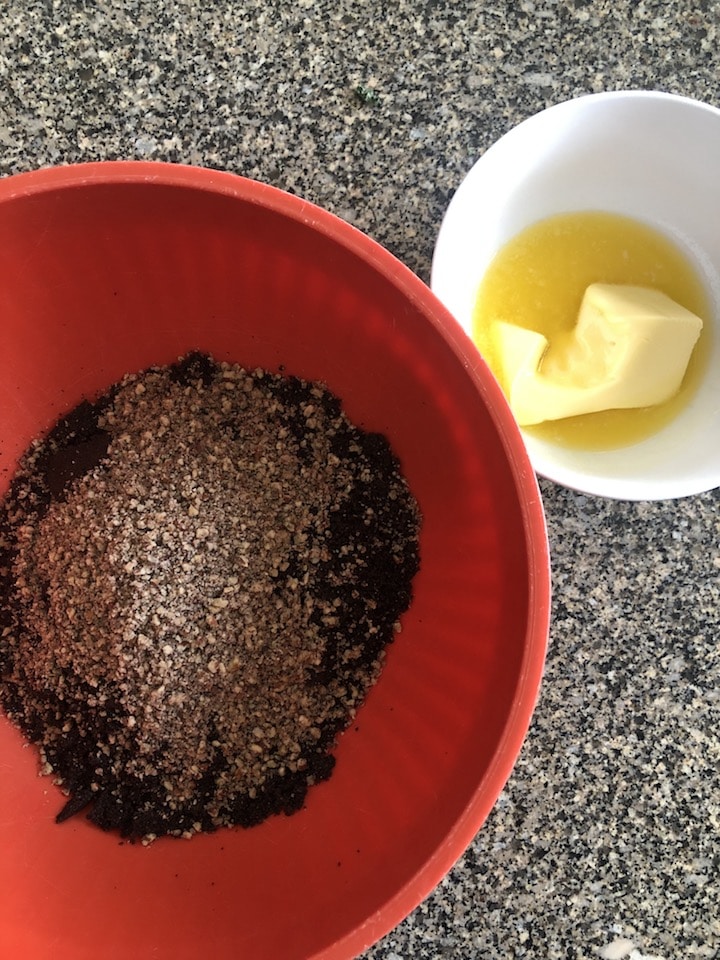 Make the pudding.
Then top with a layer of caramel sauce and peanut butter.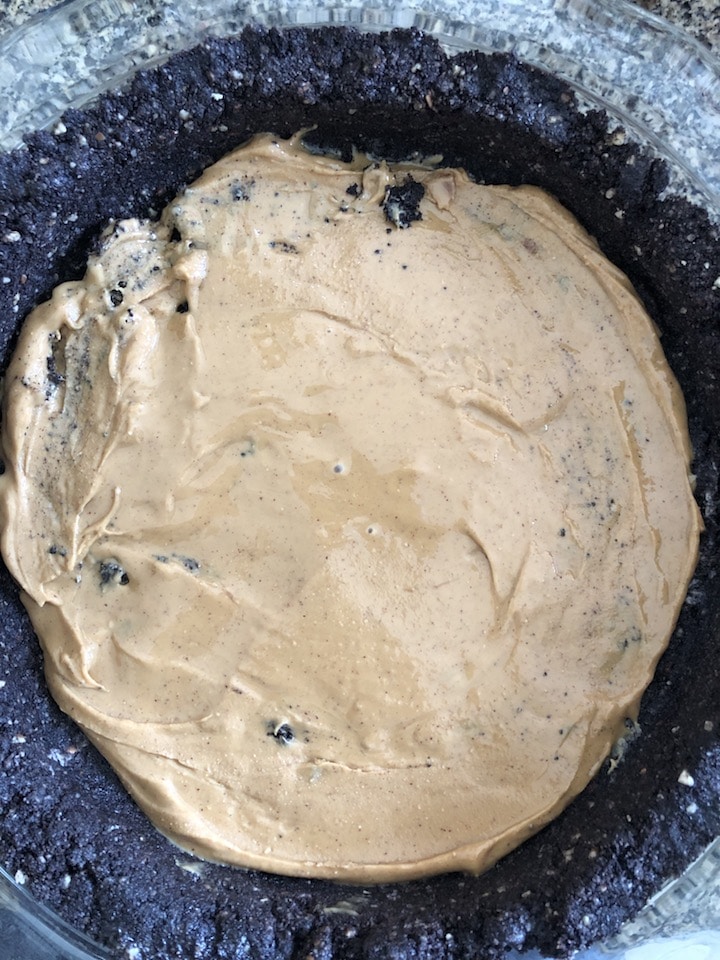 Layer the bananas on top of the peanut butter layer.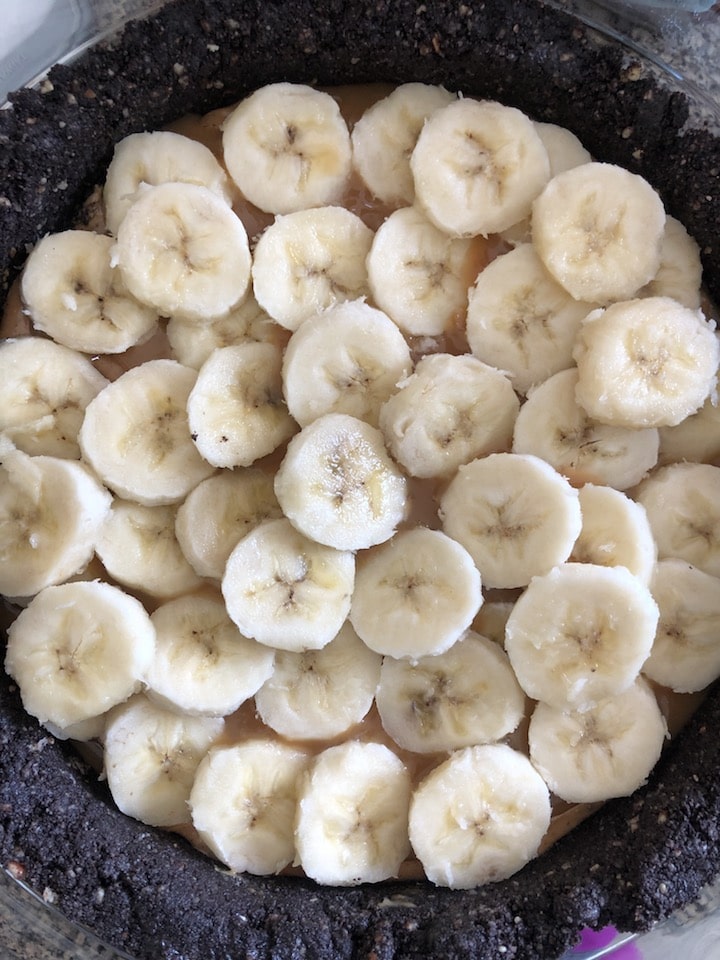 Top with banana pudding and homemade caramel whipped cream.
You can garnish with shaved chocolate and Maldon salt if desired.
Look at these beautiful layers!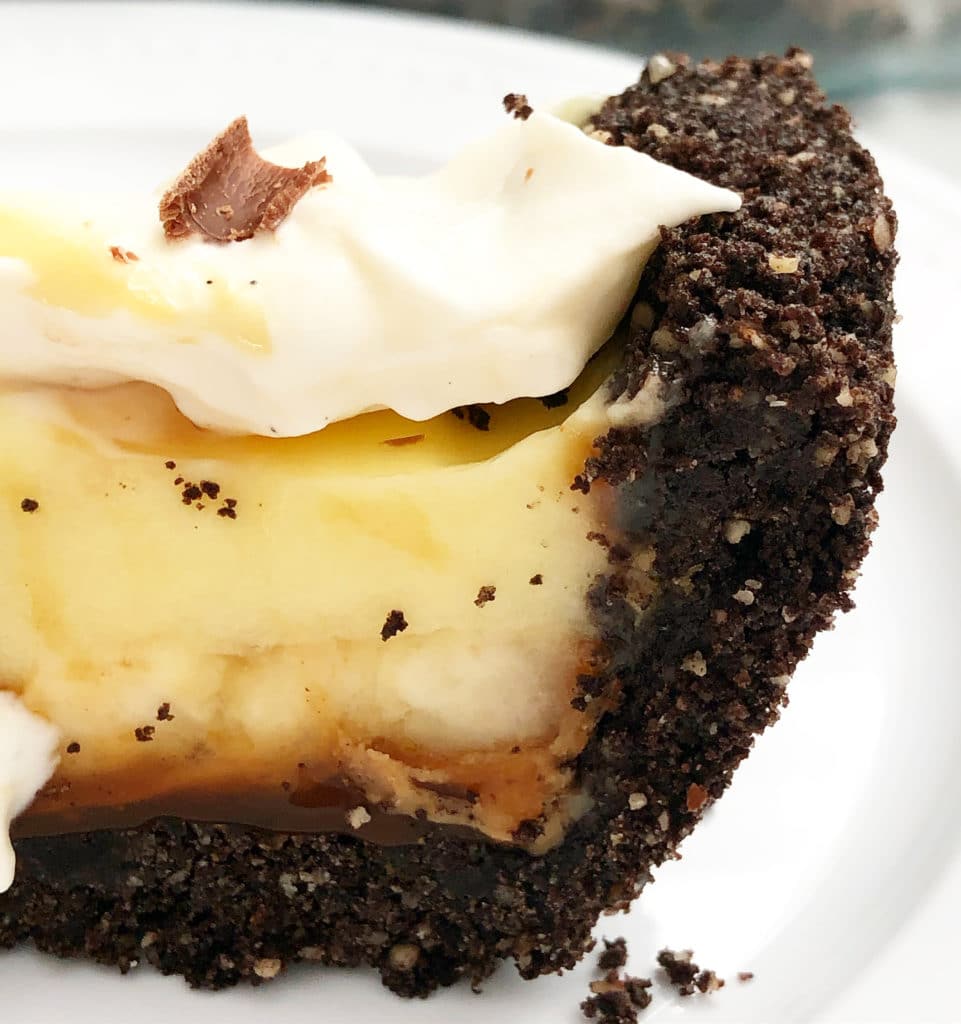 Banana Cream Pie Recipe: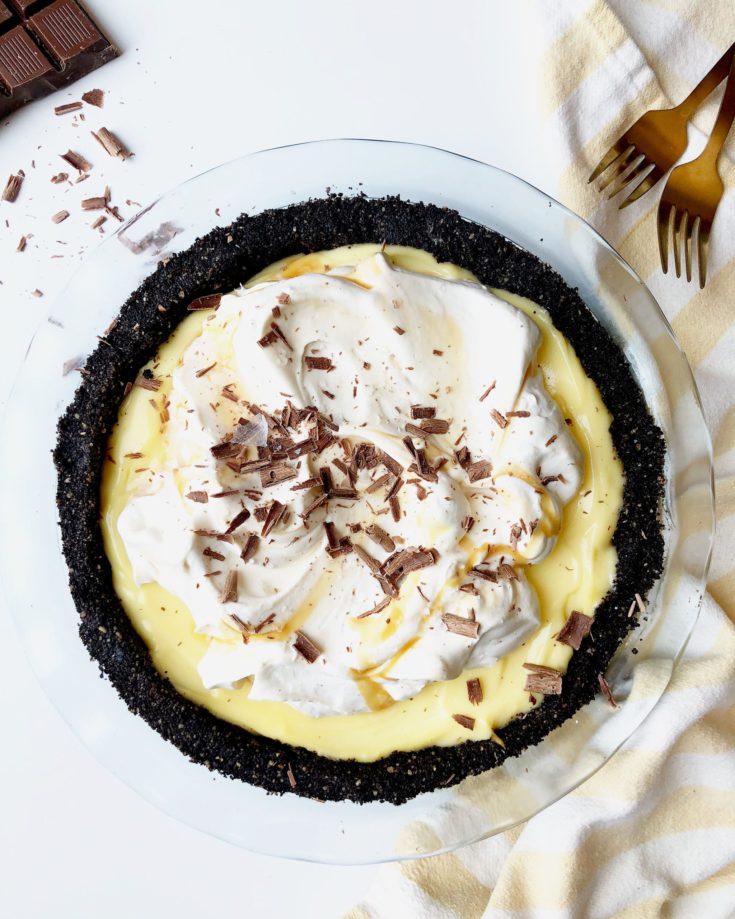 Yield:

Serves 10
Banana Cream Pie With Peanut Butter and Caramel
Additional Time:
10 minutes
This banana cream pie is like non other! It's full of chocolate, peanut butter and caramel and topped with a delicious homemade caramel whipped cream.
Ingredients
30 Oreo cookies
1/3 cup pecans
1/4 cup butter, melted
1 box instant banana pudding
2 cups cold milk
1 cup caramel sauce (From Trader Joe's) +2 tablespoons
3/4 cup natural peanut butter
3 bananas, sliced 1/4 inch
1 1/2 cups heavy whipping cream
1 teaspoon vanilla bean paste or extract
1/4 cup powdered sugar
Garnishes:
chocolate bar for shaving
1/4 teaspoon Maldon salt
Instructions
Add the Oreos and pecans to a food processor and blend until fine crumbs form.
Place the crumbs into a mixing bowl and add 1/4 cup melted butter. Stir to combine completely.
Place the crumbs into a pie plate. Top with a layer of saran wrap. With a glass cup, press the crumbs down and up the sides to form a crust. Place in the freezer.
Make the pudding by following the directions on the box. Refrigerate for 5 minutes while you assemble the layers.
Remove the pie crust from the freezer and layer on a thin layer of the caramel sauce. Be careful not to tear the crust.
Next layer on the peanut butter. Spread with an offset spatula to cream a single layer.
Slice the bananas and place on top of the peanut butter layer.
Remove the pudding from the fridge and stir. Then place on top of the bananas and spread into an even layer.
Whip 1 1/2 cups heavy whipping cream with hand beaters or in a stand mixer fitted with a whisk attachment until soft peaks form.
Then add the vanilla bean paste and powdered sugar. Mix to combine until the whipped cream is at semi-firm peaks.
Drizzle in 2 tablespoons caramel. (Be careful not to mix the caramel in completely. You will want to see the ribbons of caramel running through it. You can also use caramel syrup if needed for this portion of the recipe).
Top the pie with the whipped cream.
Top with shaved chocolate and Maldon salt. Refrigerate until you are ready to serve.