This blueberry salad with peaches and strawberry dressing is the perfect and easy salad to make for your next BBQ or hot Summer night.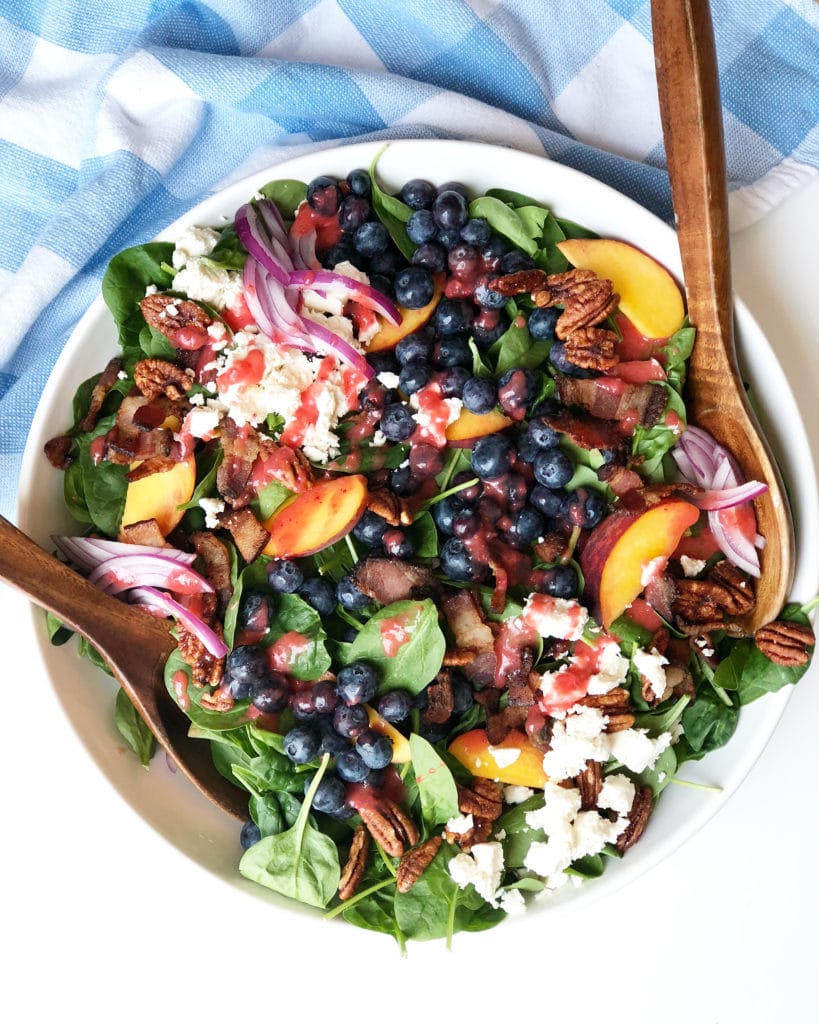 When you really don't feel like cooking or you just don't want to turn on the oven in the Summer try this blueberry salad with peaches. It's light, refreshing and is perfect for an elegant, yet easy meal.
It's made with fresh greens topped with sweet blueberries, crispy bacon, fresh peaches, honey goat cheese and red onion all tossed with a homemade strawberry dressing. Nothing will be able to beat it.
I love salads in the Summer because it's a healthy and easy way to whip up dinner in a short amount of time.
You can add extra protein by topping this salad with rotisserie chicken or grilled chicken. Serve with my delicious pretzel rolls and you have a complete meal in a no time. Even the kids love this salad with all the delicious fresh fruit.
Ingredients:
Here is what you need to make this delicious salad.
For The Salad:
Spinach: You can also use your favorite mixed greens if you don't like spinach.
Blueberries: The heart of this salad! If you can't find good quality blueberries you can also use other berries like raspberries or blackberries.
Peaches: This adds a delicious sweetness to the salad. You can also use nectarines or apricots as well.
Bacon: The crispy bacon adds a delicious saltiness to the salad and really helps to balance out the sweetness of the fruit. Make sure you cook your bacon until it is nice and crispy. I like to cook it in the oven at 400 F for about 10-15 minutes. Then drain on some paper towels and chop into small pieces.
Candied Pecans: I get my candied pecans from Trader Joe's. They are so delicious and so convenient. You can also make your own homemade.
Honey Goat Cheese: Another thing I love from Trader Joe's. You can also sometimes find this at your local grocery store in the specialty cheese section. If you can't find honey goat cheese, regular goat cheese will work as well. Freeze your goat cheese for 20 minutes to crumble easily.
Red Onion: Cut the red onions very thin. If you aren't a huge fan of a strong onion flavor you can soak the onions in cold water for 20 minutes to take away some of the pungent flavor.
For The Dressing:
One of my all time favorite dressings! This strawberry dressing is so easy to make and can be made ahead of time. Here is what you need to make the dressing.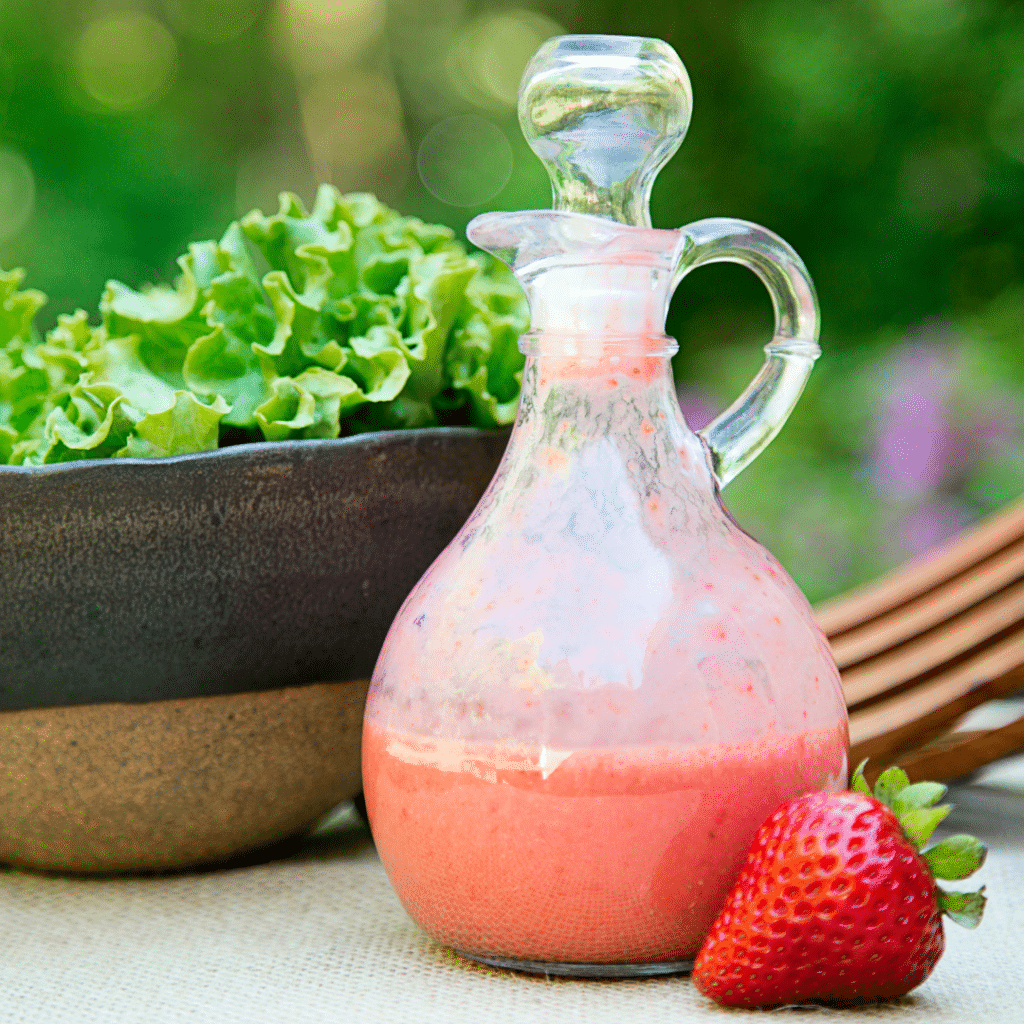 Strawberries: Make sure you wash and dry your strawberries. Remove the top and cut in half or quarters.
Honey: Use a good quality honey.
White Balsamic Vinegar: My all time favorite white balsamic is Prelibato from Italy. I went to the producers vineyards while I was in culinary school and it is by far the best white balsamic I have ever tasted. You can grab it here.
Kosher Salt: You can also use sea salt.
Liquid Coconut Oil: Make sure you buy the fractionated liquid coconut oil as it won't solidify if it gets too cold. If you use a regular coconut oil the dressing will be lumpy and not cohesive.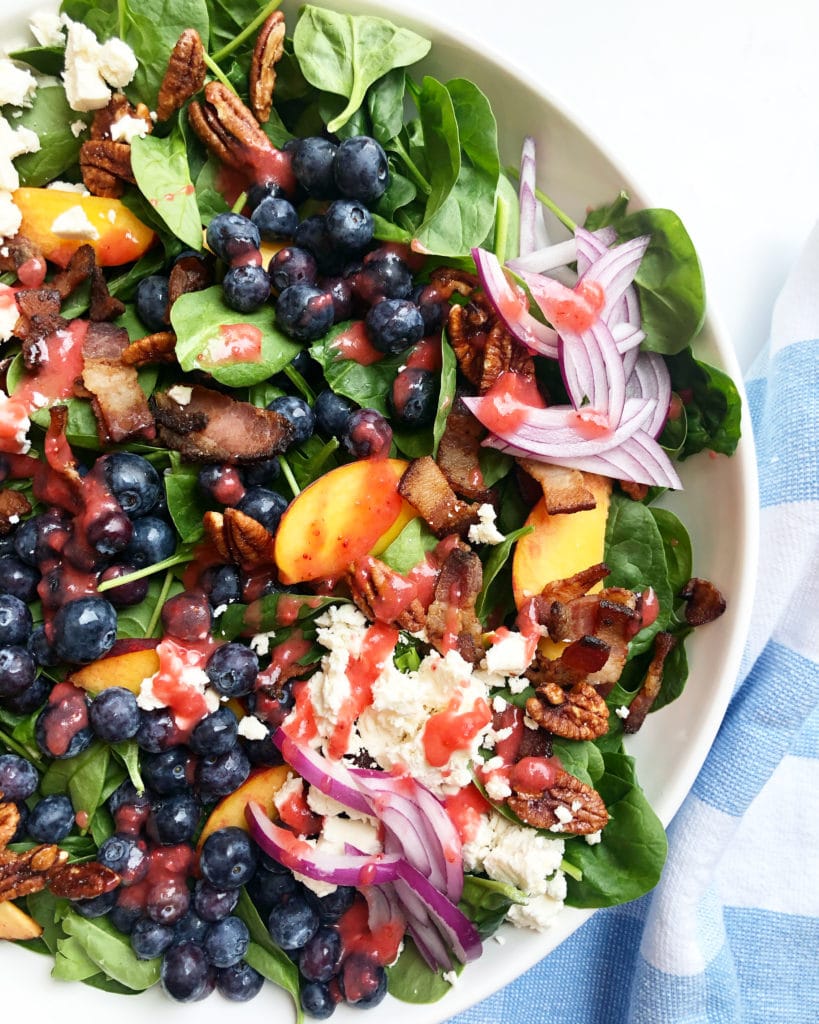 Dressing Strorage:
If you want to make this dressing ahead of time you can store it for up to a week in the fridge in an air tight container. I like to also store some in individual reusable salad containers to take on the go throughout the week.
How To Make Homemade Dressing:
Homemade dressing is easier than you may think. The elements of a homemade dressing are typically a 2 to 1 or 3 to 1 ratio of oil to vinegar although you can also use citrus juice like lemon or limes for the acidity.
This dressing is a little different as it is fruit based.
To make fruit based dressings you will need a high powered blender or mini food processor to create an emulsified dressing. If you want to learn more about dressings check out this post.
Other Delicious Salads You May Like:
If you love salads try these delicious recipes.
Orzo Pasta Salad With Roasted Vegetables
Mexican Salad With Honey Lime Vinaigrette
Wedge Salad With Light Blue Cheese Dressing
Blueberry Salad Recipe: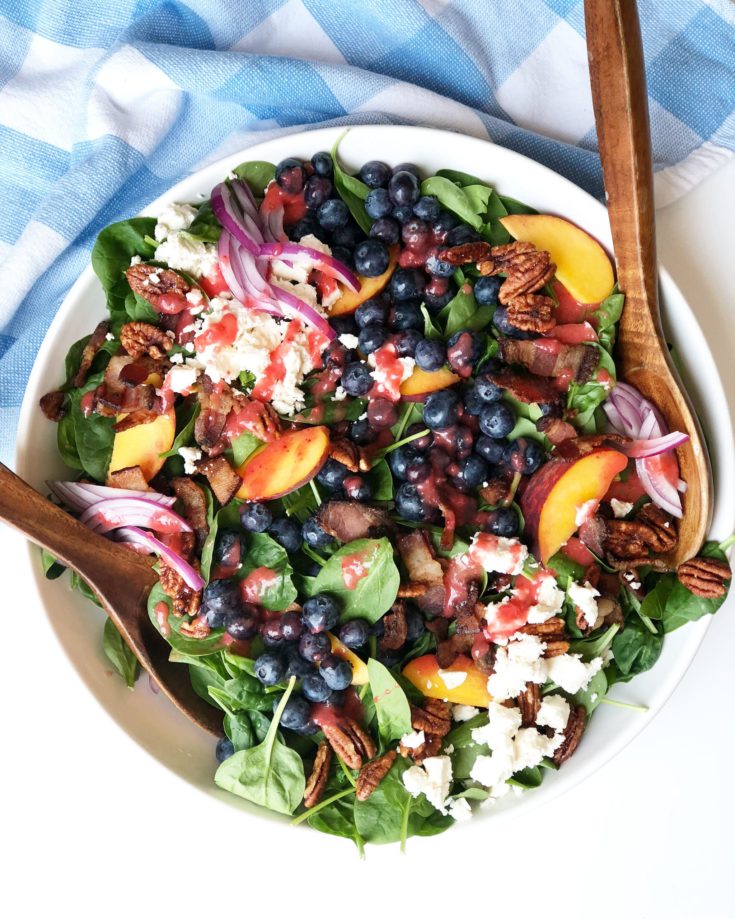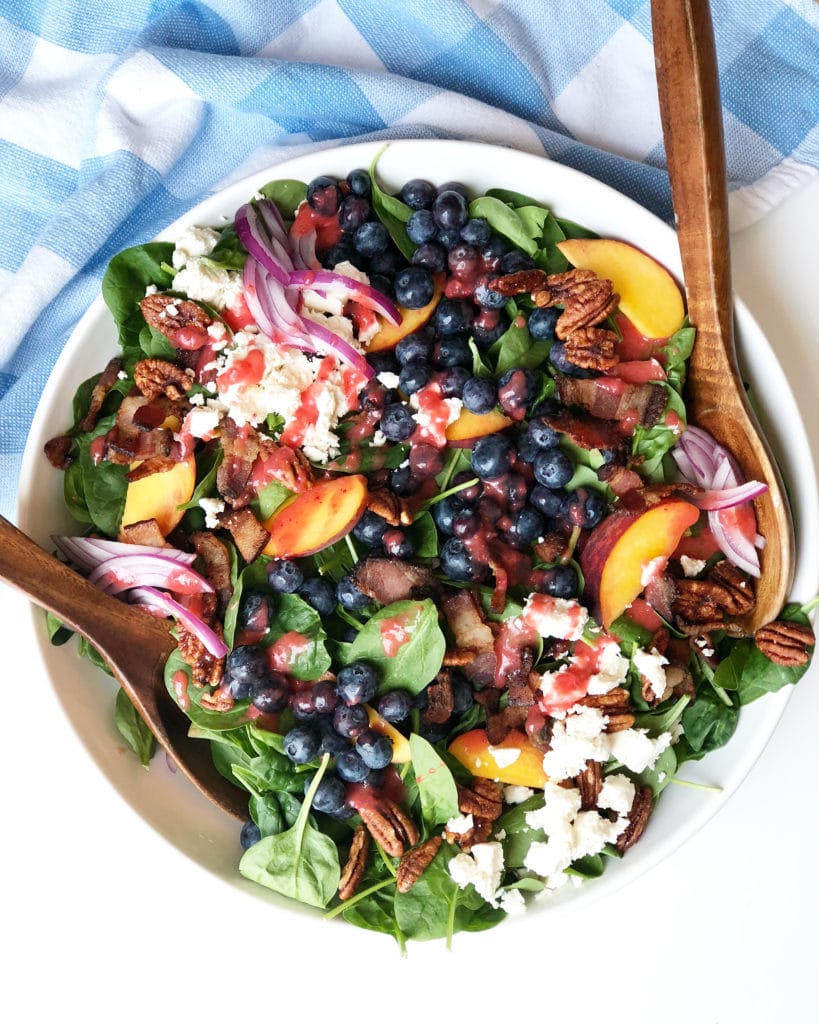 Yield: Serves 6
Blueberry Salad with Peaches and Strawberry Dressing
Prep Time: 5 minutes

Cook Time: 5 minutes

Total Time: 10 minutes

The best Summer salad. This blueberry salad with peaches and homemade strawberry dressing is perfect for a hot day!
Ingredients
1 bag spinach
3 peaches, sliced
1 pint blueberries, washed and dried
1 pound bacon, cooked until crispy
1/2 cup candied pecans (From Trader Joes's or homemade)
1/4 cup honey goat cheese, crumbled (From Trader Joe's)
1/4 cup red onion, sliced thin
Strawberry Dressing:
1/2 cup strawberries, sliced
1 tablespoon honey
1/4 cup white balsamic vinegar
1/4 teaspoon kosher salt
1/4 cup liquid coconut oil
Instructions
Place the spinach into a large salad bowl.
Slice the peaches and place on top of the spinach.
Top with blueberries and crispy bacon.
Top with candied pecans and crumbled honey goat cheese.
The add sliced red onion.
Make the dressing by blending all dressing ingredients in a mini food processor or blender.
Drizzle over the salad.
Toss to combine.
Recommended Products
As an Amazon Associate and member of other affiliate programs, I earn from qualifying purchases.