This open faced tuna melt will blow your mind! It's full of bright flavors and is not fishy tasting at all. You can serve it for a delicious lunch or a quick 10 minute dinner.
What tuna to use for a tuna melt:
The type of tuna matters! You will want to use a good quality canned tuna packed in olive oil for this recipe. The tuna that is packed in olive oil tastes so much better in my opinion and is not as fishy as the tuna packed in water.
I love the Genova brand. It's an Italian canned tuna and you can find it at most grocery stores. If you can't find it you can use any other good quality tuna packed in olive oil.
Ingredients you will need for open faced tuna melts:
canned tuna packed in olive oil: This really makes a difference in flavor! The tuna that is packed in olive oil is a lot less fishy in my opinion. I like the Geneva brand or Wild Planet Tuna
white onion: The white onion adds a delicious flavor and a little crunch.
celery: Celery adds a delicious crunch to the tuna salad.
dijon mustard: You can also use a whole grain mustard as well.
mayonnaise: This adds a little creaminess. You can leave it out if you don't like mayonnaise.
good quality pickles: Grillo's brand is my all time favorite. The quality of pickles really makes a difference.
lemon juice and zest: Adds so much bright flavor, especially the lemon zest.
salt and pepper: Can't go anywhere without salt and pepper.
What is a good side for tuna melts?
Tuna melts go good with just about anything! Here are some of my favorite sides that go great with tuna melts.
Orzo Pasta Salad With Roasted Vegetables
Wedge Salad With Light Blue Cheese Dressing
Air Fryer Potato Wedges With Garlic Browned Butter
Turn this meal into something totally different by utilizing leftovers. Mix together the tuna mixture with cooked pasta and lots of cheddar cheese. Then place in a baking dish, top with more cheese and place under the broiler.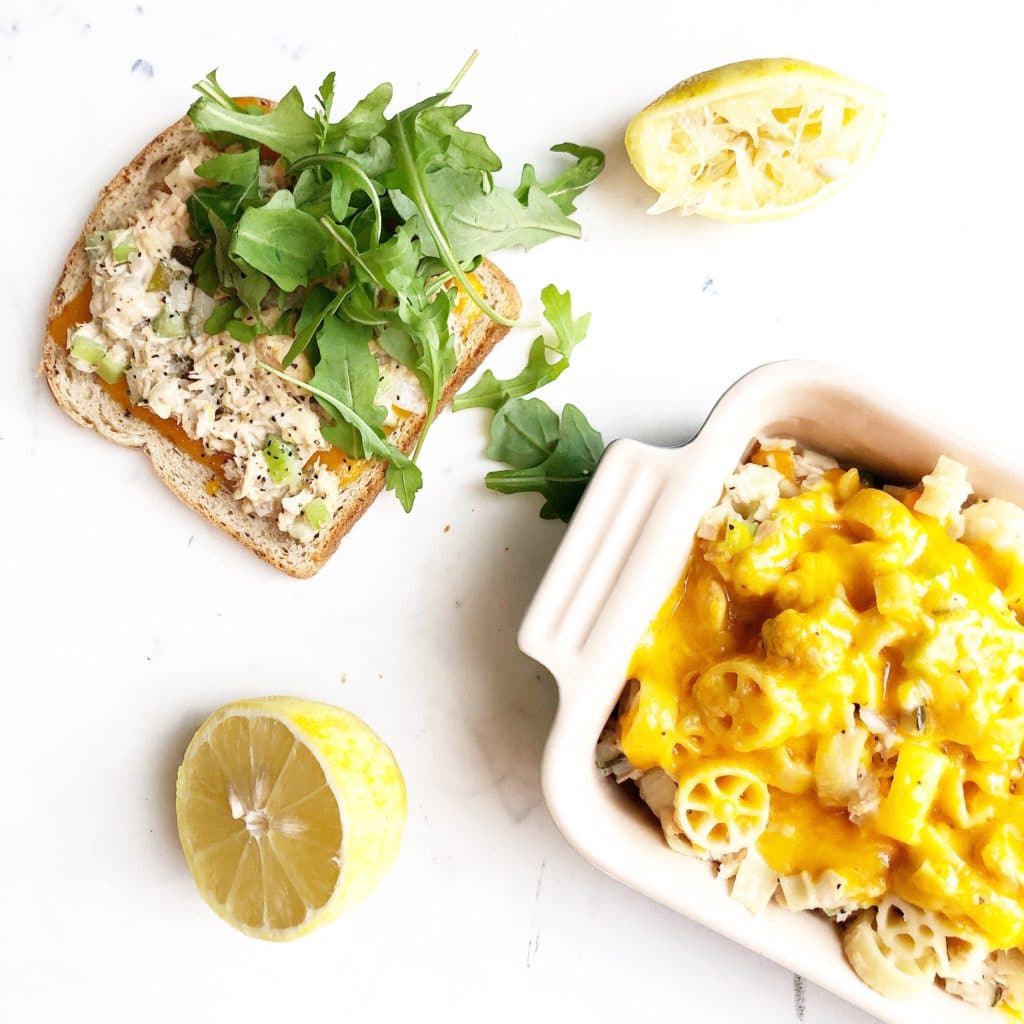 How to make an open faced tuna melt:
Just follow these easy steps to get an easy lunch or dinner on the table quickly!
Drain the tuna.
Combine with the rest of the ingredients.
Add on top of your bread.
Top with cheese.
Place under the broiler until the cheese is melted. Enjoy!
Open faced tuna melt recipe: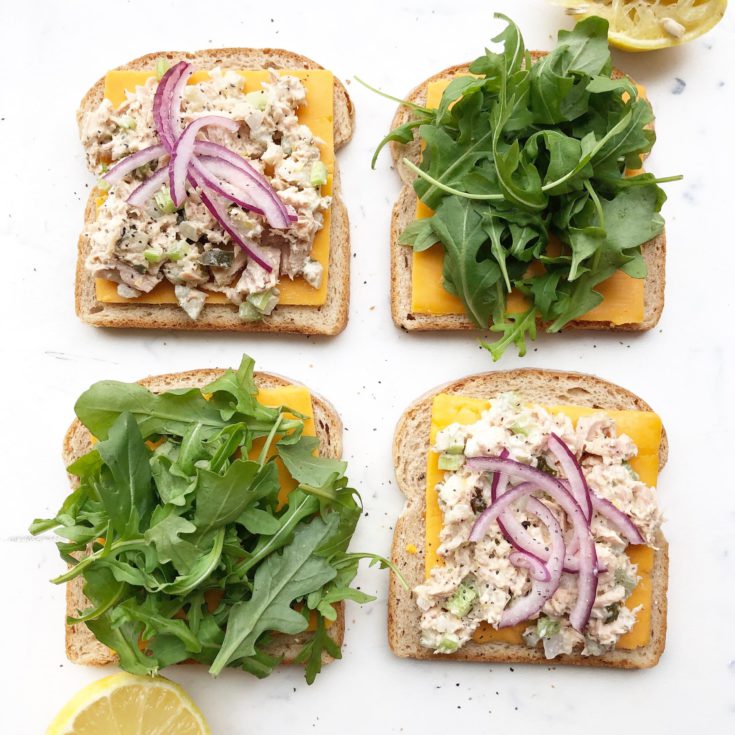 Yield:

Serves 2
Open Faced Tuna Melt
The best open faced tuna melt!
Ingredients
1 can tuna packed in olive oil
2 tablespoons white onion, finely chopped
1/4 cup celery, finely diced
1 tablespoon mayonnaise
1 teaspoon Dijon mustard
1 lemon, zested and juiced
2 tablespoons good quality pickles, diced small
salt and pepper to taste
4 slices sourdough bread
3/4 cup cheddar cheese, shredded
Optional Toppings:
Arugula
Red Onion, Thinly Sliced
Instructions
Drain the tuna and place in a small mixing bowl.
Add onion, celery, mayonnaise, Dijon, lemon zest and juice, pickles and salt and pepper to taste. Mix to combine.
Evenly distribute the tuna onto the sliced sourdough bread.
Top with cheese and place under the broiler for 1-2 minutes or until cheese is melted.
Top with optional arugula and red onion.
Other 10 minute dinner ideas:
Salsa Verde Tacos (10 Minute Meal)
10 Minute Pineapple and Pork Tenderloin Stir Fry
10 Minute Easy Chicken Chow Mein