We are taking the traditional chicken piccata recipe and bringing it up a notch with this browned butter version. It's deliciously nutty from the browned butter, salty from the capers and crispy from the delicious panko bread crumb crust.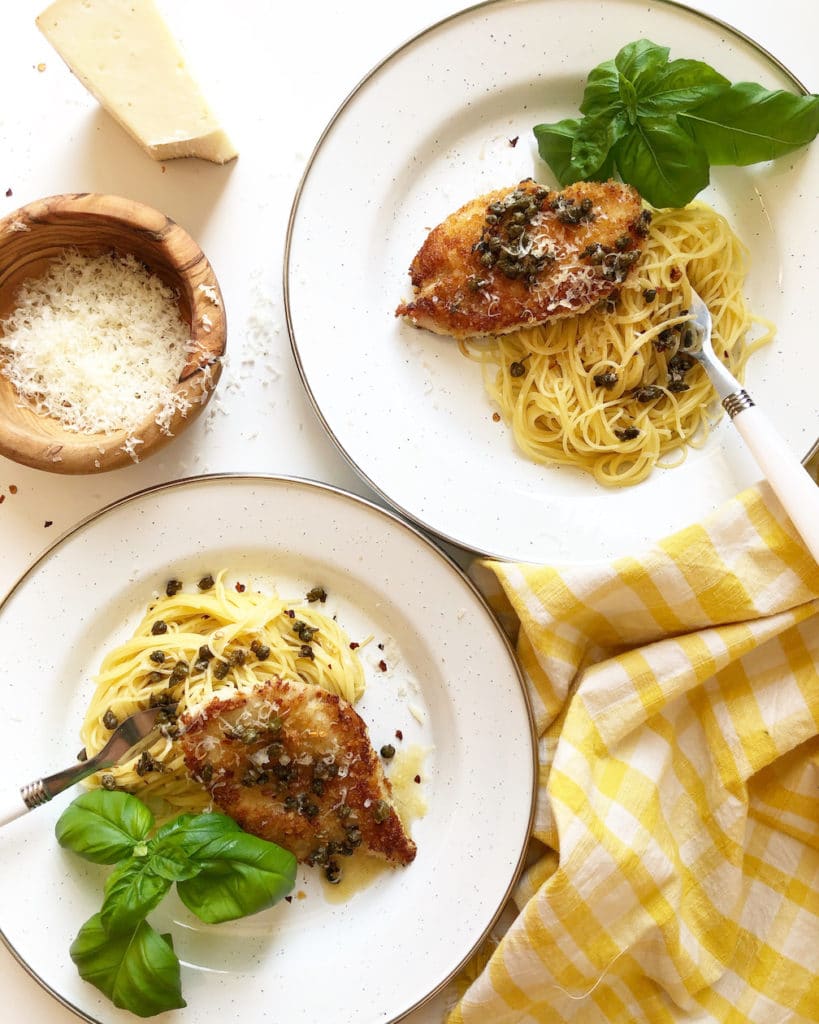 This browned butter chicken piccata recipe is easy to make and does not require the traditional dredging. Which means no flour and egg dipping for these little guys. The thin cut chicken breast cutlets go straight into panko bread crumbs and get pan seared to crispy perfection.
Ingredients You Will Need:
Chicken breasts: use boneless, skinless, chicken breast cut in half lengthwise to create a thin cutlet.
Panko breadcrumbs: panko is a coarser breadcrumb which creates a crunchier exterior.
Butter: make sure to use a good quality butter. I prefer the Kerry gold brand.
Capers: make sure to wash and drain your capers to remove any brine. Sometimes the brine can create a little bitter flavor.
Pasta of choice: I love to use an angel hair, spaghetti or fettuccine for this dish. The pasta soaks up the browned butter which creates a great sauce.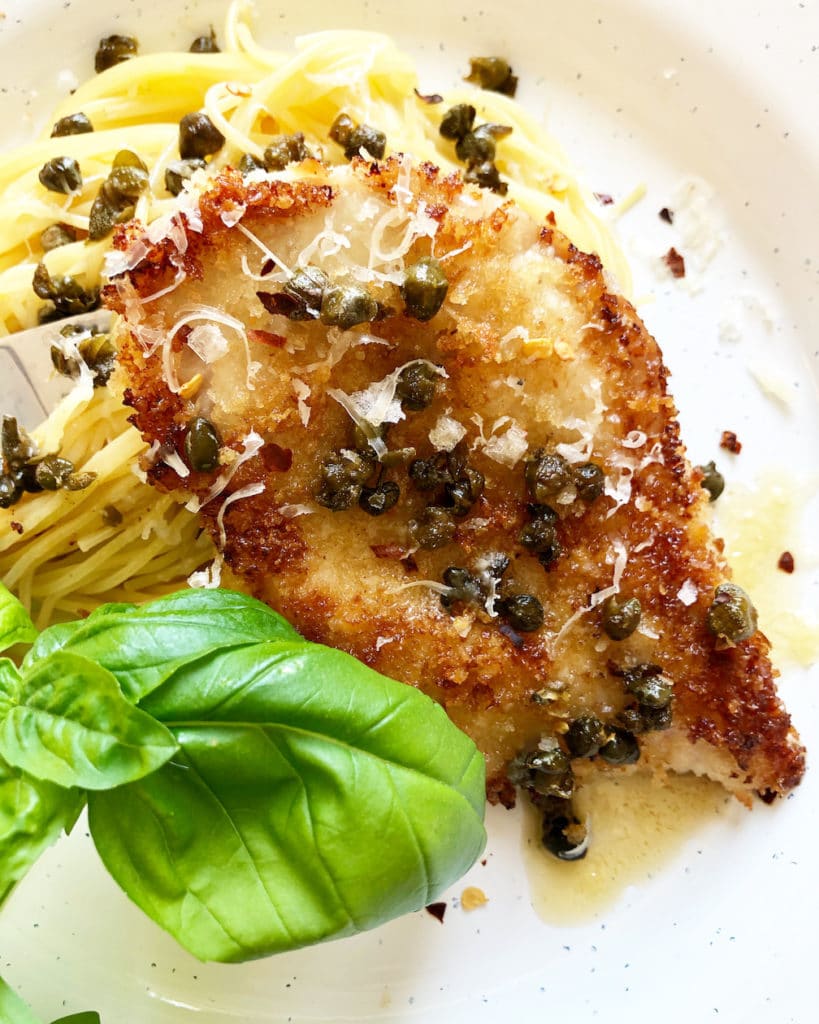 What To Serve With Chicken Piccata:
Chicken piccata is delicious on its own but I love to serve it with some pasta and one of these delicious side dishes.
What Is Browned Butter?
You may ask if browning the butter is totally necessary for this dish and my answer would be yes!
Browned butter is when you caramelize the milk solids in the butter until they are toasted and golden brown. This creates a delicious nutty flavor and totally transforms the dish.
How To Make Browned Butter:
To make browned butter place your butter in a skillet heated over medium heat.
Melt the butter and cook until the milk solids on the bottom become slightly golden in color. Be careful not to burn them.
How To Make Browned Butter Chicken Piccata: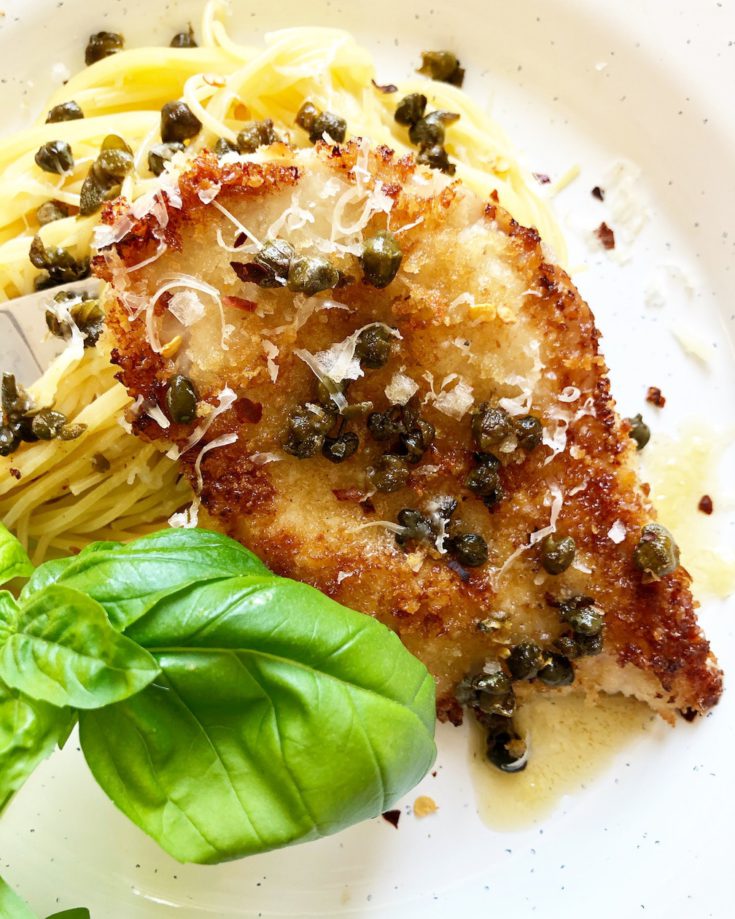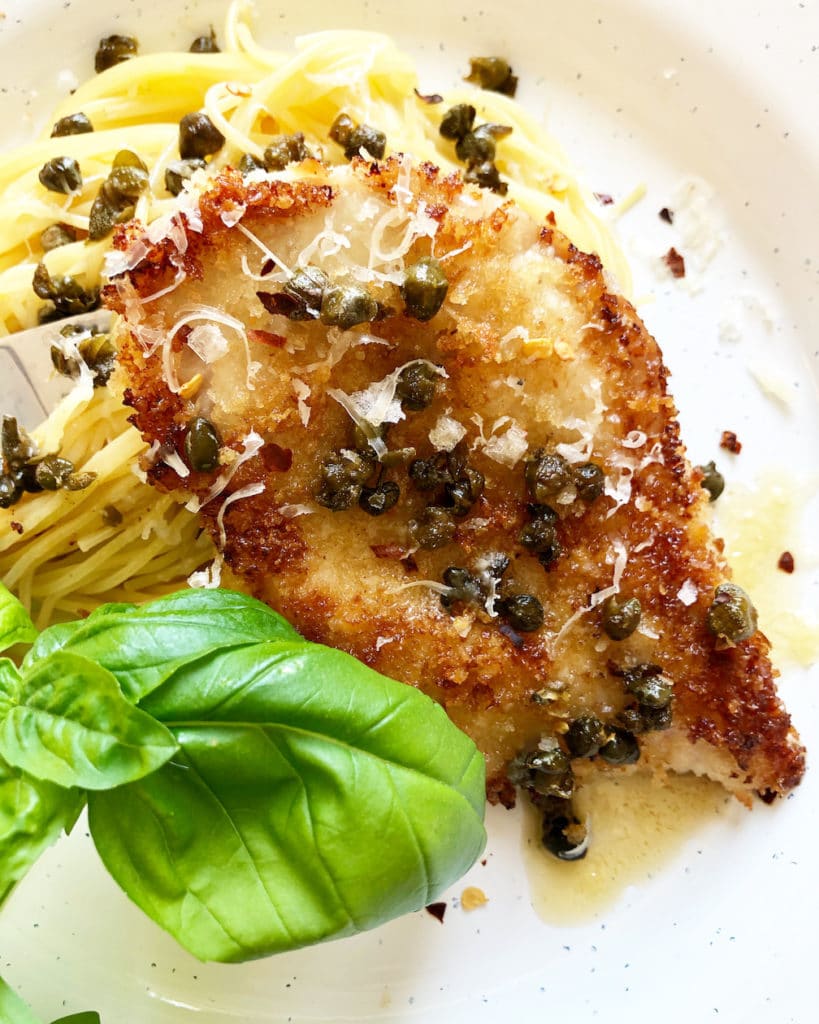 Yield:

Serves 4
Browned Butter Chicken Piccata
The perfect easy, elegant dinner that is perfect for a quick weeknight dinner or elegant dinner party.
Ingredients
2 boneless, skinless chicken breasts, cut in half lengthwise
1 cup panko bread crumbs
1-3 tablespoons avocado oil or other cooking oil
Kosher salt, to taste
black pepper, to taste
6 tablespoons butter
2 tablespoons capers, rinsed
1/4 cup parmesan cheese, freshly grated
1 pound fresh pasta of choice (linguine and fettuccine work great)
Garnish:
basil
red chili flakes
maldon salt
lemon zest
Instructions
Preheat a large non-stick skillet over medium high heat.
Bring a pot of water to a boil.
Cut the chicken breast in half lengthwise to create a thin cutlet. You should have four pieces after cutting.
Place the panko in a shallow bowl or plate and dredge the chicken breast into the panko on both sides. Press down slightly to coat.
Add the oil to the pan and then add the chicken carefully. Season with salt and pepper.
Pan sear the chicken on each side for 5-6 minutes or until cooked through. You may need to add a little more oil to the pan when flipping. Season the other side with salt and pepper after flipping.
Carefully remove the chicken to plate and then turn the pan down to low.
Cook pasta according to package directions.
Add the butter and cook until foamy and slightly golden brown. Be careful not to burn. Add the drained capers and then add the chicken back in.
Serve the chicken with pasta and top with garnishes of choice and extra butter and capers.
Notes
You can toss the drained pasta directly into the sauce if desired.
Nutrition Information:
Yield:
4
Serving Size:
1
Amount Per Serving:
Calories:

660
Total Fat:

38g
Saturated Fat:

14g
Trans Fat:

1g
Unsaturated Fat:

20g
Cholesterol:

140mg
Sodium:

824mg
Carbohydrates:

50g
Fiber:

2g
Sugar:

2g
Protein:

30g