We have these ground turkey tacos at least 3 times a month in our home. They take about 10 minutes to make, and are a healthy family dinner that your kids will actually eat.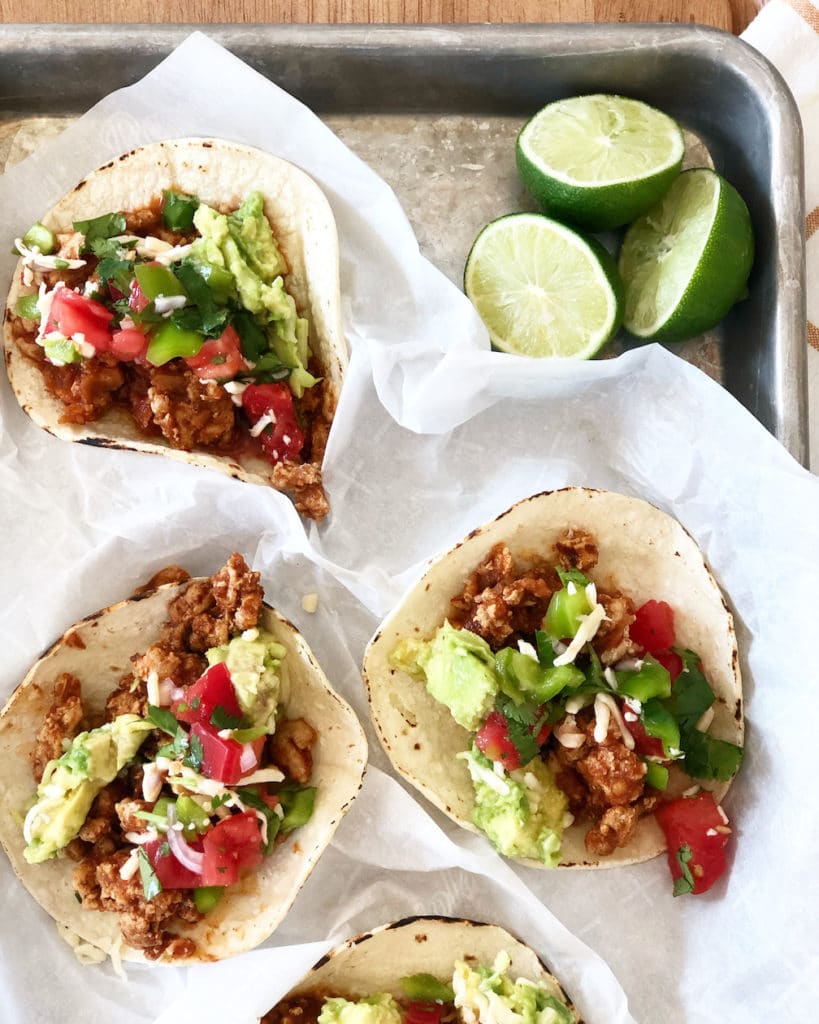 I have been making these ground turkey tacos for years and just realized that they weren't on the blog! We had to change that!
I can basically make them in my sleep by now and my family asks for them on a weekly basis.
With a quick and easy homemade taco seasoning and a pack of ground turkey, this dish is full of healthy protein and has no artificial ingredients. Plus they are gluten free!
Here is what you will need to make ground turkey tacos.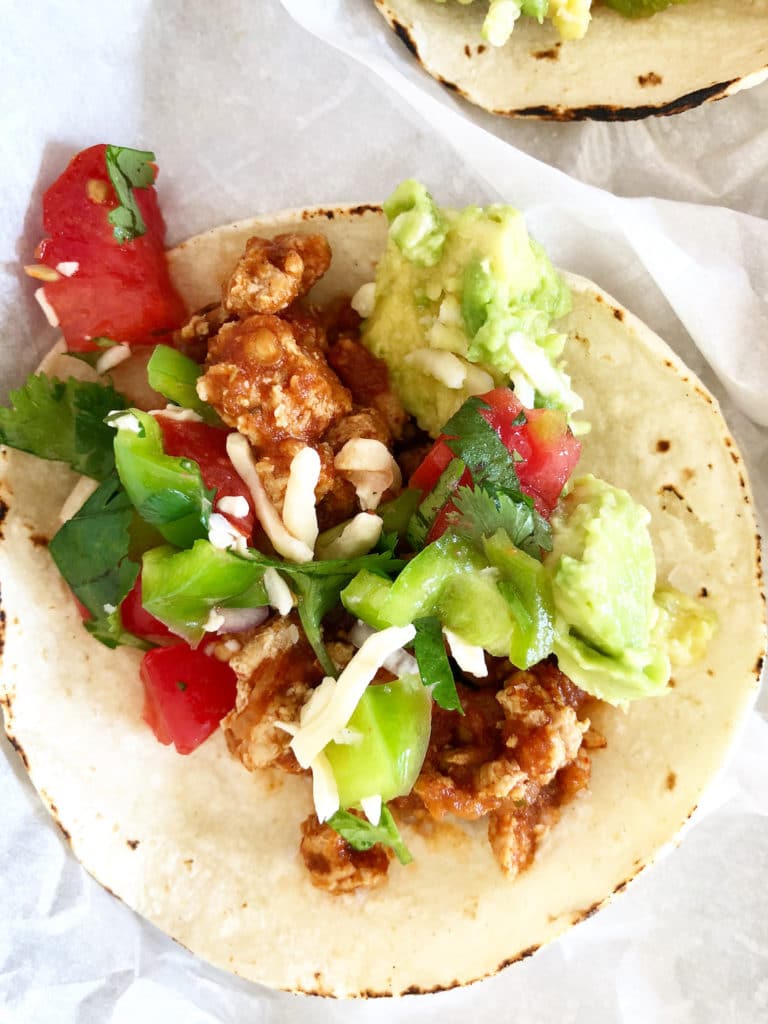 Ingredients For Ground Turkey Tacos:
Ground Turkey: I like to use regular ground turkey not the lean version. Sometimes the lean ground turkey will dry out.
Red Salsa: I love the red salsa you can get at Trader Joe's, but you can use any salsa you like. Mild or hot, both work great.
Homemade Taco Seasoning: Made with chili powder, garlic salt, salt, cumin and oregano. You can make a big batch ahead of time and keep it for up to 6 months.
Tortillas: I use corn tortillas, but you could also use flour tortillas.
Cheese: I love the chihuahua cheese you can get at Costco or Walmart, but you can use any cheese you would like. Cheddar works great as well.
Pico de Gallo: I'll show you how to make an easy pico in a matter of minutes, but you can also use store bought or top it with hot sauce instead.
Can I Make These With Ground Beef:
You absolutely can make these with ground beef. I would use 80/20 just to ensure the meat doesn't dry out.
You can also use ground chicken.
Morphing Meal Ideas:
You know how much I love a good morphing meal. This recipe can easily be morphed into some delicious recipes like taco salad, ground turkey taco crunch wraps, or air fryer taquitos. Here are the easy directions for these morphing meals.
Taco Salad:
Make double the ground turkey mixture and save for this delicious morphing meal.
Directions: Lay down some shredded lettuce and top with shredded cheese, ground turkey meat, sour cream, crispy tortilla chips and top with a cilantro lime dressing.
Ground Turkey Taco Crunch Wraps:
Make double the ground turkey mixture and save for this delicious morphing meal.
Directions: Lay out flour tortillas on a foil lined baking sheet. Top with some shredded cheddar cheese and top with flat crispy taco shells, ground turkey taco meat, some more cheese and a smaller flour tortilla. Fold the tortilla to create a wrap and top with enchilada sauce and some more cheese. Bake at 400 F for 10 minutes.
Air Fryer Taquitos:
Make double the ground turkey mixture and save for this delicious morphing meals.
Directions: Fry corn tortillas in avocado oil or olive oil over medium high heat for only 10 seconds a side. Transfer to a plate and stuff with ground turkey mixture and cheese.
Roll into a taquito and secure with a toothpick. Cook on Air Fry at 390 for 5-7 minutes or until golden brown. Top with taco toppings or hot sauce.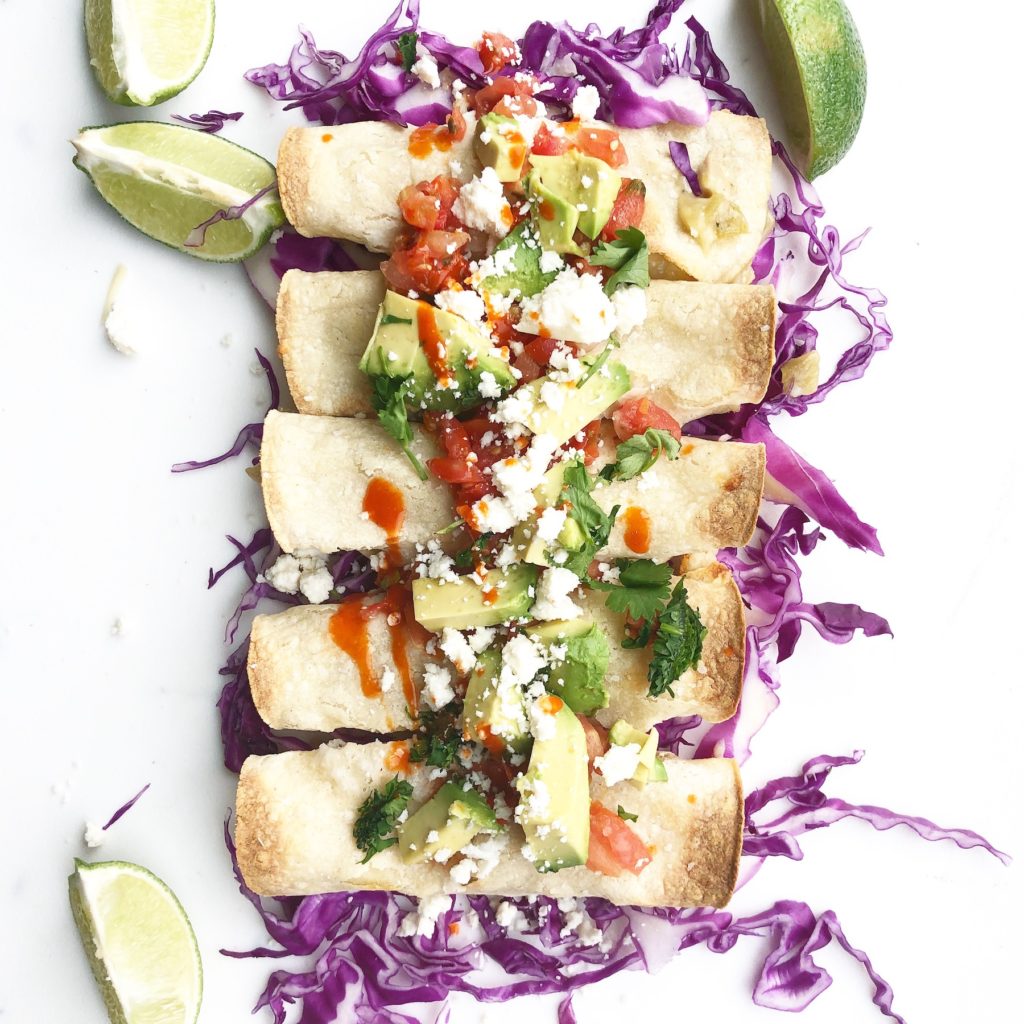 Other Quick And Healthy Dinner Recipes:
If you are in need of some quick and easy healthy dinner recipes try some of these recipes out. You won't be disappointed.
15 Minute Cashew Chicken Recipe
Orzo Pasta Salad With Roasted Vegetables
The Best Cauliflower Taco Meat
Tips with Ground Turkey:
I get asked all the time how to use ground turkey without it becoming dry. Here are some tips.
Use regular ground Turkey. If you use the lean ground turkey there is just not enough fat to keep it from drying out.
Add some liquid. For this recipe we will use salsa as a liquid to create a little more moisture.
Don't overcook it! Once your ground Turkey reaches 165 F and there is no more pink you can turn it off to ensure it doesn't dry out and overcook.
Ground Turkey Taco Recipe: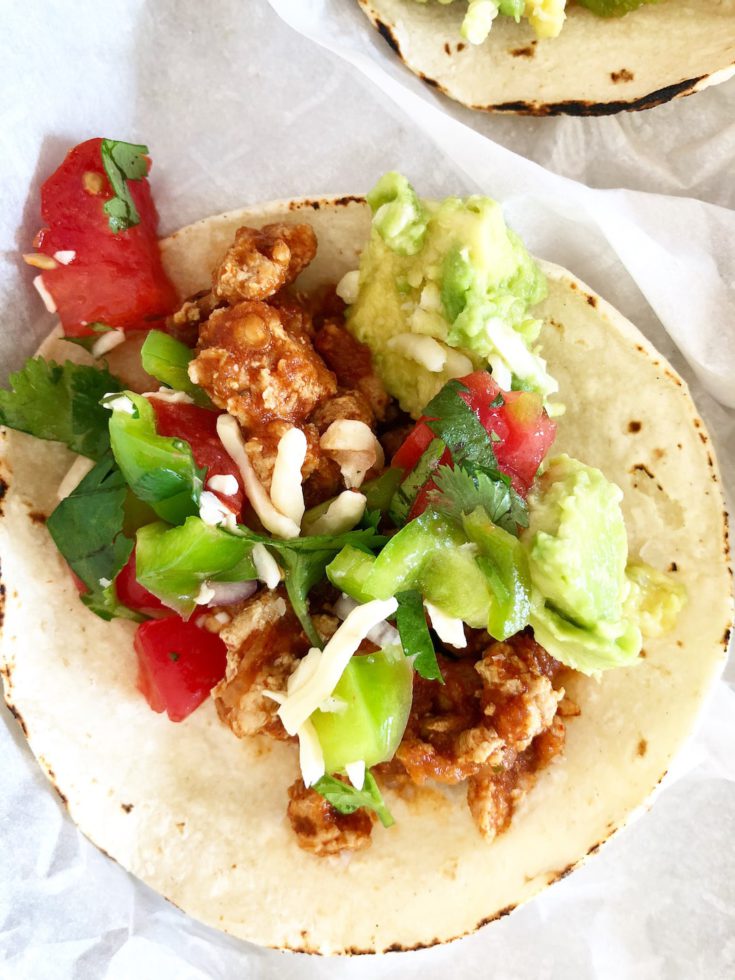 Yield:

Makes 8-10 tacos
Ground Turkey Tacos
An easy, healthy dinner that your whole family will love.
Ingredients
1 Pound Ground Turkey
1 Teaspoon Ground Chili Powder
1 Teaspoon Oregano
1/2 Teaspoon Garlic Salt
1/2 Teaspoon Kosher Salt
1/2 Teaspoon Ground Cumin
1/2 Cup to 1 Cup Red Salsa
For The Pico:
2 Large Tomatoes, Diced
1/2 Green Bell Pepper, Diced Small
1 Tablespoon Red Onion or Shallot, Diced Small
1 Large Lime, Juiced
1 Tablespoon Cilantro, Roughly Chopped
Salt To Taste
For The Tacos:
8 Corn Tortillas
1 Cup Cheese, Shredded
Instructions
Preheat a large non-stick skillet over medium heat and brown the ground turkey, breaking it up with a spatula until it's in small pieces.
Once the meat is cooked through add the chili powder, oregano, garlic salt, Kosher salt, cumin and red salsa and stir to combine. You may use up to 1 cup of the salsa depending on how saucy you would like it to be.
Meanwhile prepare the pico by combining all the ingredients together and set aside.
Warm the tortillas on a flat top griddle or over an open flame to become pliable and warm.
To assemble the tacos top each warm tortilla with cheese and then the taco mixture. Top with pico and serve.
Nutrition Information:
Yield:
10
Serving Size:
1
Amount Per Serving:
Calories:

226
Total Fat:

12g
Saturated Fat:

4g
Trans Fat:

0g
Unsaturated Fat:

7g
Cholesterol:

59mg
Sodium:

516mg
Carbohydrates:

14g
Fiber:

3g
Sugar:

3g
Protein:

16g