Butternut squash ravioli with browned butter sage sauce is one of the many homemade pasta recipes I learned how to make in Italian culinary school. This traditional homemade ravioli recipe will blow your socks off! 
These butternut squash ravioli are the perfect dish for Fall.  They combine the best Fall flavors: roasted butternut squash, fresh sage, and a delicious browned butter sauce.  Stuffed in a delicate, delicious, homemade pasta dough, these ravioli are perfect to serve for your family or friends.
Roasted butternut squash is made from a mixture of mixed Italian cheeses, ricotta, and a pinch of cinnamon, then filled in a perfect homemade sage-flavored pasta. After the ravioli are cooked, they are finished in a homemade browned butter sage sauce. 
Sounds amazing right? Let's get cooking! 
Today I am sharing how to make the perfect homemade ravioli at home. What does this mean for you? I'm sharing all of my tips and tricks that I learned in culinary school.
With that being said, if you are interested in taking a homemade pasta class that goes into depth about homemade pasta, flavoring pasta, coloring pasta, and making homemade ravioli and tortellini, check out my pasta cooking class in the More Momma Cooking School. 
But let's get started with our homemade butternut squash ravioli! If you need some delicious sides to serve with these ravioli try my Famous Pretzel Dinner Roll Recipe and Shaved Brussel Sprout Salad.

How to make fresh pasta:
Although you may think homemade pasta is hard to make, it really is simple when you get the hang of it. Fresh pasta consists of 4 main ingredients. 
You just need flour, eggs, olive oil, and salt. Super simple ingredients that I am positive you have on-hand.
Here are the main steps to make fresh pasta:
Place the flour on a clean work surface. 
Make a well with your fingers. 
Add the egg, oil, and salt to the well. 
Whisk the egg with a fork and slowly start incorporating flour from the outside well. 
When the dough gets too hard to mix with the fork, sprinkle lightly with flour and knead by hand. 
Knead until the pasta is soft, but not sticky. 
How to make homemade ravioli:
First- start with homemade pasta dough. Roll the pasta out with a pasta machine or a rolling pin until the pasta is transparent and very thin (it will be rolled out to a level 6 on a pasta machine). 
Second- place about 2 teaspoons of filling about 1-inch apart on your pasta sheet. 
Third- top with another sheet of pasta. 
Fourth- press and seal the two sheets of pasta together, starting from the filling to prevent any air bubbles in your ravioli. 
Fifth- cut the ravioli with a bench scraper, knife, or pasta cutter. 
Sixth- seal the ravioli with your fingers and check for any holes or air bubbles. 
Seventh- cook immediately or freeze. 
Do I need a pasta machine to make ravioli:
There are many methods to make homemade ravioli. Let's discuss all of the different methods and the pros and cons for each method. Find a method that fits within your budget and needs.
Rolling Pin:
You probably already have a rolling pin, therefore it is the cheapest option to make homemade ravioli. Although it is the cheapest option, it does have some cons. Let's discuss….
Pros:
Inexpensive
Rustic and fun
Cons:
Inconsistent texture
Uneven thickness of pasta sheet
Inconsistent cook time
Time intensive
Inconsistent taste
Hand-Cranked Pasta Machine:
When I first started making homemade ravioli over 15 years ago, I had a hand-cranked pasta machine. The machine attaches to the counter and you hand crank the pasta to the desired thickness. 
Although I love this machine because it gets you an even thickness, it requires a lot of muscle, and if you are making large quantities it is very tiring! 
In conclusion here are the pros and cons of a hand-cranked machine. 
Pros:
Consistent texture
Achieves an even pasta sheet
Consistent cook time
Rolls sheets of dough to 150-millimeters wide at 10 thickness (0.6 to 4.8-Millimeter)
Consistent taste

Easily attach the pasta drive motor and any of the 12 pasta cutting accessories (most models this is sold separately)

Good price point around $50
Cons:
Requires a lot of elbow grease
Not recommended for making large quantities of pasta
Pasta Attachment for KitchenAid:
Although there are other options, this is the method I recommend and use myself. Attachments are an investment, but do wonders and last forever if you take good care of them. However they are a bit more pricey.
Pros:
Consistent texture
Attaches easily into any KitchenAid stand mixer
Consistent cook time
Rolls sheets of dough to 150-millimeters wide at 10 thicknesses (0.6 to 4.8-Millimeter)
Consistent taste
Includes Pasta Sheet Roller, Fettuccine Cutter, and Spaghetti Cutter
Makes large quantities quickly and without a lot of elbow grease
Cons:
More expensive, price range around $120 for the attachments
Requires a KitchenAid mixer
Can you freeze homemade ravioli:
Although you probably will eat these right away because they are so delicious, you can freeze the ravioli if you decide to wait and eat them later.
And might I add freezing homemade ravioli turn out great! To freeze ravioli effectively follow these tips. 
Sprinkle a parchment-lined baking sheet with flour and add the ravioli in a single layer. 
The ravioli should not be touching or overlapping. If the ravioli are overlapping or touching, they can freeze together and then will break apart while cooking. 
Flash freeze the ravioli for 4 hours on the baking sheet. After 4 hours, transfer the ravioli to a freezer-safe Ziploc bag and store in the freezer for up to 3 months.
How to cook homemade ravioli:
First- to cook homemade ravioli, bring a large pot of water to a boil. 
Second- add salt and the ravioli. 
Third- cook the ravioli until they float to the top. Frozen ravioli take about 3-5 minutes. Fresh ravioli take about 3-4 minutes. 
And finally, strain the ravioli with a spider or slotted spoon and place them directly into the sauce. 
If you want to make homemade ravioli like an Italian, always finish them in the sauce! 

Butternut squash ravioli recipe ingredients:
Ravioli filling is where all the flavor is at, therefore you need a filling that is full of flavor! Here is everything you need to make this delicious butternut squash ravioli filling. 
Homemade pasta sheet
Butternut squash
Butter
Salt and pepper
Ricotta cheese
Mixed Italian cheese blend
Cinnamon
Butternut squash ravioli sauce:
Because the ravioli are delicate and flavorful on their own, I would recommend a light and simple sauce. Above all, try not to overpower the delicate flavors with heavy sauces. Pesto, meat sauces, or tomato sauces are not recommended as they are overpowering and will take away from the flavors of the filling.
I recommend this browned butter sage sauce for butternut squash ravioli because it pairs perfectly with the delicate pasta and slightly sweet butternut squash filling. 
Additionally, you can even add some capers and lemon to the sauce and serve it over a panko-crusted chicken. Another great option is to saute your favorite fish, like salmon or halibut, and serve the ravioli over the fish. 
In conclusion, any way you serve this is delicious!
Butternut Squash Ravioli Recipe: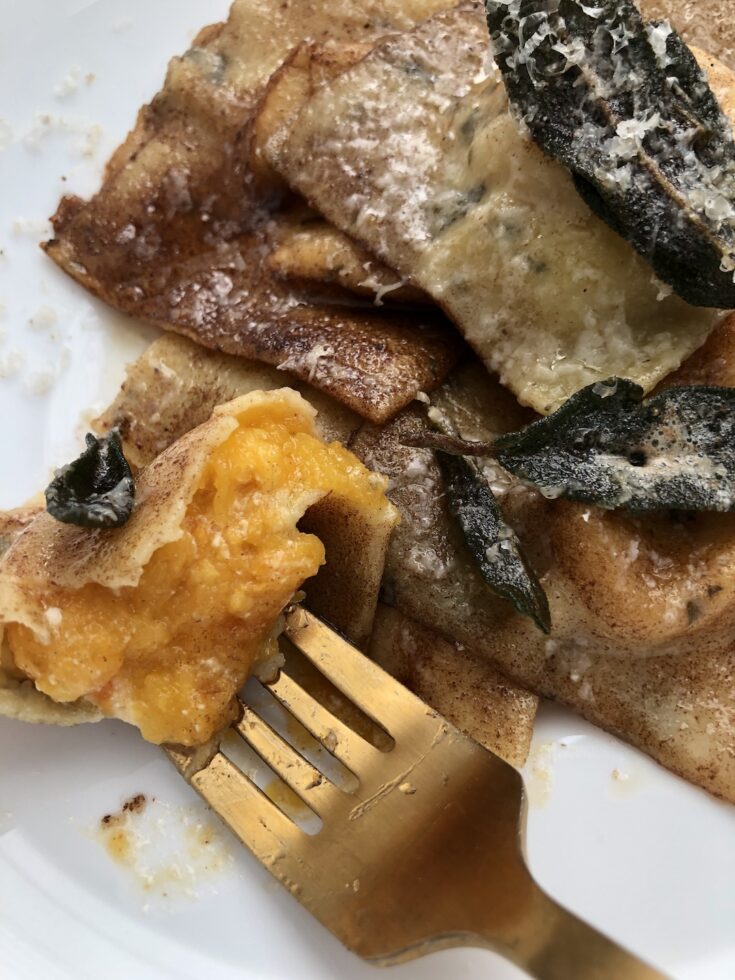 Yield:

20 Ravioli
Butternut Squash Ravioli
Additional Time:
30 minutes
Total Time:
1 hour
45 minutes
The very best butternut squash ravioli with browned butter sage sauce.
Ingredients
For The Filling:
2 Butternut Squash, seeds removed, cut in half lengthwise
4 tablespoons Butter
Salt and Pepper, to taste
1 cup Ricotta Cheese
2 cups Mixed Italian Cheese Blend
1/8 teaspoon Ground Cinnamon
1 teaspoon Kosher Salt
For The Pasta:
1 1/2 cups All-Purpose Flour
1/2 cup Semolina Flour
2 Eggs
1 Egg Yolk
2 teaspoons Olive Oil
1 teaspoon Kosher Salt
Browned Butter Sage Sauce:
1 Stick Unsalted Butter
8 Fresh Sage Leaves
Parmesan Cheese, Finely Grated
Instructions
To Make Filling:
1. Preheat the oven to 400°F.

2. Place the butternut squash on a foil-lined baking sheet. Top with butter, salt, and pepper. Roast for 35-40 minutes.

3. After the squash has cooked, let cool and remove the flesh. Store in a bowl.
4. Add to squash, ricotta cheese, mixed cheese blend, cinnamon, and salt. Mix to combine.

5. Store in a bowl in the refrigerator until ready to use.
To Make Pasta:
1. Add the flours to a clean work surface. Create a well in the center of the flour mound.
2. Crack the eggs and extra yolk into the well. Add olive oil and salt. Scramble the eggs with a fork and slowly incorporate small amounts of flour. (Adding too much flour at once will create shards and inhibit the pasta coming together.)
3. Once the dough starts to come together and is hard to whisk, sprinkle a little flour on top of the dough and begin kneading by hand.
4. Knead by hand and slowly incorporate more flour until the dough is soft, but not sticky. Press a finger into the dough to see if the dough is sticky. If so, continue to knead in more flour.
5. Once the dough is soft to touch and not sticky, wrap dough in plastic wrap and let rest for 30 minutes before using.
Rolling Pasta With a Machine:
1. Prepare homemade pasta dough as directed.
2. After allowing to rest 30 minutes, lightly flour the dough and cut into quarters.
3. Roll pasta out to a number 6 setting (on Kitchen Aid attachment) or about ⅛-inch thick if doing by hand. Place pasta sheet on clean work surface.
4. Scoop about 2 teaspoons of filling; place 1-inch apart on the pasta sheet. Cover the filling with another sheet of pasta.
5. Press the pasta (working from the filling out to prevent air bubbles) to seal.
6. Cut the ravioli with a bench scraper, knife, or ravioli cutter. Take each ravioli and press firmly around the edges to seal the ravioli completely. Check for any holes in the pasta dough.
To Cook:
1. Bring a large pot of water to a boil.
2. Add 2 tablespoons kosher salt (it should taste like the sea).
3. Add the ravioli and cook for 4-5 minutes or until the ravioli have risen to the top. Remove with a slotted spoon and place directly into the sauce (recipe below).
4. Once in the sauce, toss and remove to a plate. Sprinkle with parmesan cheese and crispy sage leaves.
For the Sauce:
1. Preheat a large saute pan over medium heat.
2. Add the butter and cook until the milk solids have turned a golden brown.
3. Add the sage leaves and cook for 30 seconds. Add cooked pasta, toss and serve.
Notes
Without a machine:
Prepare homemade pasta dough as directed.
After allowing to rest 30 minutes, lightly flour the dough and cut into quarters.
Place the pasta machine on the widest setting, usually number 1.
Feed the dough through the machine.
Fold the dough and feed through the machine again. Slowly increase the setting after each feed. Lightly flour the sheet of dough after every other feed through the machine to aid in drying and separation.
Continue to feed the dough until desired thickness is achieved — Level 6 for ravioli and Level 7 for fettuccine.

Tips:
Make sure the filling is not too watery and is very flavorful. The filling will be diluted once cooked. Don't overfill the ravioli.
Make sure there are no air pockets in the ravioli or the ravioli will explode in the water.
Make sure your pasta is the right thickness. Too thin, the ravioli will break. Too thick, it will be chewy.
Seal completely shut and with your fingers. If the ravioli won't seal, dip your finger into water and brush in the middle of the pasta sheet. Press together to seal.

To Freeze:
Place pasta on a floured sheet tray. Freeze for 4 hours. Transfer to a zipper sealed bag.
Recommended Products
As an Amazon Associate and member of other affiliate programs, I earn from qualifying purchases.