Caribbean jerk chicken bowls with mango salsa are the perfect weeknight dinner. Made with a flavorful coconut rice and topped with delicious toppings straight from the Caribbean you will feel like you are having dinner on the island.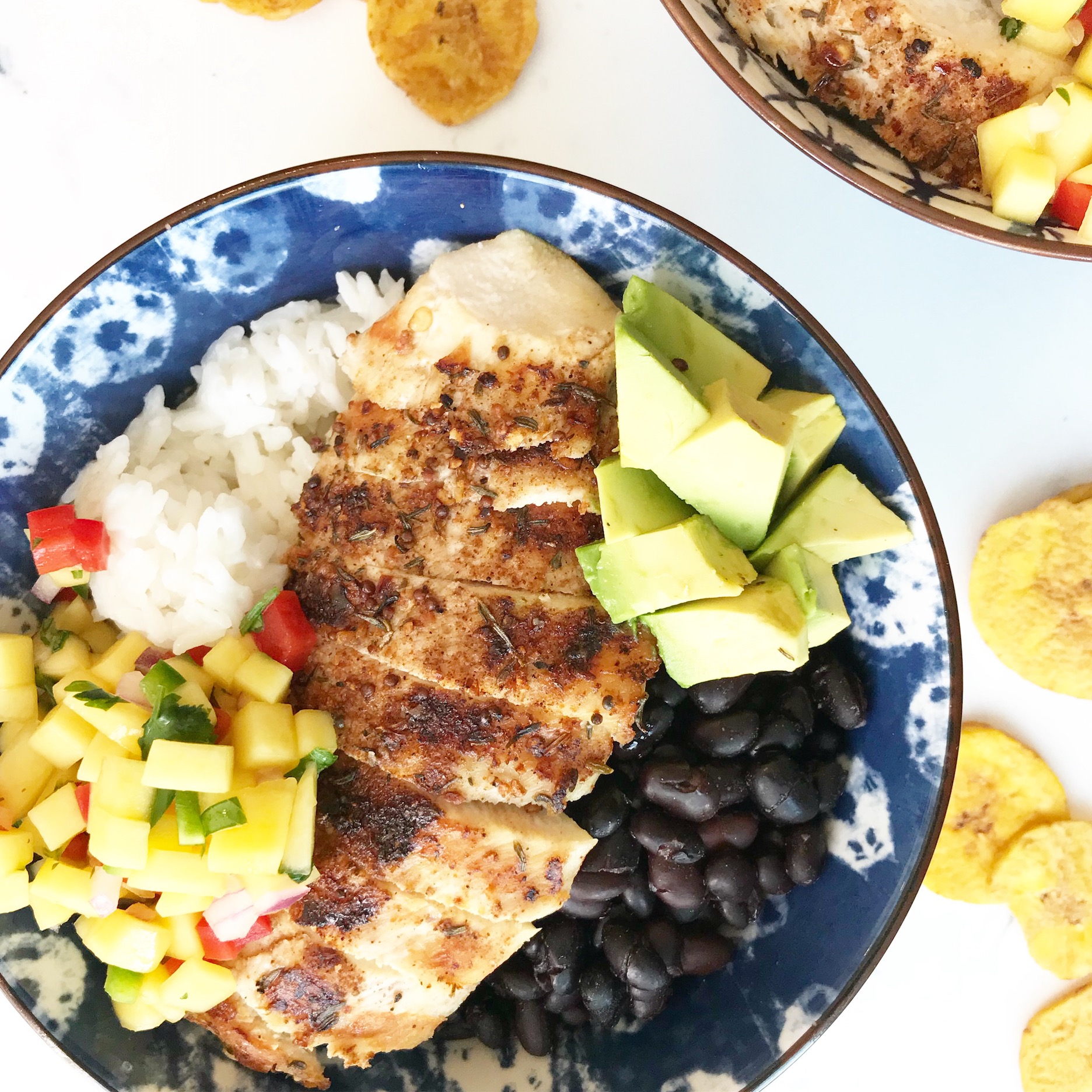 These Caribbean jerk chicken bowls are fun and so flavorful! The spiciness from the jerk seasoning is tamed with the sweetness from the mango salsa topping and rich coconut rice. It really is the perfect blend of flavors.
If you eat gluten or dairy free these are free of both gluten and dairy!
We love making these bowls for an easy dinner at home. And this is one of my favorite easy dinner recipes from the Spring More Momma Supper Club.
I love the idea of food bowls! It's a concept we actually do a lot in our home with sushi bowls, Miso Salmon Bowls, or even smoothie bowls like this delicious Pitaya Bowl.
What I love about them is every member of your family can top their own individual bowls and make it themselves. It's a fun way to get everyone involved in the dinner process too and you know what that means? The kids are more willing to try it!
So let's get to making these delicious Caribbean jerk chicken bowls topped with mango salsa.
Ingredients For Jerk Chicken Bowls:
This recipe is full of delicious flavor and textures. Here are the ingredients you need to make it. I included some substitutes if you need them.
Rice: I like to use jasmine rice for this recipe but you can use any type of rice you have on hand.
Coconut Milk: Coconut milk adds a delicious creaminess to the rice and a delicious subtle coconut flavor which helps tame the spice.
Chicken Breast: Boneless, skinless chicken breast work best but you can also use chicken tenderloins as well.
Jerk Seasoning: No need to make your own jerk seasoning. Just buy one at the market! Any brand will do. Be sure to see the spice level on the bottle. Sometimes jerk seasoning can be very spicy.
Black Beans: I just grab a can of black beans for this recipe. Make sure to drain and wash them under a colander to remove any excess liquid.
Avocado: This adds a delicious creaminess to the dish.
Mango: I love to use red mango for this recipe. They are sweet and tender.
Red Bell Pepper: You can also use yellow or orange bell pepper.
Red Onion: I would stick to red onion for this recipe.
Jalapeno: This is optional in your mango salsa. If you like a little spice leave the seeds in.
Lime: Nothing is better than fresh lime juice in this recipe. Really don't skip out and use the bottled stuff. It just doesn't taste the same.
Cilantro: Fresh cilantro adds a delicious flavor to your mango salsa.
Plantain Chips: Optional but a great topper.
How To Make Caribbean Jerk Chicken Bowls: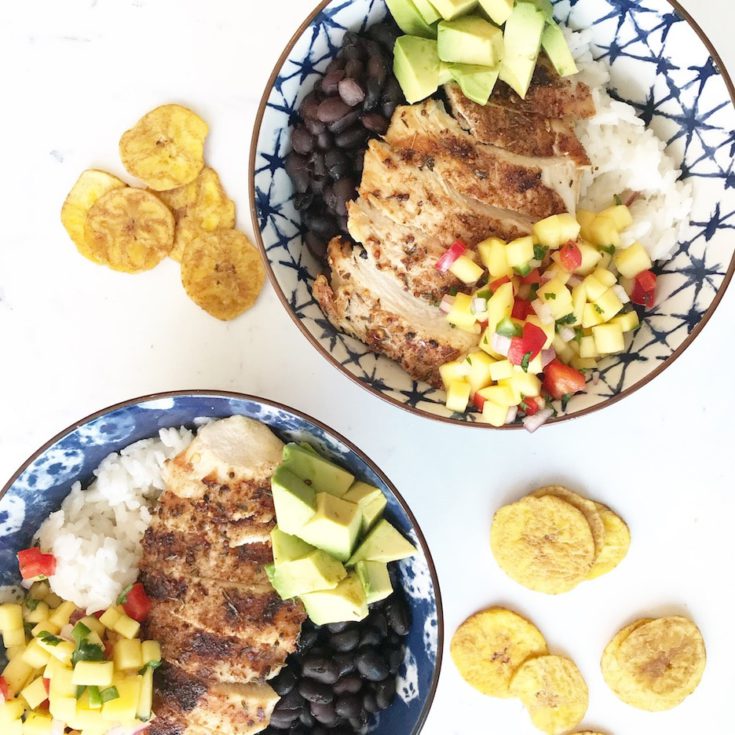 Yield:

Served 4
Caribbean Jerk Chicken Bowls With Mango Salsa
Gluten and dairy free these bowls are the perfect weeknight dinner!
Ingredients
Rice:
2 cups water
2 cups coconut milk
2 cups rice (preferably basmati or jasmine)
For The Bowls:
1 pound chicken breast, boneless and skinless, cut in half lengthwise (to yield 4 cutlets)
2 teaspoons jerk seasoning
2 teaspoons kosher salt
1 can black beans, rinsed and drained
1 avocado, diced
Optional Topping:
Mango Salsa:
1 cup mango, diced small (about 2 mangos)
1/2 cup red bell pepper, diced small
1/4 cup red onion, diced small
1 tablespoon jalapeno, seeded and minced fine
1 tablespoon + 1 teaspoon lime juice
1 tablespoon cilantro, chopped
1/4 teaspoon kosher salt
Instructions
Place the water, coconut milk, and rice in a small saucepan and bring to a boil. Cover with a lid, reduce to a simmer and cook for 15 minutes or until rice is cooked through. Set aside.
Preheat a grill pan or grill to medium high heat. Season chicken with jerk seasoning and sprinkle salt on both sides.
Grill the chicken for 5-7 minutes on both sides or until chicken is cooked through. Remove from the grill and set aside while you make the mango salsa.
In a separate bowl, combine the salsa ingredients to make the mango salsa.
Slice the chicken and prepare the beans and avocado.
To assemble the bowls, place about 1 cup of the rice in each serving bowl and top with chicken, black beans, avocado, and mango salsa.
Nutrition Information:
Yield:
5
Serving Size:
1
Amount Per Serving:
Calories:

614
Total Fat:

31g
Saturated Fat:

19g
Trans Fat:

0g
Unsaturated Fat:

9g
Cholesterol:

77mg
Sodium:

1018mg
Carbohydrates:

49g
Fiber:

10g
Sugar:

7g
Protein:

38g