Naan bread pizza is the ultimate go-to family favorite over here and are so versatile. You can whip up some of the variations below in under 10 minutes. That is a weeknight dinner win in my book!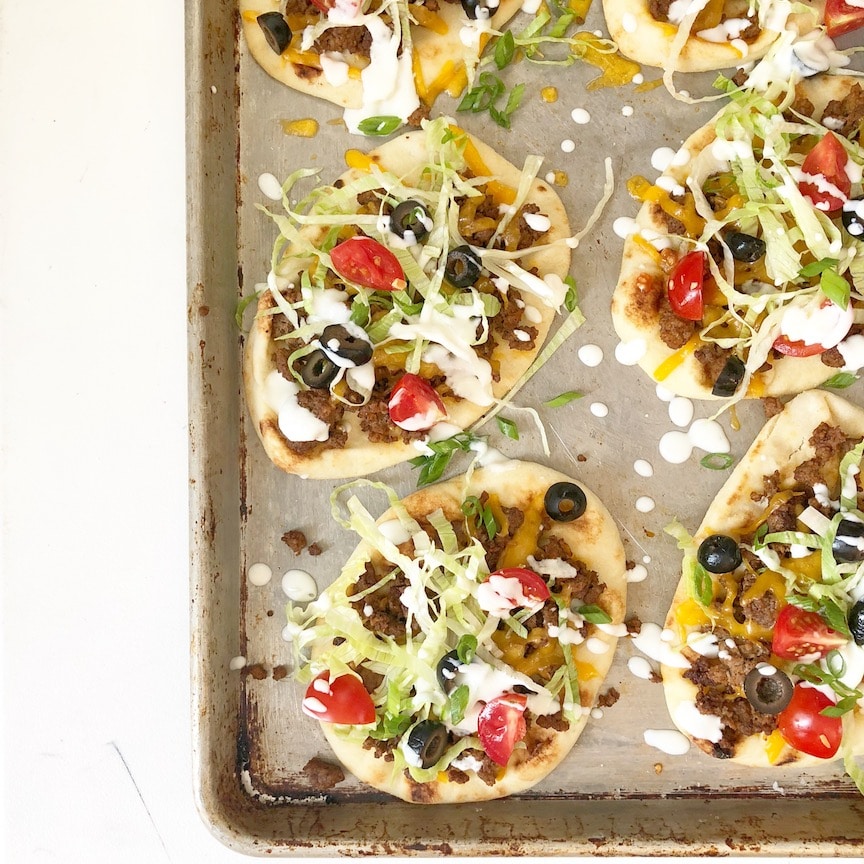 These naan bread pizzas are so delicious and easy! I can't wait for you to make them.
You can whip up this recipe in less than 10 minutes because the naan bread is all cooked and ready to go.
You can also use this store-bought pizza dough if you have any trouble finding naan bread or if you have a little extra time on your hands. If you need a terrific pizza dough recipe check out this one.
But for time sake, we are using one of my favorite convenience items; naan bread.
You can do so many thing with naan bread. Not only can you make these naan bread pizzas, but you can use this bread for paninis, sandwiches, easy garlic bread and my all time favorite to slop up my famous Indian Butter Chicken!
What is naan bread:
If you haven't heard of naan bread it is a traditional Indian style flatbread.
Most major grocery stores sell it now in the bread isle. Some are flavored with garlic and herbs, but for this recipe I would just stick with a plain version.
It is actually really quite easy to make from scratch too! If you want to try making it yourself try this delicious recipe.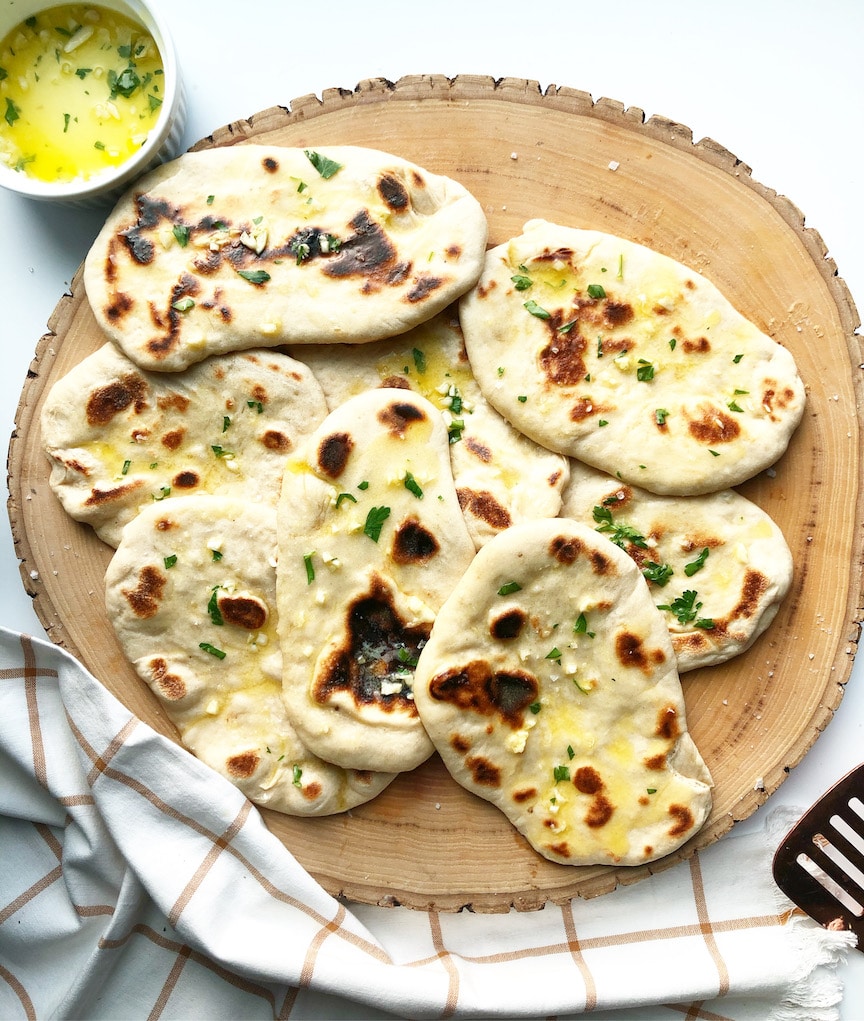 Variations:
The best part about this recipe is how versatile it is!
Today we will be showing you the taco pizza version, but you can change it up with any of the delicious variations below.
Pesto, Chicken: pesto, Italian cheese blend, rotisserie chicken, sun-dried tomatoes
The Works: tomato sauce, Italian cheese blend, sausage, pepperoni, olives, mushrooms, green bell pepper, caramelized onion
Sweet Pig: tomato sauce, Italian cheese blend, prosciutto, bacon, pineapple
Figgy Pudding: fig jam, Italian cheese blend, prosciutto, topped with arugula and balsamic glaze
Alfredo Sausage: Alfredo sauce, Italian cheese blend, Italian sausage, spinach
Avocado Toast: tomato sauce, Italian cheese blend, topped with fresh basil, fresh avocado, fresh lemon zest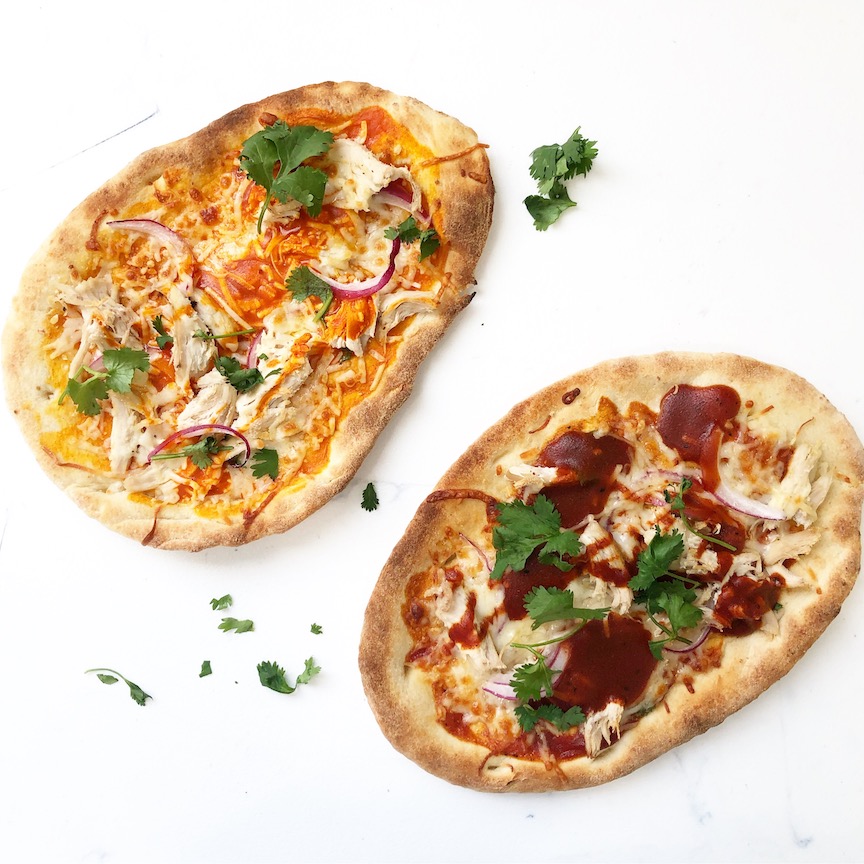 Buffalo Chicken: buffalo sauce, Italian cheese blend, rotisserie chicken, red onion, cilantro
BBQ Chicken: BBQ sauce, Italian cheese blend, rotisserie chicken, red onion, cilantro
Naan bread pizza in air fryer:
There are so many ways you can cook these pizzas.
One of my favorites is the air fryer. If you do use the air fryer and have a lot of toppings, top the naan bread pizzas with a grate to insure all the toppings don't fly off when cooking.
To cook the naan bread pizzas in the air fryer cook on air fry at 390 F for 2-3 minutes or until cheese is melted.
What To Serve With Naan Bread Pizzas:
Serve these pizzas with an easy side like fruit, soup or salad. Here are some of my favorites:
Wedge Salad With Light Blue Cheese Dressing
Chili's Chicken Enchilada Soup (Only 3 ingredients)
Traditional Minestrone Soup In The Instant Pot
Morphing Meal:
This recipe comes from the Winter More Momma Supper Club which is full of easy, delicious and healthy meals for your family.
In the supper club we do what is called morphing meals which is my method of easy meal prep.
Morphing meals are meals where you simply double one portion of the recipe (for example the protein) and then morph that item into a different meal for the future.
This particular recipe morphs into a delicious and easy taco soup recipe.
You can also morph this recipe into easy ground beef tacos, nachos or even taco salad.
Now let's get to it and make these delicious and easy naan bread pizzas.
Naan Bread Pizza Recipe: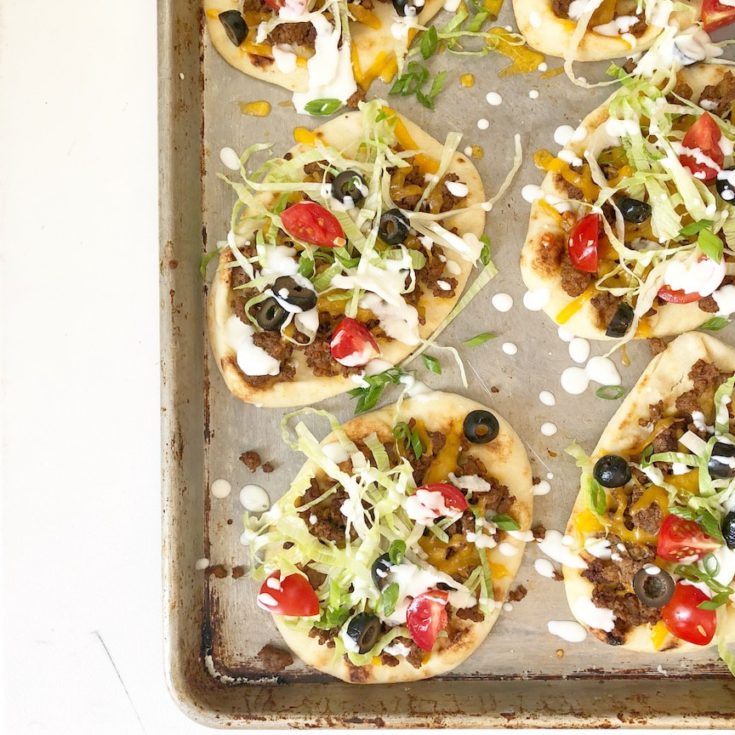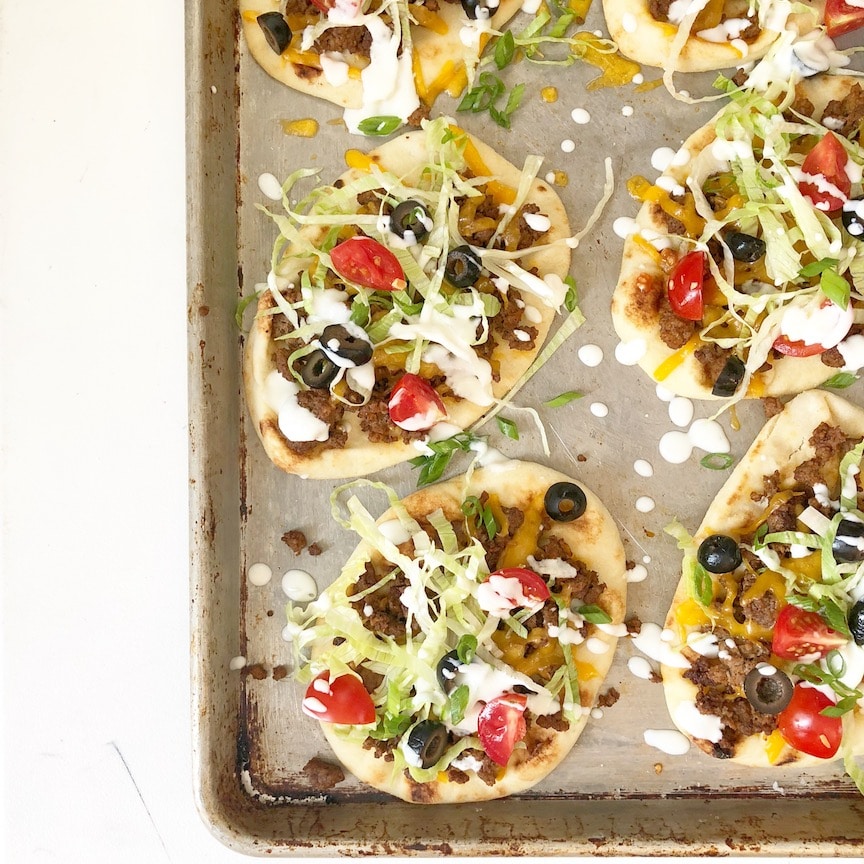 Yield:

Serves 4
Naan Bread Pizza (Taco Variation)
Easy, delicious family friendly dinner.
Ingredients
1 pound ground beef
1 packet taco seasoning
4 naan breads
Toppings:
2 cups iceberg lettuce, shaved
1 cup cheddar cheese, shredded,
1/4 cup sour cream
1/2 cup pre-made pico de gallo
1/4 cup olives, sliced
Instructions
Turn the broiler on high.
Preheat a large non-stick skillet over medium heat.
Brown the ground beef until cooked through. Remove excess grease and add the taco seasoning. Stir to combine.
Place the naan on a foil lined baking sheet. Top the naan with the ground beef and cheese. Place under the broiler for 1 minute to warm the bread and melt the cheese.
Top with optional toppings.
Nutrition Information:
Yield:
4
Serving Size:
1
Amount Per Serving:
Calories:

754
Total Fat:

38g
Saturated Fat:

16g
Trans Fat:

1g
Unsaturated Fat:

17g
Cholesterol:

137mg
Sodium:

1343mg
Carbohydrates:

54g
Fiber:

4g
Sugar:

6g
Protein:

47g