Crispy chicken salad is one of my favorite salad recipes. It's quick to make and can be served as a main meal.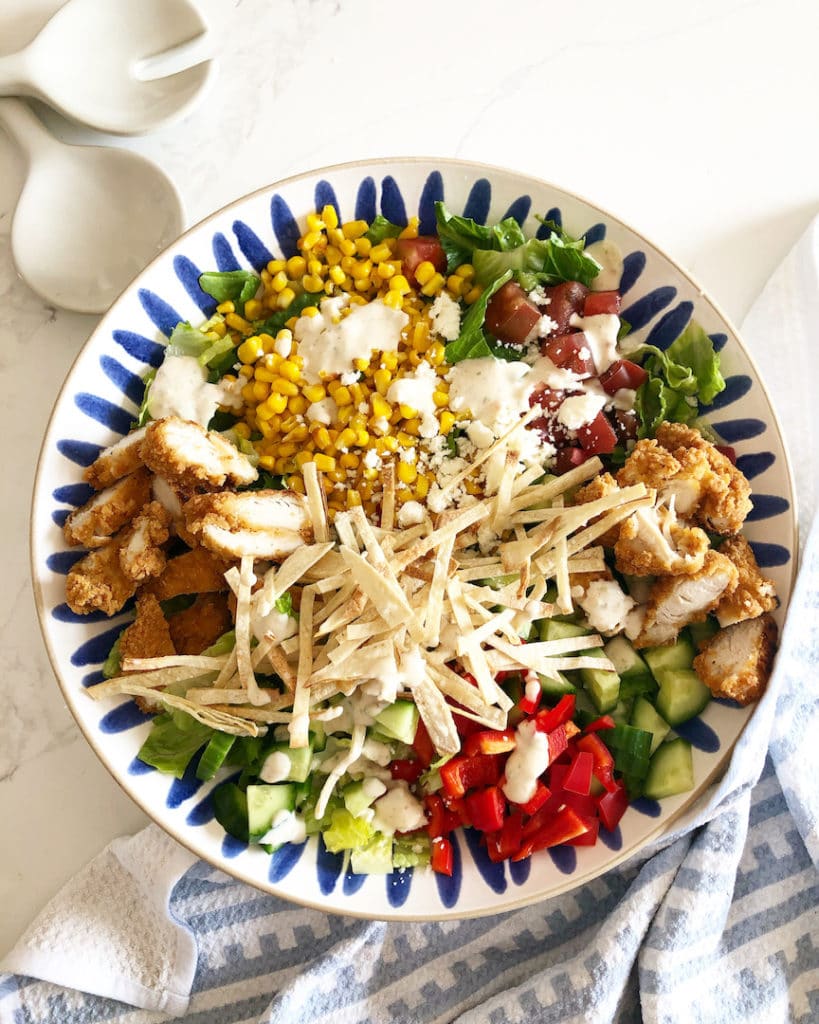 Made with crisp lettuce, roasted corn, crispy chicken tenders, homemade tortilla strips and a homemade zesty fiesta ranch dressing you can make this salad for any occasion. It is especially satisfying on a hot summer day.
The best thing about this crispy chicken salad is you can serve it as a main dish. It's hearty enough with all that protein. Even my husband loves it for dinner and feels satisfied.
What Is In A Crispy Chicken Salad?
There are many different variations on this salad floating around the internet. But what makes this one a little different is I throw in a little Mexican flare with roasted corn, homemade tortilla strips, and a fiesta ranch dressing. You can also add in some cotija cheese or season your tortilla strips with some taco seasoning to make it even more Tex-Mex.
Typically a crispy chicken salad will be made with some sort of hearty green like iceberg or romaine, cheese, hard boiled egg, maybe some corn or red bell pepper and then lots of delicious fried chicken.
The best part is you can make it your own!
What Dressing To Serve With Crispy Chicken Salad?
Well that depends on many factors! There are so many delicious dressings that can go well with a crispy chicken salad.
One of my favorites though is the one I will be showing you today, which is a fiesta ranch dressing. It's made with Greek yogurt instead of sour cream or cream cheese so it's a healthier option than some other ranch dressings.
Some other ideas or options are an original ranch dressing, a honey mustard dressing or try a BBQ ranch dressing.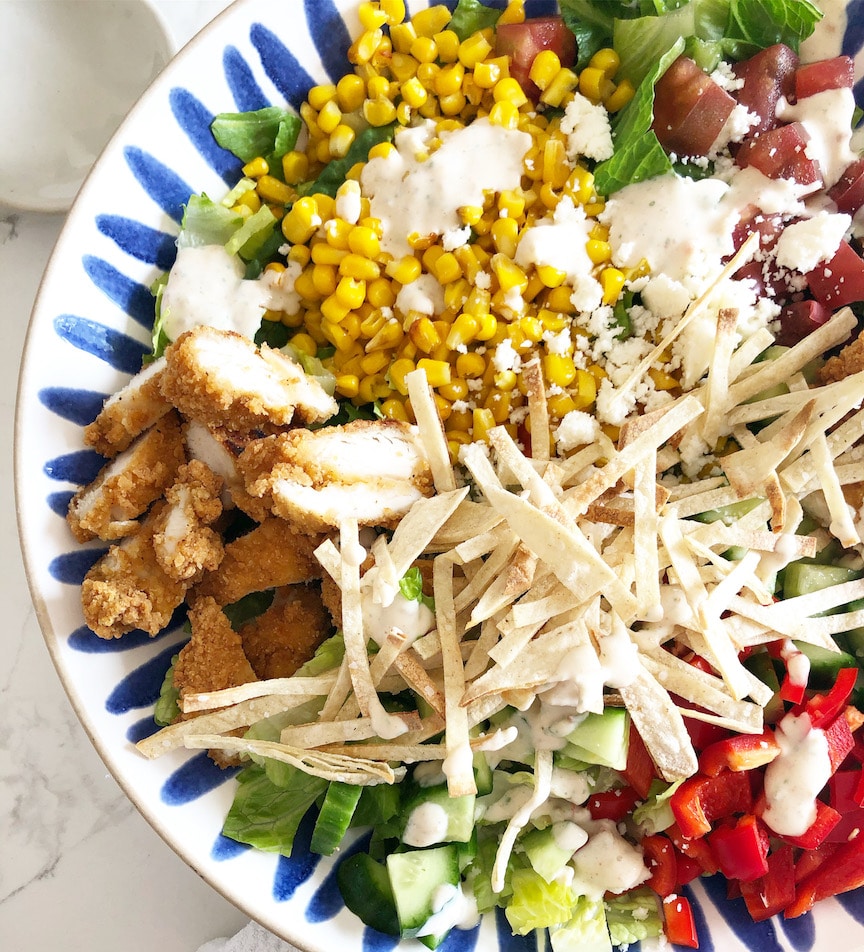 Can I Use Grilled Chicken Instead?
You certainly can use grilled chicken instead if you want a lighter option, it just wouldn't be a crispy chicken salad! But this recipe works great with grilled chicken as well.
Pro Tips:
Some pro tips with making a delicious salad of any sort.
Make sure your chicken is in bite sized pieces. This will allow your guests to eat it without cutting it up.
Assemble the salad when you are going to eat it and add the chicken at the last minute. Because you have a hot element with the fried chicken, you don't want the lettuce to wilt. And the longer that fried chicken sits on the salad the more time it has to wilt.
Cut your lettuce up to 2 days in advance and store in large ziploc bags with a wet paper towel. This will make sure your lettuce is nice and crisp when you are ready to assemble the salad.
Make sure to thinly slice your veggies and make them bite size pieces just like the chicken pieces.
Assemble the salad in a large bowl so it is easy to toss with the dressing.
Other Delicious Salad Recipes To Try:
Orzo Pasta Salad With Roasted Vegetables
Mexican Salad With Honey Lime Vinaigrette
Roasted Butternut Squash Salad with Maple Orange Dressing
I know you will love any and all of these salads! Now lets make this crispy chicken salad recipe!
Crispy Chicken Salad Recipe: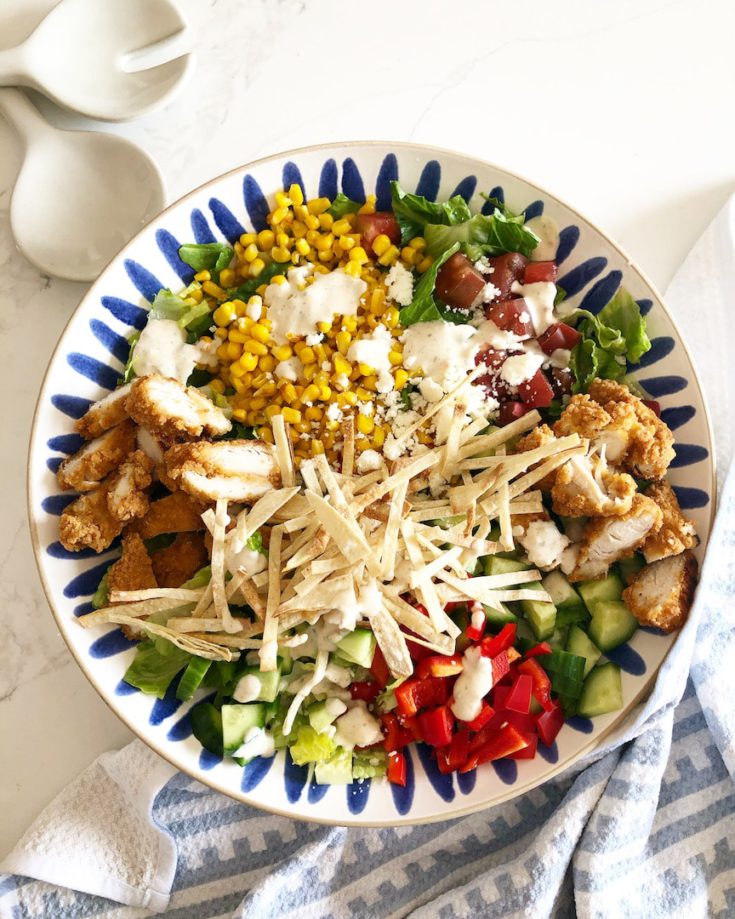 Yield:

Serves 4
Crispy Chicken Salad With Fiesta Ranch Dressing
This is the perfect salad for a hot Summer day!
Ingredients
1 large head romaine, washed and cut thin
4 large frozen chicken tenders
2 cups frozen corn
1 teaspoon olive oil
1 tomato, diced
1 small cucumber, diced
1 small red bell pepper, diced
1 avocado, diced
6 corn tortillas
cooking spray
Kosher salt
Dressing Ingredients:
1 cup plain Greek yogurt
2 teaspoons dry Fiesta ranch dressing packet
1 tablespoon pickled tamed jalapeno (drained)
1 tablespoon cilantro
1 lime juiced
1/2-3/4 cup buttermilk
Instructions
Preheat the oven to 425 F.
Place the romaine into a large salad bowl.
Place the chicken tenders on a foil lined baking sheet and cook for 10-15 minutes or until warmed through.
Place the corn on a foil lined baking sheet and toss with olive oil. Roast in the oven for 15 minutes.
Prep the tomato, cucumber, bell pepper and avocado and place in the salad bowl.
Stack the corn tortillas on top of each other and cut in half. Then cut each half in 1/8 inch slices.
Place the strips on a foil lined baking sheet and spread out evenly. Spray with cooking spray and sprinkle with salt. Place on the top rack of the oven for 2-5 minutes or until crispy and golden brown. Remove and set aside.
To make the dressing add all ingredient into a mini cuisinart or blender and blend until smooth. Start with 1/2 cup buttermilk and thin the dressing out with more if needed.
When chicken tenders are done slice into thin slice and top the salad.
Toss with desired amount of dressing and top with tortilla strips.
Recommended Products
As an Amazon Associate and member of other affiliate programs, I earn from qualifying purchases.
Nutrition Information:
Yield:
4
Serving Size:
1
Amount Per Serving:
Calories:

459
Total Fat:

19g
Saturated Fat:

3g
Trans Fat:

0g
Unsaturated Fat:

14g
Cholesterol:

24mg
Sodium:

591mg
Carbohydrates:

58g
Fiber:

10g
Sugar:

12g
Protein:

22g