Orzo pasta salad with roasted vegetables and lemon vinaigrette is the perfect Summer salad. It's full of healthy vegetables and tossed with a bright and zingy lemon dressing.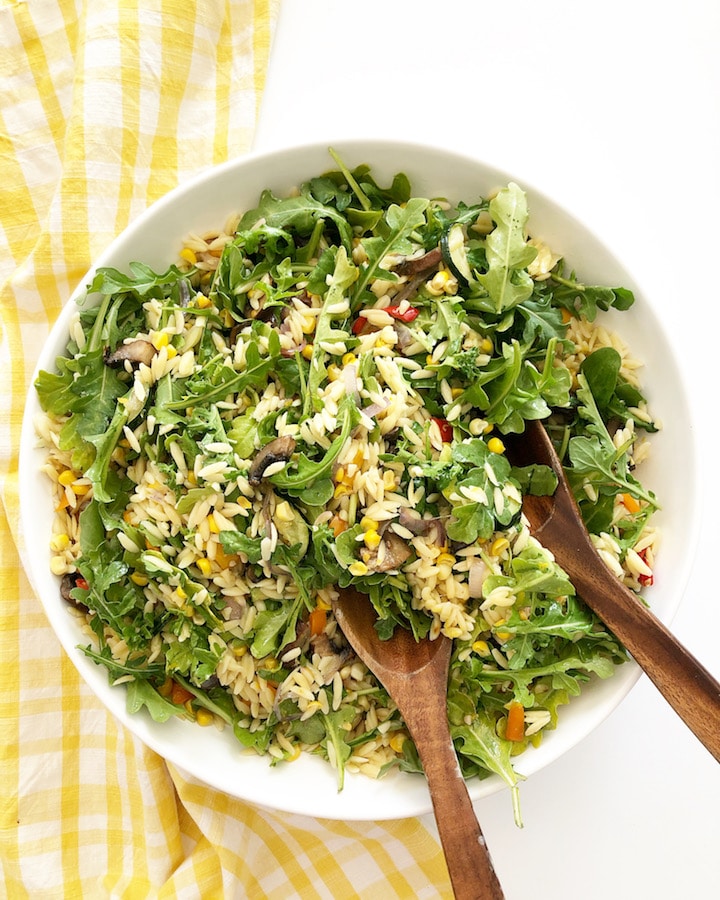 Summer Orzo Pasta Salad:
The warm weather is here and this orzo pasta salad is the perfect Summer side dish. You can even make it the main dish by adding some grilled chicken or steak.
It's full of delicious and healthy roasted or grilled vegetables, fresh arugula and tossed with a zingy lemon vinaigrette.
Nothing beats an easy side dish! This dish is one of my favorites and was created when I catered my cousin's baby shower.
She is vegan so I needed something that she could eat but would serve 40 non-vegan eaters as well. It was the hit of the party!
And you don't have to serve it vegan. You can top it with feta cheese or a delicious honey goat cheese too!
Or make different versions like a greek orzo pasta salad. Just add cherry tomatoes, feta, kalamata olives and toss with a red wine vinegar and olive oil vinaigrette.
No matter how you make orzo pasta salad its always a winner. This one in particular a favorite pasta dish in my house.
What is Orzo:
Orzo is a short cut dry pasta. Most people mistake it for rice because it is shaped like a grain of rice.
It is traditionally used in Italy in soups or stews and makes for a delicious side dish tossed simply with some garlic, butter, and fresh herbs. I love orzo for so many different dishes.
The Italian name is risoni so if you can't find "orzo" at your local grocery store look for the name "risoni". However can normally find Orzo at your local grocery store though in the pasta section.
They also have whole wheat versions available as well.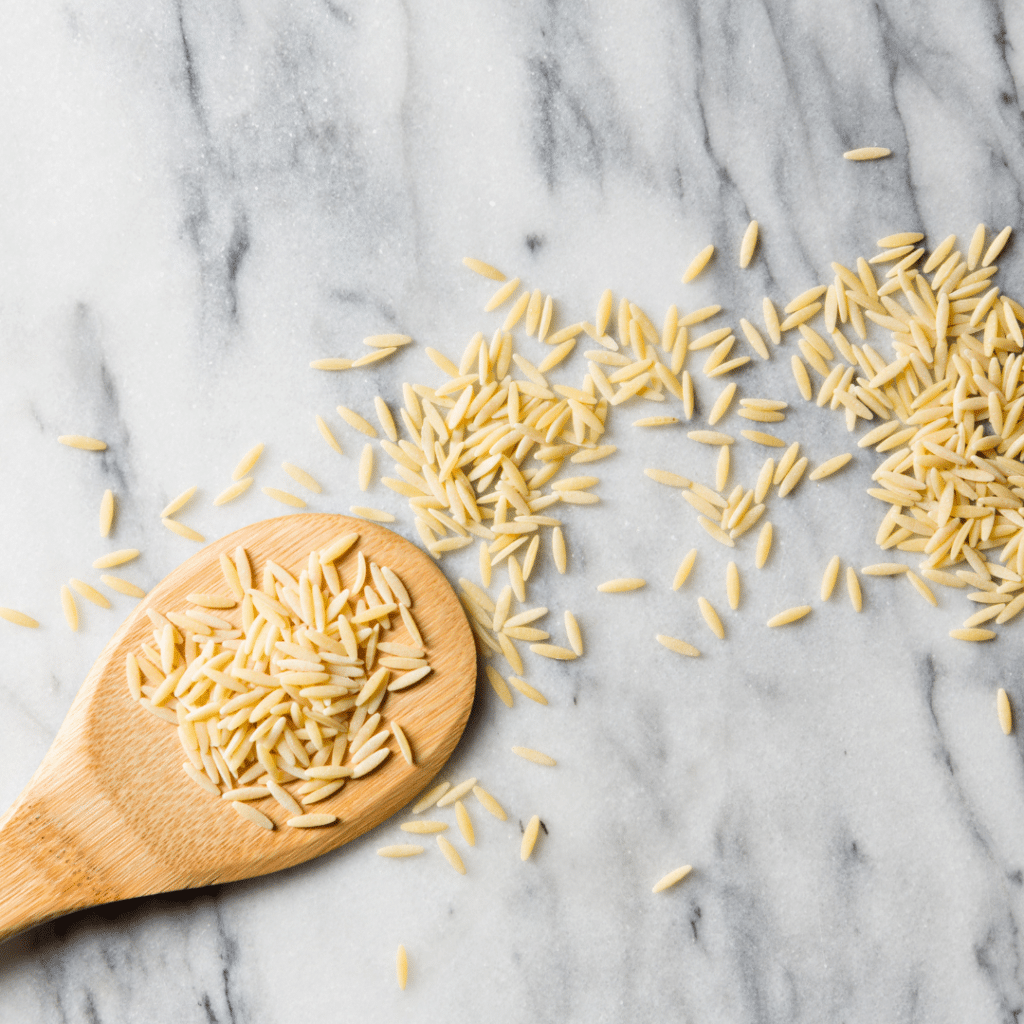 Ingredients for Orzo Pasta Salad:
Here are the ingredients you will need to make this Summer orzo pasta salad. Check the optional ingredients too and the substitutions.
Orzo Pasta: It is preferred to use orzo pasta, but you can also use any types of short cut pasta you have on hand. Make sure you stick with cut pasta shapes instead of long pastas like spaghetti. If you are gluten free use a small cut gluten free pasta.
Mushrooms: I love mushrooms in this dish. They add a meatiness and soak up all the delicious flavor of the dressing.
Zucchini: Zucchini is the perfect Summer vegetable. You can also use Summer squash.
Red Onion: I love the sweetness the onion adds when it is roasted. It also adds a purple color that is beautiful in this salad.
Corn: Nothing screams Summer to me more than delicious sweet corn. You can use frozen corn or fresh corn for roasting.
Bell Pepper: Use a variety of colors like red, orange and yellow to add more color to the dish.
Arugula: My favorite part! Arugula adds a peppery and fresh element to the pasta salad. You can also use fresh spinach if needed. I go heavy on the arugula to add more greens. It lightens up the pasta salad too!
For The Dressing:
Lemon Juice: Make sure you use fresh lemon juice. It adds a bright zingy flavor. No bottled stuff for this recipe!
Lemon Zest: The zest adds an amazing lemon flavor. Use a microplane to remove the zest. Make sure to only get that bright yellow part. If you go down to the white pith it gets bitter.
Honey: Use a good quality honey. This will balance out all the acidity from the lemon juice.
Olive Oil: Use Extra Virgin Olive Oil. We won't be cooking this so you want to use the highest quality olive oil you have on hand.
Salt and Pepper: Don't forget the salt and pepper. Make sure you use a Kosher salt for optimum flavor.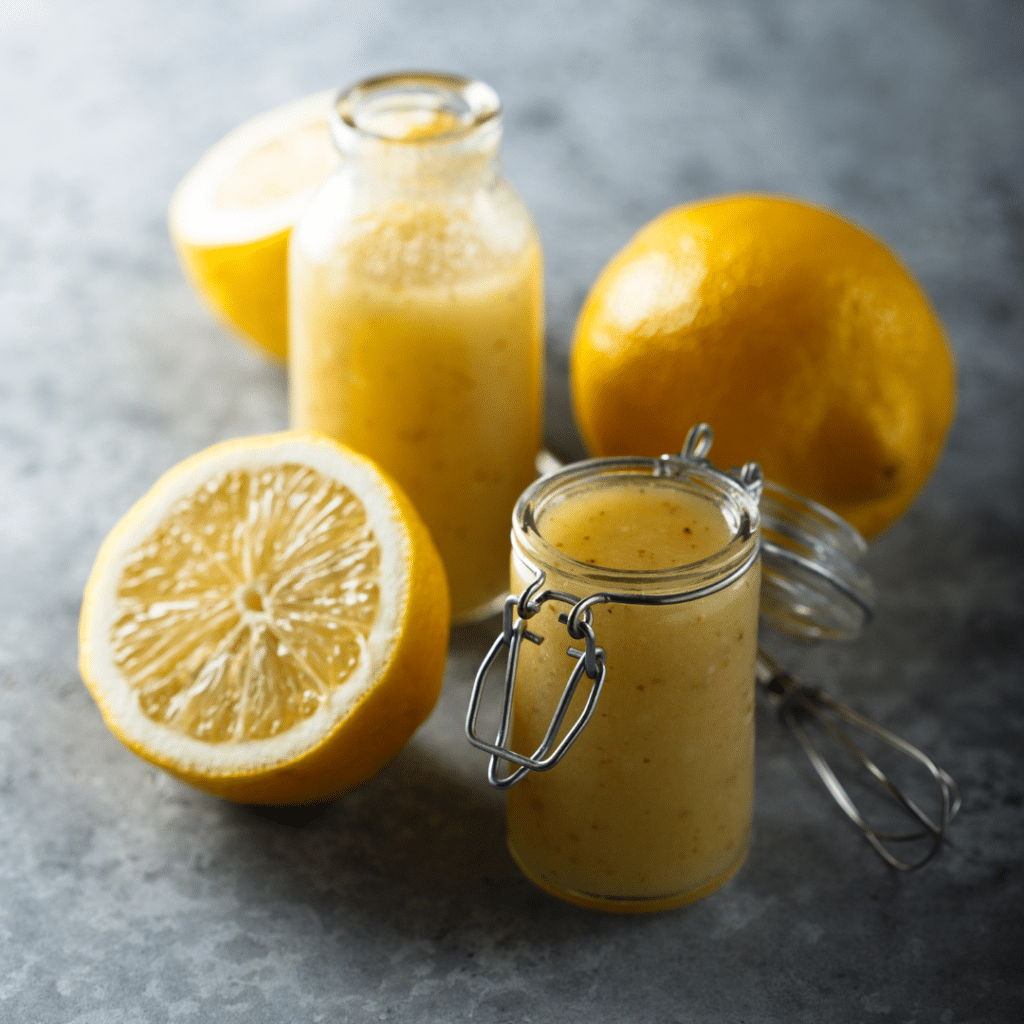 Optional Ingredients:
These are some optional ingredients that are delicious to add to the salad for a non-vegan version.
Feta Cheese: The cheese adds a delicious saltiness to the salad. You can also use goat cheese crumbles as well.
Pine Nuts: Toast the pine nuts to bring out all the flavor. Be careful because pine nuts burn easily. Just keep an eye on them in a small saute pan over medium heat.
Grilled Chicken or Steak: Grill up some marinated chicken or steak to add extra protein. You can serve it on the side or slice the chicken or steak into thin slices and serve on top of the orzo pasta salad.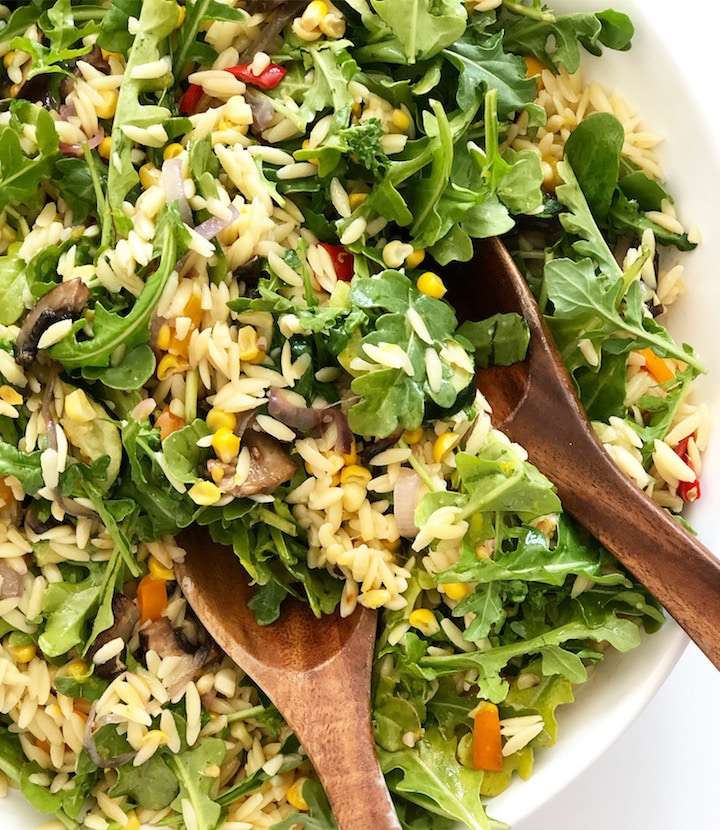 What To Serve With This Salad:
This salad goes well with just about anything! I love creating a meal around it. I like serving it with the following recipes:
Instant Pot Baby Back Ribs Recipe
Buttermilk Biscuits with Strawberry Butter
Famous Pretzel Dinner Roll Recipe
How To Make Summer Orzo Pasta Salad:
Step 1:
Cook the orzo to al dente. Make sure you cook the orzo in plenty of boiling water. When the orzo is cooked, strain the orzo through a fine mesh strainer. If you use a colander the orzo can fall through the holes.
Transfer the orzo to a large mixing bowl. While the orzo is still warm, drizzle with olive oil and toss.
Step 2:
Roast or grill your vegetables. You can use a variety of colorful vegetables that are in season. You can even use leftover grilled vegetables if you have any!
Step 3:
Make the dressing by combining the lemon zest, lemon juice, honey, olive oil, salt and pepper.
Step 4:
Toss the orzo with the roasted vegetables in a large bowl, fresh arugula and dressing. You can serve it warm or cold.
Orzo Pasta Salad With Roasted Vegetables and Lemon Vinaigrette Recipe: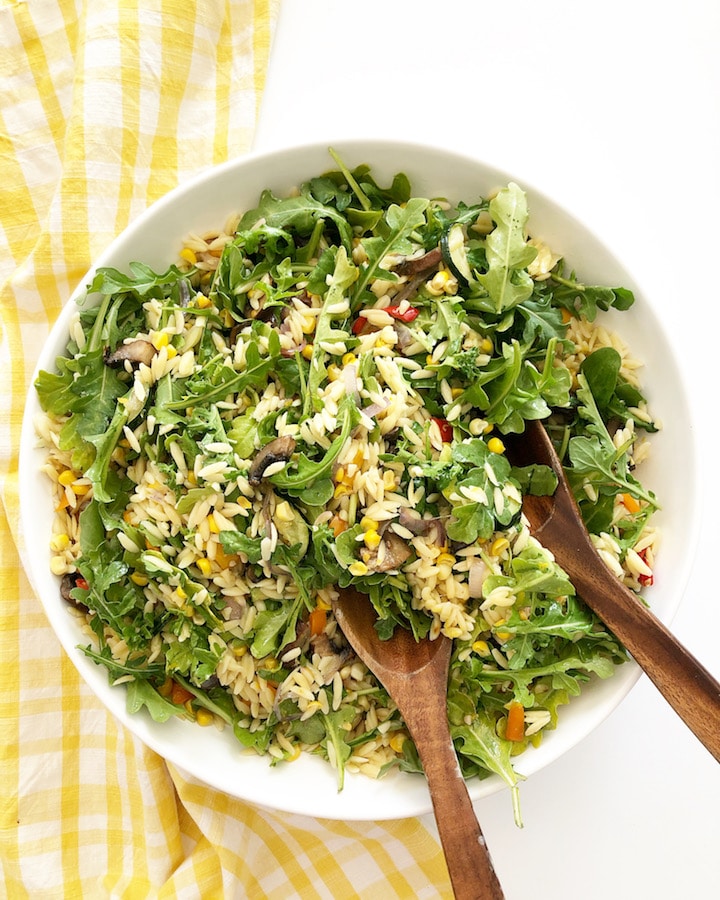 Yield:

Serves 12
Orzo Pasta Salad With Roasted Vegetables
The perfect pasta salad for Summer. This orzo pasta salad is full of roasted vegetables and tossed with a fresh lemony dressing.
Ingredients
1 (16 ounce) package orzo pasta
1/2 cup olive oil, divided
1 red onion, sliced thin
1 yellow bell pepper, diced
1 red bell pepper, diced
1 zucchini, diced
1 cup mushrooms, sliced
1 cup frozen corn
4 cups arugula
freshly cracked pepper to taste
1/2 cup feta cheese, crumbled
1/4 cup pinenuts, toasted
For the Dressing:
3 lemons, zested and juiced
2 tablespoons honey
1/4 cup extra virgin olive oil
1 teaspoon kosher salt
Instructions
Preheat the oven to 425F.
Cook one package of orzo to package directions or to al dente.
When the orzo is cooked, strain through a fine mesh strainer.
Place the cooked orzo in a large bowl and drizzle with 2 tablespoons olive oil. Toss to combine to prevent sticking.
Prepare the vegetables on a baking sheet. Drizzle with 2 tsp oil and sprinkle with 1 teaspoon salt. Roast in the oven for 20-25 minutes.
Add the roasted vegetables to the orzo and toss to combine.
To make the dressing zest 3 lemons on a microplane into a jar.
Juice the lemons into the jar.
Add 2 tablespoons honey.
Add 1/4 cup extra virgin olive oil and 1 teaspoon salt to the jar.
Seal the jar and shake to combine.
Add the arugula, dressing, freshly cracked pepper, optional cheese and pine nuts to the salad. Toss to combine and serve.
Nutrition Information:
Yield:
12
Serving Size:
1
Amount Per Serving:
Calories:

210
Total Fat:

15g
Saturated Fat:

3g
Trans Fat:

0g
Unsaturated Fat:

12g
Cholesterol:

6mg
Sodium:

167mg
Carbohydrates:

17g
Fiber:

2g
Sugar:

6g
Protein:

4g