This is a play on my pasta carbonara recipe from culinary school. I took the traditional recipe and made it even better in my opinion! It's rich, creamy and easy to make. I can't wait to hear how you like it.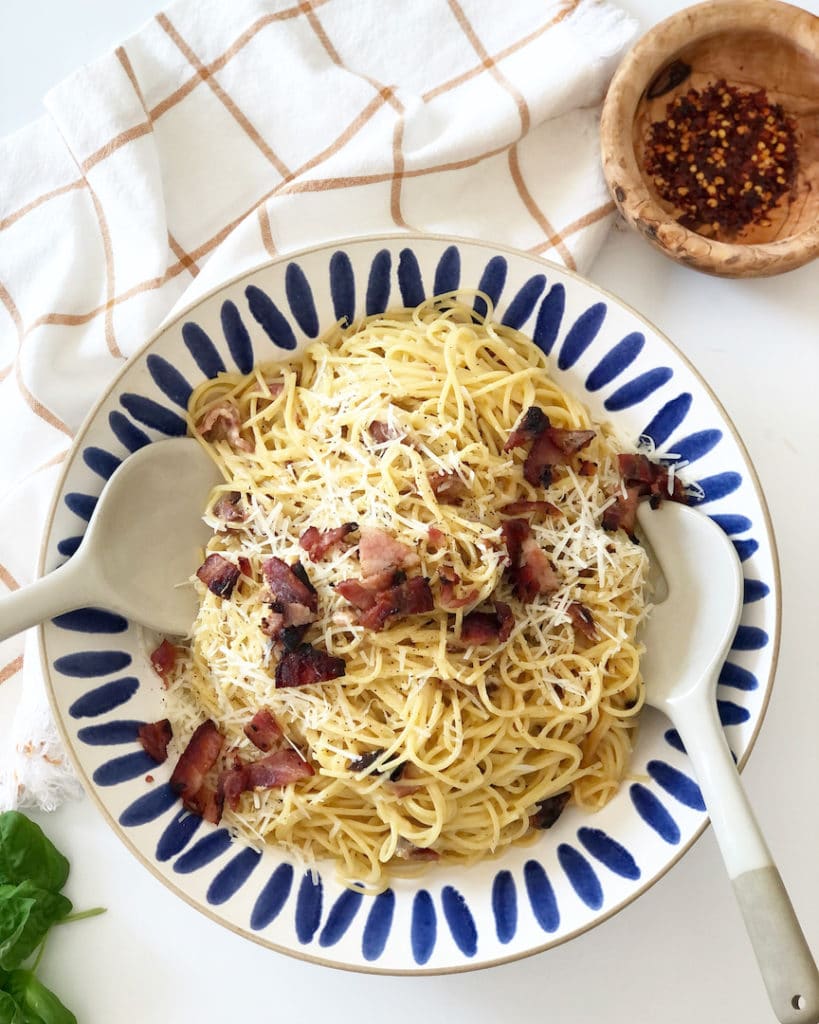 Ready for an easy pasta recipe that won't break the bank? Pasta carbonara sounds complicated, but it's honestly one of the easiest pasta dishes to make.
I'm going to share all my tips and tricks with you! I promise you will be making this recipe for your family on a monthly basis! It's rich, creamy, and delicious.
Pasta Carbonara
Pasta carbonara is a traditional pasta dish from Rome. It is made with simple ingredients, which means you want to use the highest quality ingredients you can find.
It is typically made with eggs, hard aged cheese, cured pork and black pepper.
Traditionally it is made with whole eggs, Parmigiano Reggiano and guanciale (the most commonly used in Italy) or pancetta.
Today we are using just the egg yolks for a creamier texture, Pecorino Romano and applewood smoked bacon for a little More Momma twist.
Most commonly this recipe is made with spaghetti pasta hence the common name spaghetti alla carbonara. I would recommend using a dried pasta instead of fresh for this dish. It tends to hold up better.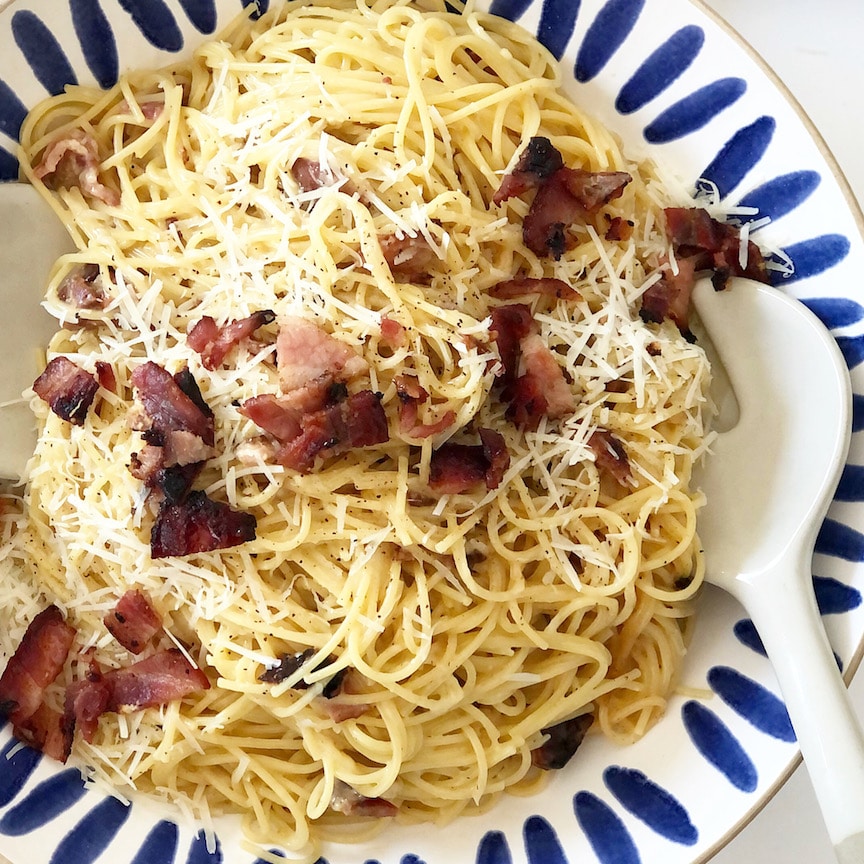 Ingredients for Pasta Carbonara
In Italy you would be surprised that most of their traditional dishes are only a couple ingredients. But these ingredients are the best ingredients you can find.
That is what makes their dishes so amazing! Simple, high quality ingredients combined to make an amazing dish.
For my version of pasta carbonara you will need the following ingredients:
Pasture Raised Egg Yolks: This may sound silly, but the difference between pasture raised eggs and regular eggs are insane! As you can see in the difference in color in the picture below.
The pasture raised egg yolks are bright orange. Which means they have so many more nutrients in them and are full of good healthy fat. Which in turn makes a delicious, creamy sauce!
You can see that one of the egg yolks was not pasture raised and is a pale yellow color. See the difference?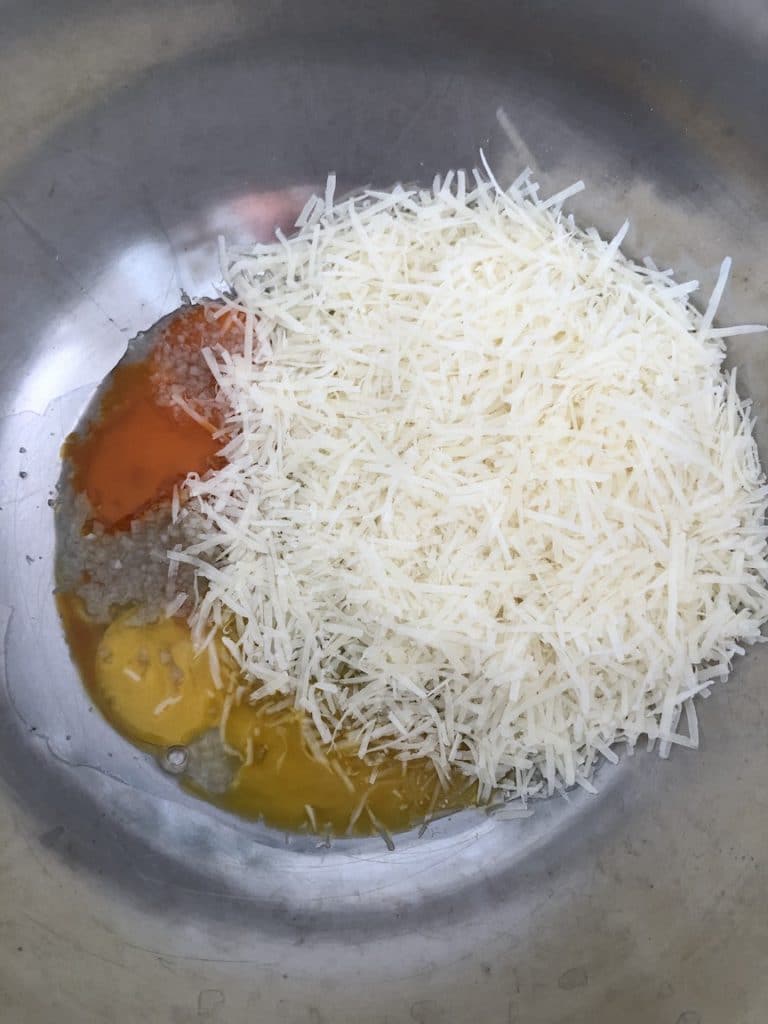 Thick Cut Applewood Smoked Bacon: I love the flavor of a good applewood smoked bacon for this recipe. If you want to stick to more of a traditional cured meat try guanciale (the most commonly used in Italy) or pancetta.
Garlic Cloves: I use frozen garlic cloves for this recipe because they are a little more mild and do not need to be cooked. If you use raw garlic cloves make sure you saute them in some of the bacon grease on low for a few minutes to tame the sharpness down a little.
Pecorino Romano Cheese: Most traditional carbonara recipes call for Parmigiano Reggiano, but I prefer the flavor of Pecorino Ramano for this recipe.
You could also use a mixture of both if you would like. Pecorino is sharper than Parmesan which adds a little bit more of a bite to the dish.
I buy my Pecorino Romano from an Italian Deli near by. Make sure to buy the block and grate it yourself on the fine side of your cheese grater. This is essential for the cheese to melt into a sauce.
Fresh Cracked Black Pepper: This is essential! Use fresh cracked black pepper for a little bite. It tastes so much better than the pre-ground stuff.
Spaghetti: I like to use dry pasta for this dish instead of fresh. It holds up better when you are making your sauce.
How To Make The Perfect Spaghetti Carbonara:
Here are the easy step to make the perfect spaghetti carbonara.
Render the bacon until crisp. Reserve the bacon grease and cut the bacon into small pieces.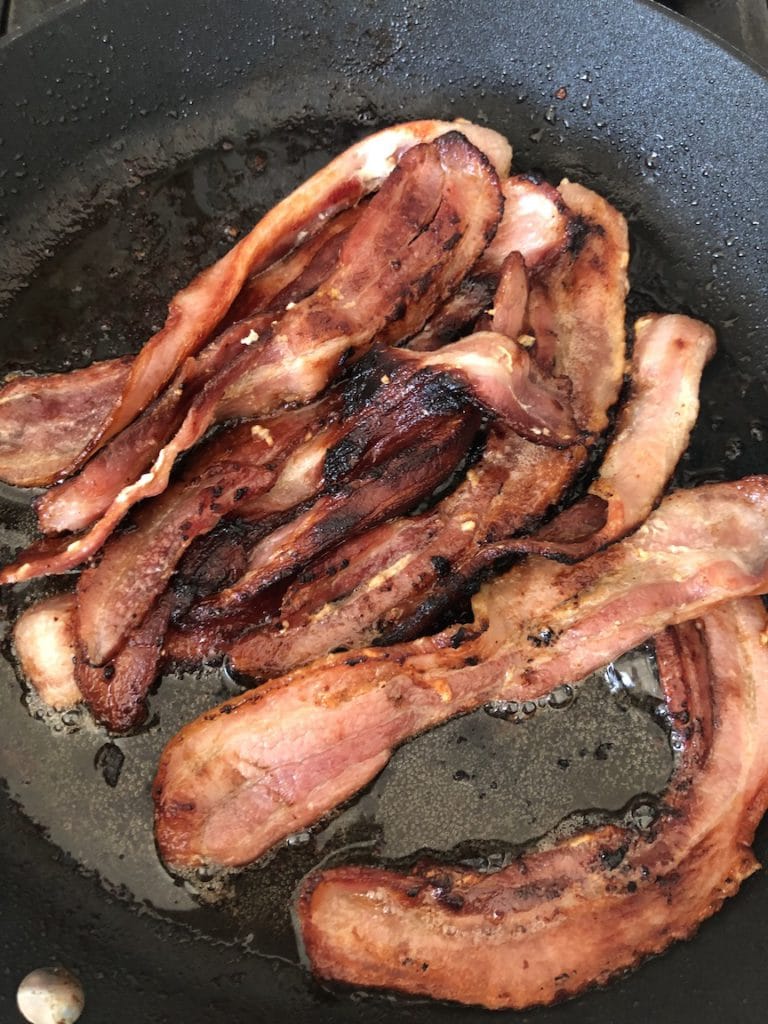 Combine the carbonara sauce ingredients in a large bowl. Set aside.
Bring a large pot of water to a boil.
Add the pasta to the boiling salted water and cook until al dente.
Reserve about 1 1/2 cups of hot pasta water.
Drain the pasta.
Add the cooked pasta to the egg sauce mixture and toss to combine completely. I like to stir vigorously to thicken the sauce.
Add enough of the reserved pasta water to thin as needed.
Lastly add the bacon and season with pepper. Top with remaining cheese.
What To Serve With Pasta Carbonara:
If you are looking to make this dish into a full meal try these delicious recipes that serve as the perfect dishes to go alongside!
Pasta Carbonara Recipe: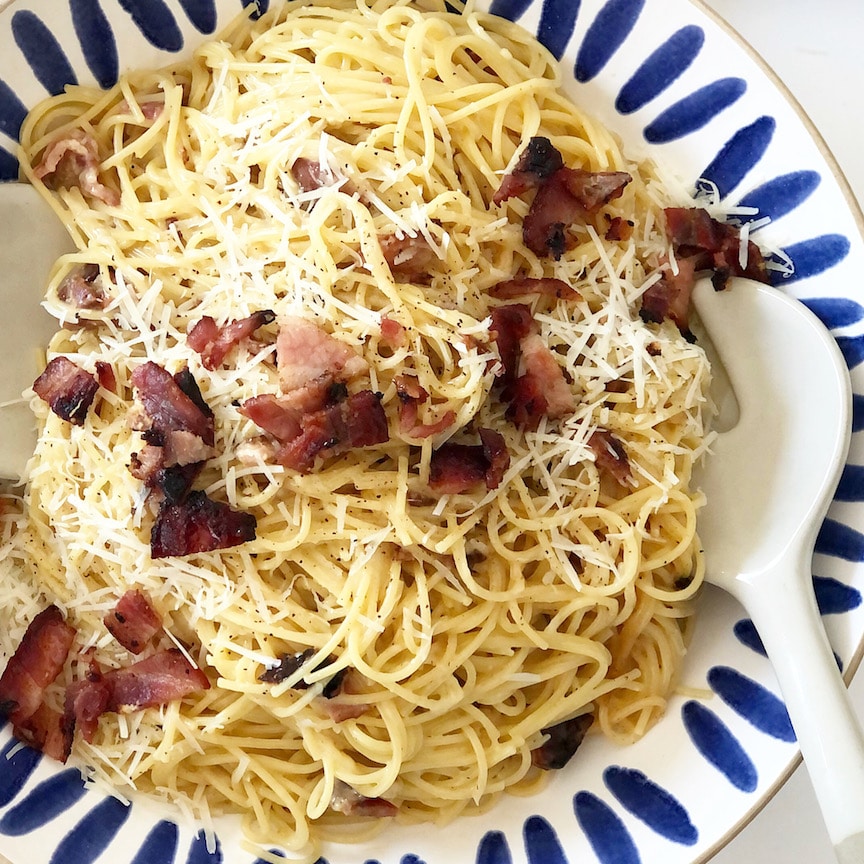 Yield:

Serves 6
Pasta Carbonara Recipe From Culinary School
Rich, creamy and simply delicious! This pasta carbonara recipe is the perfect way to feed your loved ones.
Ingredients
12 ounces applewood smoked bacon
3 cups Pecorino Romano cheese, grated fine, separated
2 frozen cloves garlic, minced
2 egg yolks (pasture raised if possible)
1 teaspoon Kosher salt
1 pound dry spaghetti
1/8 teaspoon fresh cracked black pepper
Instructions
Bring a large pot of water to a boil. Season with water until it tastes like sea water (about 1 tablespoon).
Preheat a large non-stick skillet over medium heat.
Cook the bacon until crispy. Remove from the pan and place on a paper towel lined plate. Reserve 1 tablespoon bacon grease into a large bowl.
Cut the bacon into small pieces and set aside.
Add 2 cups of the Pecorino Romano cheese, garlic cloves, egg yolks and salt into the bowl with the bacon grease. Stir to combine with a whisk. Set aside.
Cook the pasta according to package directions.
When the pasta is done reserve 1 1/2 cups of the pasta cooking liquid. Drain the pasta and immediately place the pasta into the large bowl with the egg yolk mixture. Immediately stir vigorously and add 1 cup of the pasta water. Stir until it starts to thicken and coat the pasta. If you need to make it a little thinner you can add the remaining pasta cooking liquid.
Once the pasta is coated and the sauce forms top with fresh cracked black pepper and bacon. Toss to combine.
Top the pasta with the remaining Pecorino cheese and serve immediately.
Notes
This pasta dish is best when eaten immediately. If it sits out for a little too long you can thicken it up again with some of the remaining hot pasta cooking water.
Nutrition Information:
Yield:
6
Serving Size:
1
Amount Per Serving:
Calories:

554
Total Fat:

33g
Saturated Fat:

14g
Trans Fat:

0g
Unsaturated Fat:

17g
Cholesterol:

159mg
Sodium:

1887mg
Carbohydrates:

26g
Fiber:

1g
Sugar:

1g
Protein:

37g