Strawberry cheesecake ice cream is rich, creamy and delicious. Full of fresh strawberry flavor and rich cheesecake chunks this ice cream is perfect for Summer.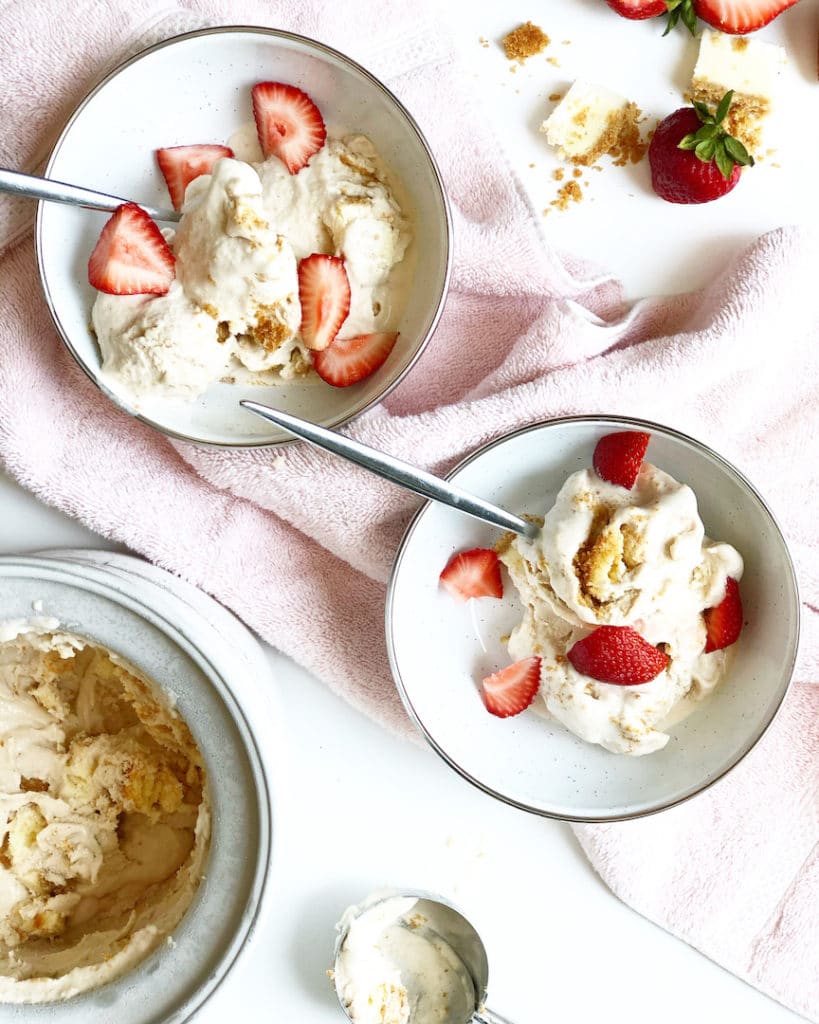 If you are anything like me I crave homemade ice cream in the Summer months and this Strawberry Cheesecake Ice Cream satisfies all my cravings.
If you like ice cream and you like cheesecake you will love this strawberry cheesecake ice cream. You can make it easily with some help from a store-bought cheesecake.
This ice cream is packed with strawberry flavor and stuffed with delicious chunks of cream cheese cheesecake pieces.
This recipe does require an ice cream maker. Feel free to change up the fruit to what you can find fresh. Raspberries and blueberries also work great.
Homemade Ice Cream:
Homemade ice cream is easier than you may have thought. If you want to learn all the differences between ice cream, gelato, sorbet and granite check out the More Momma Cooking School Ice Cream Class.
We teach you everything you need to know to become an expert ice cream maker in the comfort of your own home.
This homemade ice cream is made with a milk and cream ice cream base. We make a homemade strawberry puree by macerating strawberries with sugar and then its churned and studded with the cheesecake bites.
You can't go wrong with this flavor combination.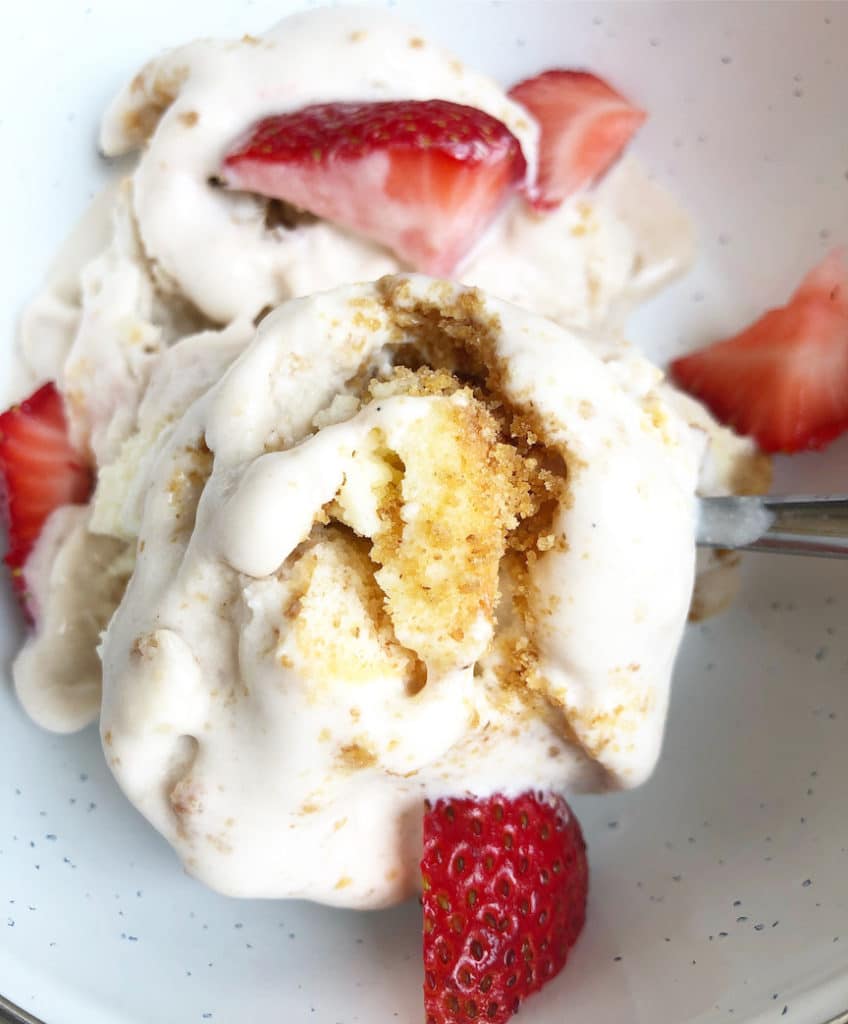 How to Infuse Fresh Fruit Into Ice Cream:
When making homemade fresh fruit ice creams there are a few things you need to keep in mind in order for the fruit to not freeze into solid chunks. Because let's be honest, no one wants to break a tooth on a frozen piece of fruit in their ice cream.
There are a few ways to make fresh fruit ice creams. You can infuse the flavor by just adding the fruit into the custard through the cooking process and then strain it out. Or you can macerate chunks of fruit and add the fresh fruit into the ice cream. Maceration will draw out some of the liquid in the fruit making it softer when it freezes.
You will first want to macerate the fruit with some sugar to release some of the liquid. Once the fruit has macerated you can follow the cooking instructions.
For this recipe you have the option to leave the fruit in or remove it once cooked by straining the custard through a fine mesh strainer.
Ice Cream Tips:
Make sure you freeze your freezer bowl for at least 24 hours. This will insure that the ice cream churns properly in your ice cream machine.
Chill the ice cream mixture or custard completely before placing it in your ice cream machine.
Use a fine mesh strainer to strain your custard. This will prevent any ice crystals and make for a rich and creamy ice cream.
Don't overcook your custard. You don't want to burn the cream. Once the custard starts to thicken and is at the naape stage (it can coat the back of a wooden spoon) you can remove it and strain the mixture through your fine mesh strainer.
Freezer Tips and Storage:
To freeze the ice cream you want to make sure you store it properly. I like to freeze my ice cream in these reusable freezer safe soup containers.
Label the top of the container with the name of the ice cream and the date and freeze for up to a month.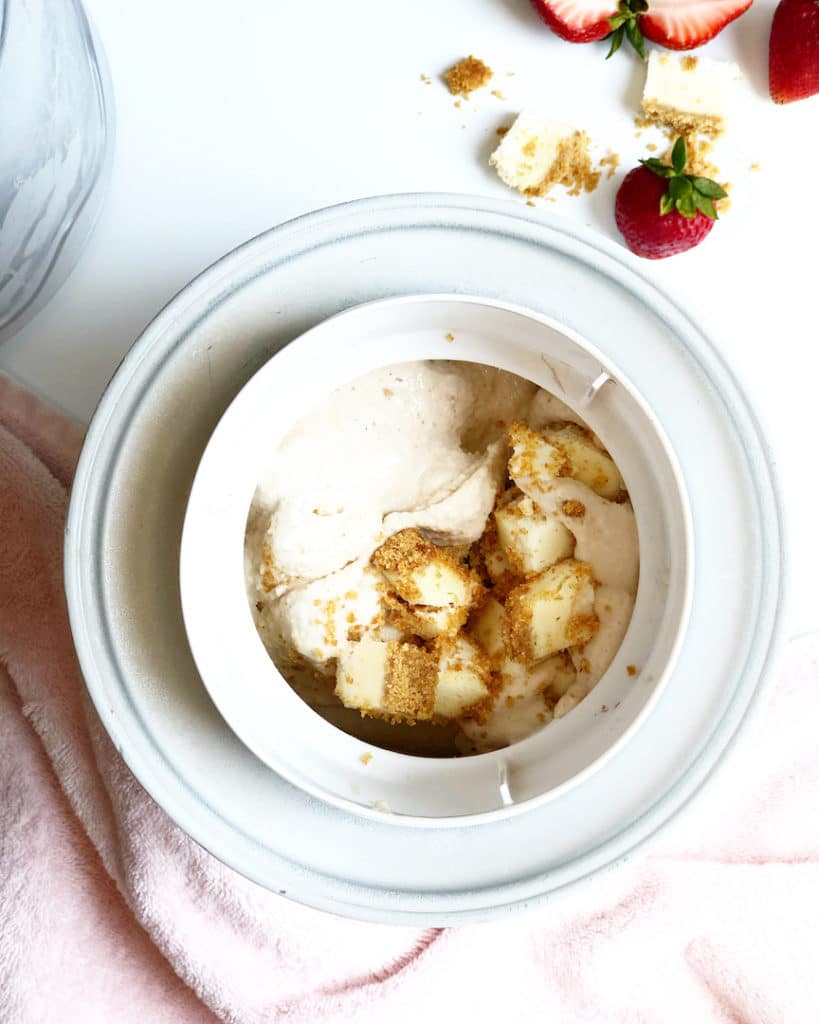 Other Delicious Frozen Desserts:
If you are looking for some other delicious frozen desserts try these recipes out.
Dairy Free Mint Chocolate Chip Oreo Cookie Ice Cream
Smores Gelato with Creamy Nutella
Italian Ice in an Ice Cream Machine
Ingredients You Will Need:
Milk
Heavy Cream
Sugar
Eggs
Vanilla Bean Paste or Extract
Strawberries
Frozen Pre-made Cheesecake
Strawberry Cheesecake Ice Cream Recipe: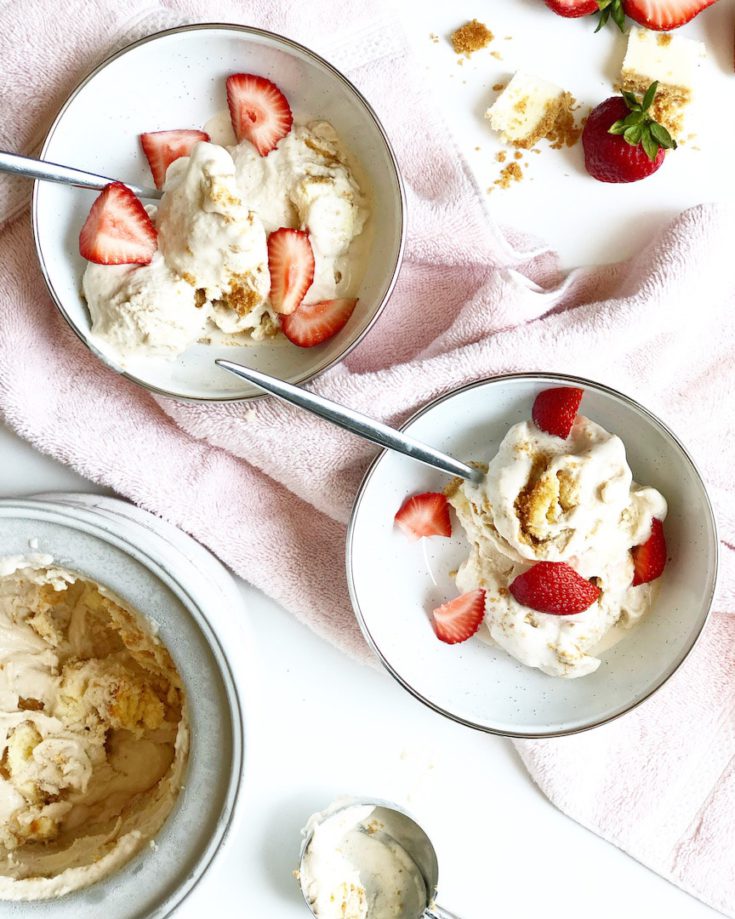 Yield:

Serves 8
Strawberry Cheesecake Ice Cream
Total Time:
4 hours
20 minutes
Strawberry Cheesecake Ice Cream is the perfect Summer dessert.
Ingredients
6 large strawberries, washed and sliced
3/4 cup granulated sugar
4 egg yolks
1 1/2 cups milk
1 1/2 cups cream
pinch of salt
1 teaspoon vanilla bean paste
1 frozen cheesecake, cut into small cubes
Optional Topping:
1 cup strawberries, sliced
Instructions
Wash and slice the strawberries.
Place the strawberries into a bowl and add the sugar. Stir to combine and let sit for 20 minutes.
After the strawberries have been macerated smash with a potato masher or with the back of a fork.
Add the egg yolks to a mixing bowl. Then add the strawberries and whisk for 1 minute.
Add the milk and cream to a saucepan and place over low heat. Once the liquid has formed bubbles on the outside rim, remove from heat.
Add a pinch of salt and the vanilla bean paste to the strawberry mixture.
Temper the eggs by adding 1 cup of the hot cream mixture to the strawberry and egg mixture while whisking continuously. Then add the remaining liquid. Add the mixture back to the saucepan.
Place over low heat and continually stir until thickened. Remove from the heat once it coats the back of a wooden spoon.
Place the liquid through a fine mesh strainer.
Remove the strawberry pulp or you can leave it in.
Place a layer of saran wrap over the custard and refrigerate for at least 4 hours or overnight until chilled.
Then place the custard into a frozen ice cream machine and churn for 10-15 minutes.
While the ice cream is churning slice a frozen cheesecake into small cubes. You will need 1 cup.
The last 30 seconds of churning add the cheesecake into the ice cream machine.
Serve immediately. Optional: Serve with fresh sliced strawberries on top.
Recommended Products
As an Amazon Associate and member of other affiliate programs, I earn from qualifying purchases.
Nutrition Information:
Yield:
8
Serving Size:
1
Amount Per Serving:
Calories:

338
Total Fat:

23g
Saturated Fat:

13g
Trans Fat:

1g
Unsaturated Fat:

8g
Cholesterol:

155mg
Sodium:

126mg
Carbohydrates:

29g
Fiber:

1g
Sugar:

25g
Protein:

5g