San Marzano tomato sauce is the most versatile sauce and tastes like it's straight out of Italy. No need to buy jarred sauce in the grocery store anymore. This Italian tomato sauce uses quality ingredients and is cheaper way better than store bought.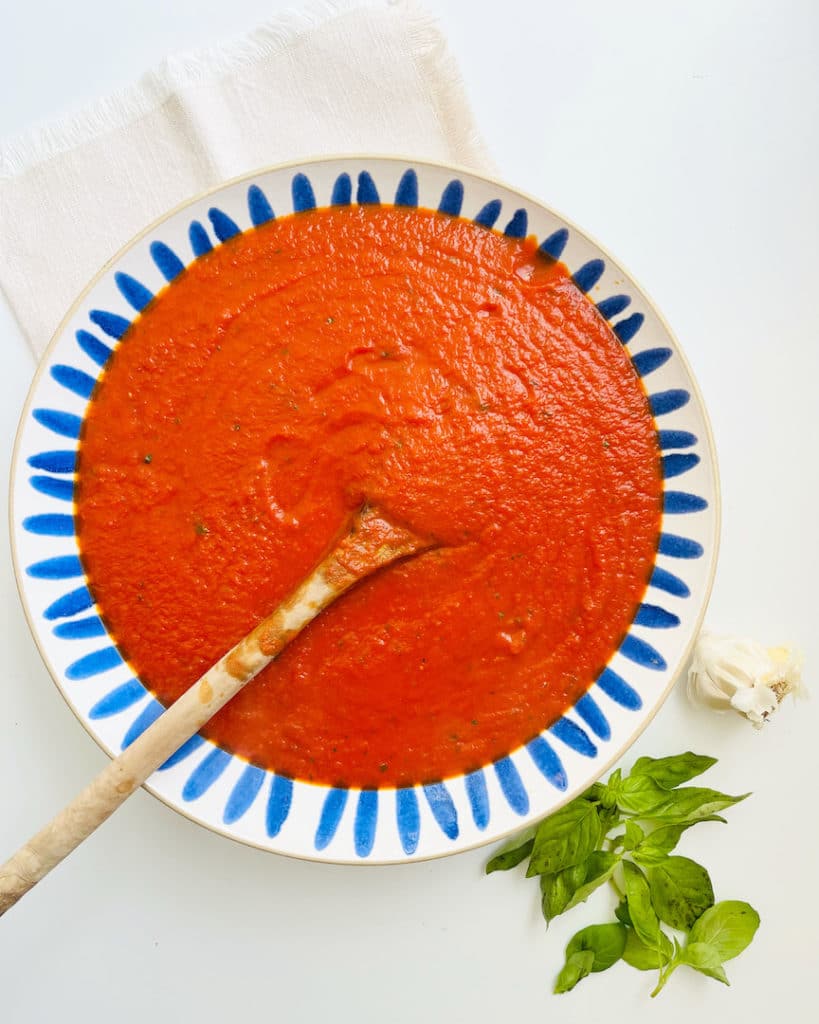 There's something magical about Italian cuisine. From aromatic herbs to rich flavors, each dish tells a story of tradition and passion. Among the many culinary treasures from Italy, San Marzano tomato sauce stands out as a true icon.
San Marzano tomato sauce is a staple in Italian cuisine. It has a rich and sweet flavor that enhances any pizza or pasta dish.
Today, we will unveil the secrets of creating an authentic San Marzano tomato sauce right in your own kitchen.
Using the highest quality canned tomatoes makes this San Marzano tomato sauce something special. The flavor is unmatched to regular canned tomatoes.
Use this tomato sauce recipe for pizza, pasta, tomato basil soup, and more.
Make a lot of sauce and use it for many dishes or freeze the extra in plastic containers.
What are San Marzano Tomatoes:
San Marzano tomatoes are my favorite variety. They grow in the fertile volcanic soil near Mount Vesuvius in the Campania region of Italy.
These elongated, plum-shaped tomatoes are prized for their sweet flavor, low acidity, and rich pulp.
The secret to an exceptional San Marzano tomato sauce lies in using the right tomatoes.
Look for certified San Marzano tomatoes in cans or bottles, as they guarantee the highest quality and authenticity.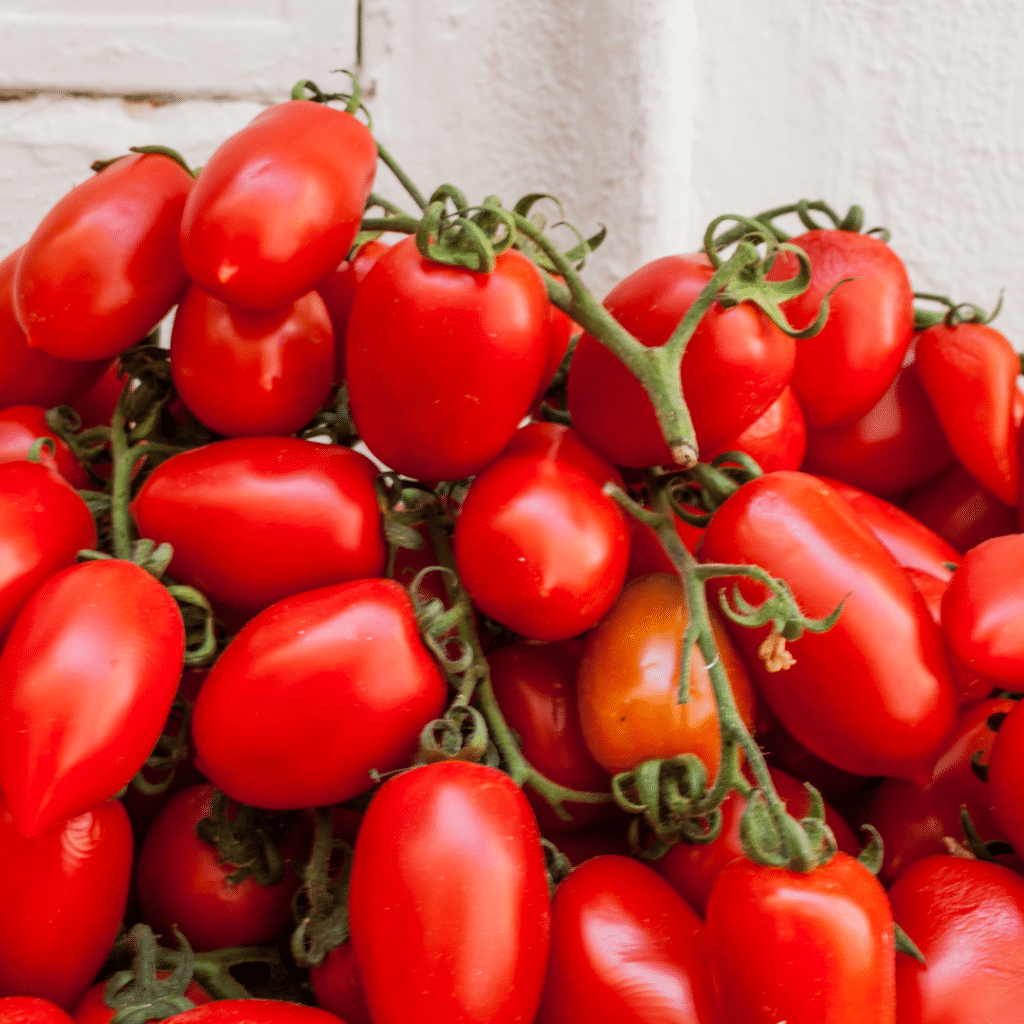 Look For The D.O.P. Seal:
When looking for a can of San Marzano tomatoes make sure you see a D.O.P. seal.
San Marzano Tomatoes are protected under a D.O.P. seal which means that it is designated protected in it's origin.
In Italy, products like wine and cheese have a D.O.P. seal. This means they go through a strict approval process and suppliers must follow rules to earn the seal.
Always try to look for the D.O.P. seal when looking for San Marzano tomatoes in the market.
Why Use San Marzano Tomatoes In Sauce:
One reason why San Marzano tomatoes are so highly regarded is their texture.
They have a thin skin and fewer seeds than other types of tomatoes, which makes them perfect for sauce-making.
Tomatoes have more flesh and less water, making their sauce thicker and tastier.
This is why when making this sauce recipe for pizza you will not need to cook or reduce the sauce down.
The Taste:
There are several factors that contribute to the unique taste of San Marzano tomatoes.
They are grown in the rich, volcanic soil of the region, which imparts a unique flavor to the fruit.
The weather here is perfect for growing tomatoes. Hot days and cool nights make the tomatoes taste sweet and slightly acidic.
Ingredients For San Marzano Tomato Sauce: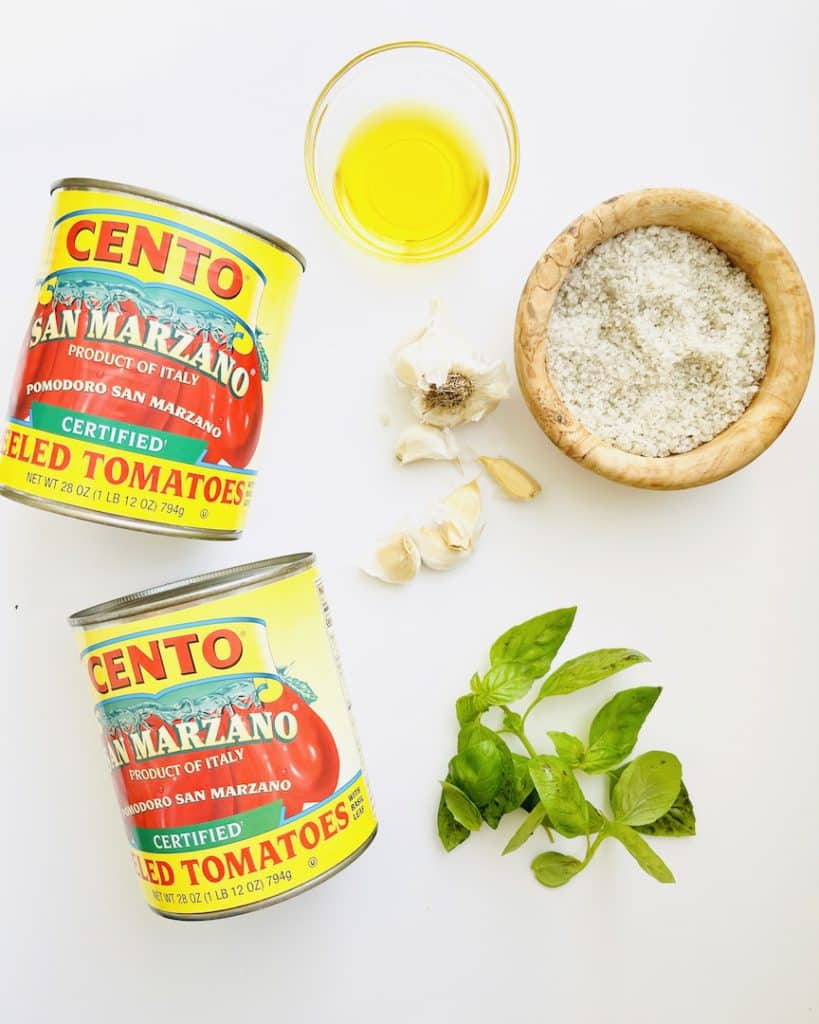 This recipe calls for a handful of ingredients.
You need canned San Marzano tomatoes, garlic, extra virgin olive oil, fresh basil, salt, and sugar if the sauce is acidic.
For a spicy version add red pepper flakes and black pepper.
For a creamy version add a splash of heavy cream.
Tips for the Perfect Sauce:
Simplicity is key: Let the natural flavors of the San Marzano tomatoes shine by keeping the ingredients to a minimum.
Slow and steady: Allowing the sauce to simmer slowly enhances its depth of flavor, resulting in a rich and velvety texture.
Quality matters: Invest in authentic San Marzano tomatoes to truly capture the essence of this sauce. Look for the D.O.P. seal.
Customize to your taste: Feel free to add cooked meat, vegetables, or additional herbs to personalize your sauce.
How To Make Tomato Sauce Using San Marzano Tomatoes:
Making homemade tomato sauce with San Marzano tomatoes is relatively simple.
First, saute the garlic in the olive oil over medium heat. Then add the tomatoes, salt and sugar and simmer for about 15 minutes to reduce.
Next add the basil.
Lastly blend with an immersion blender until smooth.
San Marzano Tomato Sauce Uses:
There are many ways to use San Marzano tomato sauce. Use it as a base for a variety of pasta dishes, such as spaghetti or lasagna.
Or use it for the perfect pizza sauce or a condiment on a sandwich.
This sauce is also the perfect base to a tomato soup. Just add some heavy cream and parmesan cheese and top with some fresh basil.
If you're a fan of tomato sauce, you definitely should give this recipe a try!
Recipes To Use San Marzano Tomato Sauce:
Here are some recipes that you can use it with!
Sourdough Starter Pizza Dough Recipe
Rigatoni Bolognese With Herby Whipped Ricotta
Vegetarian Meatball Subs With Pesto Whipped Ricotta
Freezing And Storage:
This sauce is great for big batch cooking. Make double and use it for multiple dishes.
It also is great for freezing. I normally place 1 cup portions of the sauce into plastic soup containers or canning jars and freeze them.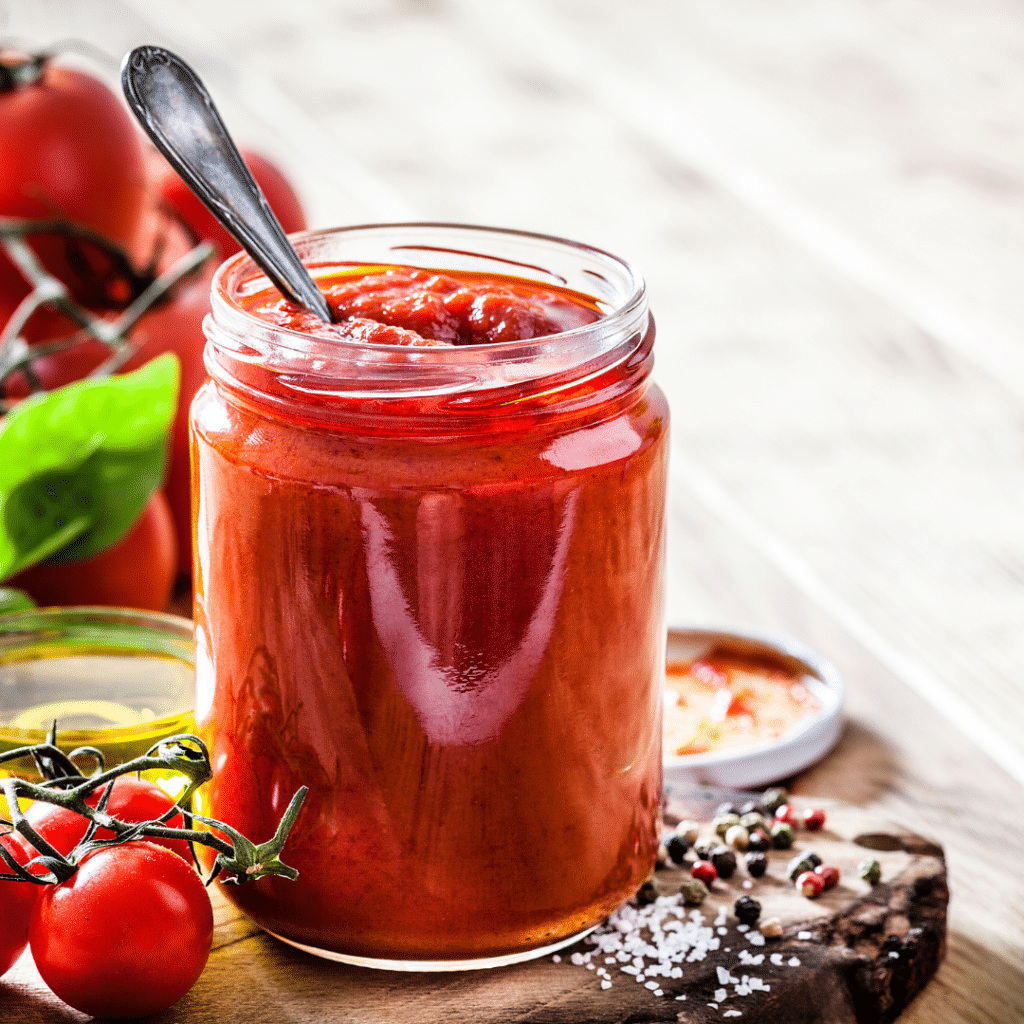 If you are freezing the sauce you will want to cook it down a little to reduce when using it.
The frozen sauce will last up to 6 months in the freezer.
You can also can this sauce in a pressure canner.
This recipe really is a game changer. By using the finest ingredients and following a few simple steps, you can create a sauce that captures the essence of Italian cuisine.
Let the vibrant red color, the sweet aroma, and the rich taste of San Marzano tomatoes transport you to the sun-soaked fields of Southern Italy. Buon appetito!
San Marzano Tomato Sauce Recipe: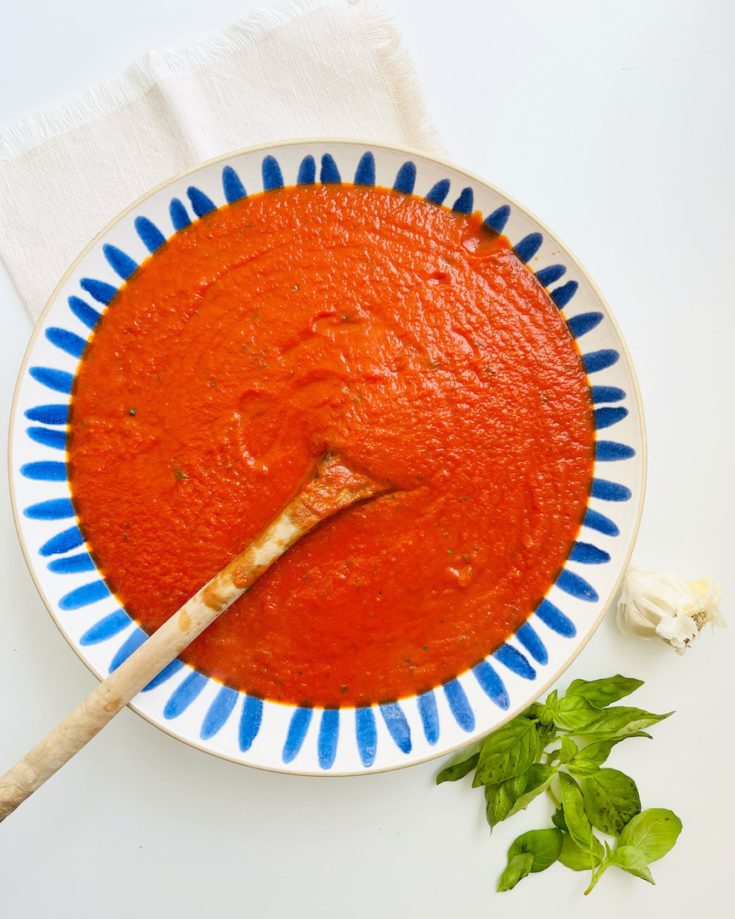 Yield:

4 cups
San Marzano Tomato Sauce (Italian Culinary School Recipe)
The perfect simple tomato sauce made with delicious San Marzano tomatoes! Use it for pizza, pasta or the base to tomato soup.
Ingredients
2 tablespoons extra virgin olive oil
5 cloves garlic, peeled and smashed
2 (28 ounce) cans San Marzano tomatoes
2 teaspoons salt
1-2 tablespoons sugar (depending on how acidic your tomatoes are)
1 cup fresh basil leaves
Instructions
In a saucepan heated over medium heat saute the garlic in the olive oil for 1 minute (be careful not to burn).
Add the tomatoes, salt and sugar and bring to a simmer for 15 minutes.
When the tomatoes have reduced a little, blend the sauce with an immersion blender (make sure the head of the blender is completely submerged in the pot).
Add the basil and blend until smooth.
Taste for flavor and add more salt or sugar if needed.
Use as desired.
Recommended Products
As an Amazon Associate and member of other affiliate programs, I earn from qualifying purchases.
Nutrition Information:
Yield:
4
Serving Size:
1
Amount Per Serving:
Calories:

96
Total Fat:

7g
Saturated Fat:

1g
Trans Fat:

0g
Unsaturated Fat:

6g
Cholesterol:

0mg
Sodium:

1060mg
Carbohydrates:

9g
Fiber:

1g
Sugar:

7g
Protein:

1g