Make this delicious sheet pan stuffing quickly and easily. Try this easy recipe for Thanksgiving or for your next get together.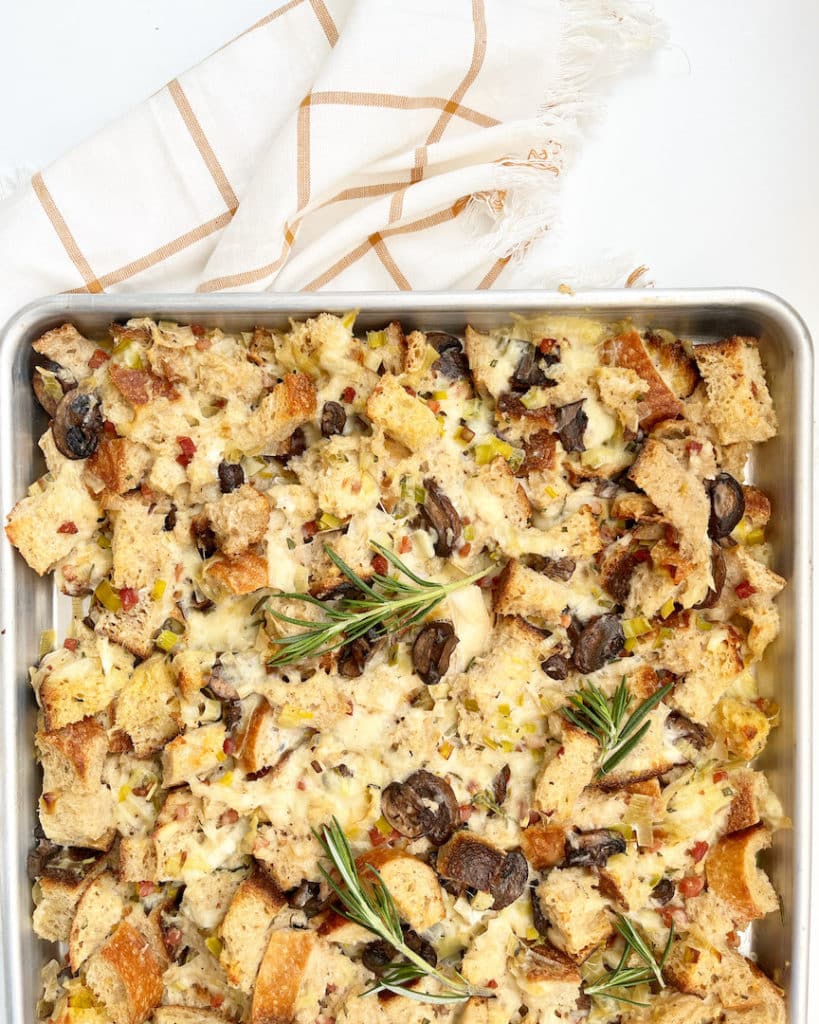 If you love the caramelized bites on the Thanksgiving stuffing you have to try this sheet pan stuffing recipe.
Half the time to make and you get the best texture and flavored stuffing!
I am a huge stuffing fan. In fact it probably is my favorite side dish for Thanksgiving.
My family always makes this family heirloom stuffing recipe, but I think I have kicked it up a notch with this sheet pan stuffing recipe.
Why Make Stuffing On A Sheet Pan?
Making stuffing on a sheet pan has several advantages. First and foremost, it saves a lot of time.
Instead of tediously stuffing the mixture into a turkey or baking it in a casserole dish, you simply spread it out on a sheet pan and pop it in the oven.
This means you can spend more time enjoying the company of your loved ones and less time slaving away in the kitchen.
Another benefit of using a sheet pan is that it allows for maximum caramelization. The large surface area of the pan ensures that every morsel of bread gets crispy and golden brown. This results in those coveted caramelized bites that add a burst of flavor to every forkful.
Not only does the sheet pan method save time and enhance flavor, but it also creates the perfect texture. The bread cubes become wonderfully crisp on the outside, while remaining soft and moist on the inside.
Furthermore, making stuffing on a sheet pan allows for easy customization. You can add sausage, cranberries, or nuts to make it taste better and personalize it. The versatility of this method ensures that everyone's taste buds will be satisfied.
So, if you're looking to simplify your Thanksgiving or any gathering, give this sheet pan stuffing recipe a try. This appliance will quickly become a favorite in your home because it saves time, enhances flavor, and perfects texture. Get ready to impress your guests with this delicious and easy-to-make dish.
Sheet pan stuffing takes less than half the time than traditional stuffing. Also a great option if you need a make ahead side dish.
The Best Bread For Sheet Pan Stuffing:
Grabbing a rustic crusty bread for this recipe is essential. If you use a soft bread to begin with the stuffing will just be mushy.
I like a rustic multigrain loaf, ciabatta, sourdough or even rosemary or olive bread work great.
Make It In Advance:
You can make the dish ahead of time and keep it in the refrigerator until you are ready to bake. I love this dish for Thanksgiving because I can make it up to two days in advanced.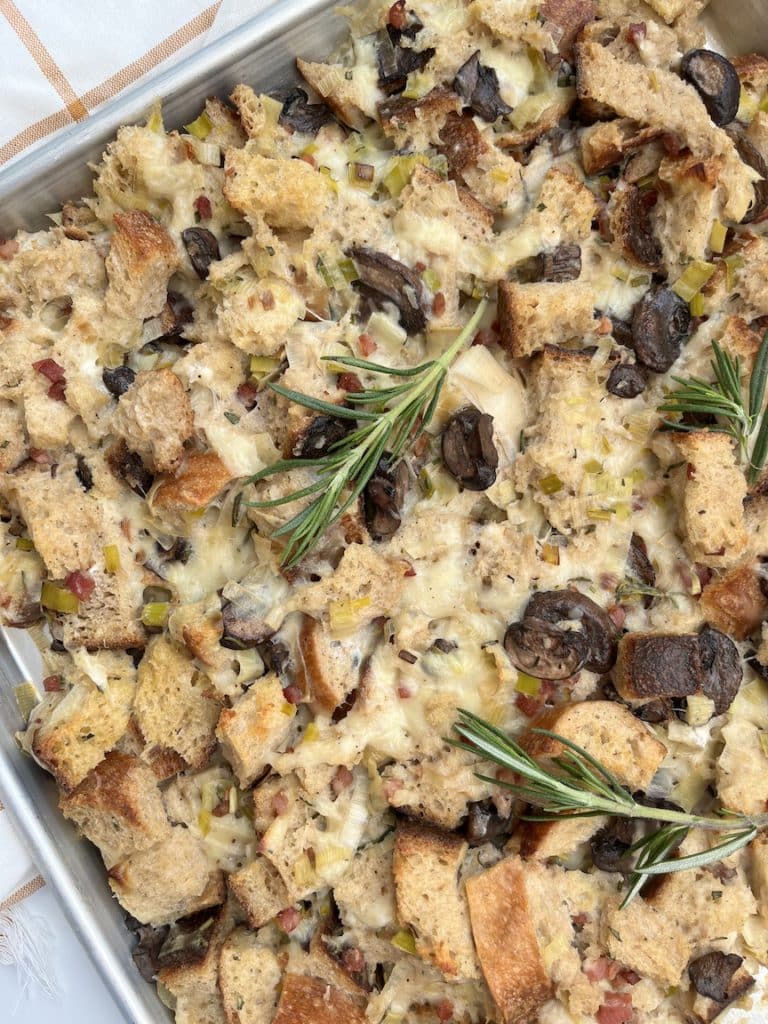 Ingredients You Will Need For Sheetpan Stuffing:
Rustic Bread: I like to use a crusty rustic bread. Sourdough, multigrain or a rosemary loaf work great.
Pancetta: Pancetta is an uncured Italian bacon. You can find it already cubed at Trader Joes. You can also substitute with prosciutto or bacon if needed.
Mushrooms: Mushrooms add a delicious meatiness to the dish. You can use any mushrooms you like.
Leeks: Adds a slightly sweet onion flavor. Make sure you clean your leeks thoroughly.
White Wine: Any dry white wine or cooking wine work great.
Gruyere Cheese: The Gruyere truly adds a distinct flavor. You can substitute with an Asiago cheese.
Eggs: Creates the perfect texture.
Cream: You can substitute with half and half if needed.
Half and Half: You can use all half and half if you need to.
Herbs: I love using fresh herbs like rosemary and thyme to add delicious Fall flavors.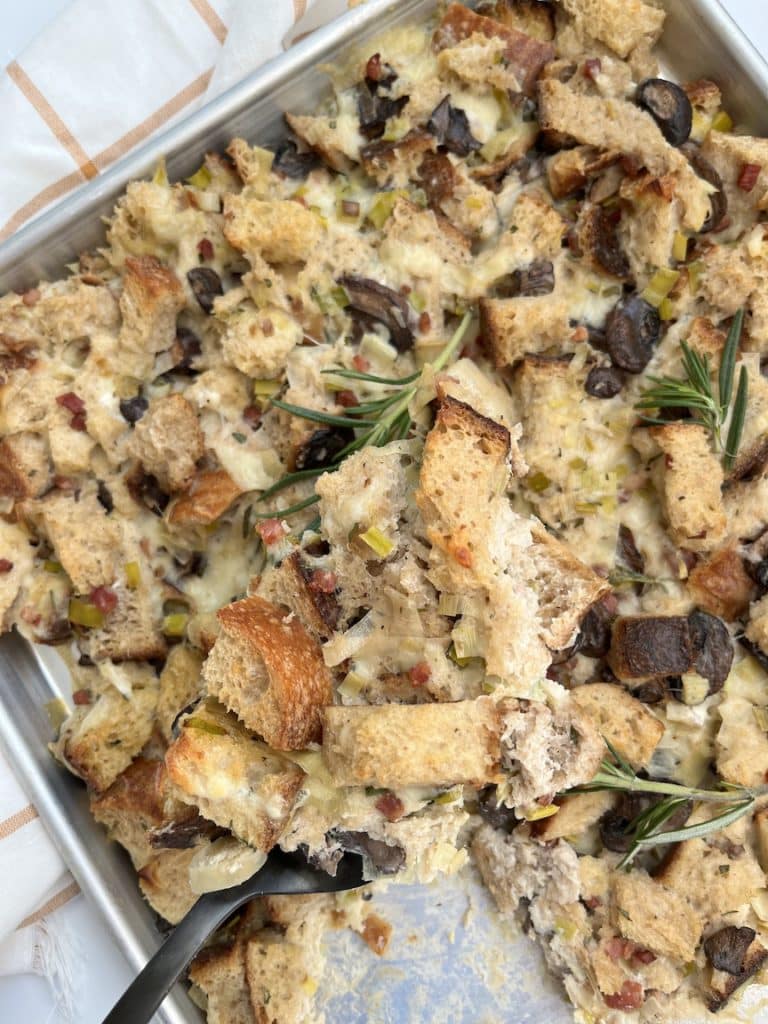 How To Make Sheet Pan Stuffing:
First start by preheating a large skillet over medium heat.
Sauce the pancetta until crispy.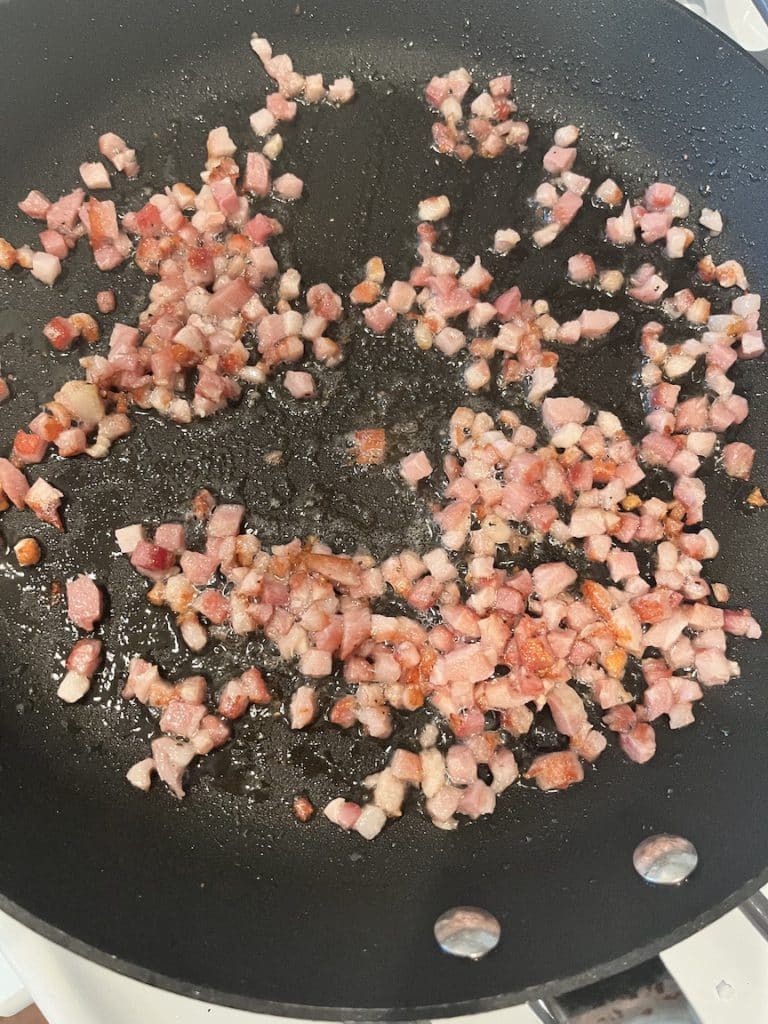 Add the leeks and mushrooms and sauté until soft.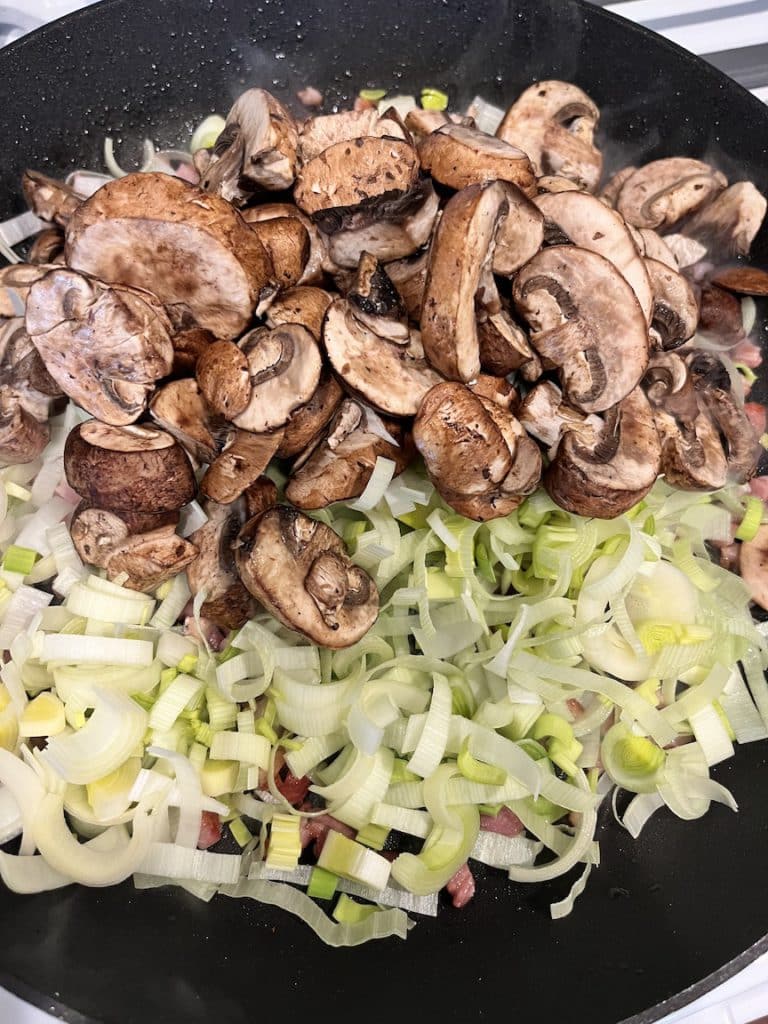 Deglaze the pan with white wine and remove from the heat.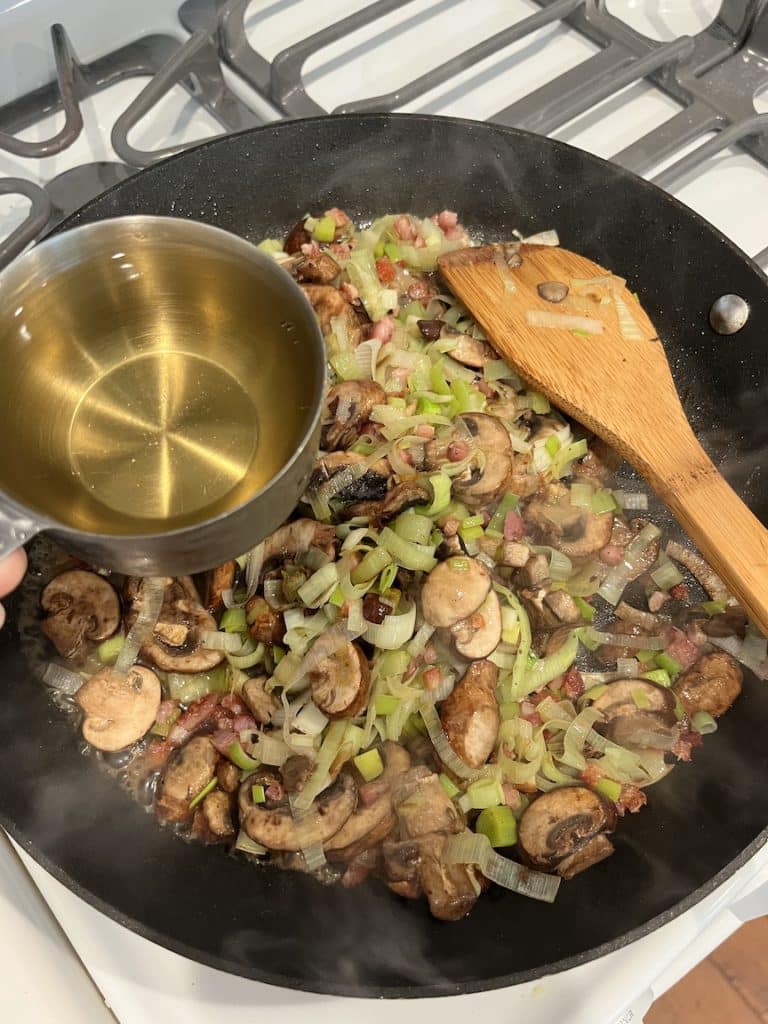 Cut the bread into cubes and place in a bowl.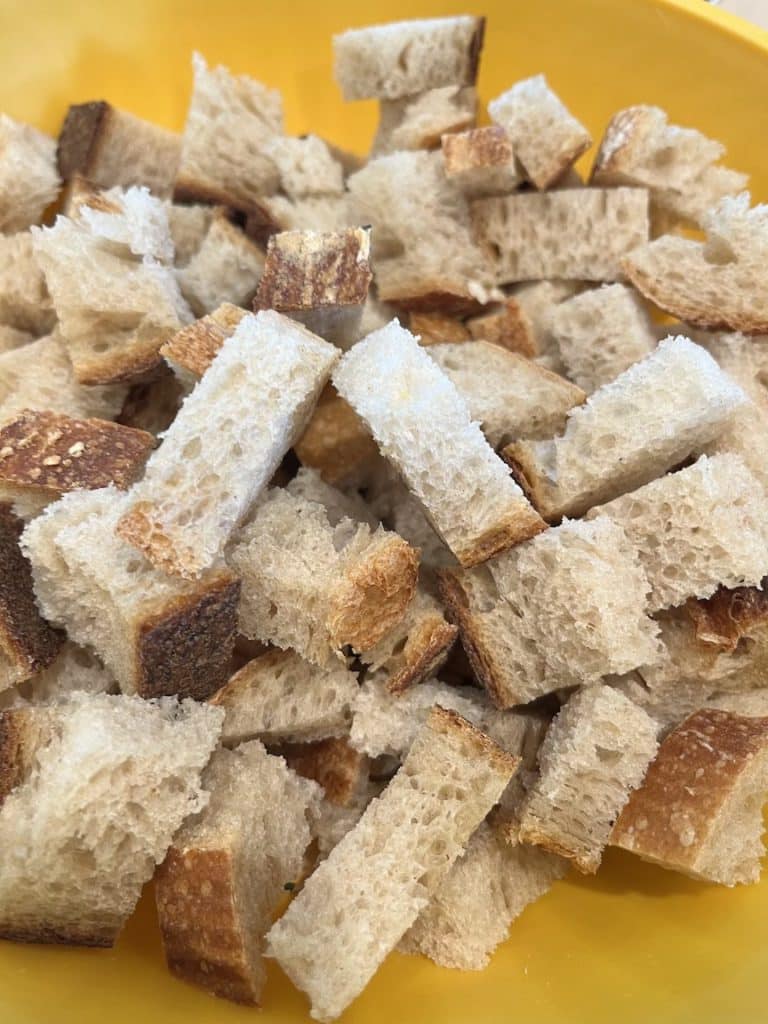 Add the sautéed vegetable mixture into the bread cubes. Then add the eggs, gruyere, and cream.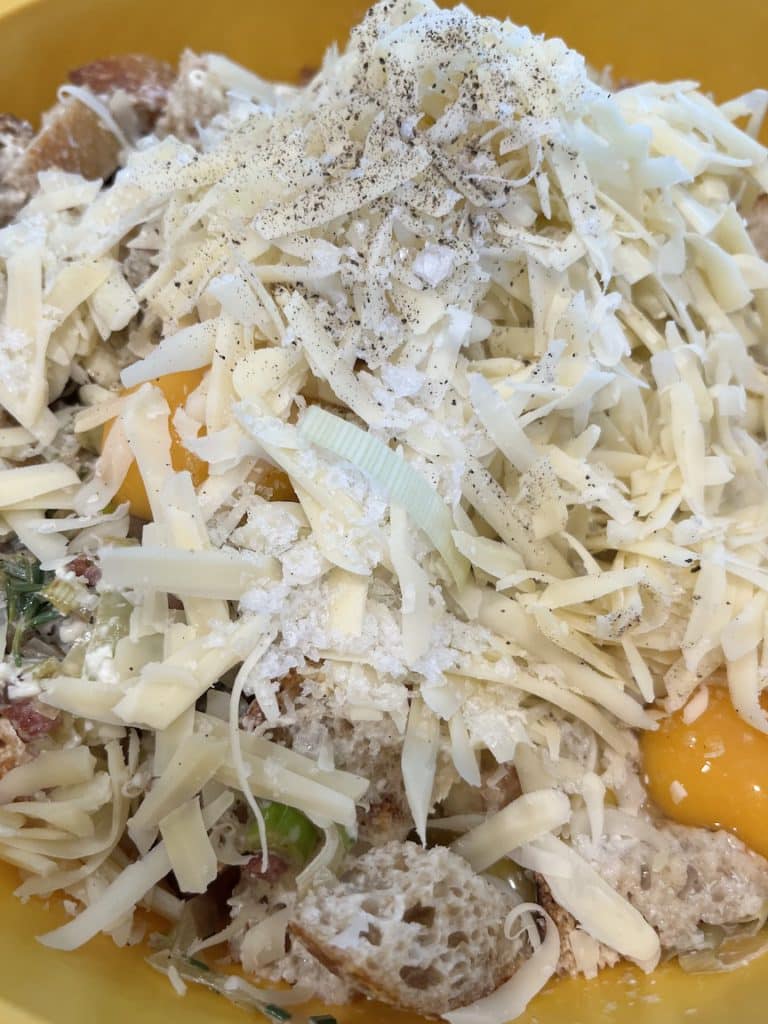 Place the mixture on a greased sheet tray.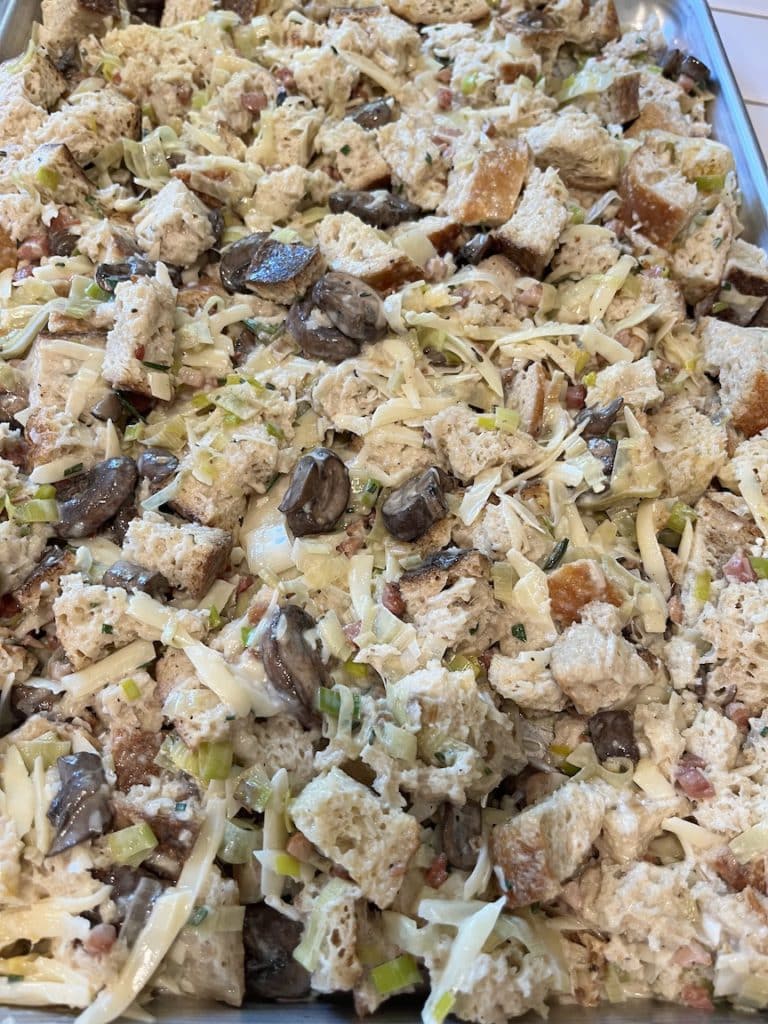 Bake in the oven. Let cool slightly and serve.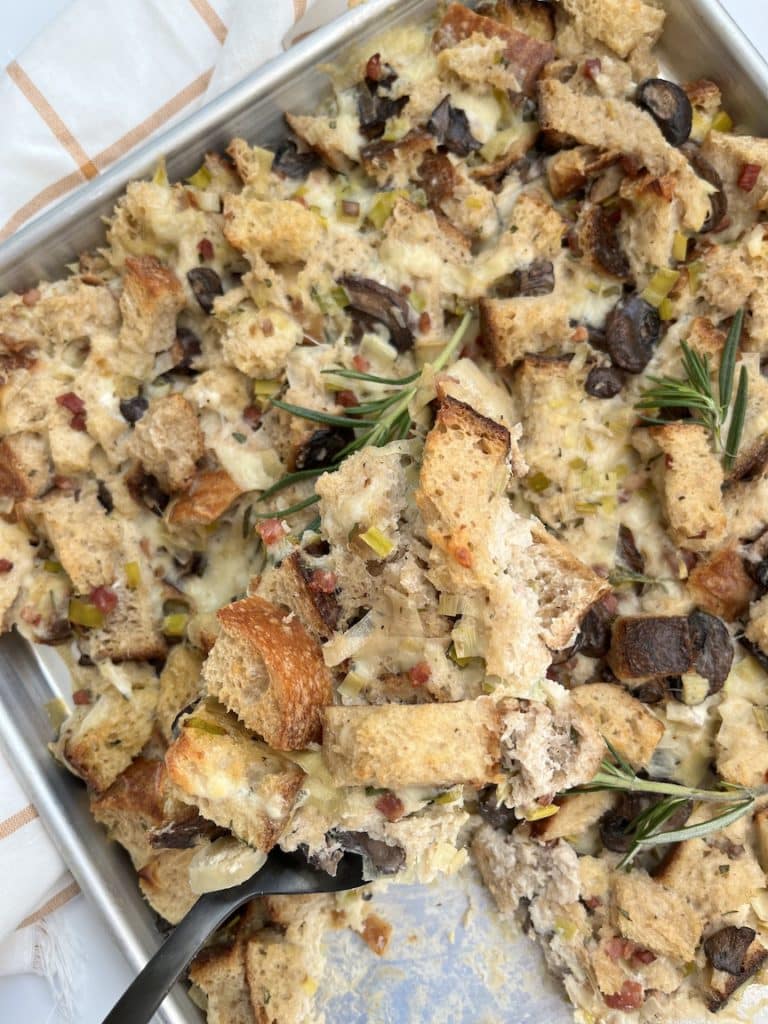 What To Serve With Sheet Pan Stuffing:
Round out the meal with these other delicious Thanksgiving inspired recipes.
Ruth Chris Sweet Potato Casserole With A Twist
Roasted Carrots With Shallot Cream Sauce
Autumn Salad With Apple, Pear and Dijon Vinaigrette
Famous Pretzel Dinner Roll Recipe
Sheet Pan Stuffing Recipe: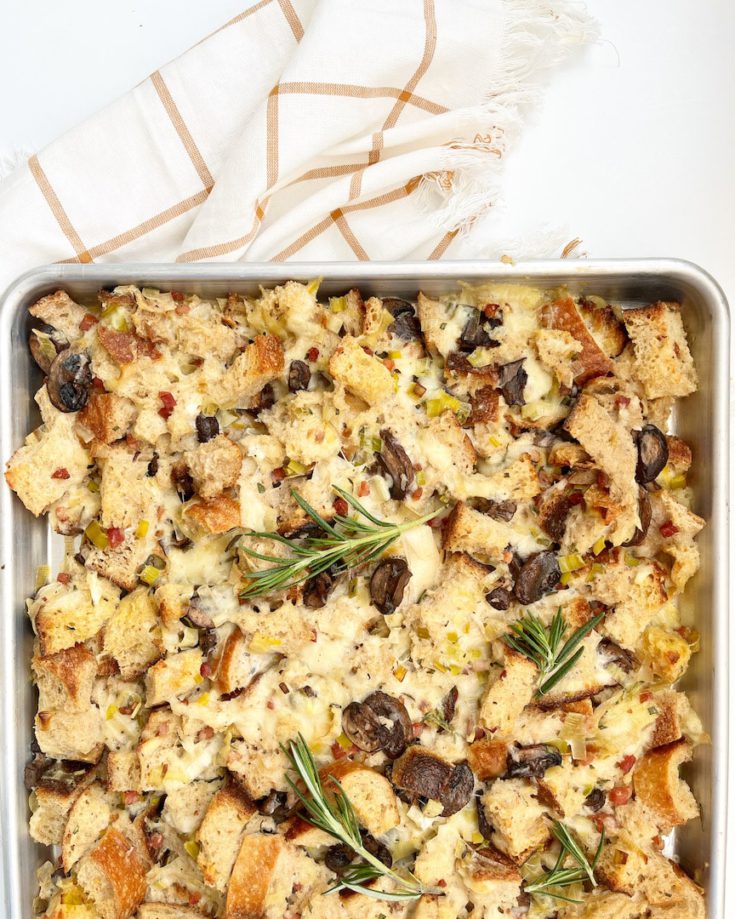 Yield:

serves 12
Sheet Pan Stuffing With Leeks and Pancetta
The most delicious sheet pan stuffing
Ingredients
4 ounces pancetta, diced small
2 leeks, sliced and cleaned
10 ounces mushrooms, sliced
1 cup white cooking wine
1 Tablespoon Rosemary or Tarragon
10 cups rustic bread, cubed
4 eggs
1 cup half and half
1 cup cream
2 cups gruyere, shredded
2 teaspoons salt
1/4 teaspoon black pepper
Instructions
Preheat the oven to 350 F.
Preheat a large non-stick skillet over medium heat. Cook the pancetta until crispy.
Add the leeks and mushrooms and saute until soft, about 5 minutes.
Deglaze the pan with the white wine.
Add the rosemary or tarragon and stir to combine.
Place the bread into a large bowl.
Add eggs, half and half and cream into another bowl and wisk to combine. Then add to the bread.
Add the gruyere and salt and pepper and carefully mix to combine everything.
Grease a sheet tray with butter or cooking spray. Add the bread mixture and spread out evenly.
Bake for 20 minutes. Then increase the heat to 425 F and cook for another 10 minutes.
Remove and let cool slightly. Slice and serve.
Recommended Products
As an Amazon Associate and member of other affiliate programs, I earn from qualifying purchases.
Nutrition Information:
Yield:
12
Serving Size:
1
Amount Per Serving:
Calories:

367
Total Fat:

24g
Saturated Fat:

12g
Trans Fat:

0g
Unsaturated Fat:

10g
Cholesterol:

120mg
Sodium:

706mg
Carbohydrates:

22g
Fiber:

2g
Sugar:

4g
Protein:

14g