This Ruth Chris sweet potato casserole copycat recipe may just be the very best thing you will taste this Thanksgiving! It's made with a few variations that kicks it up a notch and your mind will be blown.
You can make it ahead of time and it is the perfect side dish for any Fall or Winter get together. You don't have to reserve this recipe just for Thanksgiving.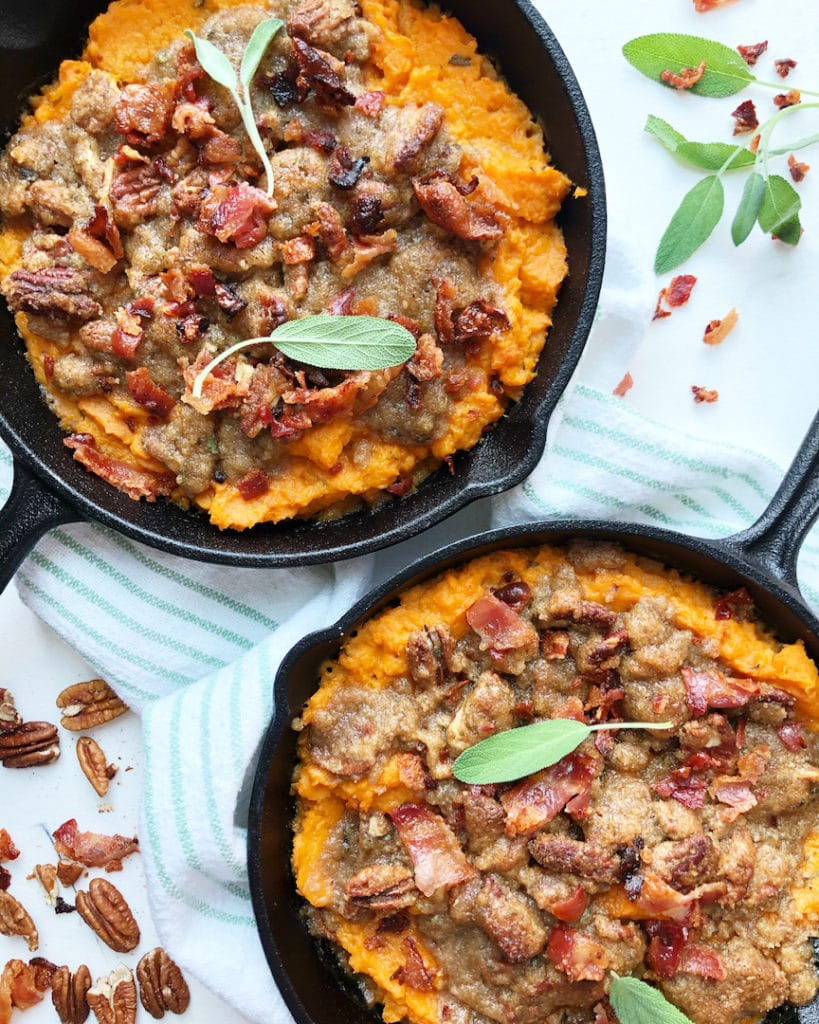 Ruth's Christ sweet potato casserole is one of my favorite side dishes at the steakhouse.
I had to come back home and put a More Momma spin on the coveted recipe. I kicked it up a notch with a browned butter herb mashed sweet potato and topped it with a delicious bacon brown sugar pecan crust.
The sweet potatoes are whipped with a rosemary and sage browned butter and then topped with a bacon, brown sugar pecan crust that almost resembles a crumble topping.
It's the perfect blend of textures and flavors and is balanced with sweet, salty and savory flavors.
You can even make the whipped sweet potato version and skip the brown sugar crust if you want a totally savory option, but the crumble on top is amazing!
Make individual portions baked in mini cast iron skillets or serve in a large casserole dish. Either way your guests will love it!
So let's just straight into how to make my version of a copycat Ruth Chris Sweet Potato Casserole recipe.
Ingredients For Ruth Chris Sweet Potato Casserole:
Surprisingly you don't need many ingredients to make such a delicious dish! Here is what you need, plus some ingredient information.
Sweet potatoes: You can now find pre-cut and peeled sweet potatoes at grocery stores. I love buying these for easy no prep!
Butter: Use a good quality butter like Kerrygold Butter.
Sage: Use fresh sage.
Rosemary: Use fresh rosemary.
Brown sugar: Make sure to use brown sugar instead of granulated sugar for the topping.
Bacon: I love applewood smoked bacon for this dish.
Pecans: I like to use whole pecans for this dish but you can also use pecan pieces.
Flour: Flour will help make the crust crumbly and hold together. Use all purpose flour.
How To Make Ruth Chris Sweet Potato Casserole With A Twist:
Cook The Bacon:
Cook the bacon topping until crispy and set aside.
Peel The Sweet Potato:
You will want to make sure the sweet potatoes are peeled and ready to go. Make sure there is no skin remaining or this can interfere with the silky smooth texture when you whip them.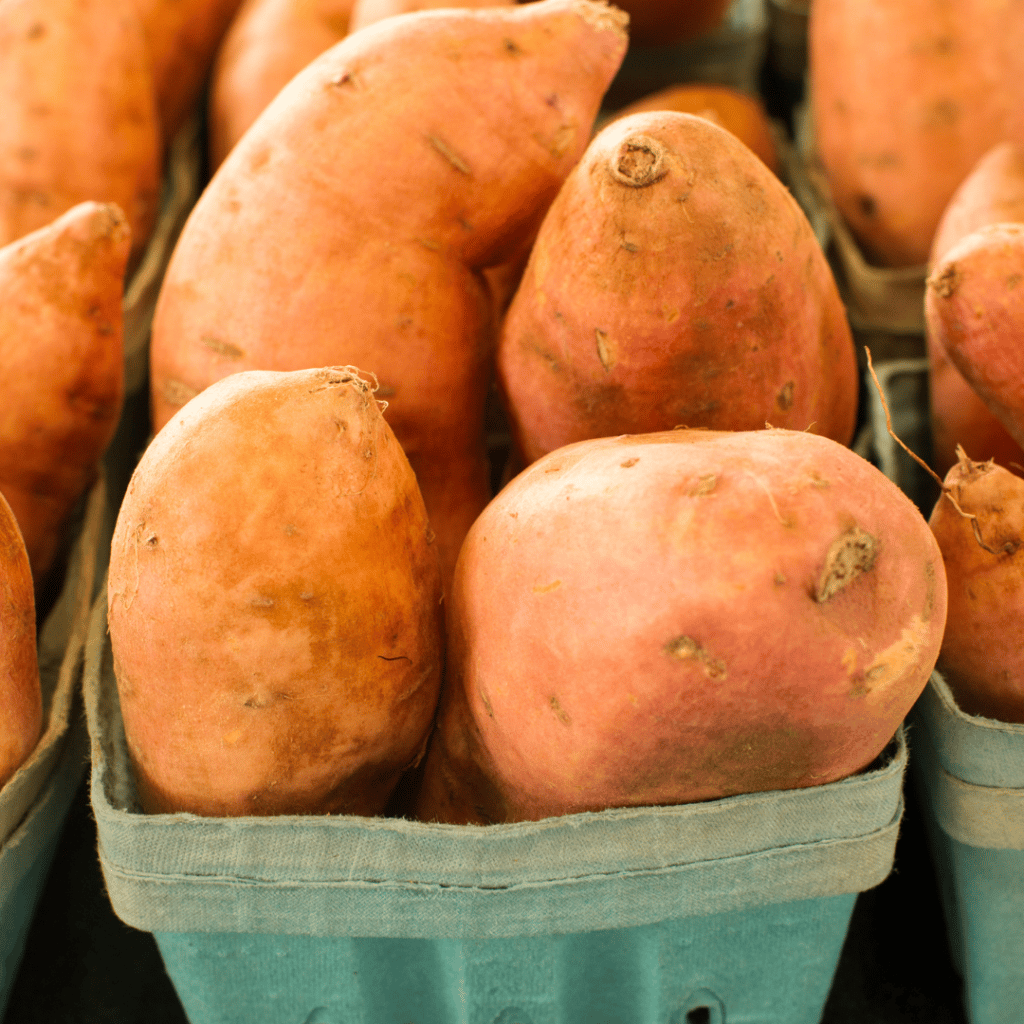 Cut Into 1 inch Pieces:
Roughly cut the sweet potatoes in about 1 inch pieces. This does not have to be perfect, but try to keep them about the same size so they will cook evenly.
Boil The Sweet Potatoes:
Boil the sweet potatoes for about 20-30 minutes or until they are very fork tender. You want to slightly over-cook them to get the desired whipped consistency.
Drain completely when finished cooking and place back into the pot.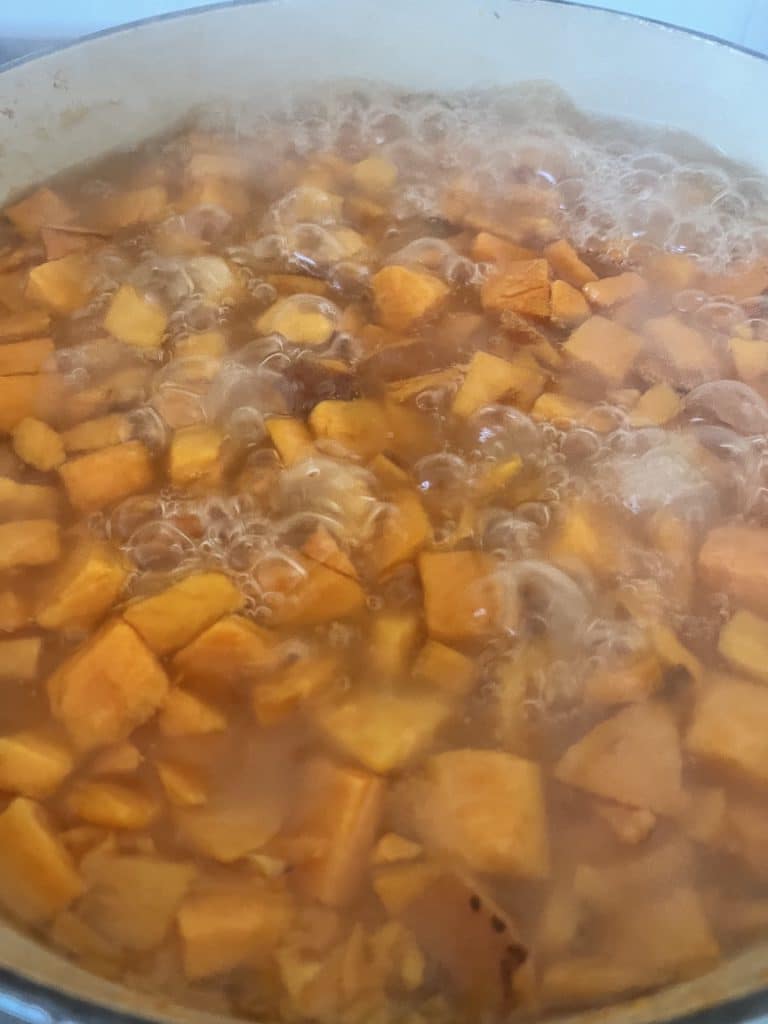 Prepare the Browned Butter With Herbs:
Browned butter is butter that has been cooked to toast the milk solids. This creates a nutty, rich flavor that goes perfectly with just about anything!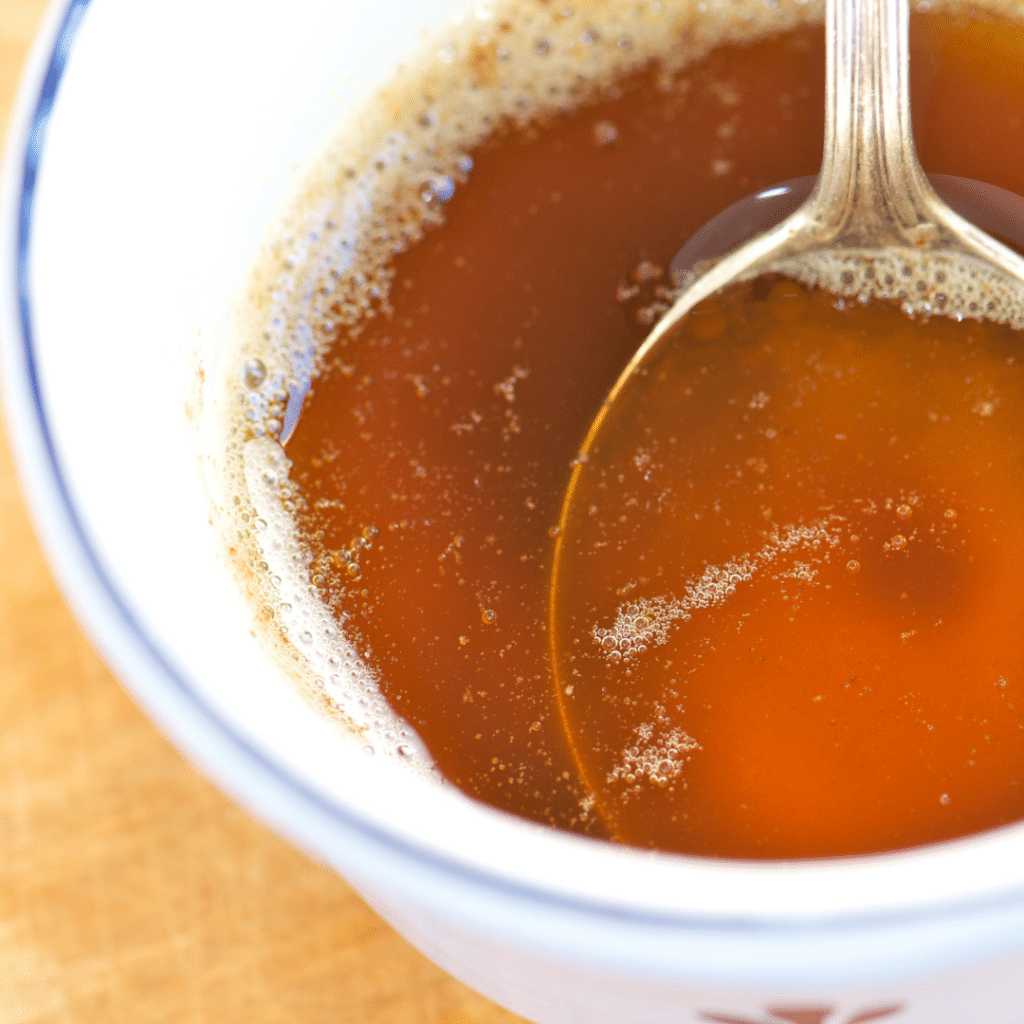 Making browned butter is really simple.
Simply place the butter into a pan over medium low heat. You don't want to cook the butter at too high of a temperature or your milk solids will burn. We don't want those milk solids burnt, we want them nice and toasted.
Just cook the butter until you smell a fragrant nutty smell and you can see the milk solids in the butter are nice and golden brown.
Add The Browned Butter and Herbs: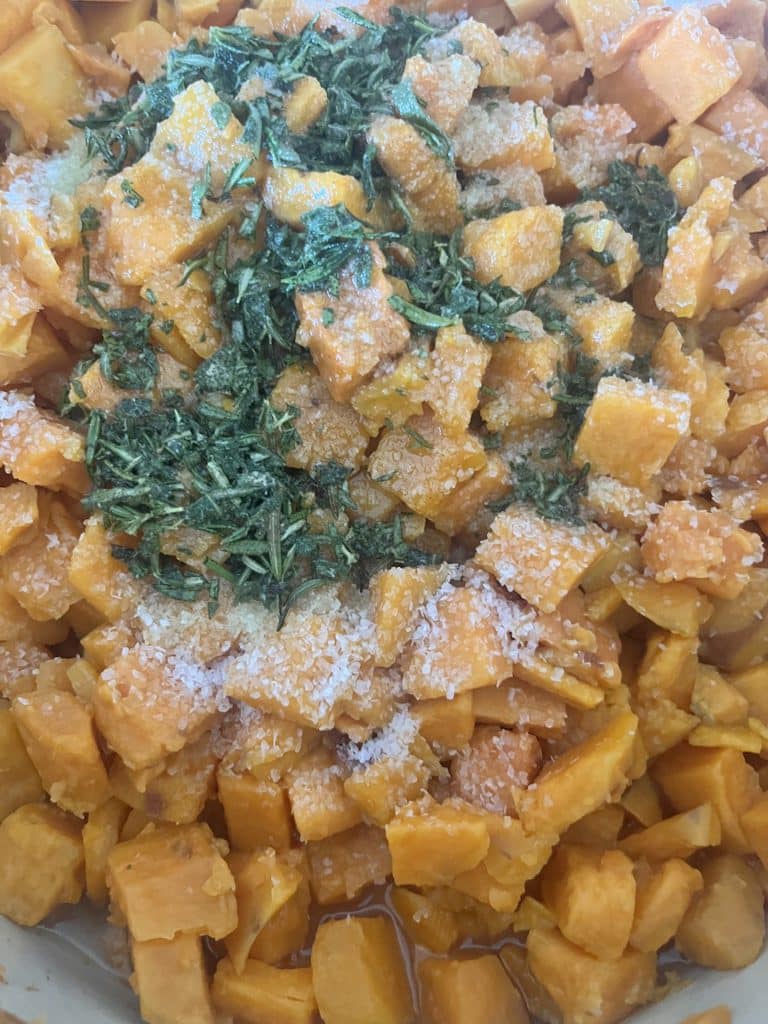 Whip With A Hand Beater:
Next add the browned butter and herbs and whip with a hand beater until fully mashed and smooth. Place into your greased baking dish.
Make the Crust:
To make the crust combine the butter, brown sugar, herbs, and flour in a mixing bowl and create crumbs with your hands. Then add the pecans.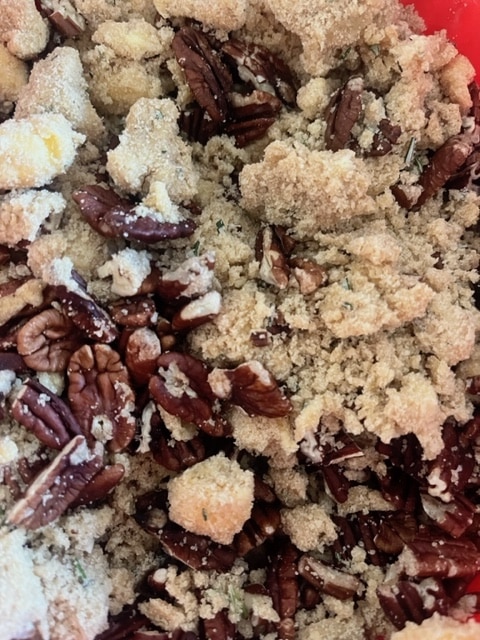 Top the Sweet Potatoes With The Crust and Bake:
Top the casserole with the crust and bake. Top with bacon after cooked.
Ruth Chris Sweet Potato Casserole Prep Ahead:
I love dishes that I can make ahead of time, especially Thanksgiving recipes.
You can make this ahead of time by simply prepping all the components of the dish and assembling. Store in the refrigerator for up to 2 days and then when you are ready to enjoy you can bake it off in the oven.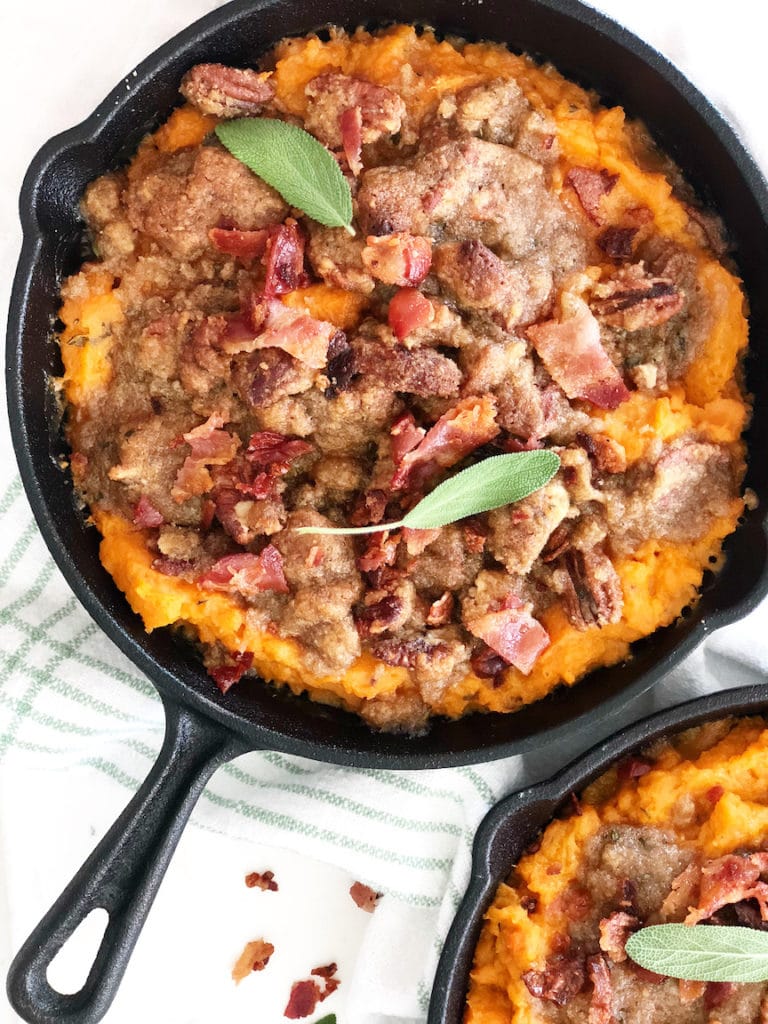 More Side Dish Recipes:
If you are looking for more delicious side dishes look no further. Here are some of my favorites.
Famous Pretzel Dinner Roll Recipe
Roasted Carrots With Shallot Cream Sauce
Instant Pot Garlic Mashed Potatoes
Ruth Chris Sweet Potato Casserole With A Twist:
Yield:

8
Ruth Chris Sweet Potato Casserole With A Twist
This copycat Ruth Chris sweet potato casserole with a twist is the perfect balance of flavors.
Ingredients
2 pounds sweet potatoes, peeled and cut into 1 inch cubes
1/2 stick butter
1 tablespoon rosemary, minced
1 tablespoon sage, minced
1 1/2 teaspoon kosher salt
Topping:
1 cup brown sugar
1 tablespoon rosemary, minced
1/2 tablespoon sage, minced
1 cup pecans
1 stick butter, cut into cubes
1/2 cup all purpose flour
Garnish:
1 pound bacon, cooked until crispy
Instructions
Bring a large pot of water to a boil. Add the prepared sweet potatoes to the pot and boil for 15-20 minutes or until a fork can easily go through them (overcook them slightly to make mashing easier).
In a small saute pan heated over medium heat add the 1/2 a stick of butter, rosemary and sage and brown slightly. The butter solids should be golden brown (not black).
When the potatoes are cooked drain them and place them back into the pot. Add the browned butter with herbs and mash completely with a potato masher.
For a fluffier texture you can beat with hand beaters for 2-4 minutes.
Place the mashed sweet potatoes into a greased baking dish or individual cast iron skillets.
Preheat the oven to 350 F.
Make the topping by adding all the topping ingredients to a mixing bowl. With clean hands crumble the butter through your fingers with all the other ingredients creating a crumbly consistency. Make sure the topping is completely combined.
Add the topping to the top of the sweet potatoes.
Bake in a 350 F oven for 25-30 minutes or until the crust is golden.
Cook the bacon in a 400 F oven for 12 minutes or until crispy. Drain and roughly chop.
Top the casserole with the crispy bacon and serve.
Recommended Products
As an Amazon Associate and member of other affiliate programs, I earn from qualifying purchases.
Nutrition Information:
Yield:
12
Serving Size:
1
Amount Per Serving:
Calories:

486
Total Fat:

31g
Saturated Fat:

12g
Trans Fat:

1g
Unsaturated Fat:

17g
Cholesterol:

68mg
Sodium:

917mg
Carbohydrates:

37g
Fiber:

4g
Sugar:

20g
Protein:

16g