Apple cider mocktail with four different variations is the perfect Fall drink to serve at your next get together. This delicious, fresh, crisp cocktail with a cinnamon sugared rim is going to be the hit at your next party.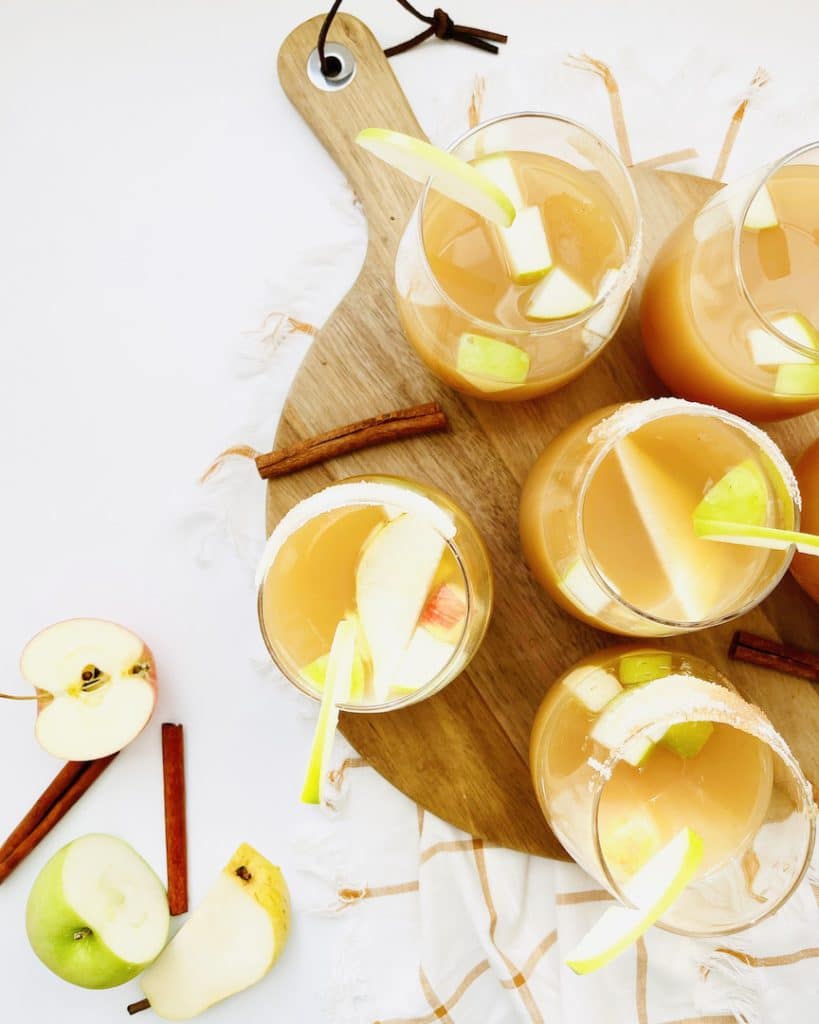 Non alcholic apple cider mocktail is all the rage this Fall season. It's refreshing and the perfect Fall drink for a party.
As the leaves turn vibrant shades of red and gold, and the air carries a crisp, earthy scent, it's evident that autumn has descended upon us.
With the arrival of fall comes a cornucopia of seasonal flavors, and one that takes center stage is the beloved apple cider.
While it's often associated with warm apple pies and cider donuts, apple cider can also be the star of delightful mocktail recipes.
In this blog post, we will explore the art of crafting the perfect apple cider mocktail, a non-alcoholic beverage that encapsulates the essence of fall.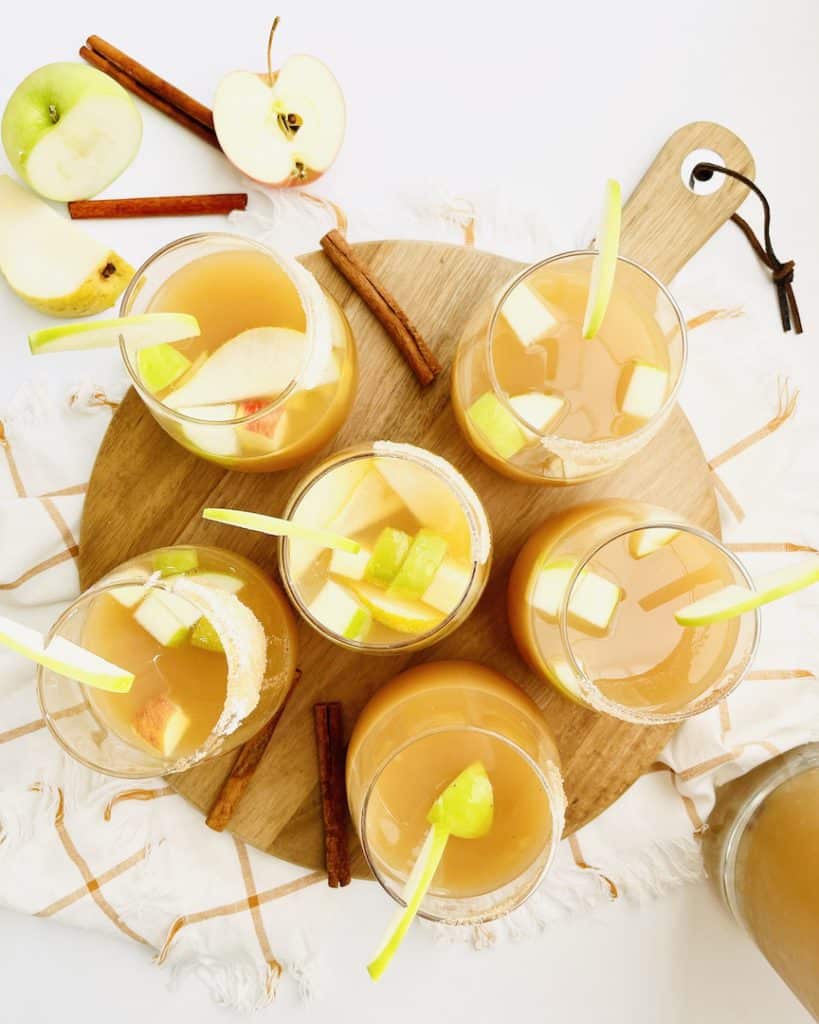 Apple Cider Mocktails:
Apple cider, in its unadulterated form, is a symbol of autumn's abundance. It's the embodiment of apples, harvested at their peak and transformed into a naturally sweet and tangy drink.
An apple cider mocktail celebrates this delightful essence without the need for spirits, making it a refreshing and family-friendly choice for any autumn gathering.
The Essential Components of Apple Cider Mocktails:
Before we embark on a journey through a selection of apple cider mocktail recipes, let's familiarize ourselves with the fundamental elements that make an excellent apple cider mocktail:
Apple Cider: The star ingredient, fresh and unfiltered, is the cornerstone of any apple cider mocktail.
Fruit Juices: To enhance the flavors and provide complexity, adding complementary fruit juices like orange, cranberry, or pomegranate can be an excellent choice.
Herbs and Spices: The fall season comes alive with the earthy aroma of cinnamon, nutmeg, and cloves. These spices, along with fresh herbs like rosemary or thyme, can elevate your mocktail's flavor profile.
Sweeteners: Depending on your preference and the tartness of your apple cider, sweeteners like honey, maple syrup, or simple syrup can be used in moderation to balance the flavors.
Fizz: If you're a fan of effervescence, consider adding sparkling water or ginger ale to your mocktail for a delightful, bubbly twist.
Garnishes: A well-chosen garnish not only enhances the visual appeal but also adds aromatic depth to your mocktail. Think apple slices, citrus twists, or a sprig of rosemary.
Ingredients For Apple Cider Mocktail:
Here is what you need to make this delicious drink.
Apple cider: I like the Martinelli's brand
100% apple juice: Make sure you get 100% juice.
100% pear juice: Make sure you get 100% juice.
Cinnamon sticks: These add a delicious cinnamon note.
Fruit: I like to use green apple, red apple and a pear.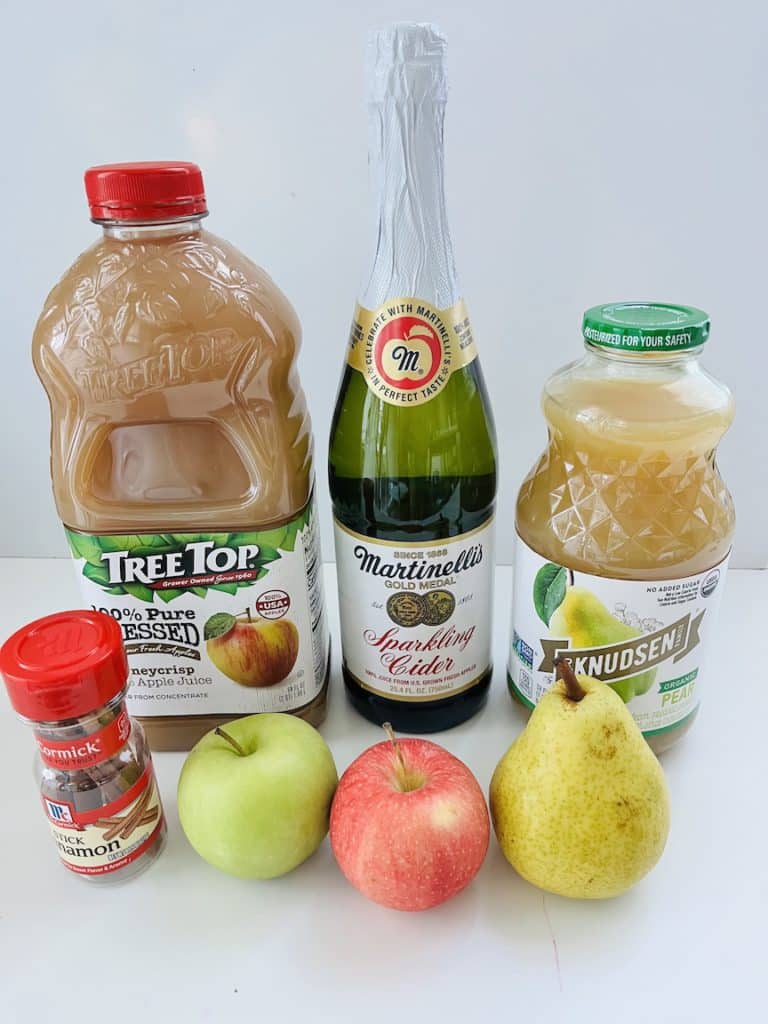 Crafting the Perfect Apple Cider Mocktail
Let's delve into the process of crafting the perfect apple cider mocktail:
Chilled Glassware: Start by ensuring that your glassware is well-chilled. A classic highball or a mason jar can provide the perfect canvas for your mocktail creation.
Mix with Precision: In a shaker or a mixing glass, combine the apple cider, fruit juices, spices, and sweeteners. Add ice cubes and shake vigorously until well chilled. If your recipe includes sparkling water or ginger ale, skip the shaking and add these components directly to your glass.
Garnish with Elegance: A well-considered garnish adds both visual appeal and aromatic depth to your mocktail. Experiment with different garnishes, such as apple slices, citrus twists, fresh herbs, or even a sprinkle of ground cinnamon.
Taste and Adjust: Don't hesitate to adjust the ingredients to your liking. The beauty of mocktails is their versatility, allowing you to tailor them to your unique taste.
Apple cider mocktails offer a delightful way to celebrate the autumn season, whether you're hosting a fall gathering or simply relaxing by the fireplace.
With the warmth and nostalgia they evoke, these non-alcoholic beverages capture the essence of fall in every sip.
So, embrace the crisp air and the changing leaves, and savor the flavors of the season with a refreshing apple cider mocktail.
Each creation is a testament to the bounty of autumn and the artistry of mocktail mixology. Cheers to the season and the delightful moments it brings!
More Delicious Drinks To Try:
Try out these other delicious drinks.
Cranberry Spritzer With Cinnamon And Orange
Mint Lemonade Recipe With Adjustable Sweetness
4 Ingredient Brazilian Limeade
Apple Cider Mocktail Recipes: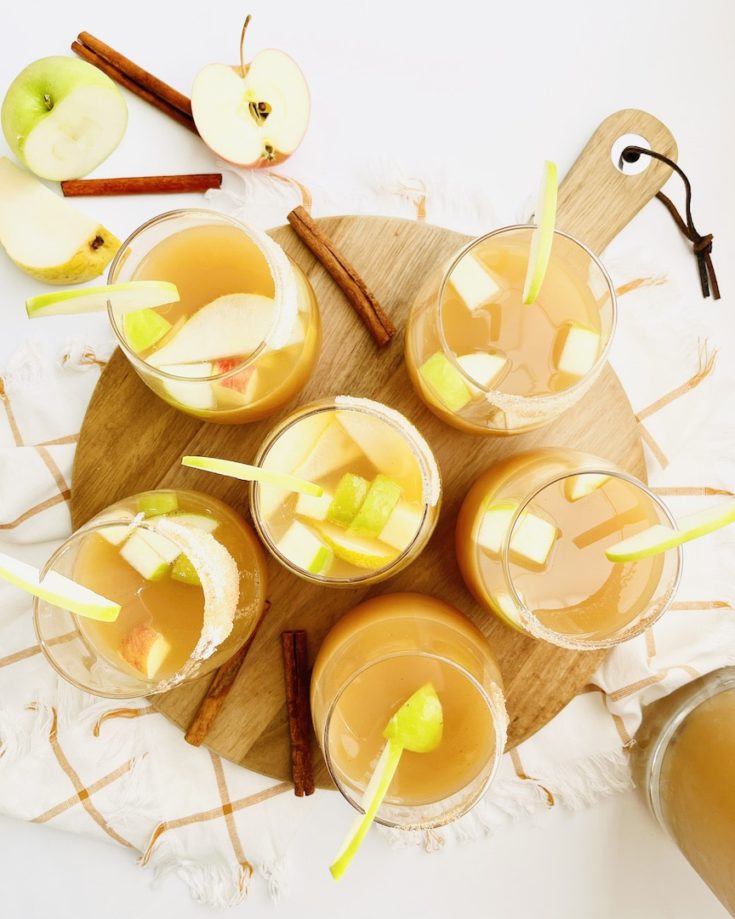 Yield:

Serves 10
Apple Cider Mocktail Three Ways
Total Time:
3 hours
10 minutes
This delicious apple cider mocktail will be the perfect non-alcohilic beverage for Fall.
Ingredients
64 Fl Oz (1 bottle) 100% apple juice
32 Fl Oz 100% pear juice
6 cinnamon sticks
1 green apple. diced
1 red apple, diced
1 pear, diced
1 bottle sparkling apple cider
1/2 cup cinnamon sugar and 1 lemon for rimming the glass
Instructions
Combine the apple juice and pear juice in a large pitcher or container.
Add the cinnamon sticks and let sit for at least 3 hours or up to 3 days.
When you are ready to serve add the green apple, red apple, pear and sparking cider. Stir to combine.
Cut the lemon into wedges and rub along the outside of the rim of your glass.
Dip the rim into cinnamon sugar.
Pour the drink into the glass and serve.
Notes
3 Additional Recipes:
Sparkling Apple Cider Punch:
2 cups apple cider
1 cup sparkling water
1/2 cup cranberry juice
1/4 cup orange juice
2 tablespoons maple syrup
Ice cubes
Orange slices and cranberries for garnish

Apple Cider Spritzer:
1 1/2 cups apple cider
1/2 cup sparkling water
1/4 cup pomegranate juice
1 tablespoon fresh lemon juice
1 teaspoon honey
Ice cubes
Fresh mint leaves for garnish

Autumn Spice Mocktail:
2 cups apple cider
1/4 cup fresh orange juice
1/2 teaspoon ground cinnamon
1/4 teaspoon ground nutmeg
1 tablespoon honey
Ice cubes
Orange twists and cinnamon sticks for garnish