Apricot butter is the perfect compound butter that can go on just about anything. Serve it on toast, pancakes, pastries or use it as a marinade.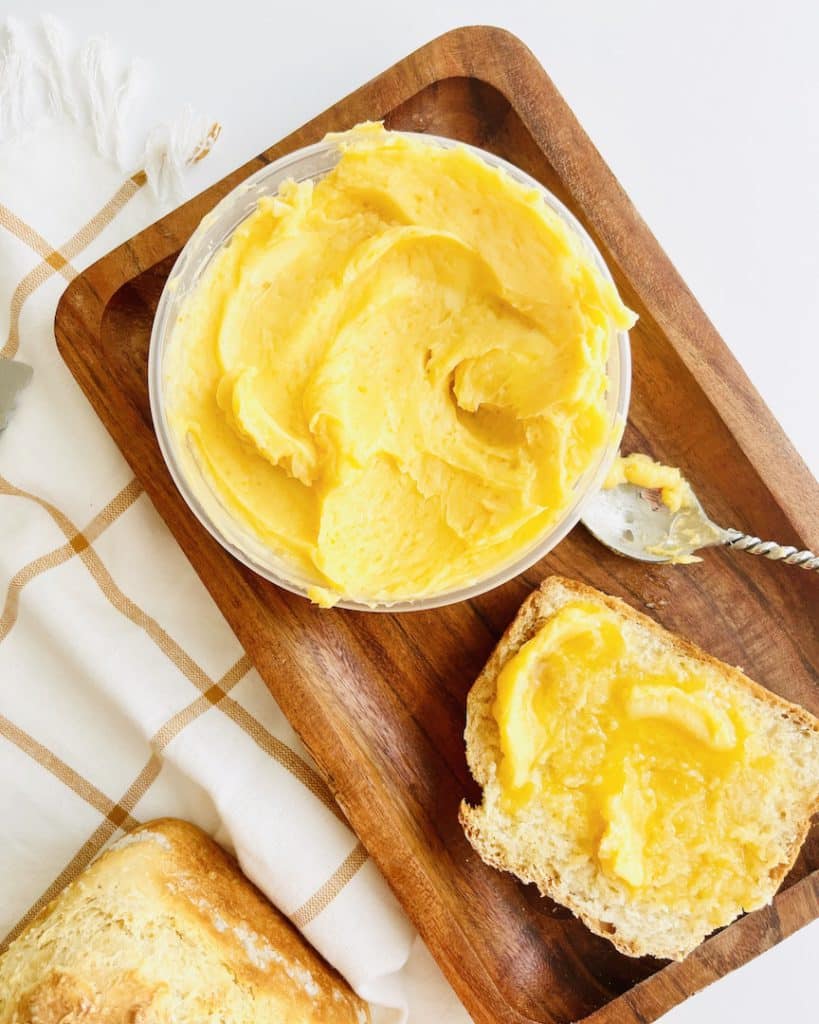 Compound butter, with its rich and flavorful blend of ingredients, has the power to transform any dish into a gourmet experience. When it comes to fruity and aromatic options, apricot compound butter takes center stage.
Butter and apricots together make food taste better, whether it's sweet or savory.
In this blog post, we'll show you how to make apricot compound butter, which can be used in many different recipes.
Apricot Butter:
Apricot compound butter is a yummy blend of butter, apricot puree, sweetness, and fruity taste.
This sauce can be used in many different recipes, including breakfast, dinner, and dessert. It adds a special flavor.
Ingredients:
To prepare your own batch of compound butter, gather the following ingredients:
Salted Butter: I prefer Kerrygold butter. It is flavorful and delicious. If you can't find it you can use any high quality butter.
Apricot Jam:
Pinch of salt (to balance the flavors)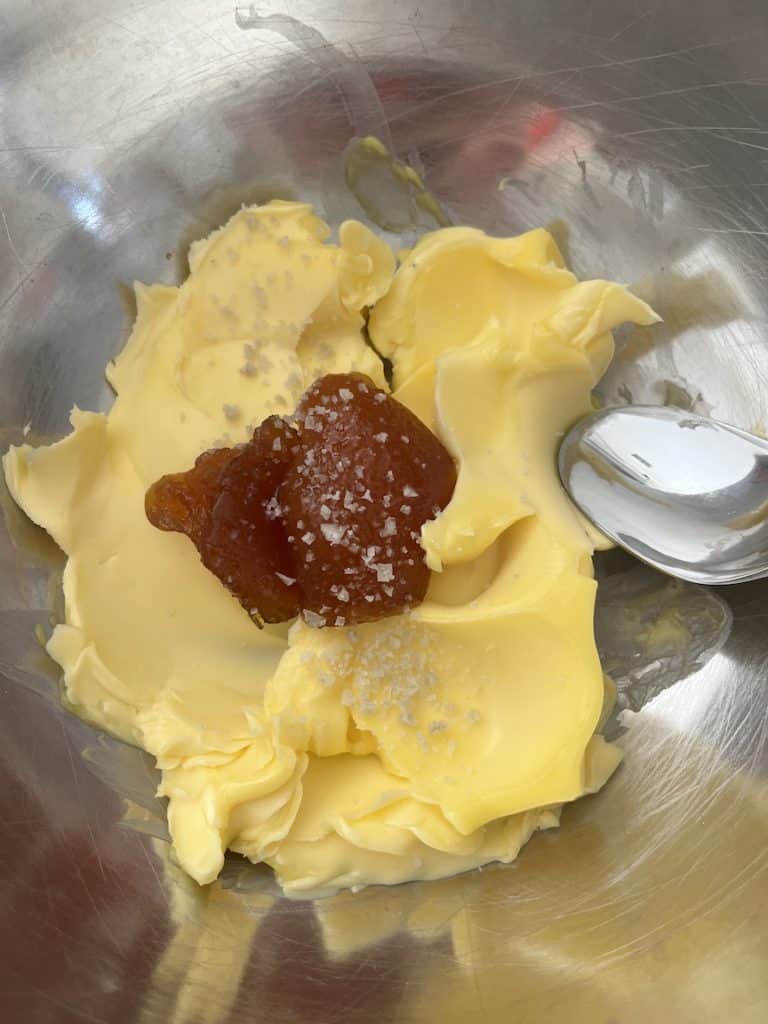 Preparation:
Follow these straightforward steps to create your homemade compound butter:
In a mixing bowl, combine the softened butter, apricot jam, and salt.
Using a fork or a spatula, thoroughly blend the ingredients until well combined.
Alternatively, you can use a food processor to pulse the softened butter and apricots together until they form a smooth mixture.
Put the mixture in a plastic container or on parchment paper or plastic wrap, shaping it into a log or mound.
Roll the parchment paper or plastic wrap tightly around the butter, sealing the edges.
Chill the covered butter for 1-2 hours to make it firm and blend the flavors.
Once chilled store the butter in the refrigerator for up to two weeks or in the freezer for several months.
Creative Uses for Apricot Compound Butter:
Now that you have your homemade apricot compound butter, let's explore some delectable ways to incorporate it into your culinary creations:
Breakfast items: Enjoy a tasty and fruity treat by spreading butter on warm toast, muffins, or pancakes for breakfast.
Glaze and Marinade: Melt a spoonful of butter over grilled chicken, pork chops, or seafood to add a touch of sweetness.
Enhance side dishes: Mix cooked veggies like green beans or carrots with compound butter for added flavor.
Sauces: Use butter in sauces for meat or fruit.
Desserts: Use compound butter in pastries or as a topping for warm desserts like crumbles or cobblers.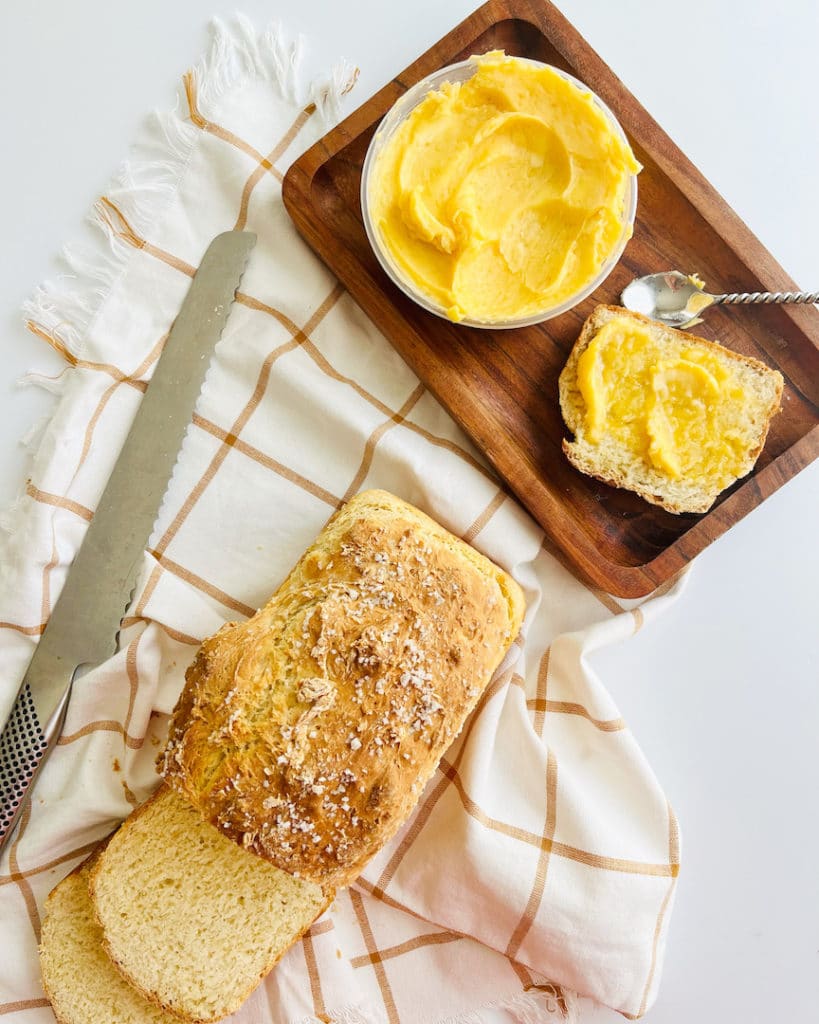 Tips for Customizing:
Try adding cinnamon, vanilla extract, or a bit of brandy to enhance the taste of your butter.
Fruit flavored compound butter ideas:
Add different jams or jellies for different fruit flavored compound butter. Some of my favorites include boysenberry jam or strawberry jam. Fruit butter also works well for fruit flavored compound butters.
Stick with jams and jellies instead of fresh fruit. Fresh fruit can have higher water contents and can make your butter separate.
One of my favorite recipes is this strawberry butter.
Citrus Butters:
Some of my favorite butters for fish include citrus butter. Add some lemon zest and lemon juice, garlic and herbs to a stick of butter for a lemon compound butter recipe.
Make it your own by adding different citrus zests or fresh herbs.
Cheese Butters:
Lastly try making one of my favorite compound butter for steak! Blue cheese herb compound butter is the perfect steak topper.
Combine unsalted butter with finely chopped rosemary and blue cheese. Wrap the butter into a log of saran wrap and freeze until you are ready to use it.
Cut a pad of butter and top freshly grilled steak for the most amazing flavor combination! This one works great for corn on the cob too!
Storage:
To store compound butter for a long time, wrap it tightly in plastic wrap. Then, put it in a sealed container or freezer bag before freezing.
Label and date your butter before storing it to easily keep track of its freshness.
Apricot compound butter is a delightful addition to your culinary repertoire, offering a unique combination of sweet and savory flavors.
Try The Butter On Some of These Items:
Famous Pretzel Dinner Roll Recipe
The Best Sourdough French Toast
Sourdough Waffles With Flavor Options
Sourdough Bagels With Different Toppings
Homemade English Muffin Bread With Apricot Butter
Apricot Butter Recipe: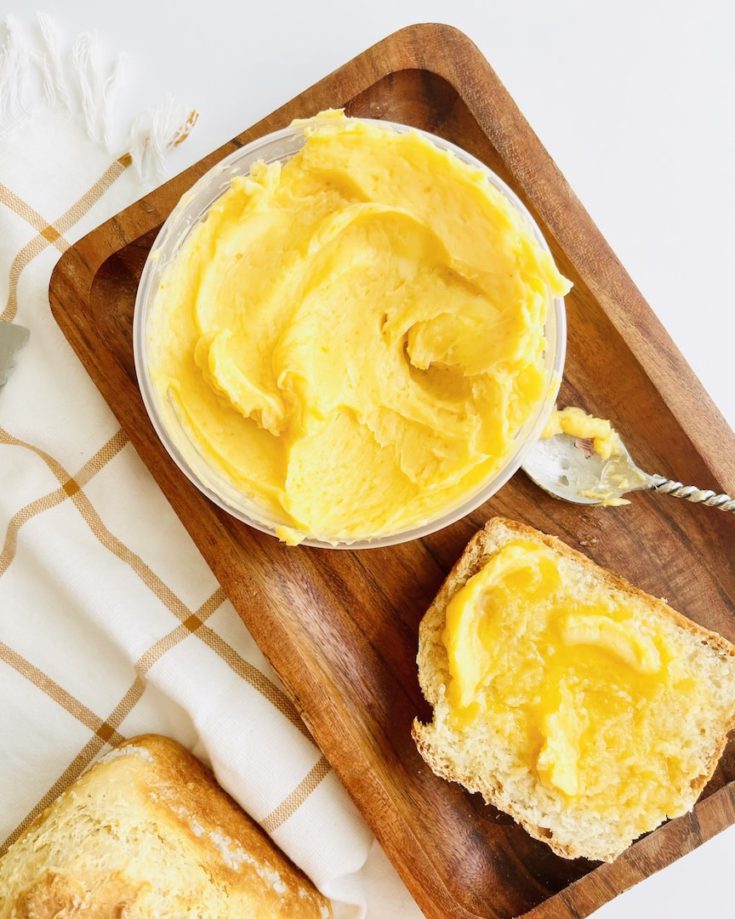 Yield:

1/2 cup
Apricot Butter
Lucious apricot flavor whipped into velvety butter is the perfect toast topper.
Ingredients
1/2 cup salted butter, (preferably Kerrygold brand), softened
2 tablespoons apricot jam
1 teaspoon Kosher salt
Instructions
Mix all the ingredients together until smooth and combined.
Place in a plastic container and refrigerate until you are ready to use or wrap in saran wrap and freeze up to 6 months.