Instant pot pulled pork is an all time favorite! Make this pulled pork easily in the Instant Pot. All you need is a few techniques and a delicious easy homemade pineapple BBQ sauce and you got yourself a winner!
This Instant pot pulled pork recipe is one of our family favorites.
It's the ultimate pulled pork sandwich with succulent pulled pork a deliciously tangy pineapple BBQ sauce, crunchy citrusy cole slaw and maui onion chips all served in a toasted bun.
I mean really, there isn't anything better than this!
It's the ultimate sandwich to serve at a Summer BBQ or a Hawaiian themed date night. Heck you can serve it any day of the week!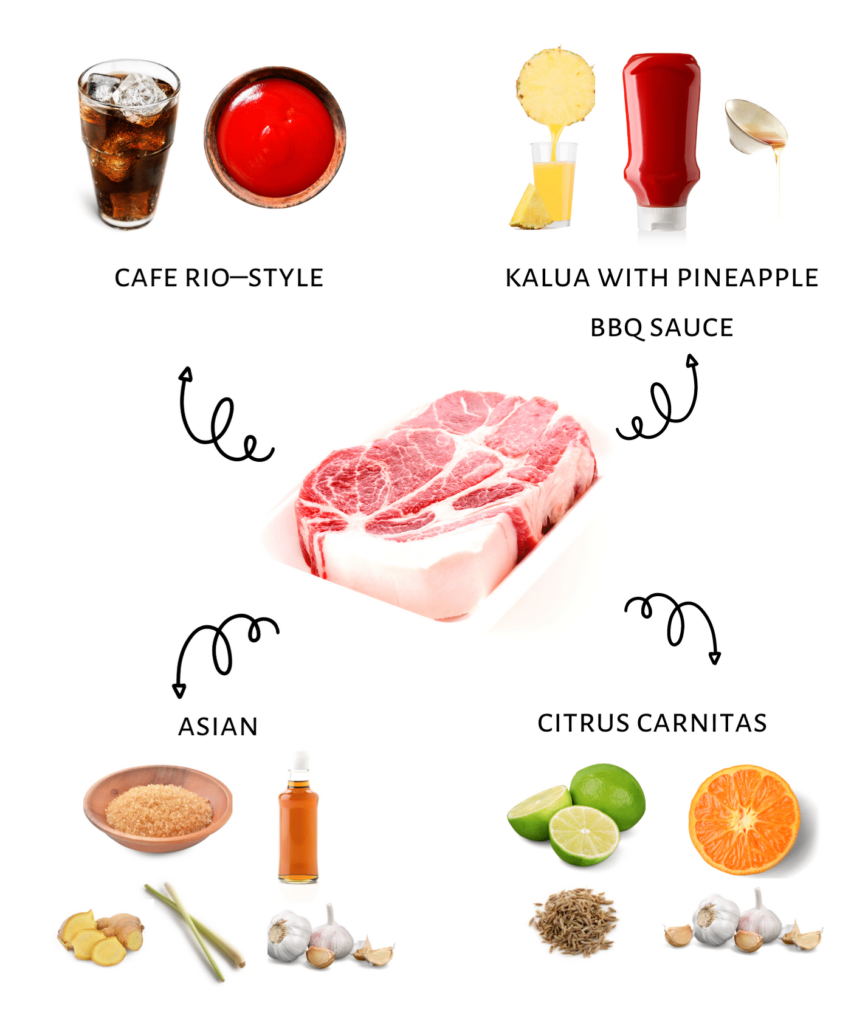 This is one of the amazing Instant Pot pork variation ideas in my new No Shop Instant Pot Cookbook.
The fun part is you get 4 different options with each recipe. Which means you get 240 easy, no shop Instant Pot recipes that you can make for your family.
This pulled pork recipe was one of my favorites to test. I actually tested 6 different flavors for this recipe and had to narrow it down to just 4. That was the hard part!
I had to resort to making all 6 recipes for my family and friends and get their vote on which ones I should include in the book.
After much deliberation, this one won first place. And let me tell you, it's so delicious. Even more it's so easy to make with the help of the Instant Pot.
What Meat To Use For Pulled Pork:
Pork butt or pork shoulder is the best meat to use for pulled pork.
These cuts of pork have good fat marbling and are best cooked for long periods of time. The meat becomes extremely tender and shreddable the longer it cooks.
I prefer to use pork country style ribs as the meat is cut into long strips and cooks up quicker.
Country style ribs are not actually ribs and have not bones at all. It is a cut that is from the end of the loin close to the shoulder. They are perfect for pulled pork.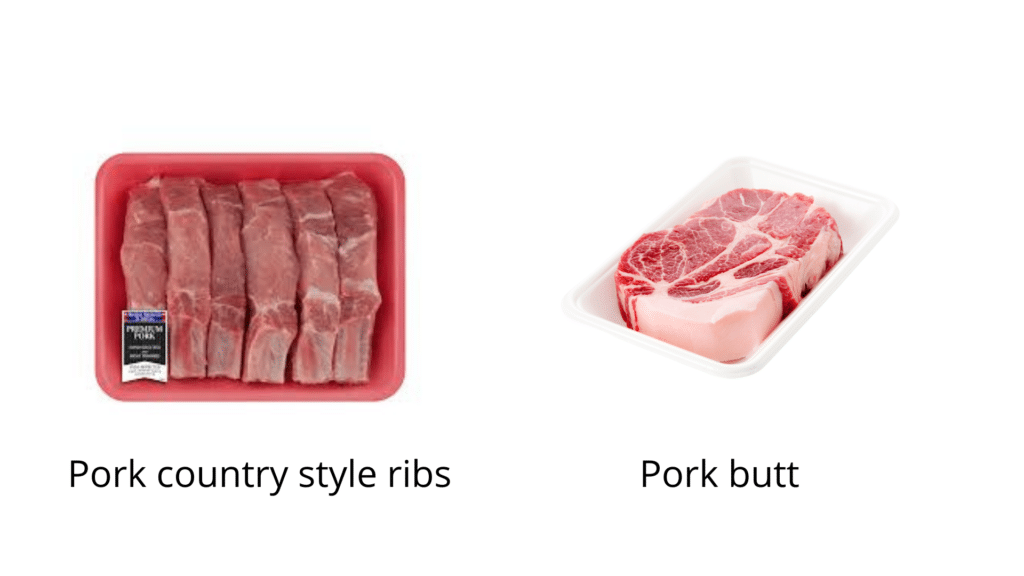 Other cuts of pork like the pork tenderloin are too lean and tend to dry out while cooking for long periods of time.
So stick with country style ribs or a pork butt or shoulder for this dish.
How Do You Make Pulled Pork:
Pulled pork is typically made by cooking low and slow with the use of a smoker.
Typically the pork butt is coated in a dry rub and then smoked for hours. Then it gets brushed with barbecue sauce or is shredded and tossed in the cooking liquid.
You can get the same result by using the instant pot or slow cooker. By pressure cooking the meat in the Instant Pot it significantly reduces the amount of cooking time.
You can also make pulled pork in the crockpot.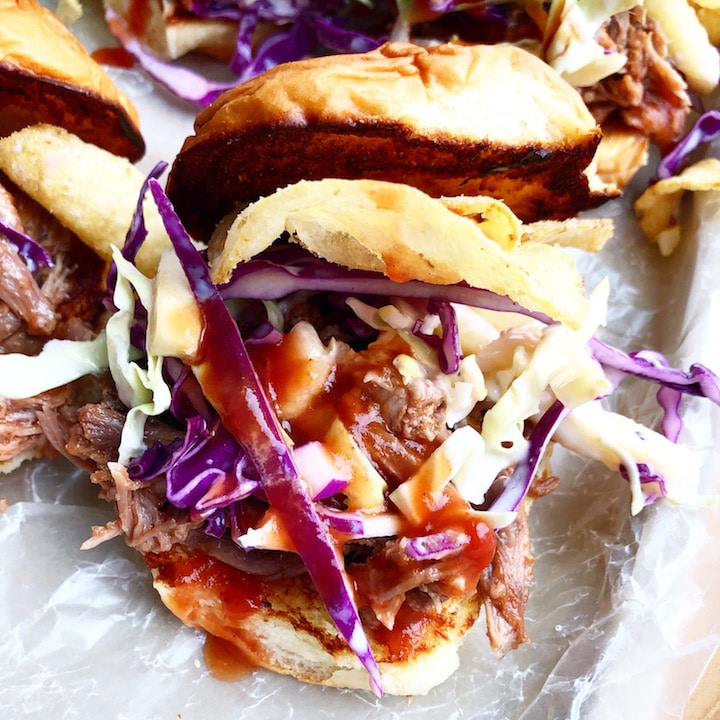 How to Make Instant Pot Pulled Pork:
To make pulled pork in the Instant Pot start by cutting the pork shoulder or butt into large chunks or use country style ribs.
Place the meat into the Instant Pot with liquid smoke and salt. Seal the lid and turn the valve to the sealing position.
Cook on manual high pressure for 60 minutes or 90 minutes for frozen.
Quick release the pressure by manually moving the vent to venting.
Then toss with BBQ sauce.
What To Serve With Instant Pot Pulled Pork:
This pulled pork is great for a Summer dinner party or gathering. It goes well with just about any side dish. These are my all time favorite dishes to serve with pulled pork.
If you want to get really creative make these sandwiches with the pani popo recipe as your bun. It is divine!
Air Fryer Potato Wedges With Garlic Browned Butter
5 Ingredient Instant Pot Classic Mac and Cheese
Grilled Corn with Jalapeno Cheddar Butter
Bacon Cheddar Cheese Cornbread
4 Ingredient Brazilian Limeade
Instant Pot Pulled Pork Recipe: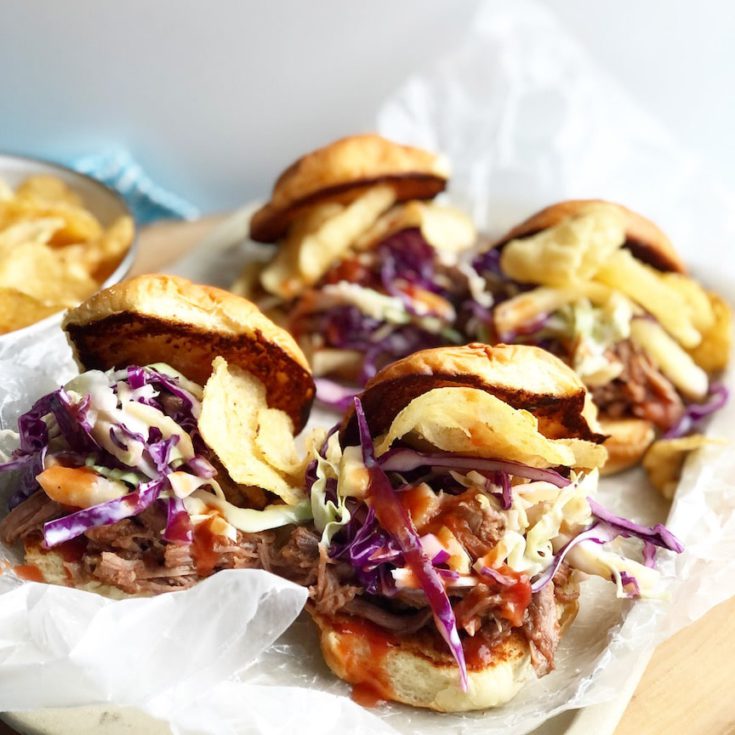 Yield:

Serves 6
Instant Pot Pulled Pork With Pineapple BBQ Sauce
The best pulled pork sandwiches made easily in the Instant Pot! It's the perfect Summer recipe.
Ingredients
3 pounds pork country style ribs or pork butt cut into 3 inch pieces
2 teaspoons liquid smoke
1 tablespoon salt
Pineapple BBQ Sauce:
1/2 cup pineapple juice
1/2 cup ketchup
For the Slaw:
4 cups white cabbage, shredded thin
2 cups purple cabbage, shredded thin
2 mangoes, julienned
1/4 cup fresh lime juice
2 tablespoons honey
salt to taste
Sandwiches:
6 Hawaiian burger buns, toasted
Sweet Maui Onion Chips
Instructions
Add the pork to the instant pot insert. Then add the liquid smoke.
Add the salt.
Seal the lid and move the valve to sealing. (you won't need any excess liquid).
Turn on manual high pressure for 60 minutes (90 minutes if your meat is frozen).
To make the BBQ sauce add the pineapple juice to a measuring cup or bowl.
Then add the ketchup and stir to combine.
Place in a saucepan and heat over medium low heat for 5 minutes.
When the meat is done remove the excess liquid from the instant pot.
Shred the pork with two forks.
Add the bbq sauce to the pork and stir to combine.
Make the slaw by combining all the slaw ingredients and toss to combine.
Serve the pork in toasted Hawaiian buns with slaw and maui onion chips.
Recommended Products
As an Amazon Associate and member of other affiliate programs, I earn from qualifying purchases.