When it comes to creating a culinary masterpiece that blends tropical flavors and savory aromas, Coconut Grilled Chicken with Asian Cilantro Pesto stands out as a true delight for the senses.
This exquisite dish combines the rich creaminess of coconut with the vibrant freshness of cilantro and the zing of ginger, resulting in a symphony of flavors that will transport you to a tropical paradise with every bite.
The Perfect Marriage of Ingredients
Coconut Grilled Chicken:
To begin our culinary journey, we start with the star of the show – the Coconut Grilled Chicken.
Picture succulent chicken breasts marinated in a luscious blend of coconut milk, lime juice, garlic, and a touch of chili for a hint of heat.
This marinade not only infuses the chicken with a tropical essence but also tenderizes it, ensuring every bite is moist and flavorful.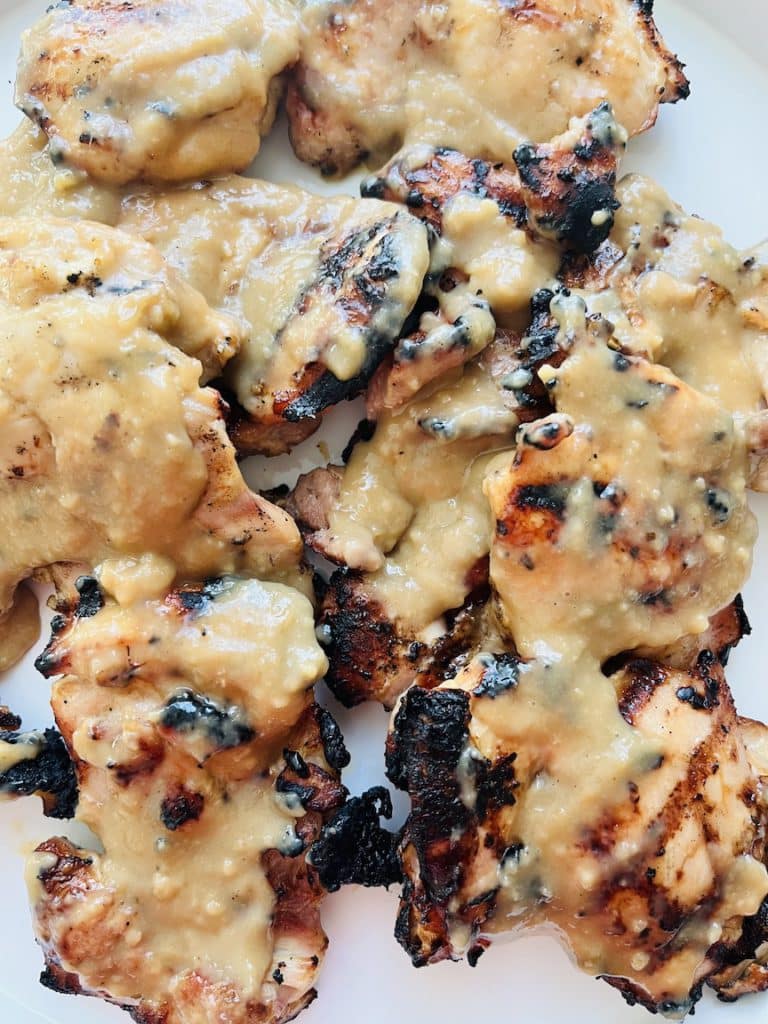 The coconut milk in the marinade adds a velvety richness to the chicken, while the tanginess of soy sauce and fish sauce cuts through the richness, providing balance.
The garlic and ginger add layers of depth, making each mouthful a tantalizing experience.
While the brown sugar adds a touch of sweetness.
Asian Cilantro Pesto:
Complementing the Coconut Grilled Chicken is the Asian Cilantro Pesto.
Bursting with bright green color and aromatic herbs, this pesto adds a burst of freshness to the dish.
Unlike the traditional Italian pesto made with basil, pine nuts, garlic, parmesan cheese and extra virgin olive oil, this asian inspired pesto uses a cilantro base.
The combination of cilantro and ginger creates a harmonious contrast – cilantro contributing its earthy, citrusy notes, and ginger adding a slightly spicy kick.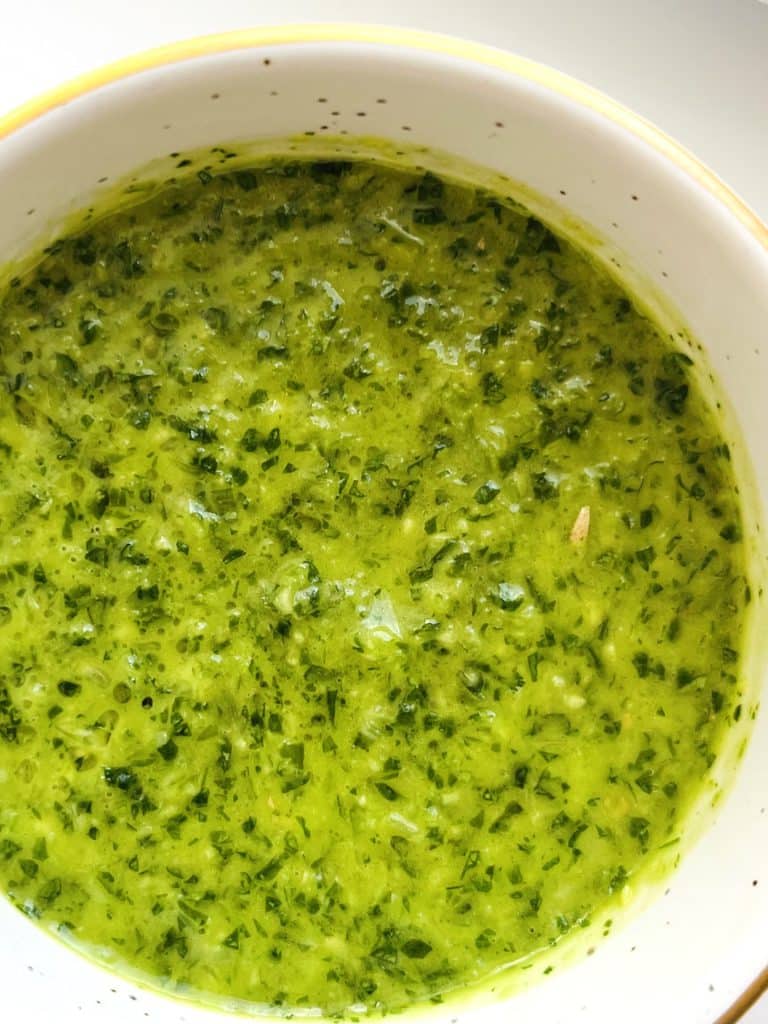 Asian Cilantro Pesto Ingredients:
Here is what you will need to make this delicious Asian cilantro pesto.
You will need garlic, ginger, green onion, cilantro, mint, fish sauce, salt and avocado oil.
I use a mini food processor to make all my pestos and they always turn out great.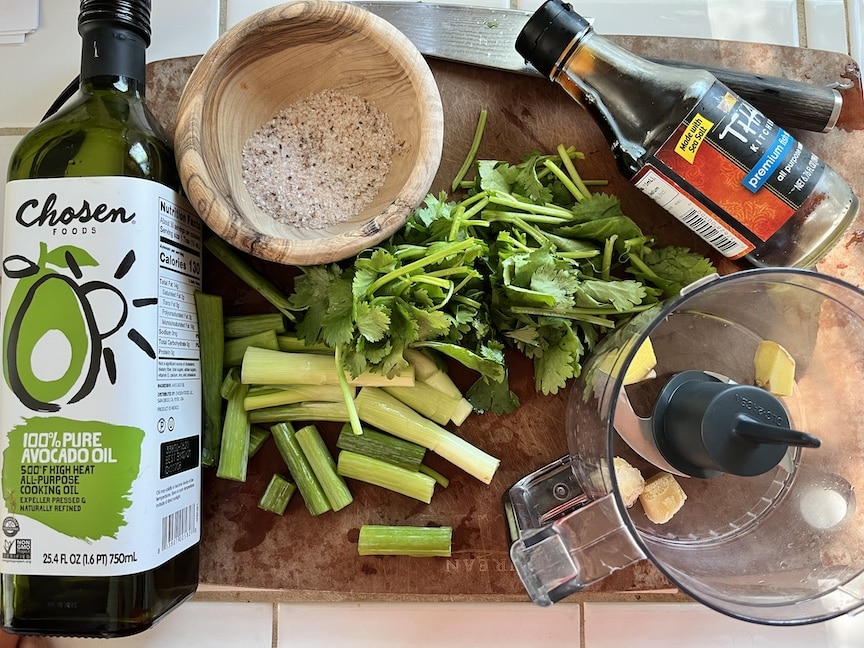 Asian Salad:
Nothing is better than a crisp, acidic Asian salad to go with this coconut chicken.
It's bright, colorful and the perfect pairing to this dish.

Here is what you need to make this Asian salad.
You will need sugar snap peas, red bell pepper, cucumber and carrot. For the dressing you will need rice wine vinegar, salt and sugar.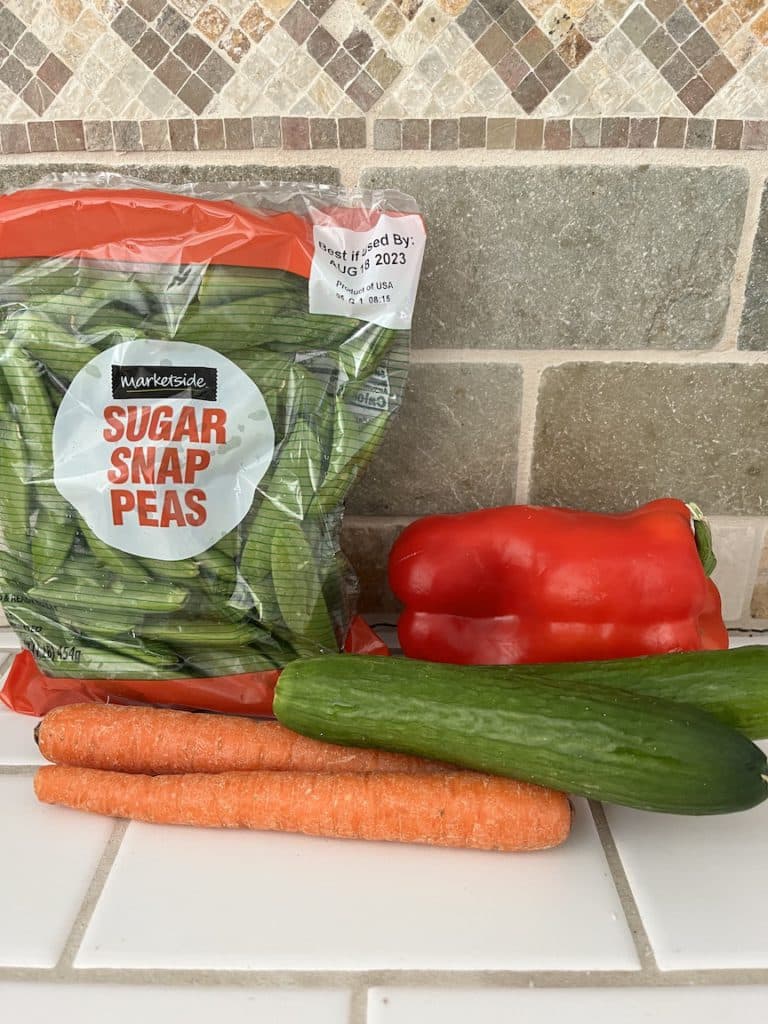 Bringing It All Together
To craft this culinary masterpiece, follow these simple steps:
Marinate the Chicken: Combine coconut milk, ginger, minced garlic, and the rest of the marinade ingredients into a large ziplock baggie. Add the chicken breasts or thighs and let them marinate for at least 2 hours or overnight, allowing the flavors to meld.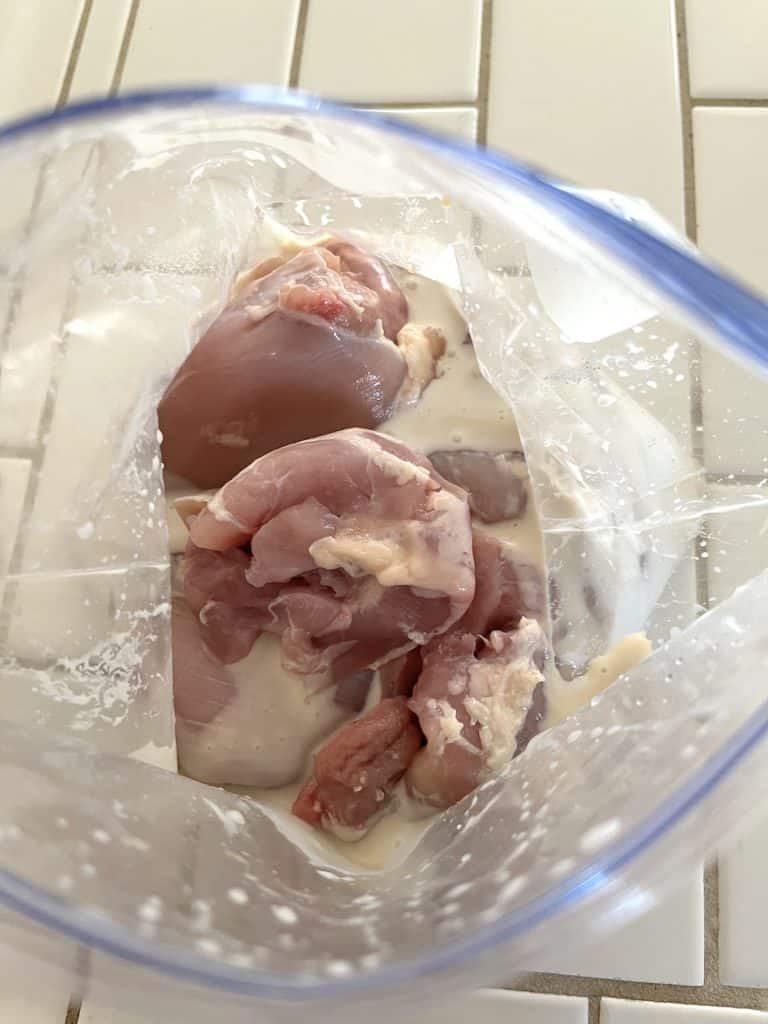 Prepare the Pesto: In a food processor, blend cilantro, ginger, garlic, toasted pine nuts, and grated Parmesan cheese until finely chopped. Slowly drizzle in olive oil while blending until a smooth paste forms.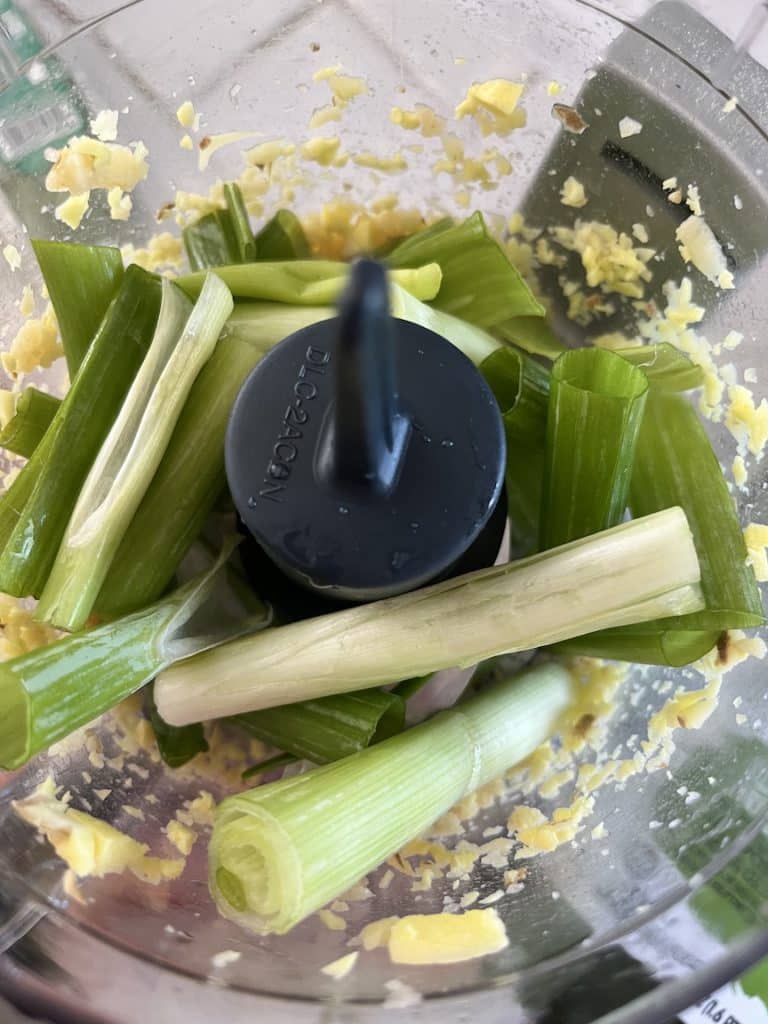 Make The Salad:
Combine all the vegetables together. Toss with dressing and refrigerate until you are ready to serve.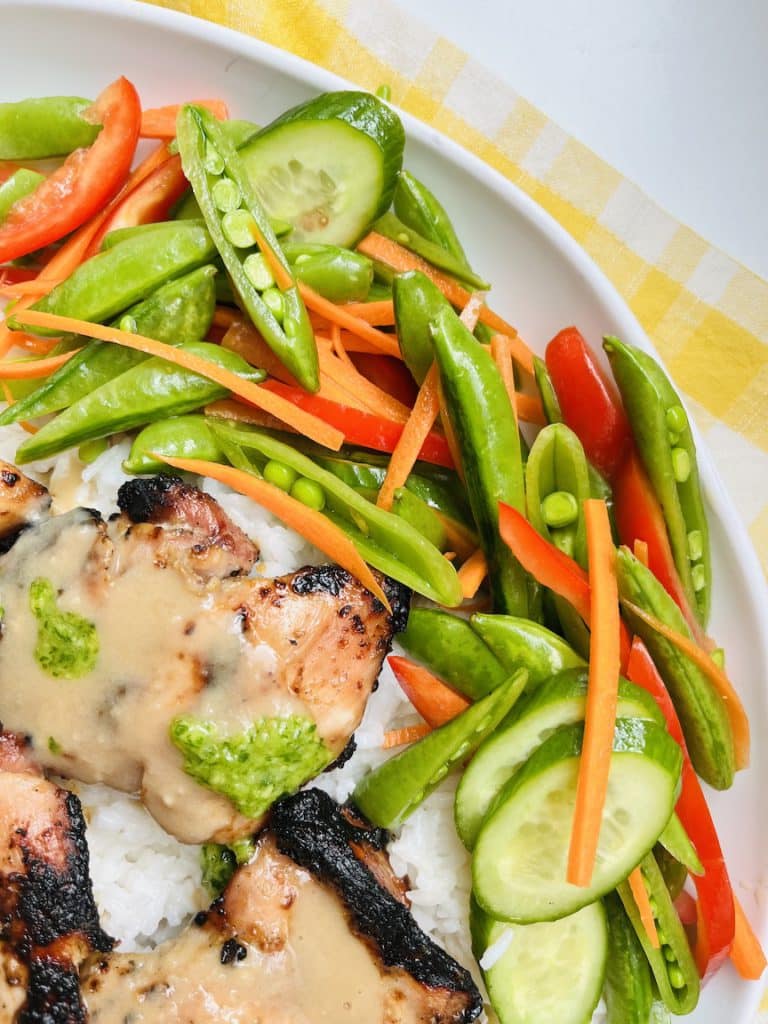 Grill the Chicken: Preheat the grill to medium-high heat. Remove the chicken from the marinade and grill each side for about 6-7 minutes, or until fully cooked and grill marks appear.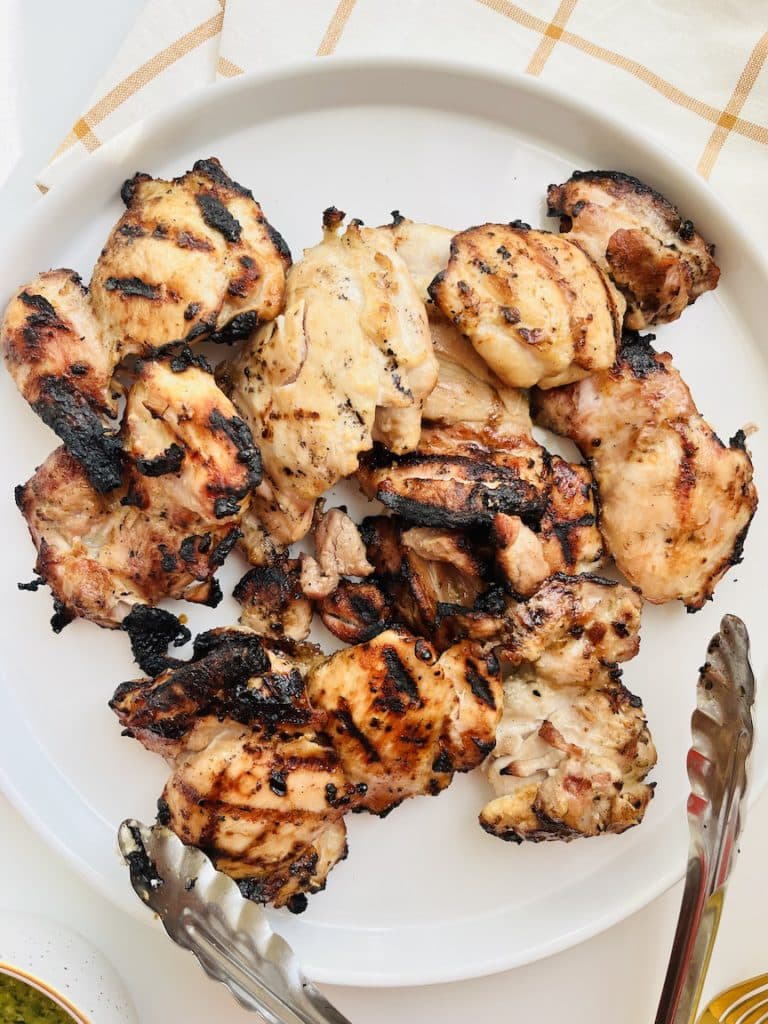 Reduce the Sauce:
Reduce the marinade in a small saucepan until thickened and reduced by half. You will want to make sure it boils for at least 5 minutes to kill off any raw chicken bacteria.
Serve with Pesto: After cooking the chicken, plate it and spread the Asian Pesto generously over the top. Garnish with extra chopped cilantro and a few slices of lime for an extra burst of freshness.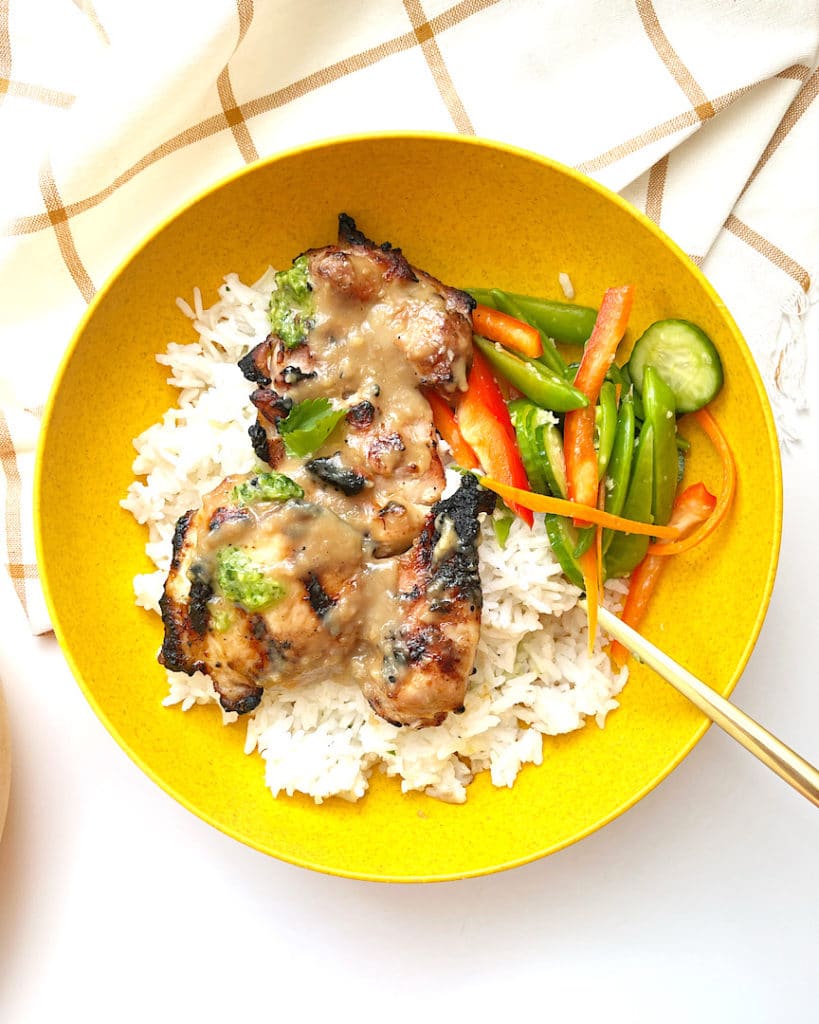 A Culinary Escape
Coconut Grilled Chicken with Asian Pesto is more than just a dish; it's a culinary escape to a tropical paradise.
The marriage of coconut-infused chicken and zesty pesto creates a harmonious symphony of flavors that transports your taste buds to sun-kissed beaches and swaying palm trees.
Whether you're hosting a summer barbecue, celebrating a special occasion, or simply craving a taste of the exotic, this dish is guaranteed to impress.
So, gather your ingredients, fire up the grill, and prepare to embark on a journey of flavors that will leave you craving for more.
What To Serve With Coconut Grilled Chicken:
To make this a complete feast for your friends try these other recipes out for your next get together.
No Bake Coconut Lime Tart Recipe
Coconut Grilled Chicken Recipe: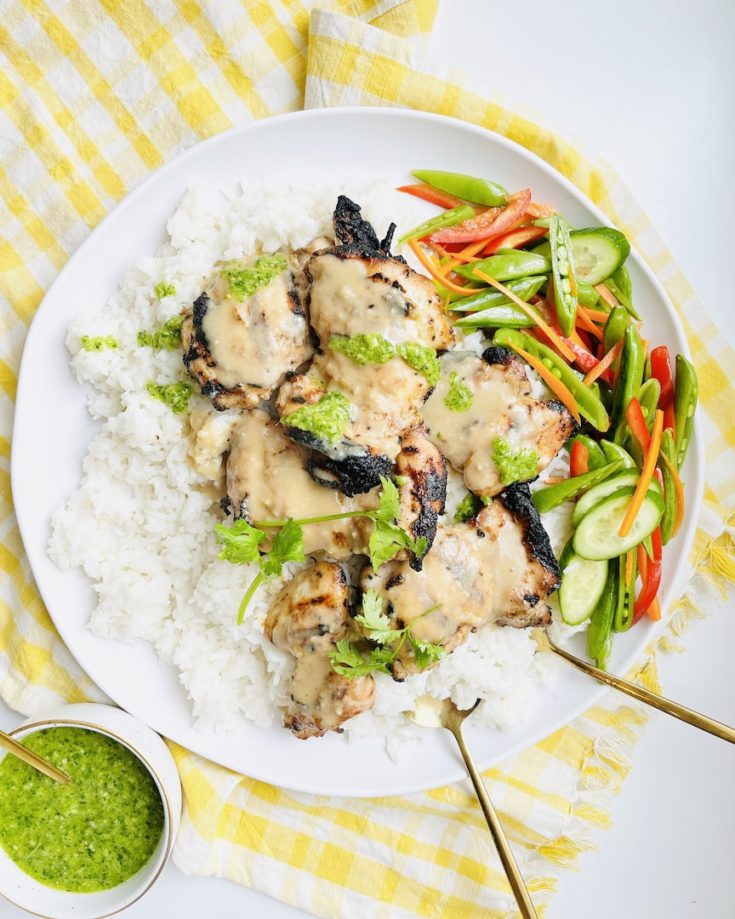 Yield:

serves 6
Coconut Grilled Chicken With Asian Cilantro Pesto
Total Time:
2 hours
40 minutes
Coconut grilled chicken with asian pesto is so full of flavor and the perfect meal to make for a crowd.
Ingredients
Marinade Ingredients:
1 (16 oz) can coconut milk
8 cubes grated frozen ginger or 2 tablespoons
8 cubes minced frozen garlic or 8 cloves
2 tablespoons brown sugar
1 tablespoon soy sauce
1 teaspoon fish sauce
1 teaspoon Kosher salt
2 pounds boneless, skinless chicken (thighs or breasts)
Asian Pesto Ingredients:
2 teaspoons fresh ginger, peeled
2 cloves garlic, peeled
1 cup cilantro leaves and stems
3/4 cup green onion (both green and white parts, cut into 2 inch pieces)
1 teaspoon honey
1/4 teaspoon salt
splash of fish sauce
1/4 cup avocado oil
Asian Salad:
1 small Persian cucumber, sliced thin
1 carrot, peeled and julienned
1 red bell pepper, cut into thin strips
2 cups snap peas, cut in half lengthwise
1 tablespoon finely minced ginger
2 tablespoons rice vinegar
1 tablespoon granulated sugar
2 teaspoons Kosher salt
Instructions
Place all the marinade ingredients along with the chicken into a large ziploc bag and marinate for at least 2 hours or overnight.
Prep the pesto by adding all the ingredients into a small food processor and process until smooth and blended. Set aside or store in the refrigerator until you are ready to serve.
Prepare the Asian salad by combining the cucumber, carrot, bell pepper and snap peas into a mixing bowl.
Combine the ginger, rice vinegar, sugar and salt in a small bowl and whisk to combine. Toss the dressing over the vegetables and store in the refrigerator until you are ready to serve.
When you are ready to make the chicken preheat the grill to medium heat. If serving the chicken with coconut rice start your coconut rice (recipe in notes section).
Remove the chicken from the marinade and place the marinade into a small saucepan.
Grill the chicken for 5-7 minutes per side or until the chicken is cooked through.
Cook the marinade over medium heat for at least 10 minutes (making sure it reaches a boil for at least 5 minutes). Stir occasionally to prevent burning. When the marinade is reduced you can remove from the heat and set aside.
Remove the chicken from the grill and serve over coconut rice and with Asian salad. Drizzle the pesto on top of the chicken and serve.
Notes
Recommended Products
As an Amazon Associate and member of other affiliate programs, I earn from qualifying purchases.
Nutrition Information:
Yield:
6
Serving Size:
1
Amount Per Serving:
Calories:

571
Total Fat:

35g
Saturated Fat:

17g
Trans Fat:

0g
Unsaturated Fat:

15g
Cholesterol:

135mg
Sodium:

1328mg
Carbohydrates:

18g
Fiber:

3g
Sugar:

11g
Protein:

48g